Hi Everyone,
Being a hoarder of pink, I just love every lipstick that has pink reflection in it. Be it natural pink or pink with blue undertone, I just want to treat my lips with it. Of lately, when I got a cherry crush color show lipstick from Maybelline I could not waste much time in decking up lips in this beautiful hue. Since the very first day I have worn this lipstick I fell in love with it. Till this day, I have lost the count of number of occasions I have worn it for. Read to know whether it performs outstanding on all my expectations or on just a few.
My Take on 'Maybelline Color Show Lipstick Cherry Crush'
Maybelline Color Show lipsticks come in black case with a translucent separator between the cap and lipstick holder. The bottom bears the shade name along with shade number, and also has a color coding. So in case, the SA is out of testers you can pick your lipstick just by looking at the color coded sticker. These lipsticks are based on click-close mechanism so you do not need to worry about lose caps. Even if you put it in a messy stack of makeup you would be able to get it out intact.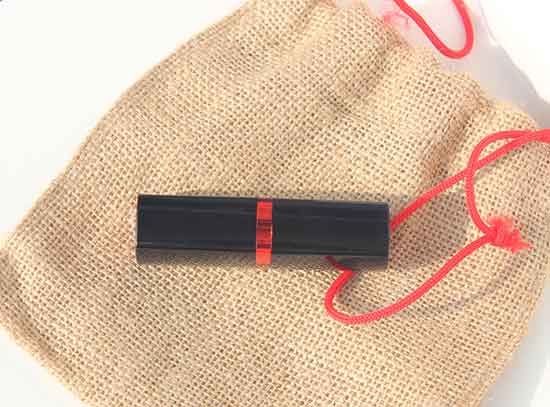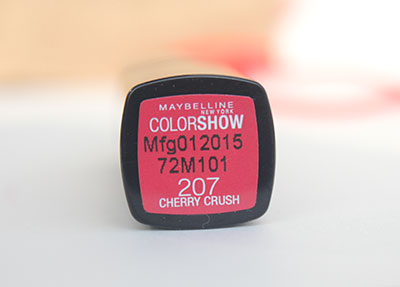 Cherry crush shade has a fruity fragrance that dissipates minutes after it is on the lips. The shade is cherry red in color – do not confuse it with reds or pinks. It is a very cute and bright color that goes well on all complexions. It instantly brightens up complexion and shoos away the tired look. The key here is to pair up with right colors. If you do the wrong color coordination this shade may not come at its best.
For coverage, it is a buildable shade that provides sheer to medium coverage. You would need more than one swipe to cover pigmented lips.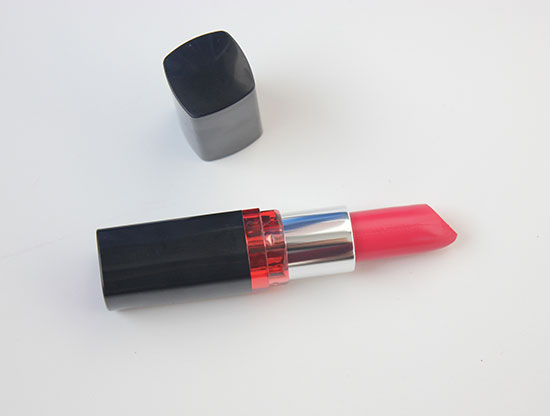 The texture is smooth and creamy. It glides on to the lips easily without tagging or pulling. The good thing is even though the texture is soft it does not make the lips greasy or sticky. Moreover, it feels feather light without settling into fine lines. Because of the creamy base sometimes it bleeds from the corners but that is nothing to worry about if the proper lip lining is done.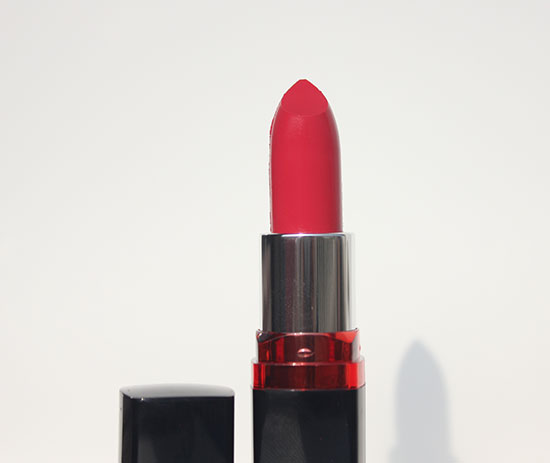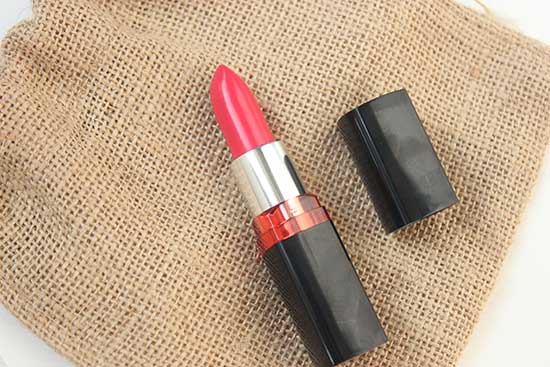 For longevity, it does stay on for 4 hours without snacking, after that it requires touch ups. Being a bright shade it stains lips but as the staining is not much even so it has to be reapplied or completely removed. In my opinion, these problems are with all bright lipsticks. As they say nothing comes free, so if you want to brighten up your lips you need to do some touch ups for that consistent hue.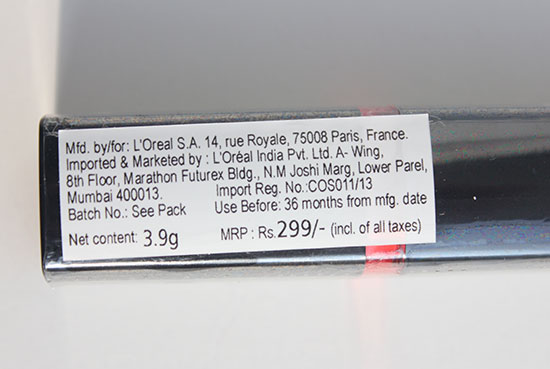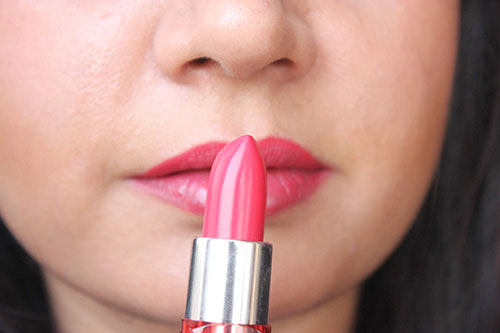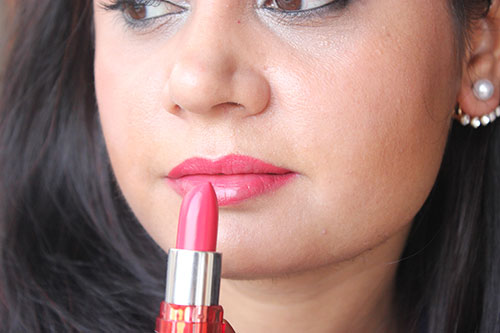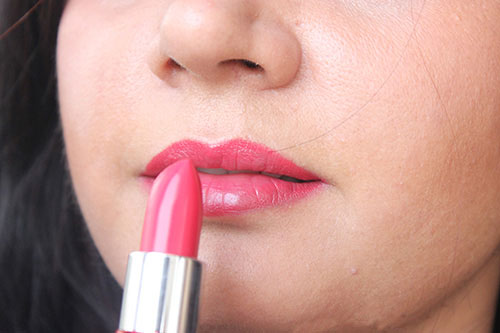 What I like about 'Maybelline Color Show Lipstick Cherry Crush'
– Smooth texture that glides easily on lips.
– It keeps the lips hydrated and moisturized.
– Does not settle into fine lines.
– Pretty cherry shade that brightens up complexion.
– Affordable price.
– Travel friendly packaging based on click n close mechanism.
– Wide range if lipsticks to choose from.
– Based on lightweight, non-sticky formula.
What I do not like about 'Maybelline Color Show Lipstick Cherry Crush'
– Sometimes it bleeds from the corners.
Price of 'Maybelline Color Show Lipstick Cherry Crush': INR 299
Online Availability: Maybelline Color Show Lipstick from Flipkart.com
BABE Rating: 4/5
Final Word: Cherry crush is a beautiful bright shade that would suit all complexions. In addition to coloring up lips, it covers pigmentation and keeps the lips moisturized. Considering the pocket friendly price and performance this lipstick is one of the must have shades in your vanity box – a good one for brides.
You may also like reading these related topics
Maybelline Color Sensational Bold Matte Lipstick Mat 2 Review Swatches
Maybelline Color Sensational Lipstick Hooked On Pink Review Swatches
Maybelline Colorsensational Moisture Extreme Lipstick Forever Plum Review Swatches
Maybelline Color Show Lipstick Orange Icon Review Swatch
Maybelline Colorsensational High Shine Lip Gloss Mirrored Mauve Review And Swatches