Hope you are having a good start of the weekend. For me, next two weeks will be quite hectic as I am travelling to hometown for my sister's wedding. Nonetheless, I will try my level best to keep publishing posts as and when I get time to write … at least I will publish the ones that are in the scheduling queue. Well, today's post is for coral lovers. If you love donning your lips with bright colors read this review of Maybelline Color Sensational Bold Matte Lipstick Mat 2.
What the product says
Get sensational lips with Maybelline's Bold Matte by Color Sensational Lip Colors.
Offering 5 trendy shades in a brilliant matte texture, these lip colors look and feel great on your lips. Let your lips speak volumes with Maybelline's 1st matte lipstick in India!
Here's why you'll love it:
• Enriched with rosa canina oil and jojoba oil for a moisturizing effect
• Contains honey nectar which has a hydrating effect
• Has powderless matte pigments for attractive, vivid shades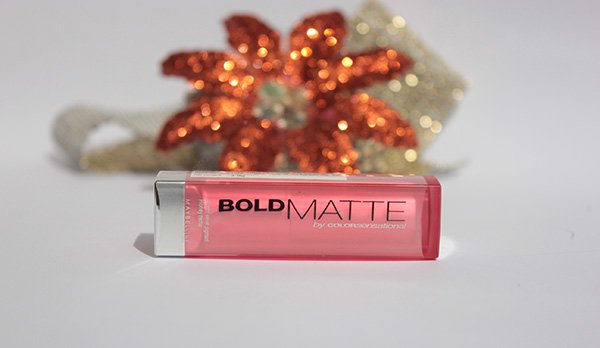 My Take on 'Maybelline Color Sensational Bold Matte Lipstick Mat 2'
The bold matte range has 5 shades; there are no shade names as such just the number which looks more like the sequence number. As they are matte lipsticks so the sequence numbers are prefixed with the word 'MAT'. The shade I am going to talk about today is MAT 2; definitely the shade number does not provide any hint for the color of the lipstick. You ought to open the lipstick and swatch it in case you are going for one. Well, the packaging is sturdy and attractive. The silver bullet holder is capped with a translucent plastic cover and the bottom bears the shade name, in this case 'MAT 2'. Packaging material looks sturdy and the closing mechanism is supported with a tick sound that ensures proper closure.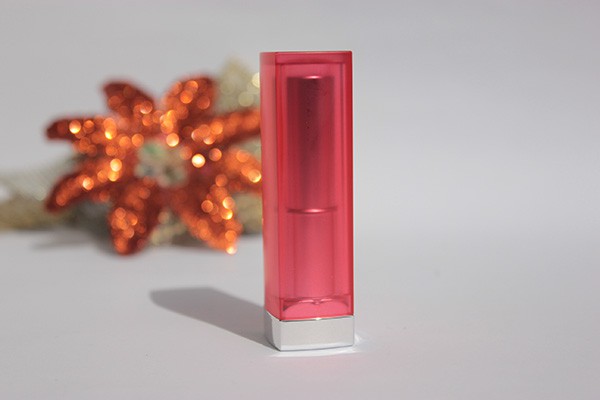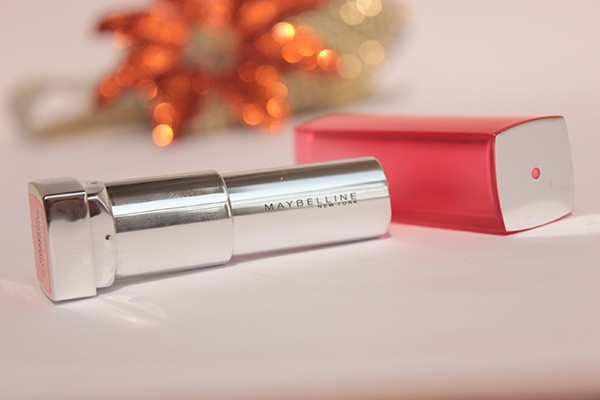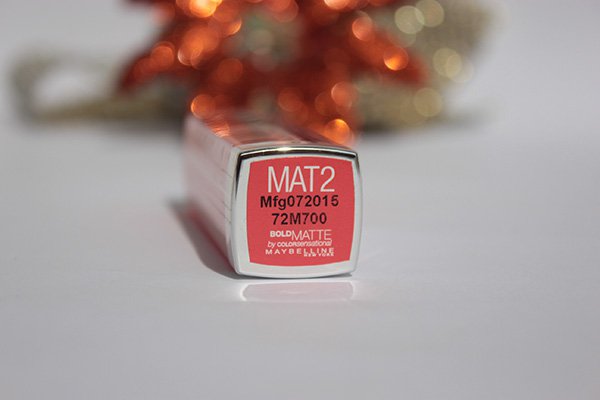 MAT 2 is a vibrant coral color more towards the neon side. It can look orange or peachy depending on your skin tone or the outfit you are pairing it up with. Being a bright color, it adds freshness and vitality to the overall look.
As this lipstick range is matte or 'Bold Matte' you must be expecting it to have dehydrating texture that extract every ounce of moisture from lips. But you will be surprised to know that its texture is quite smooth and creamy. It provides matte finish but not at the cost of moisture. Lips feel moisturized or I would say at –ease while this lipstick is on. It definitely does a good job of balancing moisture and matte finish together.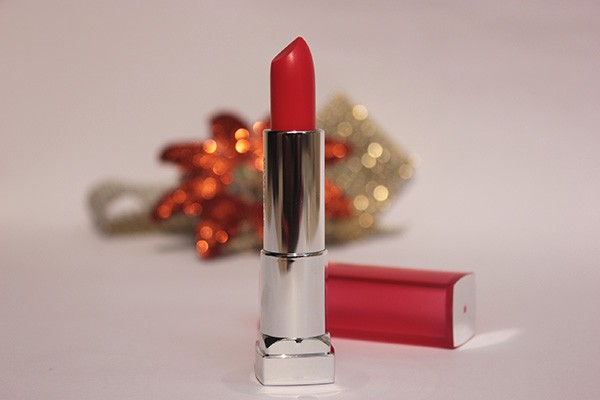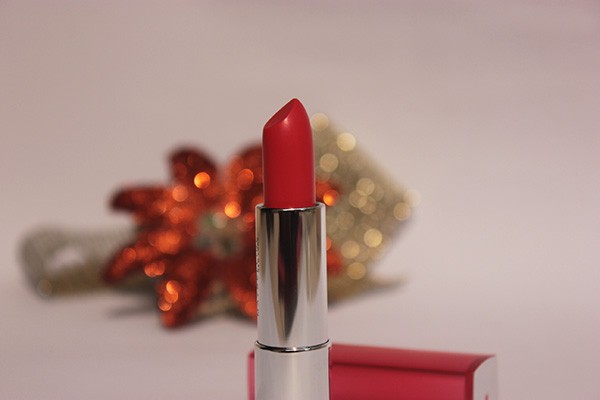 For pigmentation, it gives decent color in just single swipe. If you need more color you can layer it up for that opaque look. It provides a good coverage, and this can be huge plus for those with pigmented lips. The downside is if your lips are not exfoliated or have flaky skin then the finish would not be much clean. It will stick in between fines lines or accumulate at the corners of the mouth not giving an immaculate finish. So to get the best of this bold matte formula apply it on exfoliated lips.
For the staying power, it stays for good 4-4.5 hours. But to make it stay inside, you need to outline the lips otherwise it can bleed. And once the lip liner is applied, you can expect it to stay intact for around 4.5 hours, after which it starts fading leaving behind noticeable stain. So if you need to wear it for long hours you can reapply it or else let the stain give a pretty light coral color to your lips. The finish looks more satin than matte in the beginning but after sometime it moves more towards the matte side. This is not the matte(est) lipstick I have applied, though after using this I feel it gives a comfortable matte finish at no loss.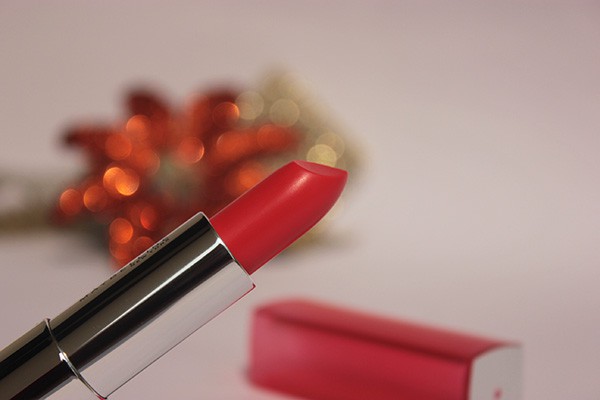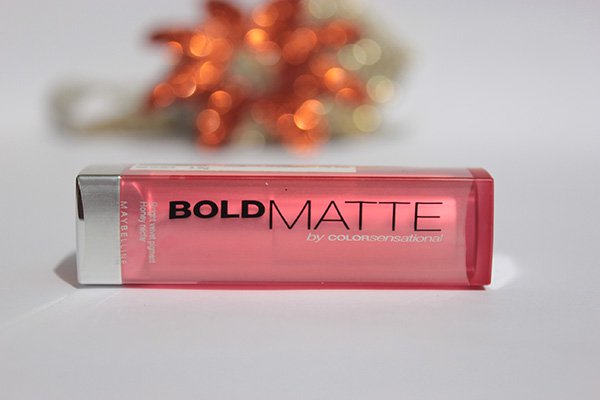 What I like about 'Maybelline Color Sensational Bold Matte Lipstick Mat 2'
– Delicious fragrance.
– Moisturizing base.
– Pleasant peach color.
– Build-able shade.
– Good for pigmented lips.
– Comfortable matte finish.
– Good staying power.
What I do not like about 'Maybelline Color Sensational Bold Matte Lipstick Mat 2'
– Gives best finish on exfoliated lips, otherwise settles in fine line or accumulates at the corners.
– It can bleed if applied without a lip liner.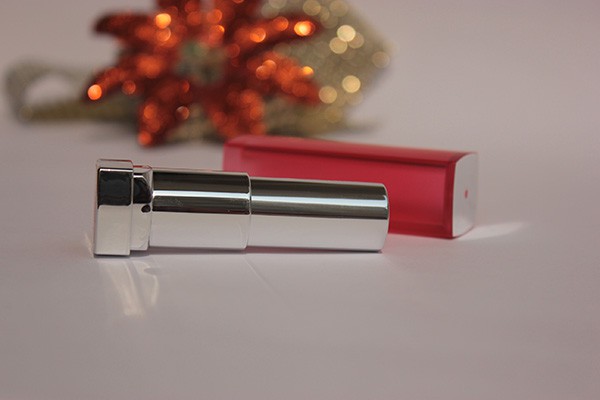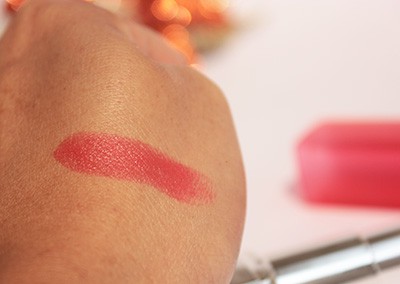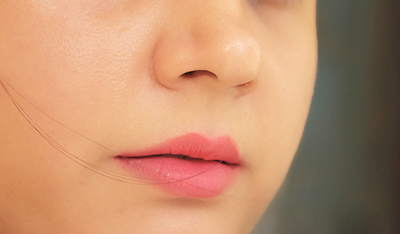 Price of 'Maybelline Color Sensational Bold Matte Lipstick Mat 2': Rs 450 for 3.9g
Ingredients of 'Maybelline Color Sensational Bold Matte Lipstick Mat 2'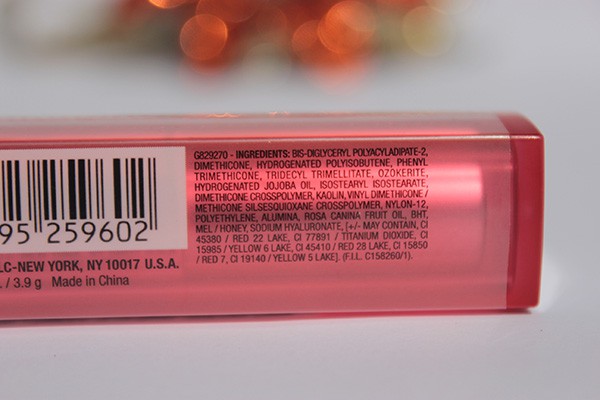 Shelf life of 'Maybelline Color Sensational Bold Matte Lipstick Mat 2': 36 months from date of manufacturing.
BABE Rating: 3.75/5
Final Word: MAT 2 is a bright coral lipstick with satin(y) matte finish. Being formulated with moisturizing oils, it keeps the lips moisturized yet maintaining a comfortable matte look. To get the best of this lipstick, it should be applied on exfoliated lips otherwise it will settle in fine lines and may spoil the look. The good staying power is an added advantage if you need to wear it for long time.
You might also like reading these related topics:
Maybelline Color Sensational Lipstick Hooked On Pink Review Swatches
Maybelline Colorsensational Moisture Extreme Lipstick Forever Plum Review Swatches
Maybelline Color Show Lipstick Cherry Crush Review Swatch
Maybelline Color Show Lipstick Orange Icon Review Swatch
Maybelline Colorsensational High Shine Lip Gloss Mirrored Mauve Review And Swatches