Hi Everyone,
I have been longing for an orange lipstick for an indefinite time, never got the courage to get one as I thought this shade was not meant for me. So when the Maybelline Color Show Orange Icon arrived at my doorstep, I was head over heels to try it. There are 32 vibrant shades in this range, so you can say they have a matching shade for your every outfit and every mood. Sticking to Orange Icon, read further to know if my penchant for orange lips has heightened or lessened after trying this lipstick.
My Take on 'Maybelline Color Show Lipstick Orange Icon'
'Orange Icon' is a beautiful coral shade that is quite wearable. The shade is not a poppy orange as the bullet appears; in fact it comes up decent on the lips. It has a pink(ish) undertone to it that makes it brighten up the face without giving an overdone look. It is the kind of shade that goes best on medium to fair skin tones.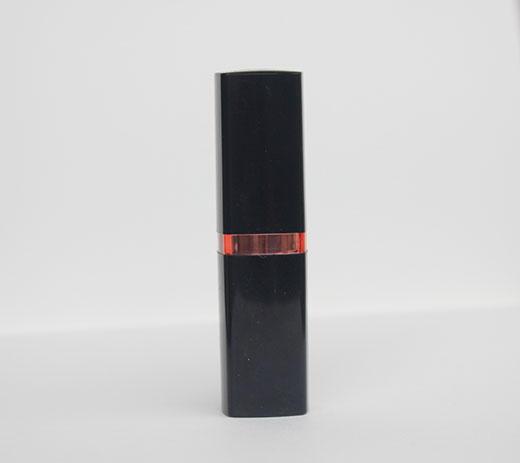 The bullet is packed inside a black plastic case, which is made of sturdy plastic. The packaging is neither very fancy nor very cheap; I would it is decently packed with an elegant touch. The cap has good grip over the bullet so you do not need to worry about getting it loose and smearing the lipstick all around. The bottom of the case has the shade name and color coding done so that you can identify the shade without actually opening the cap.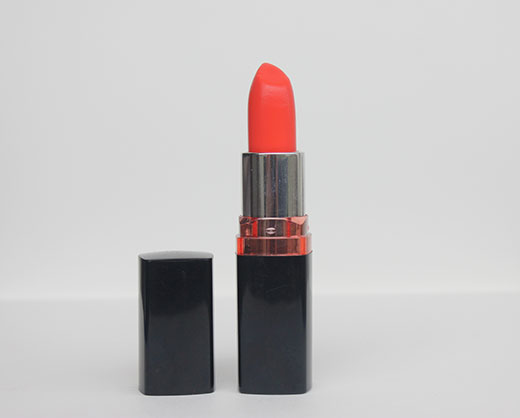 Bullet gives an impression of bright orange shade, upon swatching it turns into a warm coral color with pink undertone. The texture is creamy and smooth. It is easier to apply on lips as it glides smoothly. It does not settle into fine lines but bleed a little from the corners. Hence, to prevent that you need to dab some compact powder and it will remain in place.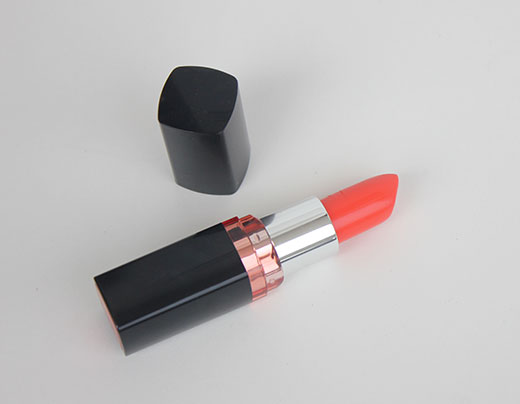 It has a noticeable fruity fragrance but strong enough to bother the nostrils. In fact, after couple of minutes of application the fragrance dissipates into the air.
Coming to the appearance, it is neither matte nor very glossy lipstick. Owing to the hydrating formula, it gives subtle sheen to the lips that does not look flashy.
The pigmentation is good. In just one swipe it gives a satisfactory color to lips; you can go for 2-3 swipes to build up the shade and cover lip-pigmentation (if any).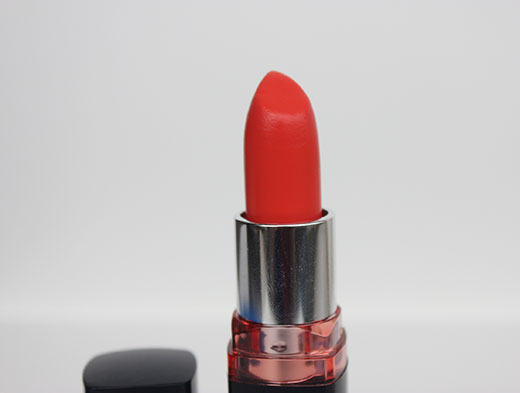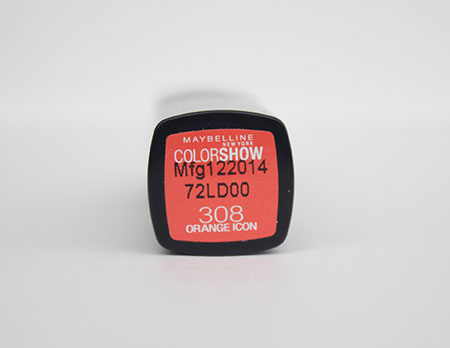 However, as said earlier it is not a typical orange lipstick but a coral one with slight hint of orange. It is a good moisturizer as well. Every time I wear this lipstick, I do not need to put a lip balm underneath. It keeps the lips moisturized without any stickiness and heavy feel.
It stays on to the lips for 3-4 hours and you need to reapply it after every meal or snack. It wears out unevenly but does not stain the lips. Looking at the reasonable price of this range, I do not mind reapplying it in order to keep my lips colored in this beautiful hue.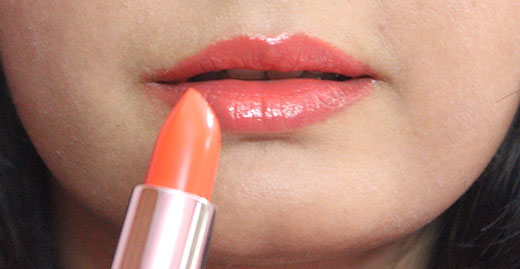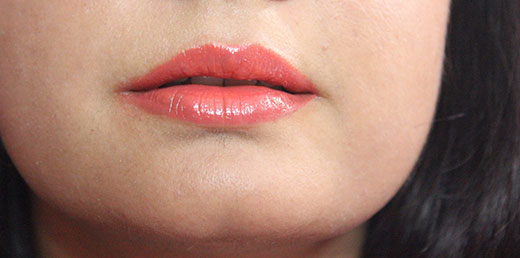 What I like about 'Maybelline Color Show Lipstick Orange Icon'
– Beautiful orange shade that is easy to wear.
– This range is reasonably priced.
– Glides easily on to the lips.
– It does not settle in fine lines.
– It does not dry out my lips.
– Good pigmentation.
– The bottom has color coding and name of shade.
– It does not feel heavy or sticky on lips.
What I do not like about 'Maybelline Color Show Lipstick Orange Icon'
– I wish the staying power would be little more.
– It slightly bleeds from the corners.
Price of 'Maybelline Color Show Lipstick Orange Icon': INR 299
Online Availability: Maybelline Color Show Lipstick 3.9 g from Flipkart.com
BABE Rating: 4/5
Final Word: Formulated with hydrating ingredients, Maybelline color show lipsticks keep your lips moisturized without giving any stretched or sticky feeling. Orange Icon is a beautiful coral shade that adds warmth to the overall look and brightens up the face. Though the staying power is not that great yet considering the wear-ability and price I think this shade is a must one to have.
You may also like reading these related topics
Maybelline Color Sensational Bold Matte Lipstick Mat 2 Review Swatches
Maybelline Color Sensational Lipstick Hooked On Pink Review Swatches
Maybelline Colorsensational Moisture Extreme Lipstick Forever Plum Review Swatches
Maybelline Color Show Lipstick Cherry Crush Review Swatch
Maybelline Colorsensational High Shine Lip Gloss Mirrored Mauve Review And Swatches