Hello my beautiful friends,
Today I am going to review 'Maybelline Color show Lipstick–309 Caramel Custard'. Maybelline is one of favorite brands so I was super-duper excited to try this lipstick. The 309-caramel custard is a beautiful shade, or should I say 'yummy shade' as it triggers my craving for custard. Well, the color show range was launched couple of years ago but I could not get my hands on it until recently. The color show lipsticks come in about 27 shades that suit every skin tone and all occasions. Usually, I prefer neutral lipsticks because I think they are best fit for my dusky complexion, so that's why I bought this caramel custard shade. Since I have been using this lipstick for past couple of weeks I find myself ready to share the review with you all.
What the product says:
Maybelline Color Show Lipstick is a fashionable intense lipstick, which comes in chic to vivid shades. Maybelline Color Show Lipstick is highly pigmented giving bold lips.
• It stays for up to four to five hours.
• The creamy texture is not heavy on the lips.
• It does not smear or smudge.
• It does not settle in line.
• As its highly moisturized you don't need to wear a lip balm.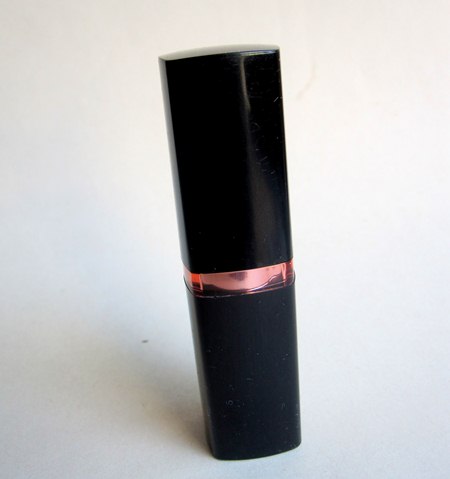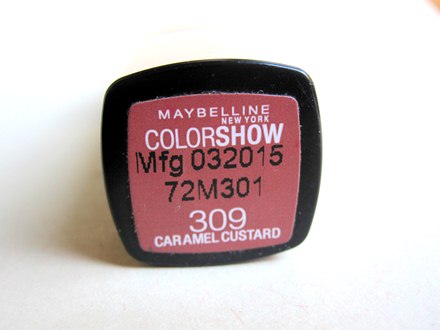 My take on 'Maybelline Color show Lipstick–309 Caramel Custard'
The lipstick comes in a black plastic with a translucent rim at the center. Though the packaging is good, the plastic does not seem sturdy. It is fragile and can be easily damaged. The rim matches with the lipstick shade, or at least convey to what color family it belongs to. For example a lipstick with red rim holds red shades, pink rim holds pink shades and brown rim holds neutral shades. The bottom of the lipstick bears the name, shade number, range and manufacturing date. The lipstick closes tightly with a click sound which ensures that cap is not going to move and will keep the bullet safe. Overall, the packaging is simple and I really feel that Maybelline should have made these lipsticks more eye-catching.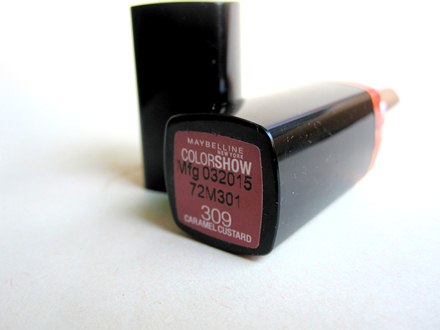 It has soft and creamy that helps in spreading the lipstick evenly without pulling. The fragrance is fruity but dissipates into the air minutes after the application. I wish it would have stayed longer. Caramel custard is beautiful neutral shade that brightens up the complexion, and would suit most of Indian skin tones. It is a very beautiful peach shade with brown undertone. It is highly pigmented and provides almost opaque coverage in just one swipe. For daily wear, I am satisfied with one swipe but for special occasion I like applying 2-3 coats for a more intense look. This is an ideal shade for daily wear, and with a swipe of gloss it would become good for parties as well. Or should I say, it can work for any occasion depending upon the choice and mood.
It feels light without any stickiness and does not make me feel that I have tons of heaviness on my lips. As I am not very good in pulling off heavy/bold lipsticks so I prefer light and neutral shades. For the finish, it is not totally matte rather it has little bit glossy touch to it. Sometimes I like to wear it totally matte and for that I take my powder and gently dab it over the lipstick. This trick soaks the sheen and gives a matte look. It also prevents it from transferring to food and rims of cups.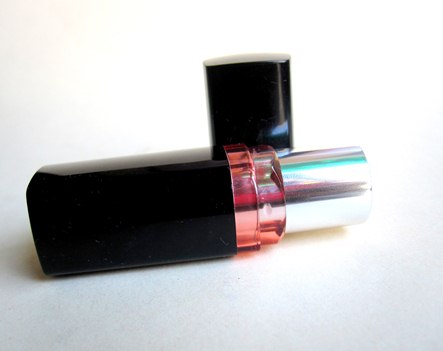 Because of the creamy texture the lipstick does not stay for long on my lips. It stays for maximum 3 to 4 hours, and after that it needs to be reapplied. It also has a tendency to settle in fine lines and to avoid that from happening I always make sure to scrub the lips before applying this lipstick. Also, I am applying 2-3 coats I use a lip liner underneath the lipstick as otherwise it starts bleeding from the corners.
It is a moisturizing lipstick so I never use a lip balm underneath. But one thing, as I have said earlier, is I ensure to scrub my lips before the application in order to prevent it from settling in fine lines. For availability, it is very easily available in market and affordable given the fact the quality is very nice.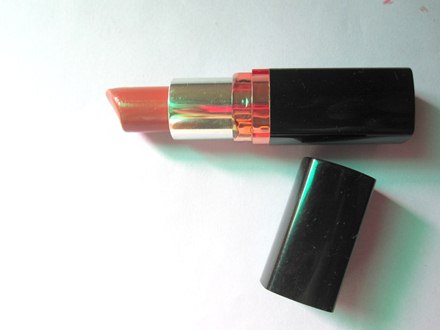 What I like about 'Maybelline Color show Lipstick–309 Caramel Custard'
– Beautiful shade that brightens up the complexion.
– Travel friendly, easy to carry around.
– Good fit for daily wear as well as special occasions.
– Feels light on lips.
– Excellent pigmentation and provides 80% coverage in one swipe.
– It has an affordable price tag.
– It is easily available in market.
– The texture of lipstick is very creamy and soft.
– It keeps the lips moisturized and hydrated.
– Color show range good number of shades to choose from.
What I do not like about 'Maybelline Color show Lipstick–309 Caramel Custard'
– The packaging is not so strong and boring.
– It bleeds out from corners.
– Its staying power is not very impressive..
Price of 'Maybelline Color show Lipstick–309 Caramel Custard': INR 299
Shelf life of 'Maybelline Color show Lipstick–309 Caramel Custard': 36 months
BABE Rating: 3.5/5
Final Word: Overall, Caramel custard is a nice daily wear shade that will suit most of Indian skin tones. This color instantly brightens up complexion, and is easy to pull-off. I really like the formula as it has made the lipstick lightweight and excellently pigmented. I recommend this lipstick to those who love neutral shades with semi-matte finish. I will definitely love to buy more shades from this range.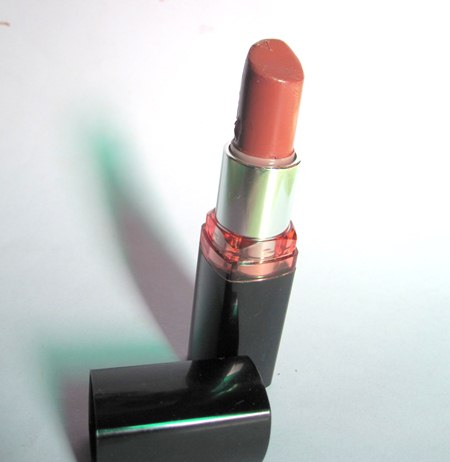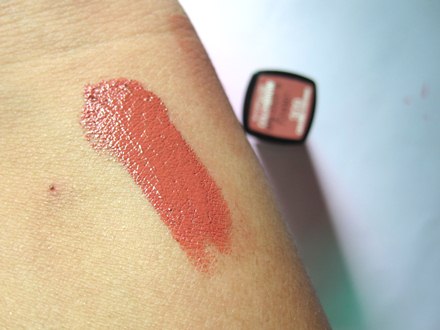 You might also like reading these related topics:
Maybelline Color Show Lipstick Cherry Crush Review Swatch
Maybelline Color Show Lipstick Orange Icon Review Swatch
L'Oreal Colour Riche Lipcolour Taffeta 861 Lipstick review
Lakme Enrich Satins Lipstick 129 Review Swatch
Revlon colorstay overtime Neverending Nude lip color review
Revlon Colorburst Lipstick (Rosy Nude – 065) review
Sugar Cosmetics Matte As Hell Crayon Lipstick Holly Golightly Review Swatch FOTD