Hello my beautiful friends,
I am not a big fan of lipsticks but there are times when I just cannot skip them. I love neutral lipstick shades with matte finish that give very soft and decent look. I have dusky skin tone so I try to go for those shades that make my complexion bright. The Lakme Enrich Satins Lipstick in shade 129 that I am reviewing today is a part of my vanity for about 6 months. Lakme enrich satins range has 70 shades varying from browns to pinks to reds. In this huge range of colors I am sure every skin tone will find a suitable color. But first, lets see my experience with 129 shade.
What The Product Says:

Cast a spell in satin. Rich color takes life in a luxuriously creamy stick that brings satin to your lips. Enriched with sunscreens, vitamins and the goodness of olives, your lips will have a story to share. Indulge in a pod of beautiful shades ranging from floral pinks to shimmering peaches.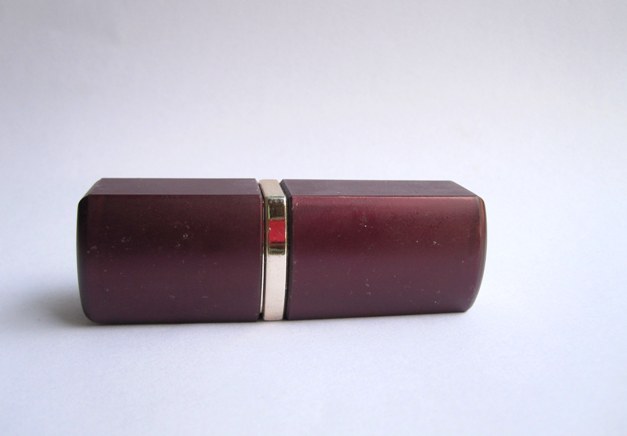 My Take on 'Lakme Enrich Satins Lipstick 129'
The packaging of the product is very simple. The outer casing is brownish red in color with golden inner casing. The golden rim at the centre has Lakme inscribed on it. This lipstick is from the old lot but Lakme has re-launched this range in new packaging, which is much better. The bottom of the lipstick bears the shade number and range name. Lakme has not given any names to these lipstick shades just the numbers, and there are no shade indicators either. So in case somebody has more than one shade she has to remember the correlation between shade and shade number. The cap of the lipstick closes with a click sound ensuring the bullet is safe inside the case.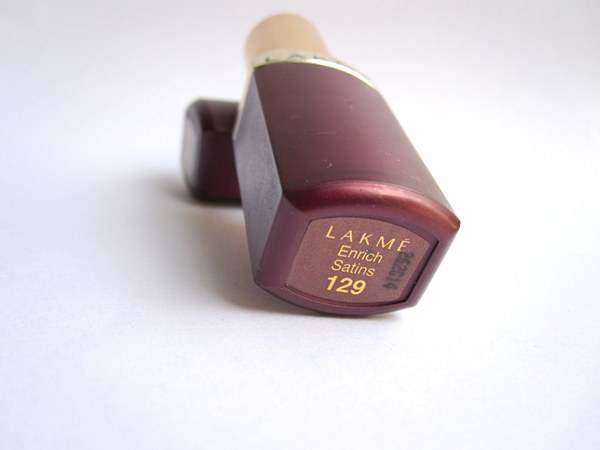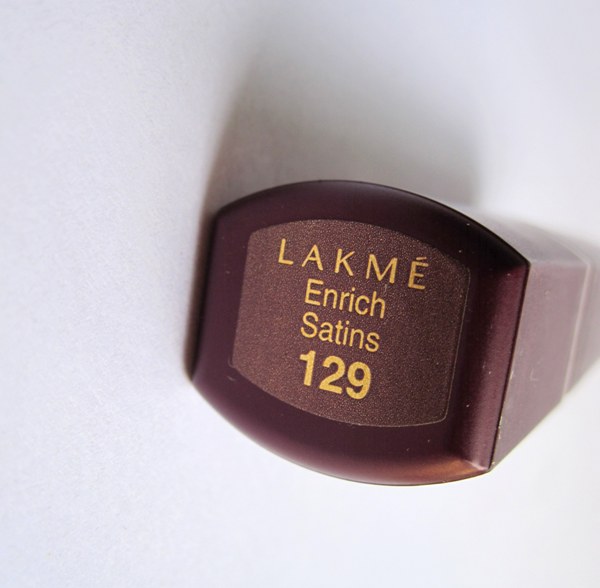 Just like the name the texture is satiny soft and creamy. It glides easily on the lips but the con is that because of the soft texture it also melts easily- especially in Delhi summers, which also have the capability to melt rocks. In order to prevent my lipstick from melting I keep in fridge and this trick works just fine.
The quantity is enough to make it run for months, even if used regularly. Just like the rim the bullet also has Lakme inscribed on it. As far as the shade is concerned, it is a beautiful neutral color that seems to be apt for all skin tones. Precisely, it is a coral pink shade with little hint of brown that makes it an easy-to-carry lipstick. For the pigmentation, it is intensely pigmented, a single swipe does the job but I apply 2 coats to deepen the look. The intensity of the lipstick is really nice for pigmented lips. This n*de shade would suit a lot of Indian skin tones.
It is neither too shiny not too matte. The semi-glossy finish just looks awesome and it never makes me apply another layer of gloss. Sometimes I like to wear it matte, and for that I apply the lipstick and leave it for 5 minutes so the color gets settled on lips. Then I take very little amount of powder and dab it on my lips. In this way the powder absorbs the excess moisture and gives a matte finish. This trick also enhances the longevity.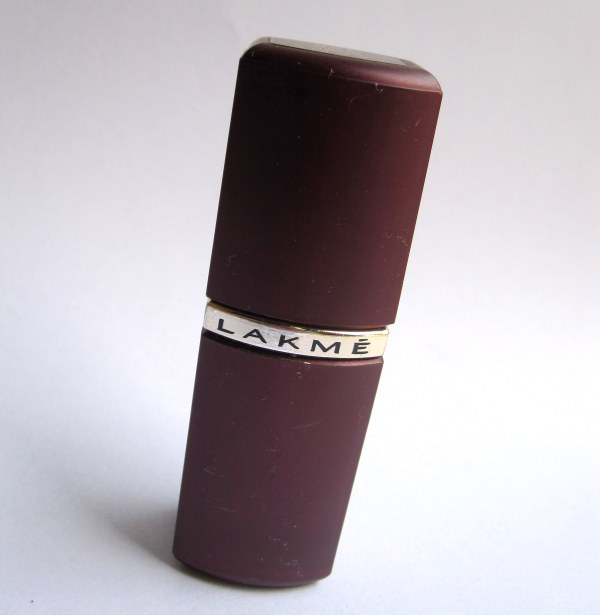 It is formulated with vitamins and olive oil; hence, it actually moisturizes the lips. I don't apply lip balm before applying it, and it keeps the lips moisturized for long. But if somebody has really chapped lips then a layer of moisturizer is recommended before application.
As it has creamy formula so it easily gets transferred on teeth, cups, glasses, etc. I make sure to clean my inner lips area and teeth before giving the final touch. Because of the transferrable thing the staying power is not very impressive; it needs frequent touch ups. It can be easily removed, I just take my lipstick remover wet tissue and with one swipe it all comes out. The good thing is it does not stain lips. Overall, it is budget friendly and the quality is worth the price.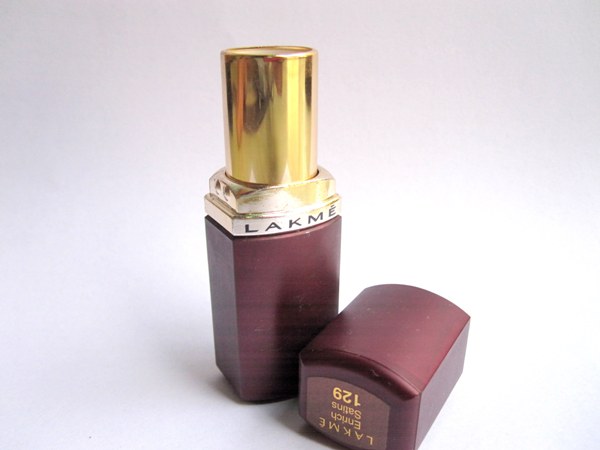 What I like about 'Lakme Enrich Satins Lipstick 129'
– Neutral color that would suit all skin tones.
– Smooth and creamy texture.
– The color is perfect for Indian skin tones.
– It is highly pigmented.
– The packaging is travel friendly.
– Brightens up the face and gives a fresh look.
What I do not like about 'Lakme Enrich Satins Lipstick 129'
– It easily melts.
– It cannot handle heavy meals, and require frequent touch ups.
– It bleeds out without lip liner.
Price of 'Lakme Enrich Satins Lipstick 129: Rs 230
BABE Rating: 3.5/5
Final Word: Formulated with Vitamins and Olive oil, it feels smooth, creamy and velvety soft. It gives a beautiful color which brightens up the face and complements the look- whether it is for a party or regular office or outing with friends. I really like the neutral color and glossy finish combination. But still, next time I would like to try a different color from the same range. I recommend this lipstick to those who want a neutral shade with a hint of pink.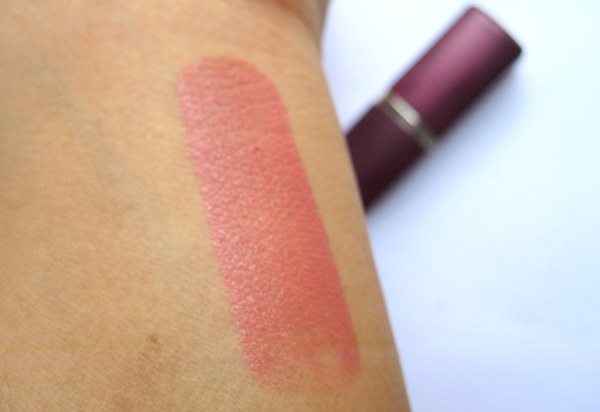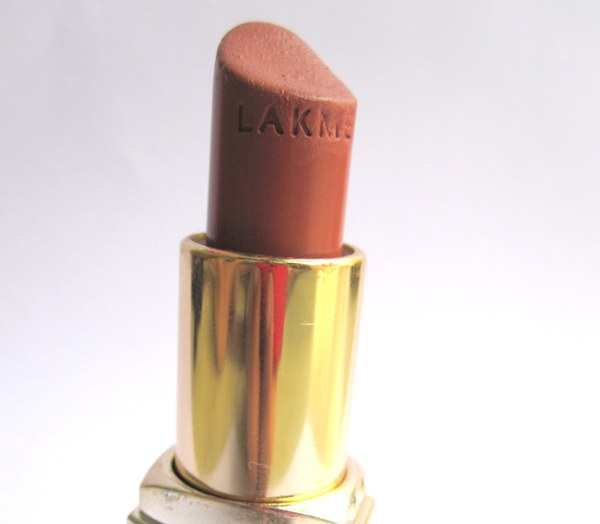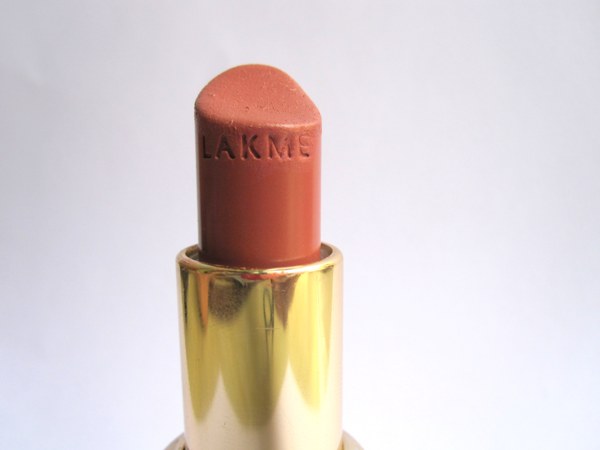 You might also like reading these related topics
Sugar Cosmetics Matte As Hell Crayon Lipstick Holly Golightly Review Swatch FOTD
L'Oreal Colour Riche Lipcolour Taffeta 861 Lipstick review
Revlon colorstay overtime Neverending Nude lip color review
Revlon Colorburst Lipstick (Rosy Nude – 065) review