This is my third and last review of three color show lipsticks I bought couple of weeks back. It is brightest lipstick of the lot, and as they say I have saved the best for the last. If you would like check the reviews of ''Mysterious Mocha'' & ''Pop of pink'' lipsticks first. For 'Bold Crimson' shade let's quickly go through the product description before jumping on to the review.
What the product says:
From the loved Color Show Lipsticks, Maybelline New York is now launching 12 new lipstick shades now in Matte! With stunning hues of red, pink, brown and mauve, these 12 matte, moisture rich shades allow you to express yourself every day. The ultra-care and super hydrating formula is light and gives you high coverage while caring for your lips. The heat resistant soft waxes in the product ensure texture integrity even at high temperatures. These matte shades have the right amount of moisture, a sweet fragrance and stay true without drying up your lips. Are you ready to show off your colorful sides?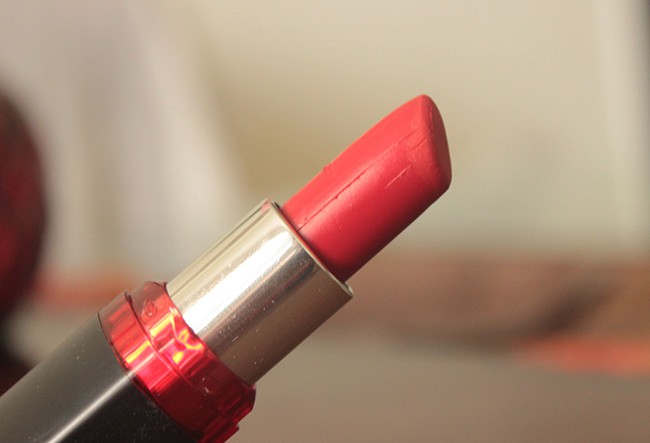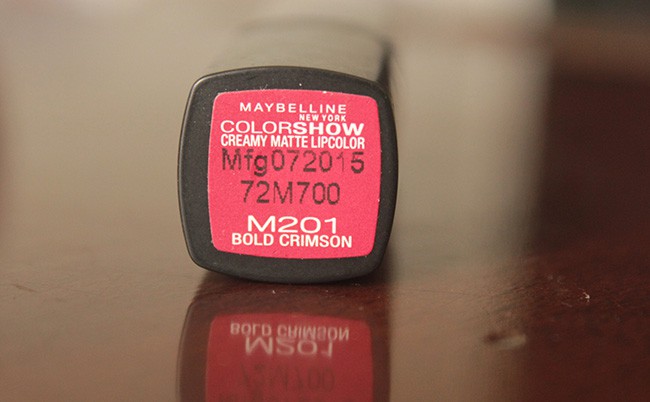 My take on 'Maybelline Color Show Lipstick Bold Crimson'
Maybelline color show lipsticks come in black rectangular case that has matte look. The entire case is black except the section where the cap meets the bullet holder. The intersection point is translucent and depicts the lipstick shade. Though it is not a true replica of the shade but it provides enough hint to pick up the right shade in case there are multiple color show lipsticks in your collection. The bottom bears the shade name and number on a color coded sticker, which again I think does not match completely with the shade. I would recommend swatching it out before purchasing.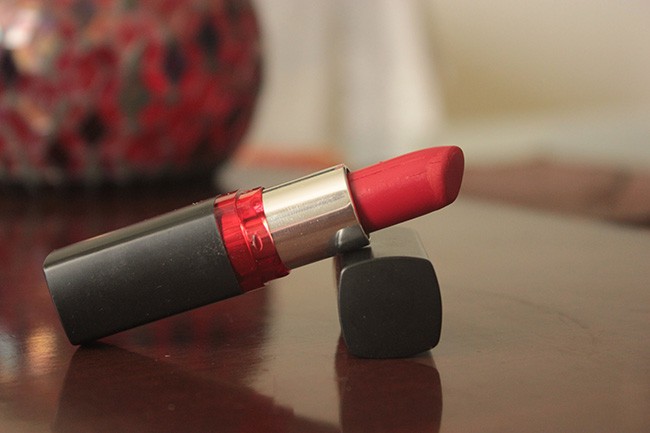 Bold crimson is a deep red shade that suits all Indian skin tones. As the name says, it is a bold lip color. It adds brightens to the complexion, and does not look too loud. It gives excellent color pay off and just 2 strokes provide 100% coverage, which is awesome for pigmented lips. It is a perfect shade for new India brides at a cheap price. Though I rarely wear this shade to my regular office but while partying I would love to wear. This shade gives a glamorous, se*y and head-turning look, and who does not want to be the center of attraction.
Its texture is creamy and hydrating. It glides smoothly on the lips without highlighting dry patches and fine lines. It has a matte finish that does not dry out lips. I am a matte lover and I love such lipsticks that give that finish without pulling moisture from my lips. Because of the hydrating formula it does not even require a lip balm underneath. I love the finish along with hydrating feel.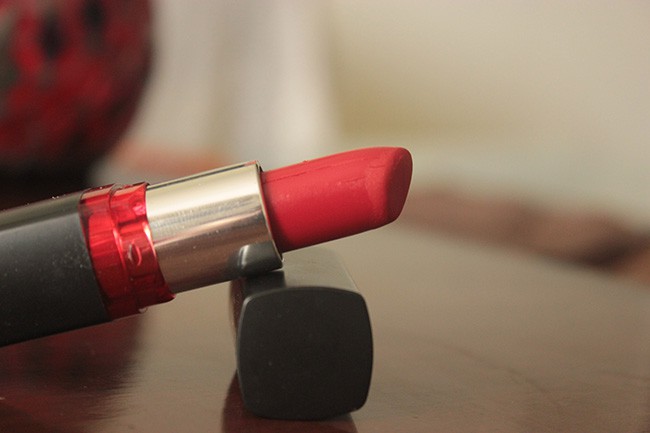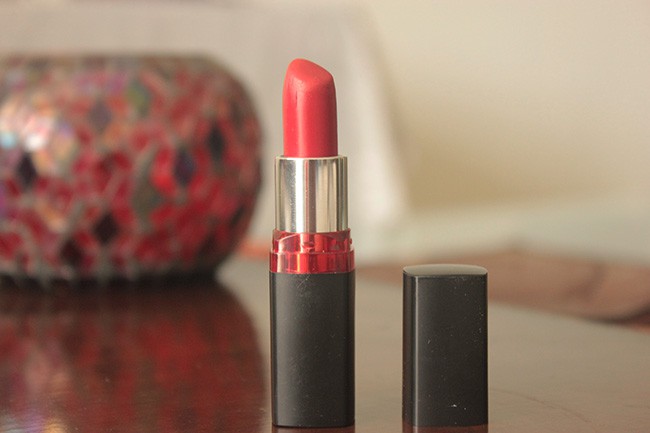 It stays for good 5-6 hours; after heavy meals or snacking I need to do reapply it but even if I do not do that it does not give an awkward look. As it has nice pigmentation so when it fades after 6 hours it leave prominent hue, giving an impression that a light lipstick is still on the lips. It can be completely removed using a makeup remover and does not leave any stain behind. It has mild fruity fragrance that fades away after few minutes; I wish it could have stayed on for longer.
What I like about 'Maybelline Color Show Lipstick Bold Crimson'
– Suitable for Indian skin tones.
– Brightens complexion.
– Non-drying formula.
– Hydrates lips.
– Decently pigmented.
– Mild fruity fragrance.
– Ideal for brides.
– Average staying power.
What I do not like about 'Maybelline Color Show Lipstick Bold Crimson'
– The packaging could have been sturdier.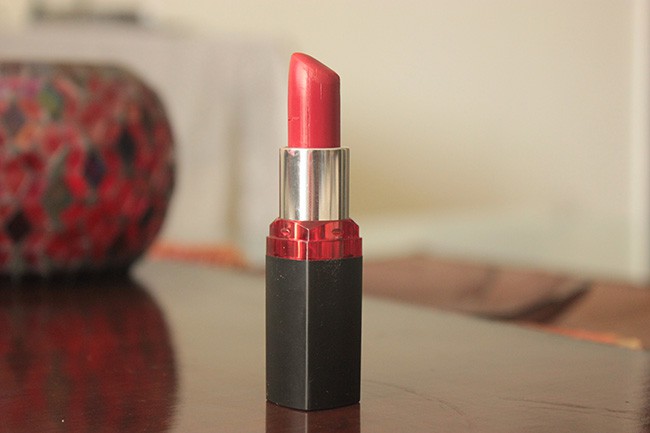 Price of 'Maybelline Color Show Lipstick Bold Crimson': Rs 325
BABE Rating: 4.75/5
Final Word: Enriched with hydrating formula, Maybelline color show lipstick in 'Bold Crimson' shade keep the lips hydrated. Its creamy texture is helpful in application, and the good color pay off provides excellent coverage in just two strokes. Overall, I love the bright shade as it enhances the beauty, and would recommend it bold lipstick lovers and new brides.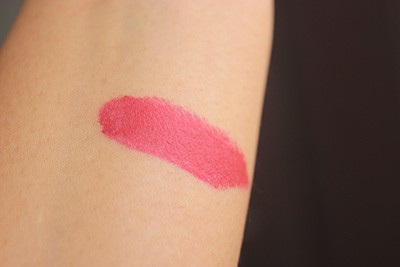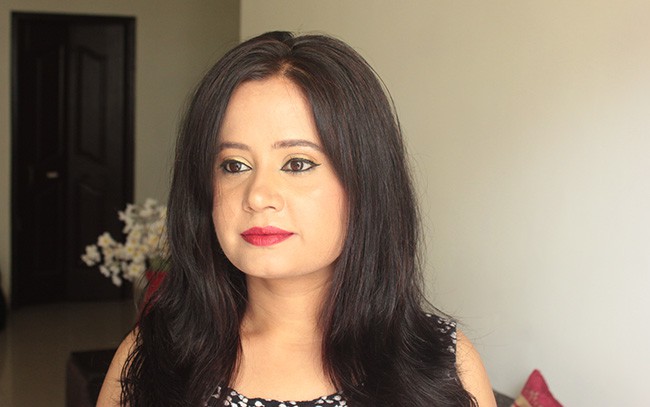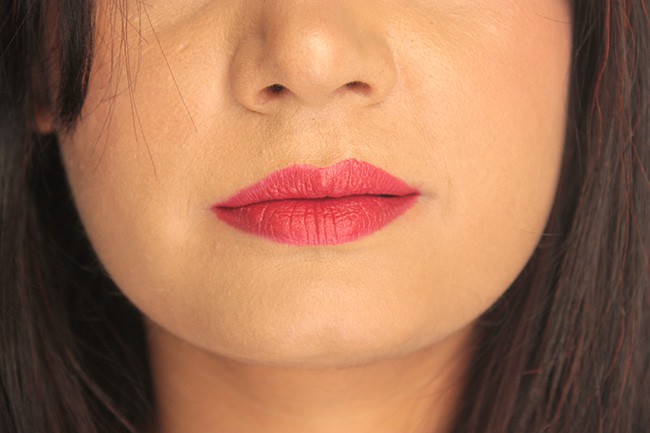 You might also like reading these related topics:
Maybelline color show mysterious mocha lipstick review
Maybelline Color Show Lipstick Pop Of Pink Review Swatches
My 6 Favorite Pink Lipsticks For Summers
Flormar Deluxe Shine Gloss Stylo Lipstick D31 Review Swatch
Maybelline Color Sensational Lip Gradation Coral 1 Review Swatches FOTD
Oriflame The ONE Color Unlimited Lipstick Violet Extreme Is My New Love
Maybelline Color show Lipstick–309 Caramel Custard Review
Maybelline Color Show Lipstick Cherry Crush Review Swatch
Maybelline Color Show Lipstick Orange Icon Review Swatch