Hello Everyone,
Lip balms are an essential product for me that I need throughout the year, no matter which month or weather is going. I hate it when my lips look dry and chapped. To save my lips from this uneasiness, I keep on smearing them with multiple layers of lip balm. These days we are surrounded by so many options of lip balms that it has become a task for us to find a perfect one that can take very good care of our lips and makes our smile more attractive.
Between these endless options of lip balms, there is a brand that always catches my attention, and I end up buying and trying its each and every product. Its quirky packaging and pocket friendly price tag makes sure that you won't skip any product from this fabulous brand. So friends, this time I am going to share my experience and views on Maybelline Baby Lips Electro Pop–Fierce N Tangy:
What the product says:
Give your lips an eye – catching neon twist with Maybelline New York's Baby Lips Electro Lip Balms. It is enriched with Maybelline New York's exclusive Botanical Cell Repair Concentrate and a blend of effective ingredients like honey, shea butter and collagen. This flavoured lip balm hydrate and softens the lips and keeps them smooth for upto 8 hours. Smear on these eye- -catching, glossy, neon lip balm and create your own Neon and Electro Style Statement.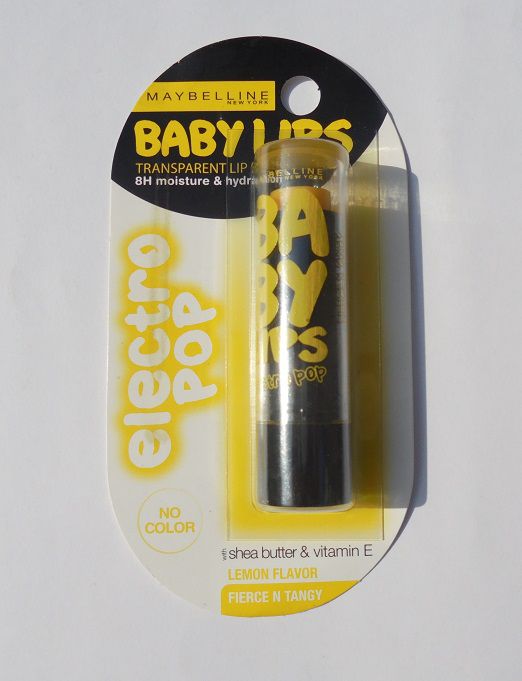 My Take on 'Maybelline Baby Lips Electro Pop–Fierce N Tangy'
My dressing table is over flowing with lip balms but still I don't miss a single opportunity to add more lip balms to my collection. Though I have lip balms of zillion brands but the one brand on which I trust the most and use the most is Maybelline. I am so much in love with super cute looking 'Baby Lips' lip balm that I have bought almost all of its variants. Other major reason behind my madness for these Baby Lips is its brand ambassador, Alia Bhatt.
Unlike the old packaging of Baby Lips, the new packaging is quite different and attractive. Its packaging is one of the reasons that why I like to add this lip balm in my shopping cart. It has a very cute and girlish neon yellow and black colour packaging. It is based on a retractable mechanism and is protected with a transparent cap, which makes sure that you buy exactly the same shade that you are willing to buy. The outer cap is sturdy enough to make it a good option to carry while travelling.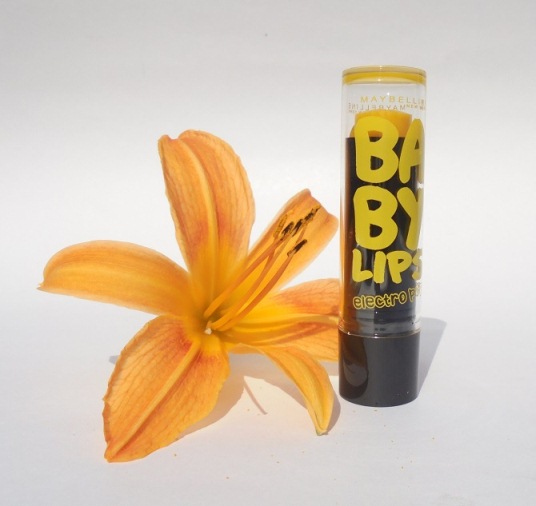 The stick has yellow colour which is quite similar to the outer cover. It has a creamy texture that smoothly glides on the lips without making it greasy or sticky. It instantly moisturizes the dry chapped lips and makes them soft and nourished. It also helps in healing the damaged lips and hydrates it. It has a very refreshing citrusy fragrance just like lemons. The fragrance lingers on the lips for few minutes and then fades away.
The product claims to keep the lips moisturized and hydrated for eight long hours but I did not experience that. On me, the balm stays on the lips for couple of hours after which it slowly fades away. The lips look moisturized and hydrated only till the product stays on the lips. I need to reapply the lip balm after every few hours to get those soft and supple lips back. It is a major drawback for lazy girls like me for whom hunting the lip balm in the bag and applying it after every couple of hours is a big task.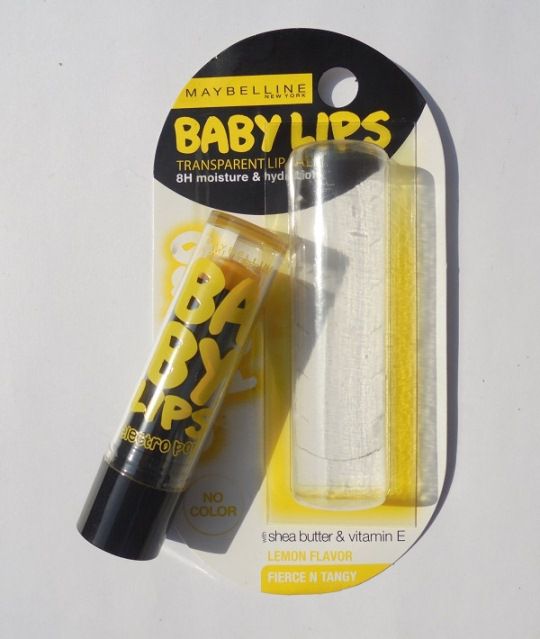 Though the product claims to be a transparent lip balm but it leaves a faint yellowish tint behind that looks a bit odd on the lips, especially on pigmented or naturally pink lips. But it all depends on personal liking, if you like it go for it.
It does not contain any SPF content which is another drawback. These days our requirement for SPF is not limited to moisturiser and lotions only, we need SPF in our Lip Balms also. Presence of SPF in the lip balm helps in protecting our lips from the harmful rays of sun and keeps the pinkish colour of our lips intact.
What I like about 'Maybelline Baby Lips Electro Pop–Fierce N Tangy'
– It has different and attractive packaging.
– It glides smoothly on the lips.
– It does not leave whitish cast.
– It feels light on the lips.
– It has a yummilicious fragrance.
– It moisturises the lips and heals.
– It contains the goodness of Shea Butter and Vitamin E.
– It is a travel friendly neon colour lip balm.
– It is easily available.
– It comes with a very affordable price tag.
What I do not like about 'Maybelline Baby Lips Electro Pop–Fierce N Tangy'
– It does not moisturize the lips for 8 hours.
– It does not have SPF.
– It is not for super dry lips.
– It leaves a yellowish tint on the lips.
– It needs to be reapplied after every couple of hours.
Price of 'Maybelline Baby Lips Electro Pop–Fierce N Tangy': Rs.135/- for 3.5 g
Ingredients of 'Maybelline Baby Lips Electro Pop–Fierce N Tangy':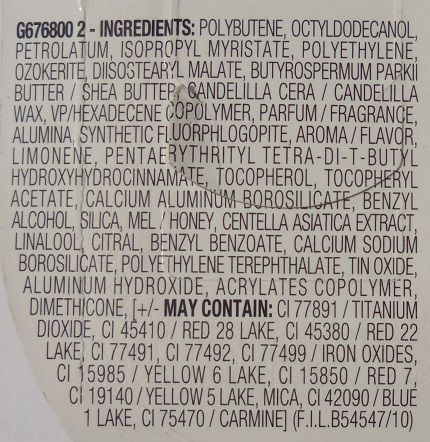 Shelf Life of 'Maybelline Baby Lips Electro Pop–Fierce N Tangy': 36 months from the date of manufacturing
BABE Rating: 4/5
Final Word: If you are bored with your old lip balms and want to fill your life with some bright and neon colour, then this is the product you need. It is a super cute looking lip balm with a refreshing fragrance. It instantly moisturises the lips and starts healing the chapped and dry lips from the first usage itself. In case you have light pink lips or you face the sun a lot then you might regret your decision of buying it as it leaves a yellowish tint behind and does not have any SPF content in it. Besides that, it is a decent lip balm that moisturises the lip and helps in making them babiliciously soft. Presence of amazing ingredients like shea butter, vitamin E and honey deeply nourishes the lips and makes it kiss ready. Its continuous usage helps in achieving healthy and perfect pouty lips.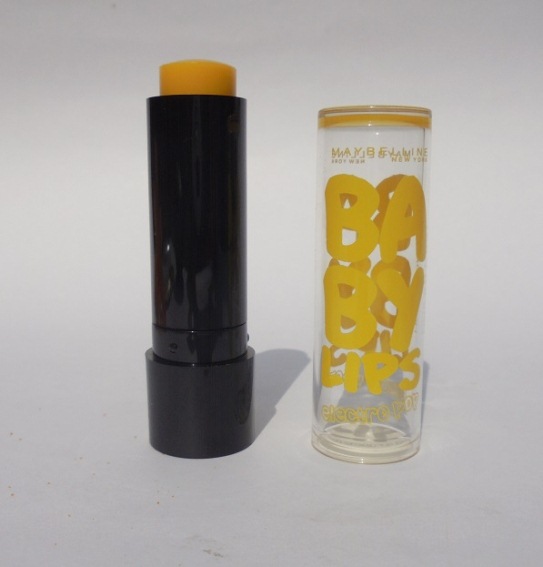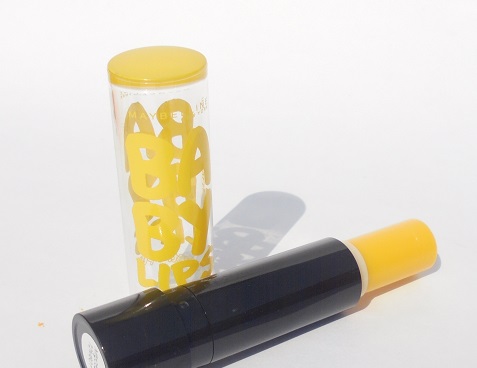 You might also like reading these related topics:
Kronokare The Frizz Kiss Cooling Explosion Lip Balm Review
Organic Harvest Organic Lips Strawberry Lip Balm Review
Maybelline Baby Lips Candy Wow Raspberry Review FOTD
Maybelline Baby Lips Candy Wow Lip Balm–Cherry Review
Maybelline Baby Lips Spiced Up Lip Balm Berry Sherbet Review
Maybelline Baby Lips Electro Pop Lip Colored Lip Balm Pink Shock Review Swatch
Maybelline Baby Lips Spiced Up Lip Balm-Spicy Cinnamon Review
Forest Essentials Lip Scrub Cane Sugar Review, Swatch
Nivea Fruity Shine Strawberry Lip Balm Review
VLCC Lovable Lips Strawberry Lip Balm Review
Neutrogena Norwegian Formula Lip Moisturizer Review