Of lately, Maybelline has launched another range of baby lips i.e. 'Baby Lips Spiced Up'. These balms come in three delicious flavors- spicy cinnamon, tropical punch and berry sherbet. For people like me, whose favorite flavors are infused in these lip balms, these are difficult to resist. I love cinnamon for its sweet yet strong fragrance. It boosts up the taste and aroma of cookery science. For my love of cinnamon, I badly wanted to try the lip balm. Above all, because of its refreshing scent I wanted to keep cinnamon close to my gulping mouth. Read on to know whether I am satisfied with the performance of 'Spicy Cinnamon' lip balm.
My Take on 'Maybelline Baby Lips Spiced Up Lip Balm-Spicy Cinnamon'
Just like the regular baby lips, spiced up lip balms come in similar packaging with soft cardboard casing and transparent sheet around the lip balm. The cardboard is lively decorated in the same color as that of the lip balm. As I said earlier, other than the design difference there is no change in packaging style from regular baby lip balms.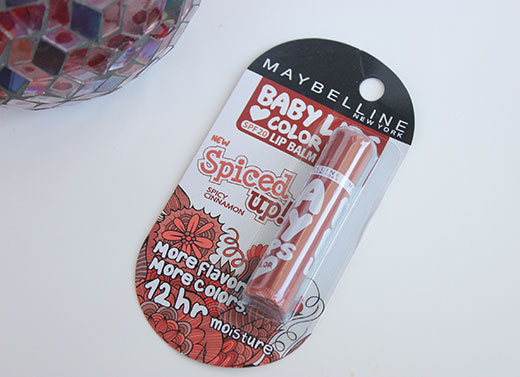 The lip balm is based on roll-on technique with a small twister at the bottom, which helps in twisting the bullet up and down. In case you twist up more product than actually required, it can be easily put back inside just by rotating the twister in clockwise direction. The cap has strong grip over the bullet ensuring clean and safe usage.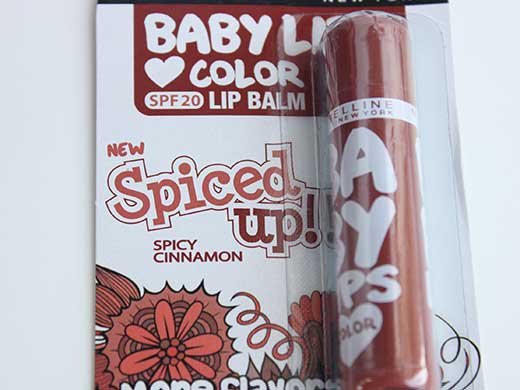 The lip balm looks similar to the color of cinnamon but does not show up that pigmented when applied on the lips. In fact, it leaves a very earthy or I would say soft brown shade on the lips. The pigmentation is not buildable, so you will get the almost same shade no matter you swipe it once, twice or multiple times. For pigmented lips, this might be a problem as it won't cover up the pigmentation. But speaking of only shade, it would come up well on all Indian skin tones.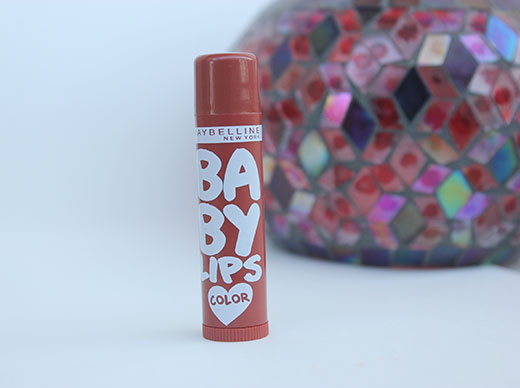 It has mild cinnamon fragrance mixed with bubble gum flavor. The fragrance dissipates after just couple of minutes of applying this lip balm. I really wish it would have stayed for at least an hour as that was the reason I went for this lip balm.
The texture is soft yet not very melted. It glides on to the lips without giving a sticky and heavy feeling. Personally, I like such lip balms that do not give a buttery feeling to lips. In fact, these types of lip balms can be easily used underneath lipsticks as they do not cause them to bleed.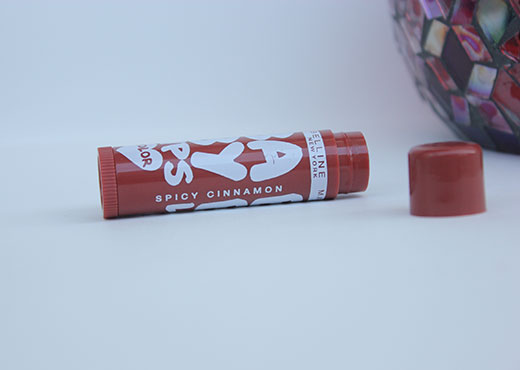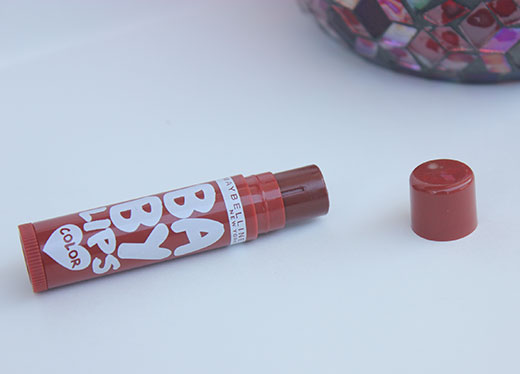 For efficacy, it makes my lips feel soft and hydrated. I need to reapply it after every few hours, but I do not mind the reapplication part as it is light on the lips and can be conveniently applied. It also contains spf 20, which provides sun protection and hence, pigmentation.
This lip balm does not claim of healing or repairing the lips but moisturizing them, and neither does it do anything on those parameters. It is a soft brown lip balm that slightly colors lips, provides a good moisture base for lipsticks and, also aromatizes them for a short while.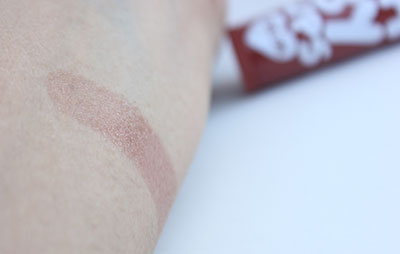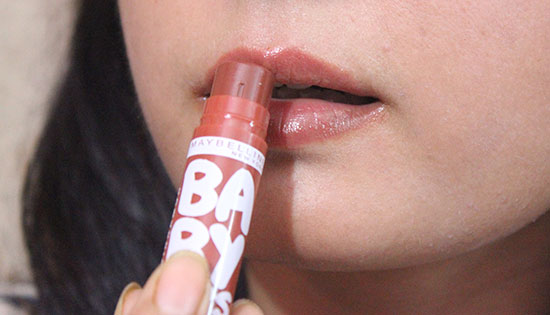 What I like about 'Maybelline Baby Lips Spiced Up Lip Balm-Spicy Cinnamon'
– It has sweet cinnamon fragrance.
– It gives a tinted warm brown look to lips that looks quite earthy.
– It does not feel heavy or sticky.
– It makes lips soft and delectable. 
– Unlike other lip balms, it does not melt on lips. Hence, you can easily top up your favorite lipstick without any fear of bleeding.
– Being enriched with SPF 20, it protects lips from sun.
– Hygienic roll-on packaging.
– It does not make a prominent impression on cups.
What I do not like about 'Maybelline Baby Lips Spiced Up Lip Balm-Spicy Cinnamon'
– Ingredient list not mentioned anywhere on the packaging.
– Slightly over priced.
– The 12 hour moisture claim stands true if the lips balm is reapplied every few hours.
– It does not do much for already pigmented lips.
Price of 'Maybelline Baby Lips Spiced Up Lip Balm-Spicy Cinnamon': INR 175
Online Availability: Maybelline Baby Lips, Spicy Cinnamon from Amazon
Shelf life of 'Maybelline Baby Lips Spiced Up Lip Balm-Spicy Cinnamon': 36 months from packed date.
BABE Rating: 4/5
Final Word:Formulated with vitamin E and coconut oil, spicy cinnamon lip balm keeps lips soft and hydrated. The soft brown color gives a natural look to lips along with mild cinnamon fragrance. Overall, this lip balm is a good option if you want to give an earthy look to your lips, protect them from sun, aromatize them with cinnamon and moisturize them.
You may also like reading these related topics
Maybelline Baby Lips Electro Pop Lip Colored Lip Balm Pink Shock Review Swatch
Forest Essentials Lip Scrub Cane Sugar Review, Swatch
Nivea Fruity Shine Strawberry Lip Balm Review
VLCC Lovable Lips Strawberry Lip Balm Review
Neutrogena Norwegian Formula Lip Moisturizer Review