Hi Everyone,
A couple of months back Maybelline has launched 'baby lips electro pop' lip balms. As the nomenclature conveys, these lips balms are formulated to give a pop of colour to your lips. You can find these cuties in six electrifying shades: Pink Shock, Fierce n Tangy, Berry Bomb, Oh! Orange, Minty Sheer and Strike a rose shades. But in India just four shades have been launched excluding minty sheer and strike a rose. Nevertheless, in addition to the color, these lip balms are infused with different flavors as well. Here is the flavor list:
Pink Shock = Watermelon
Fierce n Tangy = Lemon
Berry Bomb = Berry
Oh! Orange = Orange
What the product says:
Give your lips an eye-catching neon twist with Maybelline New York's Baby Lips Electro Lip Balms.
Enriched with Maybelline New York's exclusive Botanical Cell Repair Concentrate and a blend of effective ingredients like honey, Shea butter and collagen, these flavored lip balms hydrate and soften lips and keep them smooth for up to 8 hours. Smear on these eye-catching, glossy, neon lips balms and create your own Neon & Electro Style Statement!
My Take on 'Maybelline Baby Lips Electro Pop Lip Colored Lip Balm Pink Shock'
I wanted to have all 4 shades but spotting these lips balms at a counter is a difficult task. Even purchasing a single shade gave me tough time; it appears that the demand of these lip balms is already outrunning the supply. Luckily, I found the pink shock shade at GIPs Maybelline counter before anyone could eye on it 😉 .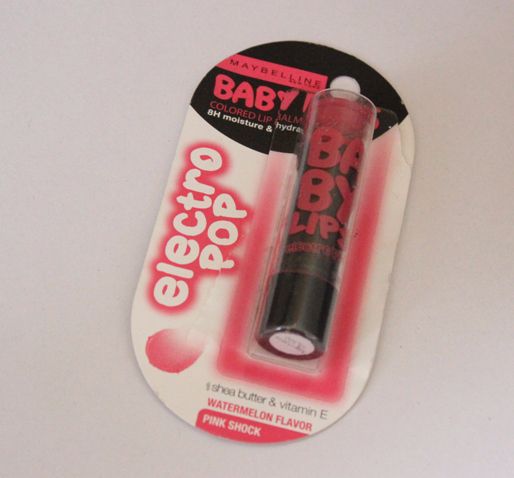 Well, electro pop lip balms have almost similar packaging as that of baby lips lipcare balms, except for the transparent cap. The lipcare balms used to have opaque caps that make it impossible to see the actual shade of the balm. The transparent cap of electro pop balms ensures that you get to see the color of the bullet before actually purchasing the product. It comes in a roll on packaging that I find quite hygienic and convenient to use as compared to those balms that come in small pots and have to be applied with fingertip. Never mind, before buying the electro pop balm ask for the tester so that you get to see how the color would appear on your skin tone.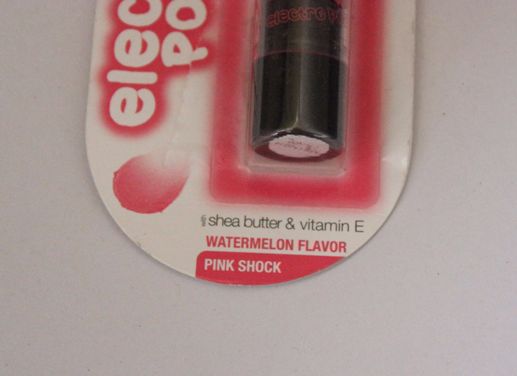 'Pink Shock' has bright neon pink bullet but when it is actually applied on the lips not all that pigmentation is recreated. Instead, it imparts quite prominent pink color to lips which if does not look like a real lipstick at least gives an impression that some color is applied on the lips. It is a girly shade; in fact those who do not like applying lipsticks can go for this lip balm for a subtle tinge of pink.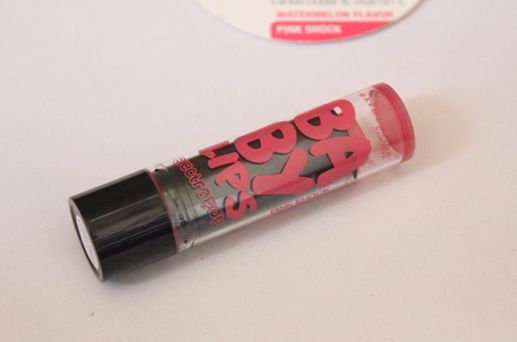 Talking about the flavor, I seldom realize that I have watermelon balm on my lips. The fragrance is quite mild, so I rarely smell it. In fact it does not even taste like watermelon. So if you are not a fruity-fragrance pro and you were planning to ditch it, it is time to change that decision.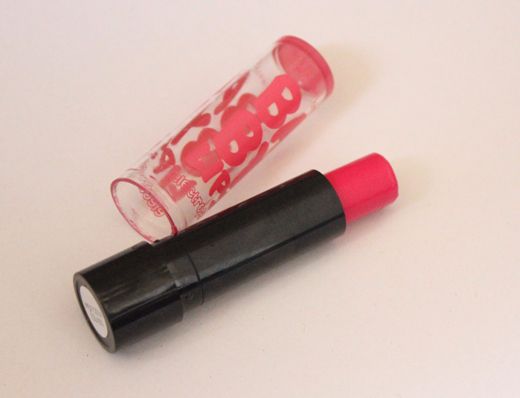 It feels very light on lips. Plus, the formula is non-sticky and moisturizing for long hours. You can always apply it beneath a lipstick to ensure hydration. Whenever I want to go light, I prefer to use it alone. As far as the color is concerned it fades away in 4-5 hours but the moisture effect stays on for another hour or so, which I think is less than what I used to get from baby lips lipcare balm. But the good thing is that I rarely see it staining cup brims, so not sure where that color disappears. 😉
The one thing that you need to be careful about is the application part. It glides smoothly, sometimes leaving more product than necessary on lips. So while applying, you have to ensure that only the required quantity is transferred. Otherwise, be ready to wipe the overages off the lip boundary.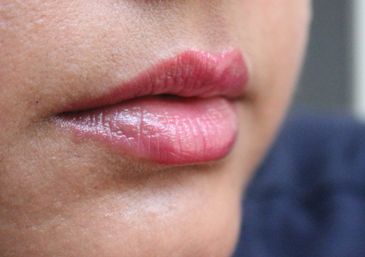 What I like about 'Maybelline Baby Lips Electro Pop Lip Colored Lip Balm Pink Shock'
– Formulated with Vitamin E and shea butter.
– Feels feather light on lips.
– Glides smoothly with much stickiness.
– Imparts decent pink color to lips.
– It keeps lips moisturized for long hours.
– Pocket size product that makes it easy to carry.
– Rarely, it leaves lip impressions.
– It can be applied beneath lipsticks for that moisturizing feeling.
What I do not like about 'Maybelline Baby Lips Electro Pop Lip Colored Lip Balm Pink Shock'
– Might not be a good product if you looking to conceal lip pigmentation.
Price of 'Maybelline Baby Lips Electro Pop Lip Colored Lip Balm Pink Shock': INR 165 for 3.5g.
Shelf life of 'Maybelline Baby Lips Electro Pop Lip Colored Lip Balm Pink Shock': 36 months from manufacturing date.
BABE Rating: 4.8/5
Final Word: Maybelline Baby Lips Electro Pop Lip Colored Lip Balm Pink Shock is two in one product i.e. it imparts color and keeps the lips moisturized. Formulated with shea butter and vitamin E, it makes lips smoother and colorful without actually transferring color to lips. Overall, a nice investment if you are planning to reap two benefits in single effort 
You may also like reading these related topics
Maybelline Baby Lips Spiced Up Lip Balm-Spicy Cinnamon Review
Forest Essentials Lip Scrub Cane Sugar Review, Swatch
Nivea Fruity Shine Strawberry Lip Balm Review
VLCC Lovable Lips Strawberry Lip Balm Review
Neutrogena Norwegian Formula Lip Moisturizer Review