On one side where the market is bombarded with tinted lip balms, it becomes difficult to find colorless lip moisturizers. Undoubtedly, tinted lip balms serve as a lip color and moisturizer but there are times when you want to just moisturize the lips without any hint of tint. Especially at bed time I prefer to slather my lips with a non-tinted lip balm as I do not want to unnecessarily apply chemical products when they are not required. So when I got 'Organic Harvest Organic Lips Strawberry Lip Balm', I was happy to give it a try. Read on to know my experience with it.
What the product says:
Lip balm enriched with moisturizers and strawberry flavor protects lips from dryness and provides long term hydration.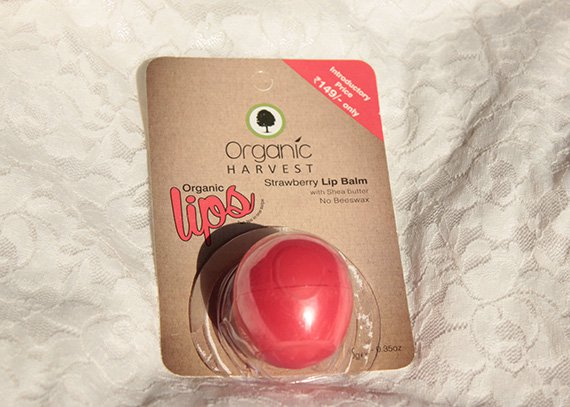 My Take on 'Organic Harvest Organic Lips Strawberry Lip Balm'
Organic Harvest Organic Lips lip balms comes in spherical packaging. If you are bored of similar looking lip balms based on retractable mechanism with vertical sticks, you will be happy to see a different packaging. It is a screw open lip balm that closes properly and saves the contents from untoward damage. It is easy to carry but as it is round in shape so cannot be put in a pocket as compared to stick lip balms. If you have a habit of carrying lip balms in pocket, you won't be able to carry this around the same way. But yes, you can easily put it in a clutch or a handbag to get the moisture benefit.
Organic harvest has launched four variants of 'organic lips' lip balms: green apple, pomegranate, shea and strawberry. The color of the packaging matches with the flavor they are based on. The strawberry lip balm has red outer case with Organic Harvest's logo in white imprinted on it. It is a decent looking lip balm. Other than the logo there is no detailing on the plastic packaging, it is plain red.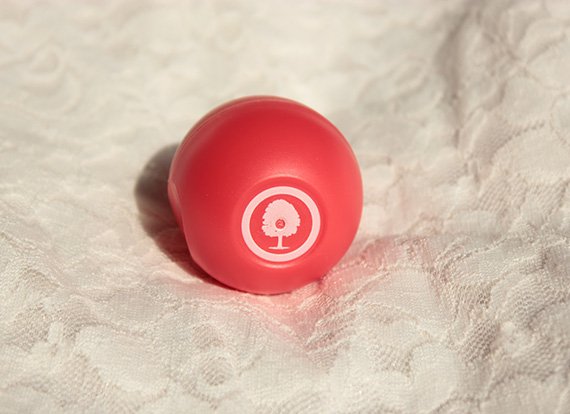 Being colorless, Organic harvest lip balm suffices to my need of 'no-color only moisture' lip balm. It is transparent and has no added color, so I can easily apply it any time – morning, evening or night. Also, I can apply it underneath a lipstick without interfering with lipstick's true shade. It has mild strawberry fragrance that stays on for around half an hour. Being a strawberry lover, I wish the fragrance would have stayed a little longer; anyways something is better than nothing.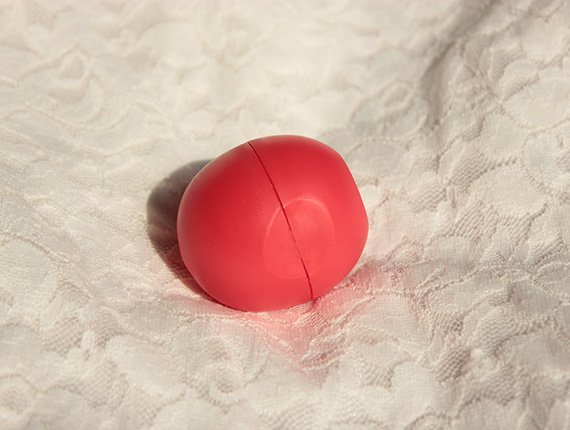 When you unscrew the cap, you will find a dome shaped lip balm. I have been using stick lip balms for quite a good time now, so when I first applied this dome-shaped lip balm I was not at ease. But gradually, I adapted the way it has to be applied. Well, if you do not want to extend it to the surroundings, close your lips together like you are going to kiss something or pout or simply smile, and apply the dome to both of your lips at the same time. The application is easy as long as the tip is pointed but once it gets flatten kissing/pouting technique will require rethinking.
It feels light on the lips so can be easily applied underneath a lipstick or before going to bed. The texture is not very soft compared to tinted-lip balms, and that makes it difficult to mark its presence on the lips. I have to swipe it couple of times to get the feel of a lip balm. Once done, it keeps the lips moisturized for 2-3 hours contrary to the long-hour hydration claim. It does not completely disappear, as I can feel its remnants even after 2-3 hours but the need of reapplication over-powers the remnants. If you have over dry lips or you want to use it in winters you may require to reapply it at frequent intervals. At present, it is the only non-tinted lip balm in my kitty so I make sure that I apply it every night. If used consistently over a period of time, it makes the lips soft and moisturized.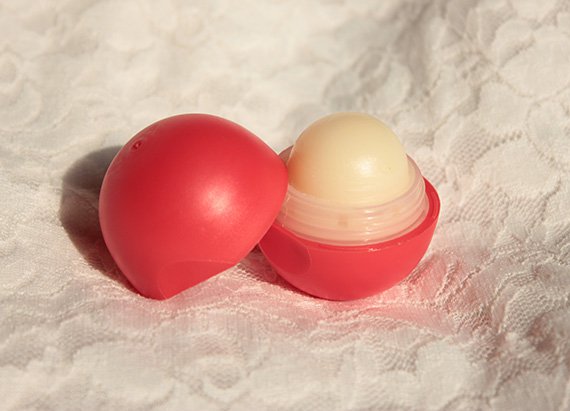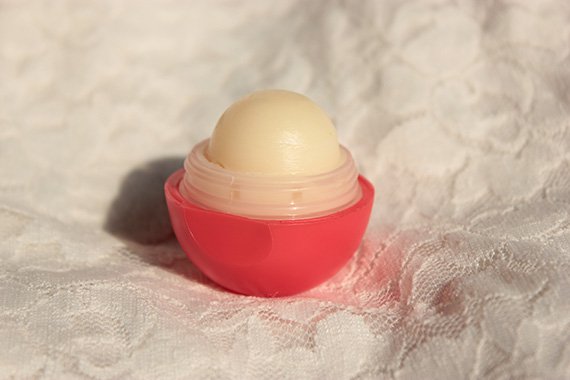 What I like about 'Organic Harvest Organic Lips Strawberry Lip Balm'
– The packaging is different from stick lip balms.
– Mild strawberry fragrance.
– Appropriate for bed time use.
– It can be easily applied underneath lipsticks.
– It does not contain any color, so fewer chemicals.
What I do not like about 'Organic Harvest Organic Lips Strawberry Lip Balm'
– Being round in shape, it has to be applied carefully.
– It has to be reapplied frequently to keep up the moisture effect.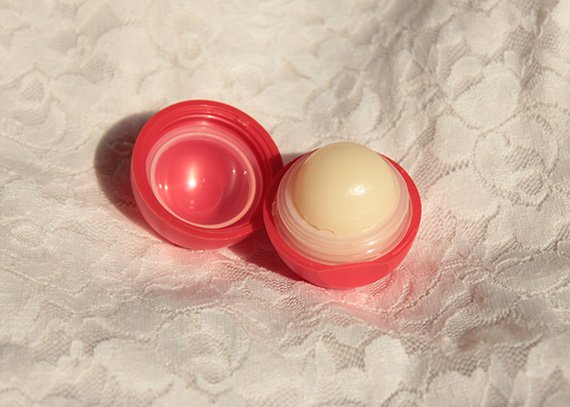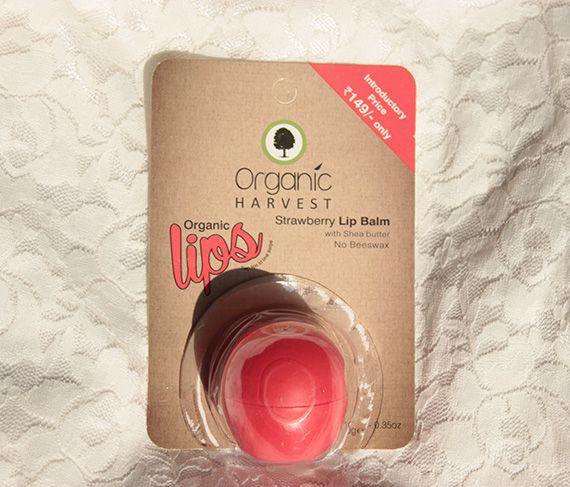 Ingredients of 'Organic Harvest Organic Lips Strawberry Lip Balm'
EcoCert certified lanolin, Shea butter, BHT and food grade strawberry flavor. No Color Added-Color of the product may change due to the use of Organic and Natural ingredients.
Price of 'Organic Harvest Organic Lips Strawberry Lip Balm': Rs 149
Final Word: Organic Harvest Organic Lips Strawberry Lip Balm is a non-tinted lip balm with delicious strawberry flavor. The fragrance is mild and soothing, a treat for strawberry lovers. Being colorless, it has fewer chemicals so would be more beneficial for lips. The moisturizing effect is not long lasting, but if you do not mind reapplying, and are looking for a non-tinted lip balm you should give this a try.
You might also like reading these related topics
Maybelline Baby Lips Candy Wow Raspberry Review FOTD
Maybelline Baby Lips Candy Wow Lip Balm–Cherry Review
Maybelline Baby Lips Spiced Up Lip Balm Berry Sherbet Review
Maybelline Baby Lips Electro Pop Lip Colored Lip Balm Pink Shock Review Swatch
Maybelline Baby Lips Spiced Up Lip Balm-Spicy Cinnamon Review
Forest Essentials Lip Scrub Cane Sugar Review, Swatch
Nivea Fruity Shine Strawberry Lip Balm Review
VLCC Lovable Lips Strawberry Lip Balm Review
Neutrogena Norwegian Formula Lip Moisturizer Review