Hello Everyone,
I hope all the lovely readers of BABE are enjoying the winters and "gajar ka halwa". I wish you all a very Happy and prosperous New Year. What did you do on New Year's Eve? I still can't believe that 2015 has ended. I haven't thought about my new year resolutions yet. If you have already listed your resolutions, please share them with me.
What the product says:
Maybelline New York, the world's number one make up brand and the brand behind everyone's favourite lip balm Baby Lips launches Baby Lips Candy WOW with candy inspired colours that will give you soft, supple, yummy lips. With every application, your lips are reborn and feel supple, plump, moisturized, giving you intense care with the fun and sweetness of a candy. Baby Lips Candy WOW comes in a new retractable crayon format with five different delicious flavours.
How it Works:
The chubby stick is enriched with Vitamin E that helps in keeping the lips hydrated for long and keep them protected even in harsh winters. The crayon format makes it easy to apply and glide smoothly.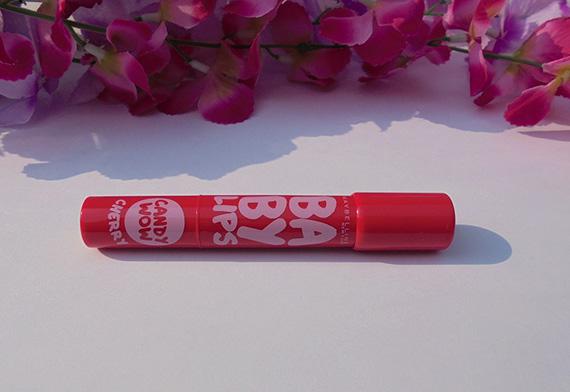 My Take on 'Maybelline Baby Lips Candy Wow Lip Balm–Cherry'
These days Instagram is my source to get to know about the new product launches. Few weeks ago, I saw these pretty candies on Maybelline's Instagram page and I fell in love with them. They are so cute that it was difficult for me to keep my hands away from these adorable lip balms. Maybelline keeps on launching something new from time to time, and usually these new launches become instant hit because of the attractive packaging and effective results. This time also, Maybelline has left no stone unturned to impress us with their newly launched Maybelline Baby Lips Candy Wow Lip Balms.
It comes in five different shades: Cherry, Peach, Orange, Mixed Berry and Raspberry. Raspberry variant of candy wow lip balm has already been reviewed on the blog. Though I wanted to buy all the five shades but finally I settled with Cherry. As the name suggests, the packaging, color and fragrance of the balm is exactly like delicious Cherries. The Lip Balm comes in a retractable format, which makes it easy and convenient to use. The lid is tight enough to avoid any wastage of the product.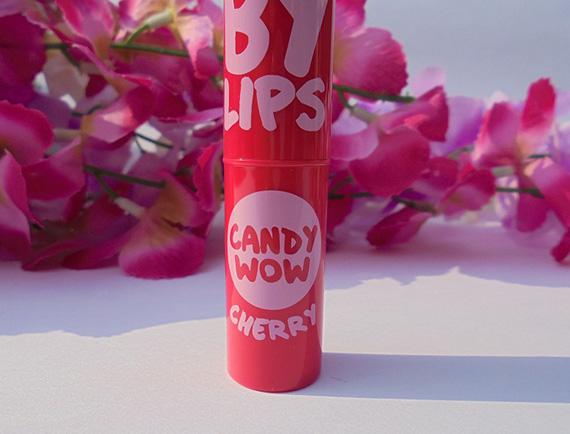 The Lip Balm has buttery texture which slides smoothly on the lips. It has great pigmentation. If you want little bit tint and moisturisation, then single swipe is enough for you. If you are in a party mood and want glossy and plump lips, 2-3 swipes are all you need. It is enriched with the goodness of Vitamin E, which makes sure that it treats your dry lips and provides moisture to them. But in case you have super dry lips, you may need some extra moisture, as it doesn't help much in that case.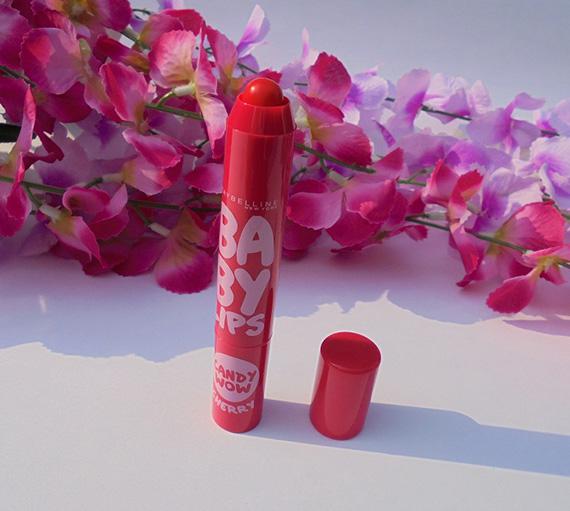 The only problem with this balm is its low staying power. The balm easily gets transferred while eating or drinking. The glossiness of the balm fades after few hours of application but the tint remains there which gives a pinkish color to the lips. Unlike other lip balms, it doesn't settle between fine lines of the lips. The lips look presentable and tinted even after the glossiness disappears. It effectively saves our delicate lips from the harsh winters and makes them soft and supple.
Overall, I am completely and blindly in love with this cutie-pie. I don't have a single reason which can stop me from buying it again and again. It has everything which makes it a great product. Its packaging, colors, results, fragrance are more than enough reasons to buy it. So, if you want a change from your old and boring lip balms and want to flaunt something new and classy, then you can definitely try them out and add some WOW factor to your lips as well as to your life. I am sure everyone will go WOW with this pop of color, glossy shine, yummy candy flavor and the tinge of style.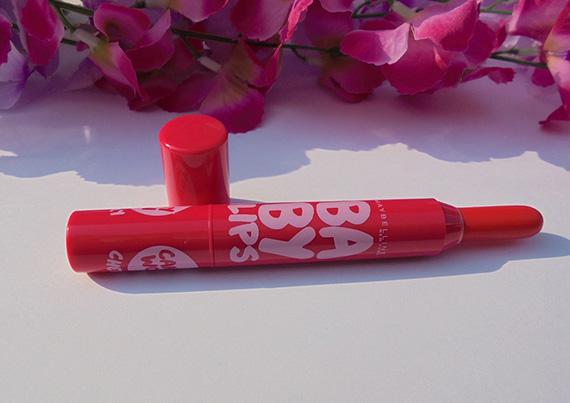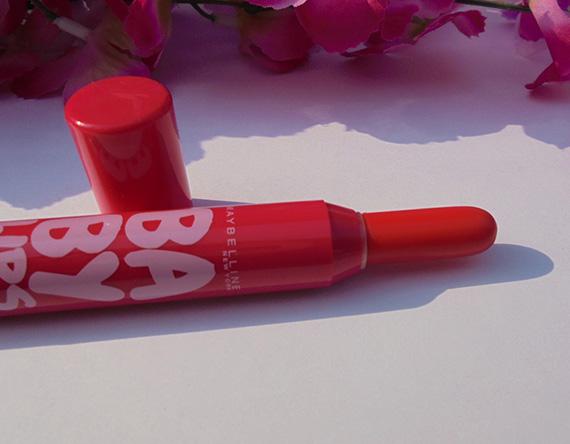 What I Like about 'Maybelline Baby Lips Candy Wow Lip Balm–Cherry'
– Cute, girly and attractive packaging.
– Available in five different shades.
– The packaging is travel friendly.
– It has sweet and pleasant fragrance.
– It is easy to apply.
– It contains the goodness of Vitamin E.
– It smoothly glides on the lips.
– It keeps the lips hydrated for 4–5 hours.
– It makes lips soft and supple.
– It looks good even on pigmented lips.
– It instantly heals dry lips.
What I do not like about 'Maybelline Baby Lips Candy Wow Lip Balm–Cherry'
– Staying power is low.
– Fragrance fades after few minutes of application.
– Availability of all the shades is an issue.
– The price is on the higher side.
– The quantity is less with respect to the other Baby Lips.
– It doesn't repair super dry or chapped lips.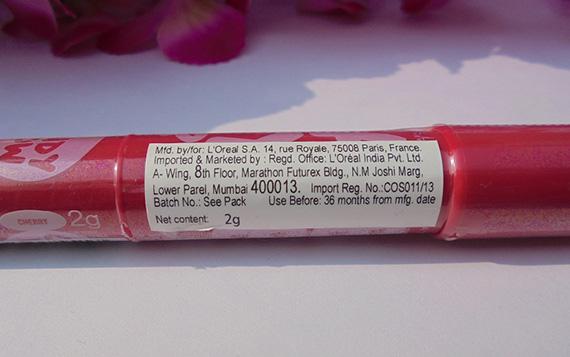 Price of 'Maybelline Baby Lips Candy Wow Lip Balm–Cherry': Rs 275/- for 2 gm
Shelf Life of 'Maybelline Baby Lips Candy Wow Lip Balm–Cherry': 36 Months from the date of manufacturing
BABE Rating: 4.5/5 (0.5 deducted for high price and low staying power)
Final Words: It's not just a super duper cute looking lip balm, it's a super duper cute Lip Balm with five different and attractive shades, effective results and impressive pigmentation. It does not only work as a lip balm but it can also be used as a lipstick. For those who don't use lipsticks or glosses regularly, and completely depends upon lip balms, it's a great option for them. This Vitamin E enriched lip balm looks equally good on pigmented lips. Give your lips a candillicious treat with Baby Lips Candy Wow!
You might also like reading these related topics
Maybelline Baby Lips Candy Wow Raspberry Review FOTD
Maybelline Baby Lips Spiced Up Lip Balm Berry Sherbet Review
Maybelline Baby Lips Electro Pop Lip Colored Lip Balm Pink Shock Review Swatch
Maybelline Baby Lips Spiced Up Lip Balm-Spicy Cinnamon Review
Forest Essentials Lip Scrub Cane Sugar Review, Swatch
Nivea Fruity Shine Strawberry Lip Balm Review
VLCC Lovable Lips Strawberry Lip Balm Review
Neutrogena Norwegian Formula Lip Moisturizer Review