Hello Everyone,
Maybelline is one of my favourite brands whenever it comes to makeup. Attractive packaging, pocket friendly price tag, impressive results, numerous options… basically I love every single thing about this brand. Maybelline is like a Santa Claus, it has something for every age group. I still remember when the Baby Lips were first launched in the Indian market, it became an instant hit. Apart from its tempting packaging and adorable Alia Bhatt in the advertisements, its effective result is a major reason why we are still crazy about this lip balm.
What The Product says:
Maybelline New York launches the all new Baby Lips Spiced Up, specially made for the Indi Pop generation and developed to perfectly suit the range of Indian skin tones.
Results: Lips become supple, plump, moisturized after every application.
My Take on 'Maybelline Baby Lips Spiced Up Lip Balm Berry Sherbet'
Lip balm is always on top of my 'winter essentials' List. Though I use lip balms 24 Hours on all 365 Days, but its importance increases during winter. My lips become very dry and chapped due to harsh cold of winter season. Lip balm act as a saviour for me and vanishes this major problem. My bag, dressing table, jean's pocket are over flooded with lip balms, and still I get tempted to try every new launch.
When it comes to lip balms, I can't ignore Maybelline baby lips. I am using these lip balms since my College days and still my love for them is intact. Sleeping without smearing my lips with the non-tinted balm from the same range is like a crime for me. When it comes to Party, two-three swipes of "Pink Lolita" are all what I need to attract the cute boys. Like I said before, Maybelline has something for every occasion and for every mood.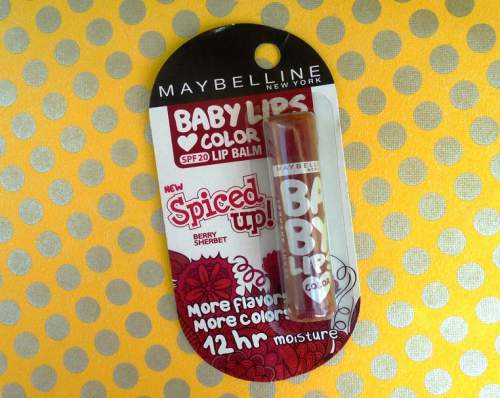 Today I am going to review Maybelline Baby Lips Spiced Up Lip Balm-Berry Sherbet from the "Baby Lips Spiced Up" range. It has the similar packaging like the regular baby lips lip balms. The retractable stick comes inside an opaque tube which matches the colour of the balm. The cap is sturdy enough to avoid any mishappening with the stick. When you remove the cap, you will be greeted by a very Indian spicy fragrance. As the name suggests, the colour of the stick is brownish red, quite similar to berries.
It has smooth texture which glides easily on the lips. The lips appear smooth and hydrated after application. This tinted balm looks equally good on pigmented lips. If you have pigmented lips, it needs 2-3 swipes to show the colour. The brownish red colour very well compliments Indian Skin tone and enhances the Indian Beauty. It is a good temporary replacement of Lipstick.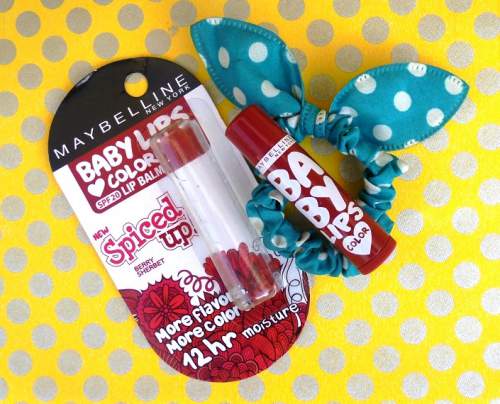 Like other lip balms, it doesn't transfer much while drinking or eating. The glossiness starts fading after an hour or something but the light reddish tint remains there which does not look uneven or patchy. It has SPF 20 in it which makes it suitable for indoor as well as for outdoor. It protects your lips from the harmful UV rays and prevents pigmentation.
Though it claims to provide 24 hour moisturisation but it is not true. It moisturises the lips but only for couple of hours. After that we need to reapply it again and again otherwise lips will start looking dry. Another thing which I didn't like is the missing ingredient List. The ingredients are mentioned nowhere on the packaging, so we can't tell that whether it contains any harmful ingredient or not.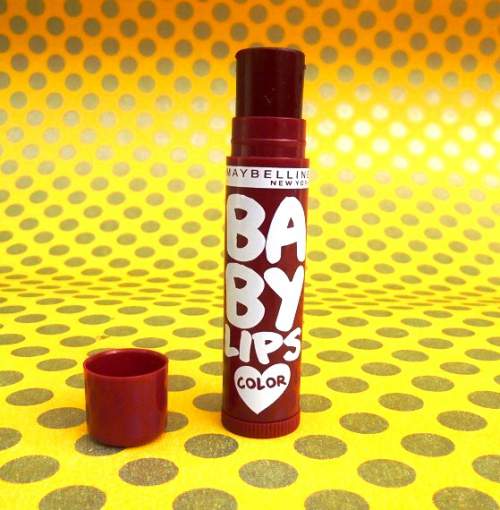 What I Like about 'Maybelline Baby Lips Spiced Up Lip Balm Berry Sherbet'
– Cute and attractive packaging.
– The pretty shade of berry.
– It works on pigmented lips as well.
– It contains SPF 20.
– It instantly moisturises lips.
– It glides smoothly on lips.
– It contains the goodness of Vitamin E and Coconut Oil.
– It doesn't feel heavy on lips.
– It comes in three different shades.
– The Lip Balm is travel friendly.
– It has warm and lovely fragrance.
– The price is very pocket friendly.
What I do not like about 'Maybelline Baby Lips Spiced Up Lip Balm- Berry Sherbet'
– The claim of 12 hour moisturisation is not true.
– Ingredient list is missing on the packaging.
– Reapplication is needed after every few hour.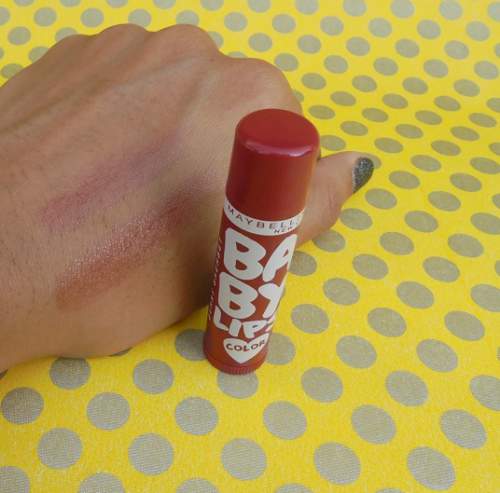 Price of 'Maybelline Baby Lips Spiced Up Lip Balm- Berry Sherbet': Rs 175/- for 4 gm
Shelf Life of 'Maybelline Baby Lips Spiced Up Lip Balm- Berry Sherbet': 36 Months from the date of manufacturing
BABE Rating: 4/5
Final Words: If you are fed up of your plain non-tinted lip balms or if you want to take a break from the lipsticks, then this range of Baby Lips is definitely for you. Presence of Vitamin E and Coconut Oil ensures that it will protect and hydrate your lips in the winter season as well, and will make them Baby Soft. It also has SPF 20 so you don't need to worry at all before stepping out. Overall it's another great product from Maybelline which gives satisfactory results.
You might also like reading these related topics
Maybelline Baby Lips Candy Wow Raspberry Review FOTD
Maybelline Baby Lips Electro Pop Lip Colored Lip Balm Pink Shock Review Swatch
Maybelline Baby Lips Spiced Up Lip Balm-Spicy Cinnamon Review
Forest Essentials Lip Scrub Cane Sugar Review, Swatch
Nivea Fruity Shine Strawberry Lip Balm Review
VLCC Lovable Lips Strawberry Lip Balm Review
Neutrogena Norwegian Formula Lip Moisturizer Review