When it comes to facial skin we have myriad issues such as dryness, dullness, uneven skin tone, blemishes, wrinkles, fine lines, tanning, blah blah. Because of these concerns, we always try to look for such products that take care of not just one skin issue but all of them. Going by my skin care products' experiences so far, I have rarely found a product that addresses all skin concerns. And that's the reason I rely on add-ons (products that target specific skin concerns) in addition to the basic CTM routine. But what if you find a product that handles all the skin worries for you? I know finding such a single product is tedious, but getting a thoughtfully assembled box that has solution to your every skin care problem is plausible. Speaking of which, today I will talk about the 'LomiLomi 7 Skin Scheduler Mask Box'.
7 Skin Scheduler Mask box has 7 sheet masks that are thoughtfully chosen to address common skin care concerns. It is called a scheduler mask box because each of these masks has to be applied one after the other following a chronological sequence as mentioned on the box. To make things easier for the user, the brand has also mentioned the day a mask has to be worn. For example, if it is Monday then you need to use the Aloe juicy mask, for Tuesday it is the Ginkgo anti-wrinkle masks, and there are 7 masks like this that have to be used for 7 days – one mask for every day. Though it is not mandatory that you start using this mask box from Monday only, what matters is the sequence in which these masks have to be used without any gap. But if you feel keeping a track of days is easier, do it that way.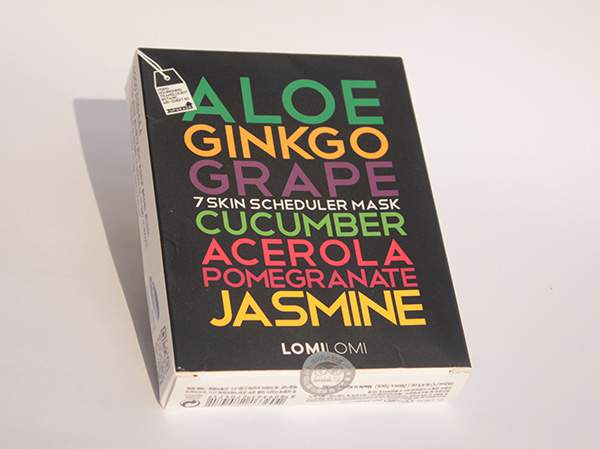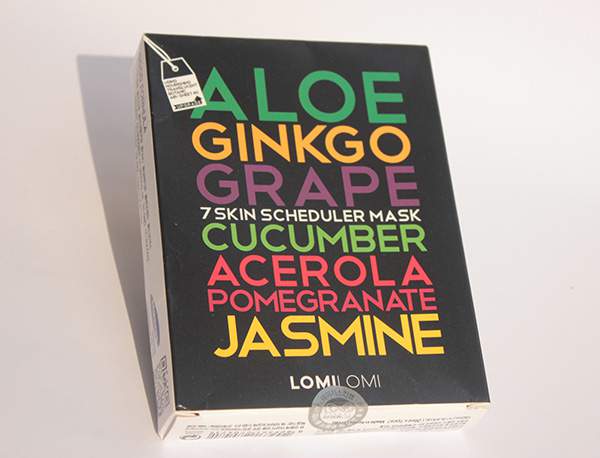 Let's have a brief look at all the masks included in 'LomiLomi 7 Skin Scheduler Mask Box'. I will write a detailed review on each one of these masks, and keep updating this post as I use them. I will also add the final rating and verdict once I am done with all 7 masks.
Aloe- Juicy Mask: This is the first mask that has to be worn from this set. It is called the Monday mask, assuming you will start using the mask box from first day of the week. It is to prep-up the skin and handle the very basic concern, which is lack of moisture. It claims to make skin healthy and fresh.
Ginkgo- Anti-Wrinkle Mask: This mask follows the Aloe juicy mask, ideally has to be worn on Tuesday. As the name says it is the anti-wrinkle mask that claims to remove wrinkles and rejuvenate weak eye area & mouth area. It also talks about taking care of deep wrinkles thereby uplifting the skin.
Grape- Whitening Mask: This mask has to be used on day 3, and is called the Wednesday mask. It is mainly for skin whitening. It claims to take care of dark circles and dull skin, making skin shine from inside.
Cucumber- Bouncing Mask: Fourth mask claims to firm up the skin and finely fill it up with density. If you start using the 'LomiLomi 7 Skin Scheduler Mask Box' from
Monday, you should be using the bouncing mask on Thursday.
Acerola- Recovery Mask: Next comes the recovery mask, just as Friday is stress buster, this mask is supposed to relieve stress and make the skin happy. It has to be applied on Day 5.
Pomegranate- Vital Mask: On Saturday, apply the pomegranate mask to recover skin vitality and provide antioxidants and energy deep inside the skin. This is the sixth mask so should be worn on Day 6.
Jasmine- Healing Mask: Now, once you have addressed all the common skin issues using above 6 sheet masks it is time to execute the final step, which is to heal the skin. On Sunday (Day 7) wear the Jasmine healing mask that relieves and cures dried & tiresome skin.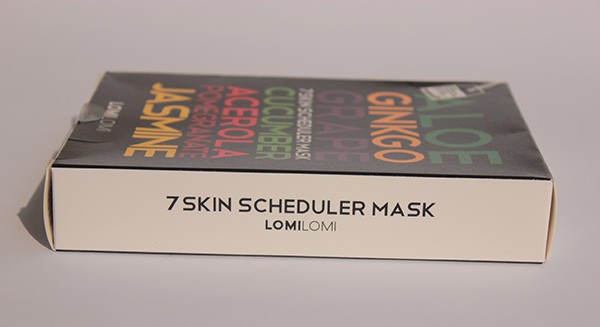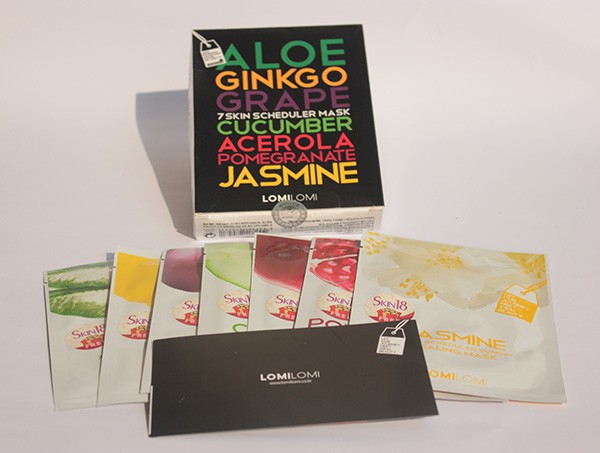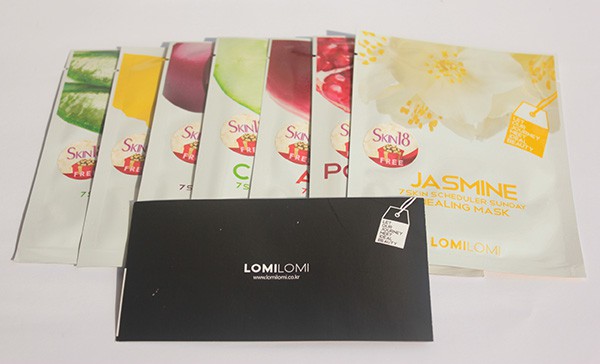 Price of 'LomiLomi 7 Skin Scheduler Mask Box': USD 24, the box contains 7 masks that are individually priced somewhere around USD 3.50
BABE Rating: 3.75/5
Final Word: 'LomiLomi 7 Skin Scheduler Mask Box' claims to provide 7 days of utmost skin care, leaving it healthy and fresh. The thoughtful idea of assembling all these sheet masks in one box is tempting enough. The masks target specific skin care concerns and provide relief to some extent. You can also check the individual reviews of these sheet masks in below section.
You may also like reading these related topics
Lomilomi 7 Skin Scheduler Mask-Monday Aloe Juicy Review
Lomilomi 7 Skin Scheduler Mask-Ginkgo Anti-Wrinkle Mask Review
Lomilomi 7 Skin Scheduler Mask- Grape-Whitening Mask Review
Lomilomi 7 Skin Scheduler Mask- Cucumber-Bouncing Mask Review
Lomilomi 7 Skin Scheduler Mask- Acerola-Recovery Mask Review
LomiLomi 7 Skin Scheduler Mask- Pomegranate-Vital Mask Review
LomiLomi 7 Skin Scheduler Mask-Jasmine Healing Mask Review
Four Season Collagen Lifting Wrinkle Care Intensive Sheet Mask Review
Medicos-V Gold Black Bright Moisture Essential Mask Review
Innisfree Its Real Green Tea Mask Sheet Review