After aloe juicy (the Monday mask, you can check its review here) it is Ginkgo the anti-wrinkle mask. This is the second mask from the '7 skin scheduler mask set' and has to be applied after the aloe juicy mask. Again as I said for aloe juicy, though this mask is referred to as the Tuesday mask but you can apply it any day as long as you are following it after the aloe juicy mask. This mask is also available individually and can be used like any other sheet mask. As the name says, this sheet mask is tackle wrinkles and fine lines, so let's have a look at my experience with Ginkgo anti-wrinkle mask.
What the product says:
This is highly enriched product of Ginkgo leaf extract and skin activator, and nutritional contents on the sheet with excellent skin adhesion and absorption. It cares oil and moisture, blocks toxic substances to skin and makes skin elastic and moisturized.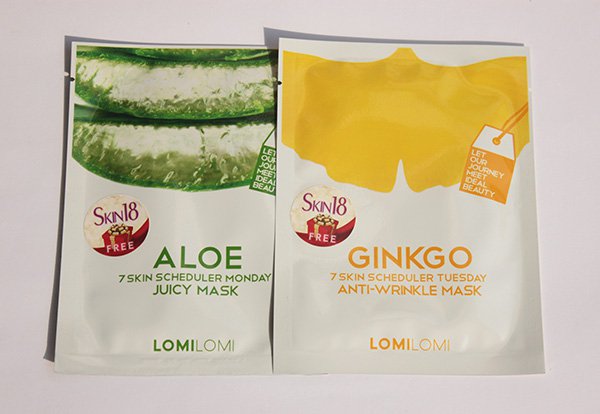 My Take on 'Lomilomi 7 Skin Scheduler Mask- Ginkgo Anti-Wrinkle Mask'
Like Aloe juicy mask, Ginkgo also comes in similar packaging – plastic sheet with usage directions and efficacy mentioned on it. It is just that the color of the plastic sheet is a combination of yellow and white. To use the sheet mask, the plastic cover has to be torn along the cuts provided on the top side of packaging. Being lightweight, it is easy to carry. You can put it anywhere in handbag or luggage bag but make sure it does not get any folds as that may damage the sheet mask inside.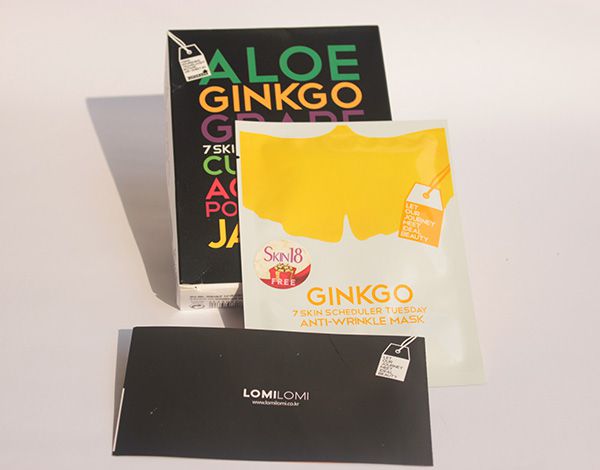 The sheet mask is white in color and has extreme soft texture, so be careful while you unfold and spread it on the face. It is a mild fragrance mask, which won't feel bothersome if you are sensitive to fragrances. It has got good skin adhesion that makes you apply this mask even while sitting or walking. Even when you are travelling in a car, plane or train you can just put it on and it will feed your skin with nutrition. This is the best thing I like about these sheet masks, as I rarely get any time to lie down and pamper my skin, and in those time crunches these masks prove useful.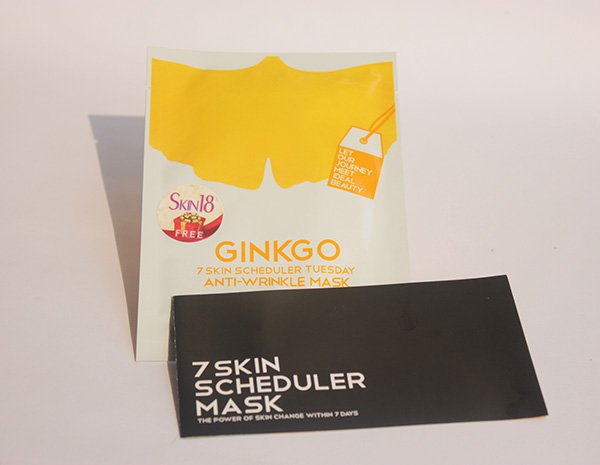 As it is richly slathered with serum so it looks translucent, and with time as the serum seeps into the skin translucency increases leaving almost a transparent film on the skin. Ginkgo mask has to be applied on clean and toned face. Because I scrubbed my face yesterday only, so I skipped that step today. Instead, I washed my face with Forest Essentials Kashmiri Saffron And Neem Delicate Facial Cleanser, toned it with Clinique Clarifying Lotion 3 before putting this sheet mask on. As per the usage instructions given on the package, the sheet mask has to be left on the skin anywhere between 15-30 minutes; I left it on for around 40 minutes. Though after 40 minutes the mask looked dry but when I took it off there was a lot of serum on the skin. To let it completely sink into the skin, I massaged it for couple of minutes but that did not help much. I would suggest letting it take its own time, which is around 30-45 minutes, to sink into the skin and then pat whatever is left on.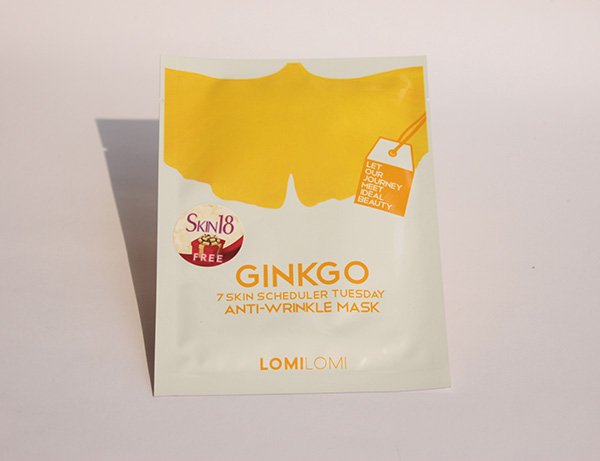 For the efficacy, I think that single use of a sheet mask is hardly enough to take care of wrinkles and fine lines. Ideally, repetitive application is required in order to see visible improvement in fading of facial lines. Hence, I was not expecting it to show some magic and shoo away wrinkles and fine lines. It made the skin look healthy by nourishing it with required moisturize. The skin felt soft and well-moisturized. Just like the aloe juicy mask, it made the skin greasy so I had to skip applying moisturizer. On the other hand, this might be a huge advantage for normal-dry skin.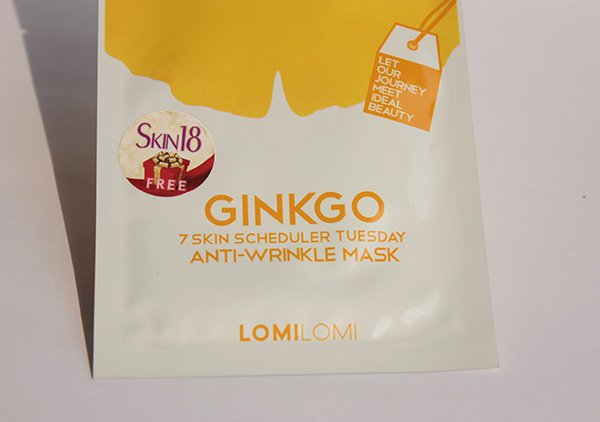 What I like about 'Lomilomi 7 Skin Scheduler Mask- Ginkgo Anti-Wrinkle Mask'
– Mild fragrance.
– Feels delicate on the skin.
– Abundant serum quantity.
– Can be used while walking, sitting and travelling.
– Good skin adhesion.
– Makes skin look healthy and moisturized.
– Makes skin clear and even.
– It does not cause any skin breakouts.
– No need to follow it with additional moisturizer.
What I do not like about 'Lomilomi 7 Skin Scheduler Mask- Ginkgo Anti-Wrinkle Mask'
– Takes some time to completely get into the skin.
– Does not cause any considerable difference in wrinkle reduction.
– It can cause stickiness.
– Availability is a concern.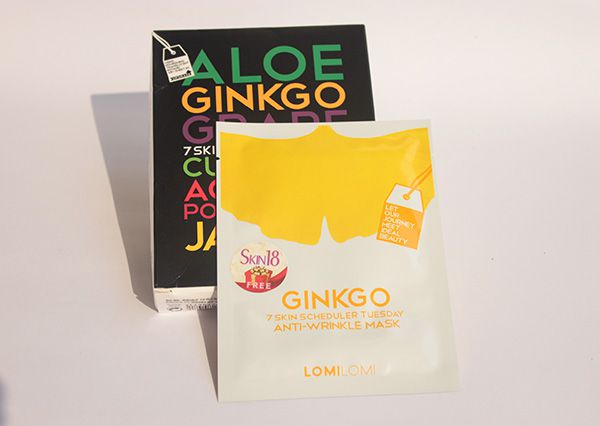 Price of 'Lomilomi Lomilomi 7 Skin Scheduler Mask- Ginkgo Anti-Wrinkle Mask': USD 24 for 7 masks. You can also purchase the individual pack of Ginkgo Anti-Wrinkle Mask by paying USD 3.50
Online Availability: From skin18.com
BABE rating: 3.5/5 for this individual sheet mask.
Final Word: Ginkgo Anti-Wrinkle Mask moisturizes the skin and gives it a healthy look. For oily skin it provides more moisture than required but for dry skin it can provide exactly the right moisturizer. As far as wrinkle reduction is concerned I could not verify that in single usage, but yes if you will repeat the application you might witness desired results. Overall, it is a good sheet mask if you have skin issues such as dryness and uneven skin tone.
You might also like reading these related topics:
Lomilomi 7 Skin Scheduler Mask-Monday Aloe Juicy Review
Four Season Collagen Lifting Wrinkle Care Intensive Sheet Mask Review
Medicos-V Gold Black Bright Moisture Essential Mask Review
Innisfree Its Real Green Tea Mask Sheet Review