Hope you had a rocking weekend. I have recently moved to a new place, so my last couple of weekends were occupied with unpacking and setting things in place. If you have ever been involved in relocation, you might be able to understand my skin condition now. Lack of moisture and over-exposure to dust are the two major things my skin has gone through in this whole process of shifting. So in a hope to replenish it with some of the lost nutrients, I tried 'Medicos-V Gold Black Bright Moisture Essential Mask'. It is quick to use, and does not call for many efforts. But did it take care of my skin's needs? Let's find out.
What the product says:
– 99.9% of pure gold gives skin vitality and elasticity.
– Contains moisture ingredient black beans, blueberries, grapes, sea kelp, caviar, black food and charcoal.
– Moisturize with nutrition treating dead skin giving bright glowing skin care.
– Absorbs impurities giving silky clean care.
– Natural cellulose sheet fits on skin providing moisture for long hours.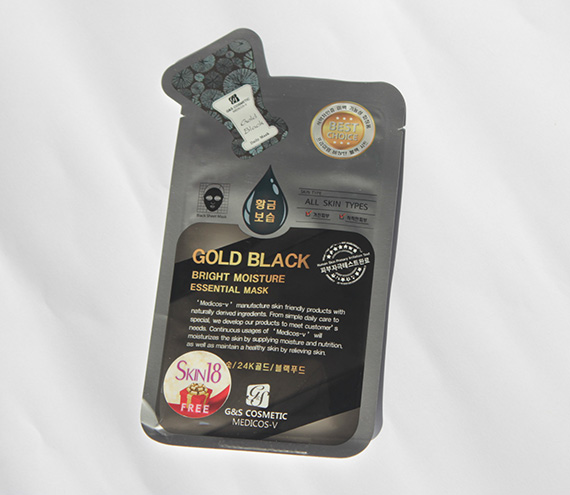 My Skin Type: Combination/oily
My Take on 'Medicos-V Gold Black Bright Moisture Essential Mask'
It comes in black and silver waterproof packaging. For this eye-catching packaging there is high probability that you will pick it up from the shelf or online stores the moment you spot it. The mask is properly sealed to avoid any external damage from water and surroundings. The golden detailing on a black background makes it even more attractive. It is absolutely light-weight, which adds to its ease-of-carrying while traveling. Being feather-light, it can be stuffed anywhere in the handbag, luggage bag or even in a pocket.
Unlike other sheet masks that I have used so far, this one is a black sheet mask. I was not prepared for this color, so when I tore it open I was surprised (rather shocked) to see the black sheet. Actually, the mistake was on my part, if I had read the description carefully there would have been no element of surprise. The 'black sheet mask' thing is clearly mentioned on the outer cover along with a picture that shows how you should put it on.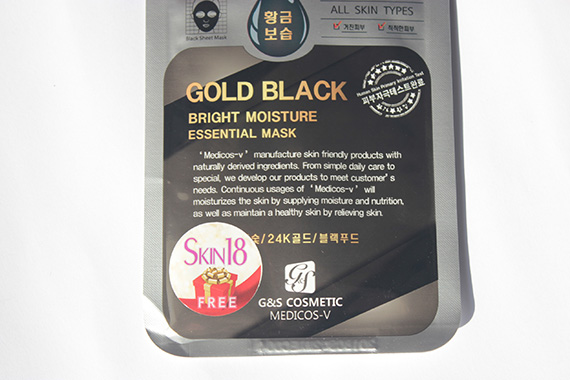 Anyways, the black sheet mask has minute golden particles on it which is absolutely true to its title of ''Gold Black". I am not sure if that is real gold, but yes the hint of gold makes me feel my skin is getting good feed. The texture of the sheet is soft and delicate as compared to the white sheet masks I have used. It gives a nice pampering feel because of the texture and mild soothing fragrance. The fragrance is short-lived as it dissipates in just fraction of minutes. The quantity of serum is perfect – neither too dry nor too dripping. I can wear it while watching tv or walking, and it does not slip down.
As far as the usage is concerned, it has to be applied on clean toned face. I went a step ahead and exfoliated my skin before applying this sheet mask. In my opinion, this will make the skin absorb more goodness from the mask and amplify the results. I will come to the result part later but first let me tell you that the gold black sheet mask has to be applied for 10-20 minutes. After that, lift off the mask and gently pat remaining serum to the skin, no need to wash.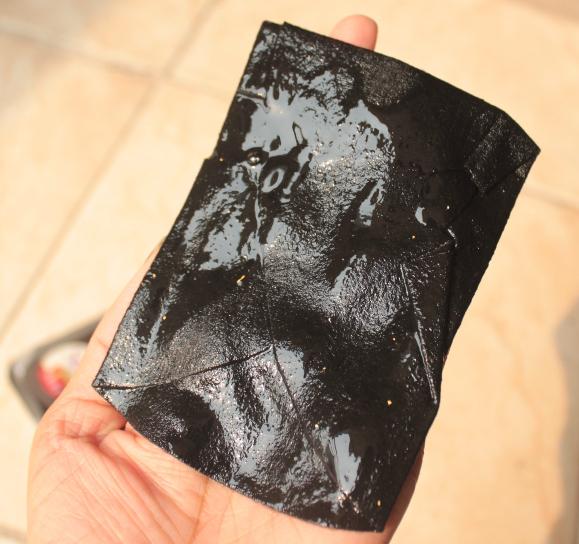 For results, it does not cause any stingy sensation; in fact it makes the skin relaxed and at-ease. Post mask, skin looks fresh, glowing and healthy. The moisture-effect is so prominent that if you have normal or oily skin you can skip applying an additional layer of moisturizer after this mask. Plus, it has charcoal so it thoroughly cleans the skin, giving a radiant effect.
What I like about 'Medicos-V Gold Black Bright Moisture Essential Mask'
– It feels soft and gentle on the skin.
– It moisturizes and makes the skin glow.
– The minute golden particles look great.
– Soothing mild fragrance.
– It is a pampering treat for skin without any messiness.
– Enriches the skin with ample moisture.
– It does not sting or cause any untoward effect.
What I do not like about 'Medicos-V Gold Black Bright Moisture Essential Mask'
– Leaves sticky effect but nothing very conspicuous.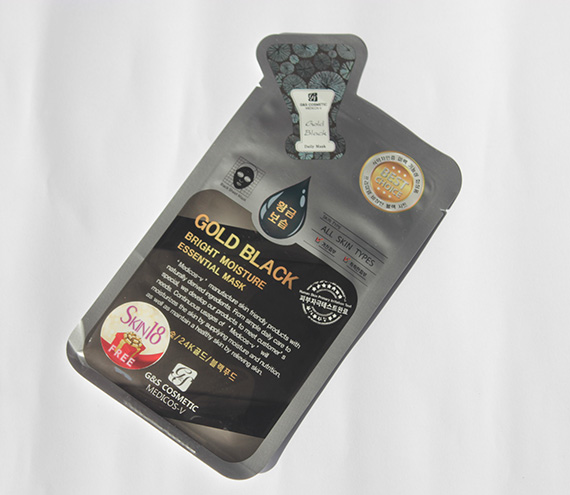 Price of 'Medicos-V Gold Black Bright Moisture Essential Mask': USD 2
Online Availability: You can buy it from skin18.com, click here
BABE Rating: 4.5/5
Final Word: Medicos-V Gold Black Bright Moisture Essential Mask is an ideal sheet mask for any time and all times. It has the goodness of charcoal, gold and blueberries that make the skin clean, healthy, moisturized and radiant. The effect becomes visible from day one, and as you keep applying it regularly it keeps improving skin health, giving a radiant and healthy look. In my opinion, this is a must-have sheet mask for all skin types in all weathers.
You might also like reading these related topics:
Four Season Collagen Lifting Wrinkle Care Intensive Sheet Mask Review
Innisfree Its Real Green Tea Mask Sheet Review
First Impression-LomiLomi 7 Skin Scheduler Mask Box
Lomilomi 7 Skin Scheduler Mask-Monday Aloe Juicy Review