Hi Everyone,
For long time, I was planning to get my hands on these mask sheets. I had heard a lot about them such as their travel friendliness, instant remarkable results and ease-of-use but never got an opportunity until I attended Innisfree Gurgaon store launch. As return gift I was given a cute cage that housed these "Its real green tea" mask sheet. The eager I was, I did not waste any time in trying them. Read on to know my opinion on those good things I heard about them.
My Take on 'Innisfree Its Real Green Tea Mask Sheet'
Innisfree has launched several mask sheets that are truly travel friendly and the optimum way to invigorate skin without creating any messiness around. Green tea mask sheet is one of their hot selling sheets in this season. It comes packed in an eco-friendly paper that you can also return to the store in order to get it recycled. The pack is absolutely spill-proof and light in weight. Because of the mere weight, you can pack as many sheets for travel as you want.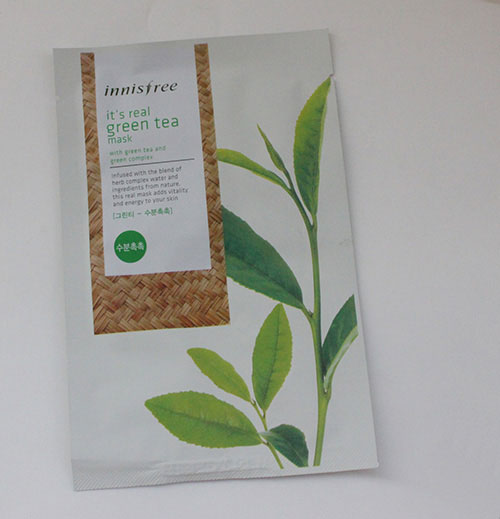 Though usage directions are mentioned at the back, I still see lot of Korean written on the back cover that makes me feel I am missing something. Nevertheless, to apply this sheet all you have to do is tear open the pack and carefully place it on clean face avoiding eyes and lips. Every nook and cranny of the sheet is immersed in green tea goodness so be cautious when you try to evenly adjust it on face. It smells of green tea essence, which feel strong in the initial couple of minutes but fades after that. If you use face toner, you can apply this sheet after that step as well.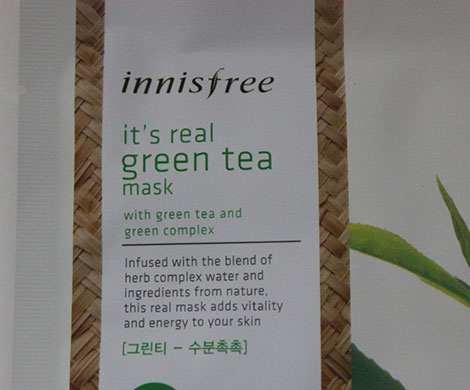 After 15-20 minutes slowly take off the sheet, it does not get dry or stiff so you have to keep a check on time. Unlike other face masks, this does not require you to wash your face afterward or clean it with a towel. Hence, after using this sheet you do not need to wash your face with water. All you need to do is gently pat to allow the remaining formula to absorb into your skin. If you want, you can follow it with a moisturizer.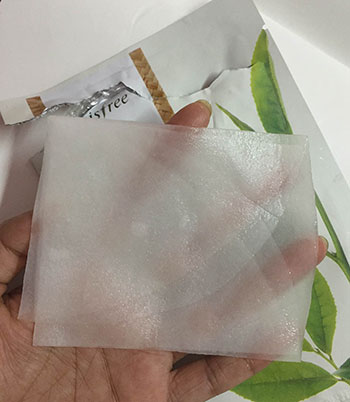 For efficacy, it makes my skin feel super soft and supple. Momentarily, my skin looks baby soft and clear of all the marks and blemishes. Unfortunately, this remarkable difference is short living. I can see my skin bouncing back to normalcy after only 30 minutes. On the contrary, this instant pack is quick to use and does not require many props.
What I like about 'Innisfree Its Real Green Tea Mask Sheet'
– Leaves the skin smooth and supple.
– Easy to use while travelling as well.
– Does not create any messiness around.
– Convenient to carry.
– No need to wash your face afterward or keep rubbing your skin to get the remnants out.
– It brightens the complexion, and keeps the skin hydrated at least for 4-5 hours.
What I do not like about 'Innisfree Its Real Green Tea Mask Sheet'
– Makes the skin slightly sticky so you need to wait for good 15-20 minutes before you can apply any makeup.
– Some practice is required for the right placement.
– The fragrance is on the stronger side.
Price of 'Innisfree Its Real Green Tea Mask Sheet': INR 100 for 1 mask sheet of 20 ml.
BABE Rating: 3.8/5
Final Word: Innisfree Its Real Green Tea Mask Sheet is an appropriate face mask when you are on the go or require instant suppleness. The pleasing green tea fragrance refreshes skin and makes it softer. Even when your circumstances do not permit to go through the messiness of typical face packs, this mask sheet would come in handy. Overall, this is a perfect mask sheet when you are running out of time or travelling.
You may also like reading these related topics
Four Season Collagen Lifting Wrinkle Care Intensive Sheet Mask Review
Medicos-V Gold Black Bright Moisture Essential Mask Review
First Impression-LomiLomi 7 Skin Scheduler Mask Box
Lomilomi 7 Skin Scheduler Mask-Monday Aloe Juicy Review