Aloe juicy mask is the first mask from the 7 skin scheduler mask set that has to be applied. Though it is referred to as the Monday mask but in my opinion you can apply it anytime as long as you are following the proper sequence of this set. This mask is available individually also, and in that case you can time the application like any other sheet mask. But first check out my experience with this sheet mask.
What the product says:
This is highly enriched product of Aloe Barbadensis Leaf extract and skin activator, and nutritional contents on the sheet with excellent skin adhesion and absorption. It cares oil and moisture, blocks toxic substances to skin and makes skin elastic and moisturized.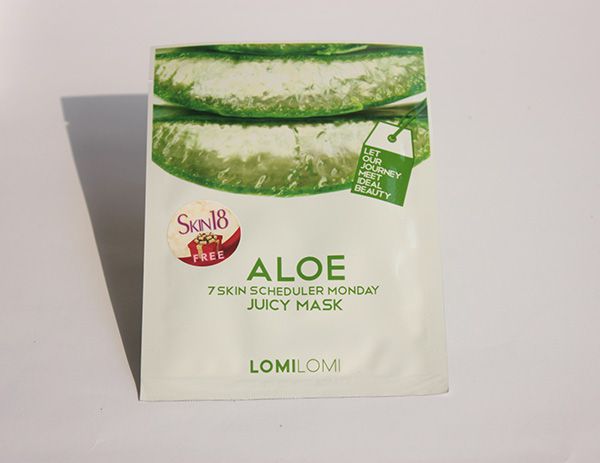 My Take on 'Lomilomi 7 Skin Scheduler Mask- Monday Aloe Juicy'
It comes in a white and green plastic sheet that resembles the color of Aloe vera plant. The efficacy and usage instructions are mentioned on it in both English and Korean languages. It is a lightweight mask like other sheet masks and can be easily carried without any fear of spillage or damaging the sheet. To take out the mask sheet, you need to tear open the plastic cover along the cuts marked on the sides of upper side. Be careful while you do that as a little hurry can spoil the mask.
The sheet mask is richly laced with serum, so you have to be careful while unfolding it. It has soft texture that feels very delicate and fur-like. It is a white sheet mask but as the serum quantity is quite a lot so it feels translucent against the skin.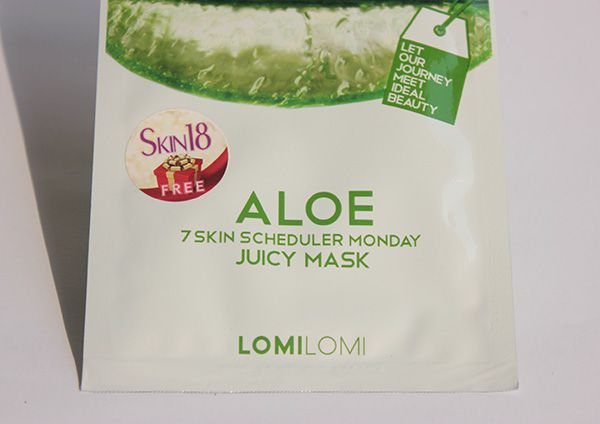 For usage, it has to be applied on a clean and toned face. I went a step ahead and scrubbed my face, toned it and then applied this sheet mask. The key here is to spread it evenly all over the face, if you want you can also spread it over the eyelids but you have to be careful that you keep eyes closed otherwise the serum will seep into your eyes . I did apply it on my eyelids but had to open them, and it was when the serum got into the eyes and caused slight irritation, which then subsided on its own after a couple of minutes. I left it on for 30 minutes before removing, and then patted whatever was left on the skin until it got absorbed. It has good skin-adhesion, which means it sticks to the skin without falling down even when you walk or sit while it is on the face.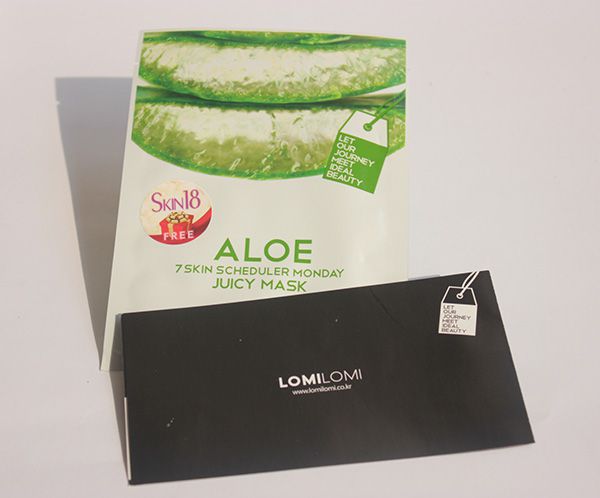 As with all sheet masks, post application you do not need to rinse off. Washing your face after applying the sheet mask is a big NO as it will decrease the efficacy of product. Well, ideally this mask has to be left on the skin anywhere between 15 – 30 minutes, and if left for maximum 30 minutes the sheet looks dry and gives an impression that all the serum is absorbed into the skin. The viscosity of the sheet is reduced, and it feels drier than what it has been before application. But when I removed the sheet, there was still a lot of serum on the skin. As mentioned on package, I rubbed it in circular motions for a minute or so to make it go into the skin but that did not help much. After 5-7 minutes of removing the sheet, it completely sunk into the skin (on its own) leaving slightly greasy face.
For the efficacy, skin looks healthy and well moisturized after the application. My only concern is the greasiness that is left on the skin. In summers this might be a problem for oily skin, but dry skin people can enjoy this oiliness as it will feed their skin with more moisture. Overall, if you ignore the greasy feel on oily skin, it makes the skin soft and supple.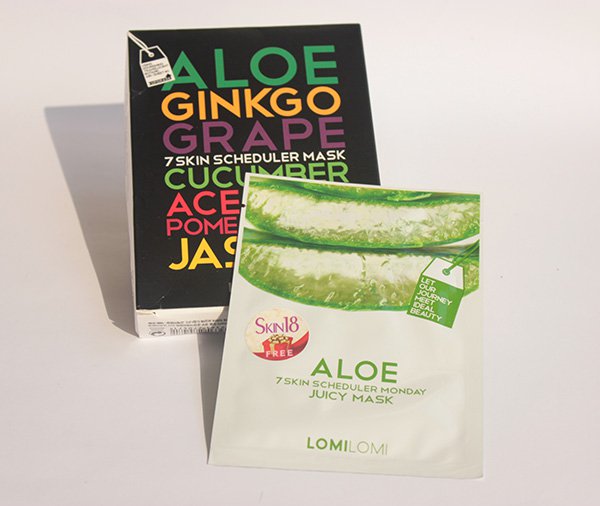 What I like about 'Lomilomi 7 Skin Scheduler Mask- Monday Aloe Juicy'
– Soothing fragrance.
– Soft texture.
– Richly slathered with serum.
– Easy to use, no need to rinse off.
– Sticks to the skin and does not fall down.
– Makes skin healthy and moisturized.
– It does not cause any skin breakouts.
– Post application, it does not call for a moisturizer-at least not for oily skin.
What I do not like about 'Lomilomi 7 Skin Scheduler Mask- Monday Aloe Juicy'
– Takes some time to completely get into the skin.
– Availability is a concern.
Price of 'Lomilomi 7 Skin Scheduler Mask- Monday Aloe Juicy': USD 24 for 7 masks. You can also purchase the individual pack of Aloe Juice Mask by paying USD 3.50
Online Availability: From skin18.com
BABE Rating: 4/5 for this individual sheet mask.
Final Word: Aloe Juicy Mask is richly slathered with aloe plant extracts. It is easy to apply and take off. Within just 15-20 minutes it makes the skin moisturized, giving it a healthy look. It is an ideal sheet mask if your skin is going through dry phase. For oily skin, it can cause greasiness but if you skip moisture it will be all good. On the whole, it is a decent sheet mask if you are looking for something to moisture the skin.
You might also like reading these related topics
Four Season Collagen Lifting Wrinkle Care Intensive Sheet Mask Review
Medicos-V Gold Black Bright Moisture Essential Mask Review
Innisfree Its Real Green Tea Mask Sheet Review