I have been eyeing on Clinique skin care products for a very long time but few months back only I got the opportunity to get my hands on some of their skincare stuff. Thanks to my husband who sponsored this extravagant shopping :D. I bought very basic skincare products such as toner, exfoliator and face cream. In today's post, I am putting forth my review on Clinique Clarifying Lotion 3. Now, if you are wondering about #3 in the product name then let me tell you that Clinique clarifying lotion comes in four variants and each variant is for a different skin type. I have combination to oily skin so #3 is tailored for its needs but if you have a different skin type you may want to go for any of these:
Clinique clarifying lotion 1: For very dry to dry skin.
Clinique clarifying lotion 2: For dry combination skin.
Clinique clarifying lotion 3: For combination oily skin.
Clinique clarifying lotion 4: For oily skin.
What the product says
Dermatologist-developed formula sweeps away dulling flakes and excess oil that can lead to breakouts. Preps skin to be more receptive to hydration.
Leaves skin looking cleaner, more refined.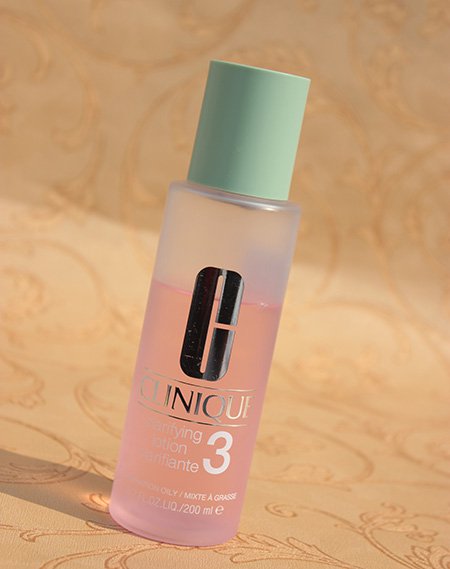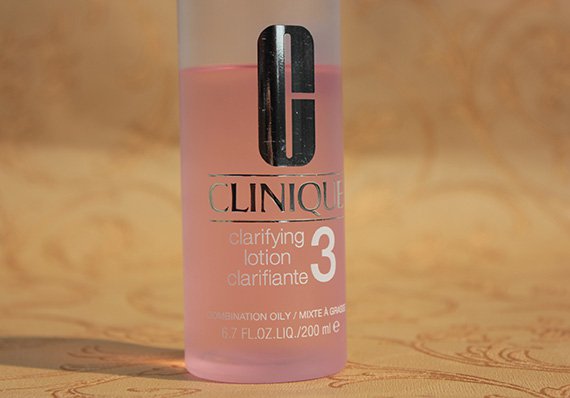 My Skin Type: Combination to oily
My Take on 'Clinique Clarifying Lotion 3'
Clinique clarifying lotion comes in two sizes: 200 ml and 400 ml. As the price is quite steep for a toner so I bought the 200 ml bottle. The price was still over the budget but because I badly wanted to give it a shot so I went ahead with the purchase. It comes in a transparent plastic bottle with an olive colored screw cap. Being transparent, it makes it easier to keep a check on the quantity which is helpful considering the price. The outlet of the bottle does not have any stopper; it is a wide opening and requires a close eye while pouring out the contents on to a cotton swab. Even the 200 ml bottle is not that easy to carry in terms of size and weight, but if some of the content is transferred to a travel-container things would be all good.
The clarifying lotion is almost transparent, but in the bottle it gives a pink impression. It is an alcohol based toner. I know you would frown at this, but I did thorough research and it stated that minimal quantity of alcohol is not bad for skin. In fact, it has more pros than cons for combination to oily skin. If I have to look at the long term efficacies I can ignore the petty cons, and that was the expectation for which I added this product to my skin care regimen.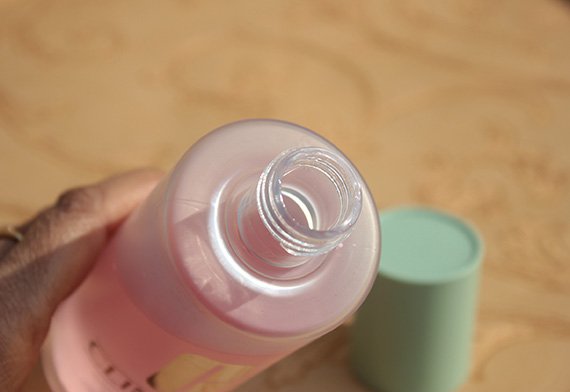 It has strong smell of alcohol, if you have sensitive nose you might find it bothersome. Though it claims to be 100% fragrance free yet I found the pungent smell disturbing but not so much that I stop using this product. And yes, as it has alcohol it does sting on wounds. If you have squeezed-pimples or open unhealed scratches please do not use this toner. But the good thing is that it itself does not aid to skin breakouts. Since I have started using it, my skin has not faced any zit. So if you have pimple-prone skin without any open wounds you can use it to for a clean pimple-free look.
As far as the usage is concerned, I apply it twice a day- morning and night on clean face. I carefully pour it on a cotton swab and sweep over face & throat in upward direction. If it had a spraying dispenser or even a stopper the usage would have been a lot easier. This is quiet an expensive product and I do not think anybody would like to waste it so if it had a small opening or pump it would be economical to use.
For efficacy, I would say it works excellent. I apply it on thoroughly clean face, and still the swept-over cotton swab always comes out grey. It fetches even the tiniest external impurities and makes the skin pretty clean. Not only impurities, it also removes makeup residuals and helps the skin breath fresh. It gives the skin a healthy hydrated look without making it oily. I have been using it for over a month, and I already see a difference in my skin tone- it looks even and glowing. For open pores, as I have oily skin so I have got big pores around my nose and on my cheeks. And luckily, this toner is taking care of that skin issue as my pores look minimized now. I hope its consistent usage will bring more difference to pore-size (keeping my fingers crossed) and skin texture.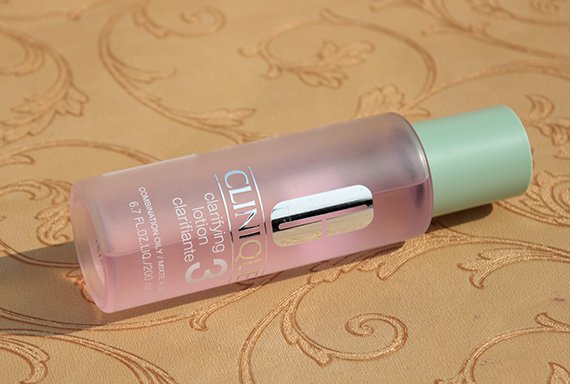 What I like about 'Clinique Clarifying Lotion 3'
– Removes every last impurity particle.
– Thoroughly cleanses skin.
– It can be easily transferred to a travel container. Yes, the wide outlet has a pro too 
– It does not cause any skin breakouts.
– Evens out skin tone.
– Minimizes pores and fine lines.
– Available in two sizes 200 ml and 400 ml.
What I do not like about 'Clinique Clarifying Lotion 3'
– No stopper at the wide opening.
– It stings on scratches and squeezed pimples.
– It has prominent alcohol fragrance.
– Exorbitant price.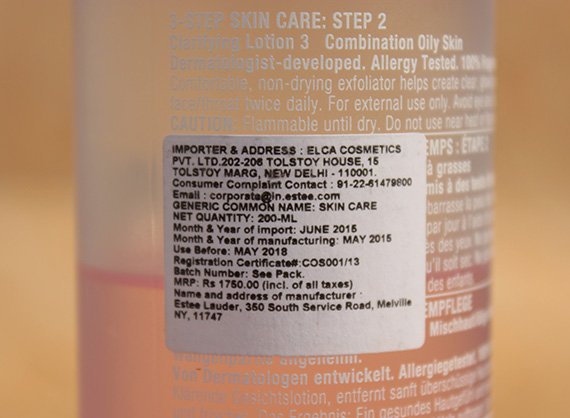 Price of 'Clinique Clarifying Lotion 3': Rs 1750 for 200 ml
Shelf life of 'Clinique Clarifying Lotion 3': 3 years from date of manufacturing
BABE Rating: 4.5/5
Final Word: Clinique Clarifying Lotion 3 is an alcohol based toner. It has strong fragrance, it you do not have sensitive nose you might reap the fruits of its efficacy on the skin. It thoroughly cleans the skin by removing every tiny particle, and gives it a healthy glowing look. If used over a period of time, it works towards minimizing open pores and evening out skin tone. It comes with an exorbitant price tag, so requires careful usage. It is one of those rare products that really work on open pores and skin texture, if you have any of those skin-issues and do not mind the price tag you can give this a try.
You might also like reading these related topics
Biotique Bio Cucumber Pore Tightening Freshener Review
Votre Pore Shrink Toner Review
JAFRA Brightening Toner Review