Day 4 is to nourish the skin with cucumber benefits. After hydration, anti-wrinkle and skin whitening masks, cucumber mask is to help skin bounce back to its healthy state. Just to refresh your memory here is a quick recap of previous three days.
Day 1- Aloe Juicy Mask, reviewed here
Day 2- Ginkgo Anti-Wrinkle Mask, reviewed here
Day 3- Grape Skin Whitening Mask, reviewed here
What the product says:
This is highly enriched product of cucumber fruit extract and skin activators, and nutritional contents on the sheet with excellent skin adhesion and absorption. It cares oil and moisture, blocks toxic substances to skin and makes moisturizing and elastic skin.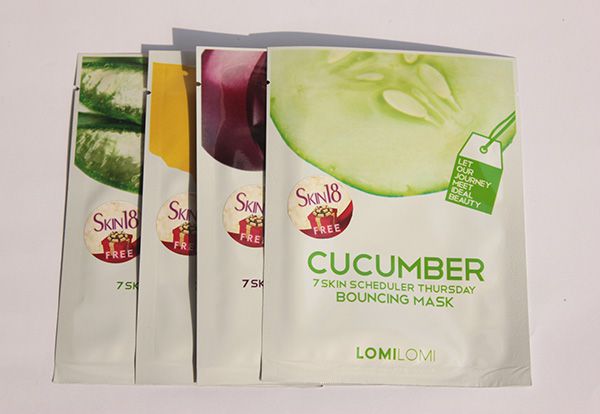 My Skin Type: Combination to oily
My Take on 'Lomilomi 7 Skin Scheduler Mask- Cucumber-Bouncing Mask'
Cucumber sheet mask is packed in a thin glossy plastic sheet. The outer cover is a decent combination of white and green, and has the benefits and usage instructions mentioned on it. Being a lightweight sheet mask it is easy to carry, and you can even carry a number of them while planning a long trip. To take out the mask, tear open the plastic cover along the cuts marked in top right and left sides and carefully pull the sheet mask.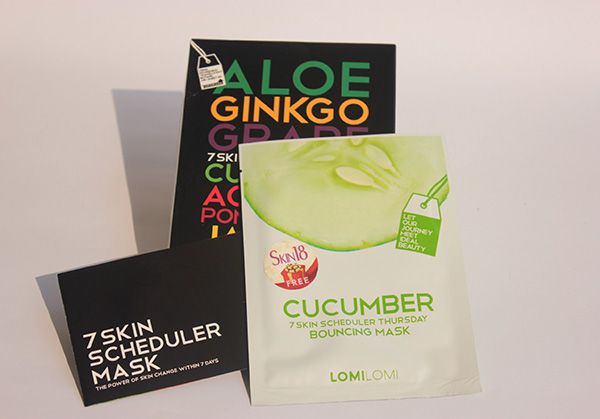 It is a white mask with soft texture. Though the sheet looks very delicate as if it will be damaged while unfolding but in reality it has got really good binding. Once it is completely unfolded, start applying it from forehead towards chin, then adjust it rightly and spread on entire face. Afterwards gently pat the sheet so that it sticks to the skin in order to transfer its nutritional contents.
It has mild cucumber fragrance which gives a refreshing feel. The soft texture makes it feel delicate on the skin, and that would be a real skin treat in summer season. It has excellent skin adhesion, which means it sticks to the skin without coming off. You do not have to lie down to pamper your skin with this sheet mask instead it can do its magic while you keep doing other tasks. For the usage, it should be used after washing the face. You can also use it after scrubbing the face, in my opinion doing so will allow more nutrition to seep into the skin and thus will give better outcome. But that is entirely a personal choice, as the usage instructions do not ask to specifically scrub. But they do suggest toning the face- be it after a regular face washing or scrubbing.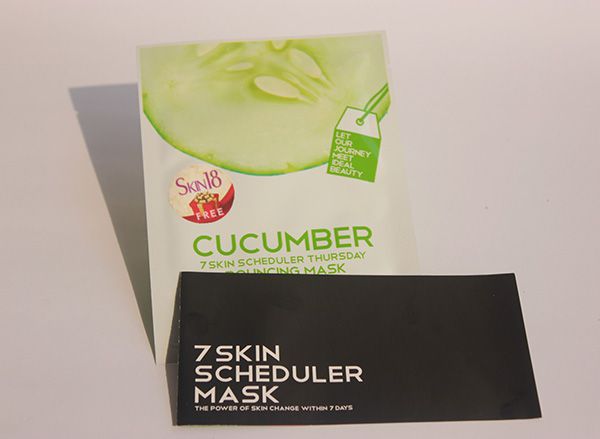 This mask has to be left on the skin anywhere between 15-30 minutes but as it is quite rich in serum so I left it on for around 40 minutes. Even after keeping it on for that long there was a lot of serum left on the skin when I took off the sheet. I did try to gently pat it in order to make it go into the skin but when I did not find that act much helpful I left the serum like that, and it took its own time (30-45 minutes) to disappear but that too around 80%. The important thing to remember is that you do not need to wash your face post applying this mask – no matter how greasy your skin looks. If you do that you won't be able to see the desired results.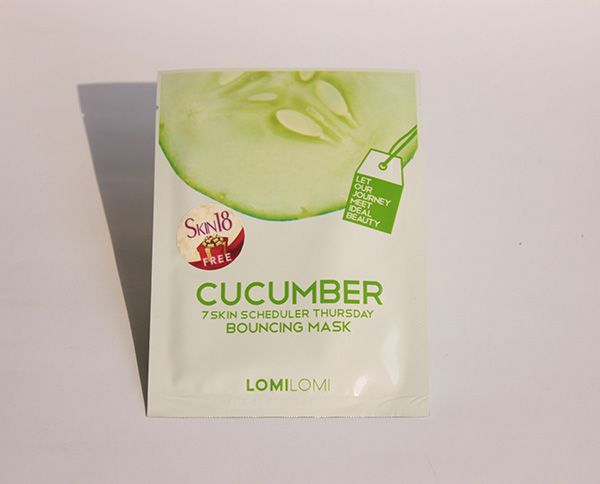 Talking about the results, it makes the skin moisturized and hydrated. Instantly after removing the mask, my skin felt and looked soft. It was well nourished and healthy, and this is all this mask had to do. However, being oily my skin felt greasy but nothing much that could cause skin breakouts. On normal to dry skin this sheet mask would fare much better.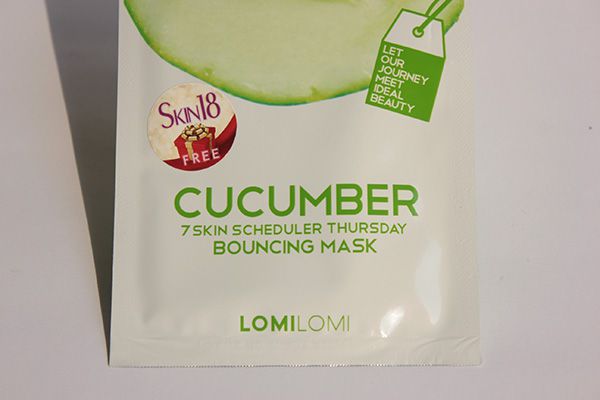 What I like about 'Lomilomi 7 Skin Scheduler Mask- Cucumber-Bouncing Mask'
– Pleasant cucumber fragrance.
– The delicate texture is a treat for the skin.
– Enriched with abundant serum and nutrition.
– It has got excellent skin adhesion that keeps it stay put.
– Can be used anytime anywhere.
– Even though it feeds the skin with abundant moisture it does not cause breakouts.
– Makes skin soft.
– Skin looks healthy and young.
What I do not like about 'Lomilomi 7 Skin Scheduler Mask- Cucumber-Bouncing Mask'
– Not easily available.
– It can cause stickiness on oily skin.
Price of 'Lomilomi 7 Skin Scheduler Mask- Cucumber-Bouncing Mask': USD 3.50
BABE rating: 4/5
Final Word: Lomilomi 7 Skin Scheduler Mask- Cucumber-Bouncing Mask replenishes skin with moisturizing nutrients. It makes skin look soft and healthy. Though being rich in serum it causes greasiness on oily skin but I think this won't happen on normal to dry skin. Overall, this is a nice sheet mask if you are targeting basic for basic skin health and moisture.
You might also like reading these related topics
Lomilomi 7 Skin Scheduler Mask-Monday Aloe Juicy Review
Lomilomi 7 Skin Scheduler Mask-Ginkgo Anti-Wrinkle Mask Review
Lomilomi 7 Skin Scheduler Mask- Grape-Whitening Mask Review
Four Season Collagen Lifting Wrinkle Care Intensive Sheet Mask Review
Medicos-V Gold Black Bright Moisture Essential Mask Review
Innisfree Its Real Green Tea Mask Sheet Review