This is my day 3 of using the LomiLomi 7 skin scheduler mask box, and as suggested on the box today I am using the grape whitening mask. If this is the first review you are going through of the 'LomiLomi 7 Skin Scheduler Mask' review series then let me introduce you to the first two masks of this series.
Day 1- Aloe Juicy Mask, reviewed here
Day 2- Ginkgo Anti-Wrinkle Mask, reviewed here
The names of these masks are self-explanatory. Day 1 was for moisture and hydration, day 2 for wrinkle reduction and now day 3 for whitening. To know the detailed review on the Grape-whitening mask keep reading.
What the product says:
For falling dark circles and dulling skin tone, transparently shine from the inside. This is highly enriched product of grape fruit extract and skin activators, and nutritional contents on the sheet with excellent skin adhesion and absorption. It cares oil and moisture, blocks toxic substances to skin and makes moisturizing and elastic skin.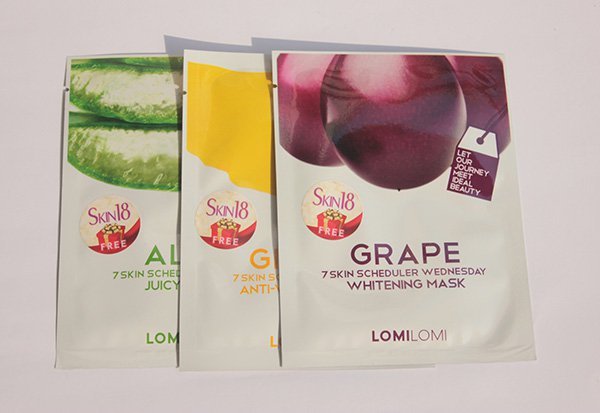 My Take on 'Lomilomi 7 Skin Scheduler Mask- Grape-Whitening Mask'
The packaging is similar to previous two sheet masks. It comes packaged in a glossy plastic sheet which is sleek and feather light, and because of the compact size it can fit anywhere in your home or travel or carry bag. Just ensure that you keep it at a place where it does not get any folds, otherwise the sheet mask inside the plastic cover can be damaged. Also, be watchful while you cut the plastic cover to take out the mask.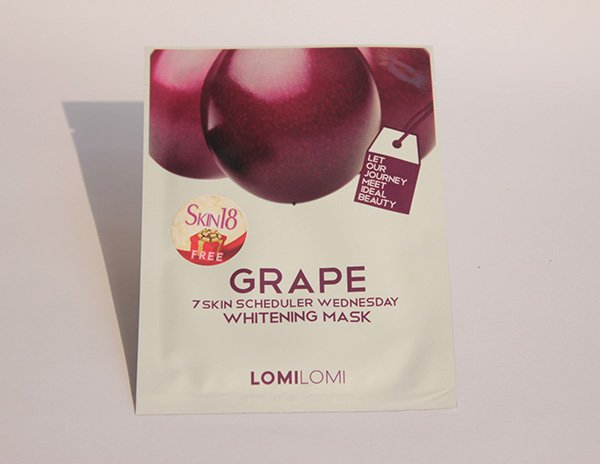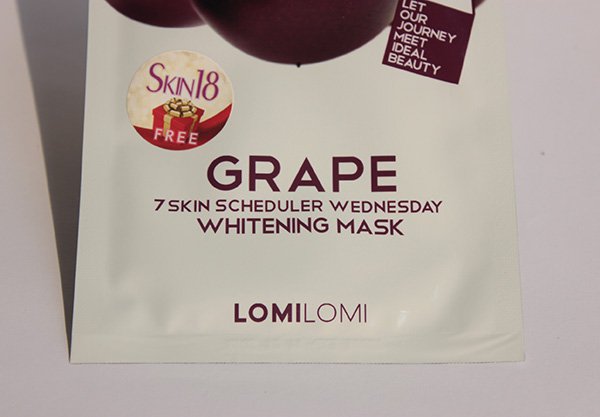 It is a white sheet mask, and abundantly rich in serum. Because of the serum quantity you may initially find it dripping but once it is on the face the serum does not run down – even if you sit or walk while this is on your face. The best thing of this mask is the excellent skin adhesion, which means it sticks to your face without slipping or coming off. And, that's the reason you do not necessarily need to lie down to pamper your skin using this sheet mask. However, while you spread it on the face ensure that it evenly reaches every nook and cranny- start applying it from forehead and gently cover entire face. Plus, this is a skin whitening mask that claims to work on dark circles so spread to over the under eye area as well.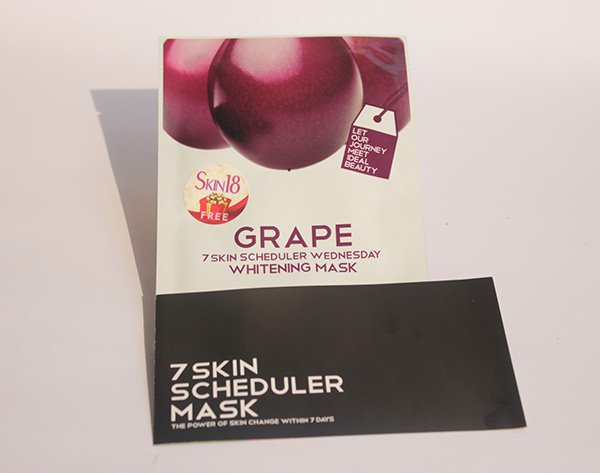 For the usage, this mask should be applied on clean face. If you want you can exfoliate/scrub your face rather just washing. Though the usage instructions also recommend using a toner before putting the mask on but I feel even if you skip that step you will get more or less the same results. The key is to keep it on for 15-30 minutes and not to rinse of the extra serum, instead pat it gently so it gets completely absorbed into the skin. I kept it on for 40 minutes I know this is more than the recommended duration but the reason for extending the duration was the damp softness that I could feel even after 30 minutes, and which made me think that the sheet mask was doing its job and needed a bit of more time. After 40 minutes when I removed the mask, there was still a lot of serum on the skin. I patted it slightly and then let it sink on its own.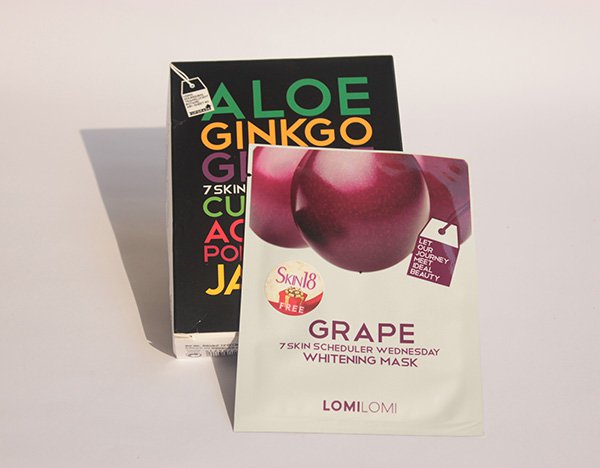 For the efficacy, after removal of the sheet mask the skin feels sticky but moisturized. Luckily, it does not cause any skin breakouts otherwise because of stickiness my acne prone could have been easily bombarded with zits. The skin looks well-nourished and even. This sheet mask also takes care of tanning and blemishes and in my opinion its consistent use would give prominent results.
What I like about 'Lomilomi 7 Skin Scheduler Mask- Grape-Whitening Mask'
– Soothing fragrance.
– Feels soft and comfortable.
– Abundantly rich with serum.
– Excellent skin adhesion.
– It does not require you to lie down or put it on at home only.
– Does not sting or cause irritation or breakouts.
– Works on blemishes and dark circles.
– Makes skin nourished and healthy.
What I do not like about 'Lomilomi 7 Skin Scheduler Mask- Grape-Whitening Mask'
– Not easily available.
– It causes stickiness, which I think is because of high serum quantity.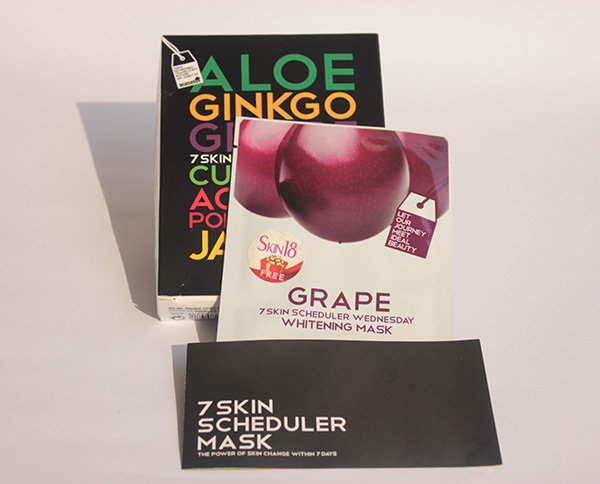 Price of 'Lomilomi 7 Skin Scheduler Mask- Grape-Whitening Mask': USD 24 for 7 masks. You can also purchase the individual mask by paying USD 3.50
Online Availability: From skin18.com
BABE rating: 3.75/5
Final Word: Lomilomi 7 Skin Scheduler Mask- Grape-Whitening Mask is a whitening mask that works on blemishes and dark circles. Formulated with grape extracts, it nourishes the skin to give it a healthy and moisturized look. If skin whitening is your only concern, you may want to consistently use this sheet mask to see prominent long term effects.
You might also like reading these related topics:
Lomilomi 7 Skin Scheduler Mask-Monday Aloe Juicy Review
Lomilomi 7 Skin Scheduler Mask-Ginkgo Anti-Wrinkle Mask Review
Four Season Collagen Lifting Wrinkle Care Intensive Sheet Mask Review
Medicos-V Gold Black Bright Moisture Essential Mask Review
Innisfree Its Real Green Tea Mask Sheet Review