Hi Everyone,
Hope you having a gala time. I have been quite busy in my little sister's wedding so could not take out time to post the last review of the LomiLomi 7 skin scheduler mask series. There were so many traditional functions, and being the elder sister I had to make sure that everything went smoothly and in an organized manner. I apologize for the delay in this review. Without wasting more time lets quickly have a recap of the previous 6 masks. Also, keep reading this review till you hit the final section as there is a sweet surprise for you.
Day 1- Aloe Juicy Mask, reviewed here
Day 2- Ginkgo Anti-Wrinkle Mask, reviewed here
Day 3- Grape Skin Whitening Mask, reviewed here
Day 4- Cucumber Bouncing Mask, reviewed here
Day 5- Acerola Recovery Mask, reviewed here
Day 6- Pomegranate Vital Mask, reviewed here
What the product says:
Healing mask on Sunday, relieve, protect and cure dried and tiresome skin. This is highly enriched product of Jasmine and skin activators, and nutritional contents on the sheet with excellent skin adhesion. It cares oil and moisture, block toxic substances to skin and create moisturizing and elastic skin.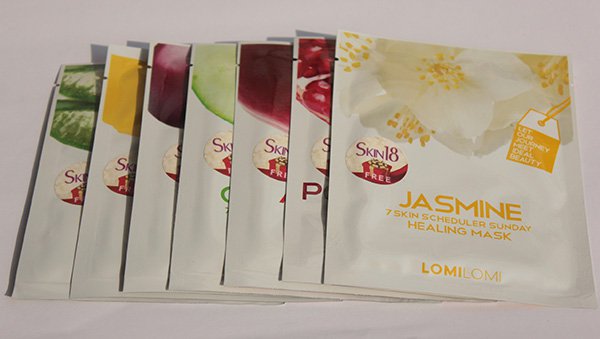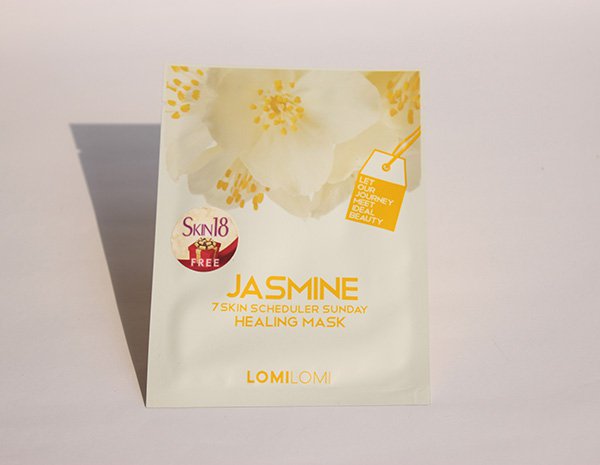 My Take on 'Lomilomi 7 Skin Scheduler Mask-Jasmine Healing Mask'
Like all other 7 skin scheduler masks, the Jasmine healing mask is also packed in a glossy plastic sheet. The packaging is properly sealed and lightweight, and that make it easy to carry and store. On both the top corners of the packaging there are small cuts to aid in opening the sheet. Though this sheet mask does not call for too much care but I would still suggest not folding the sheet or making it go through a lot of pressure as doing so can damage the mask inside.
Once you tear open the plastic, carefully take out the mask and unfold it. The mask is copiously rich with serum so requires gentle handling. It is a white sheet mask that almost looks translucent because of the high quantity of the serum. The texture feels soft against the skin and makes the application easier. It has mild jasmine fragrance, making the usage even more indulging.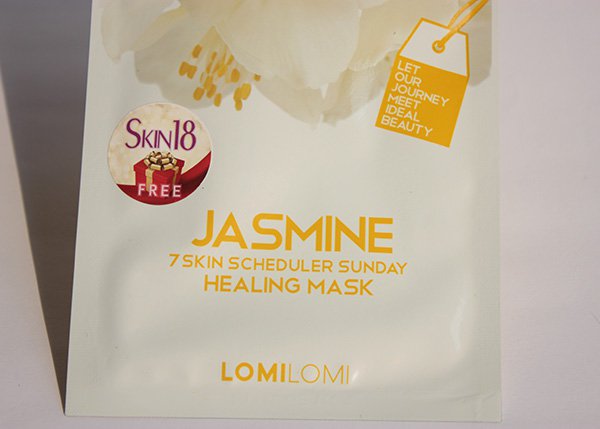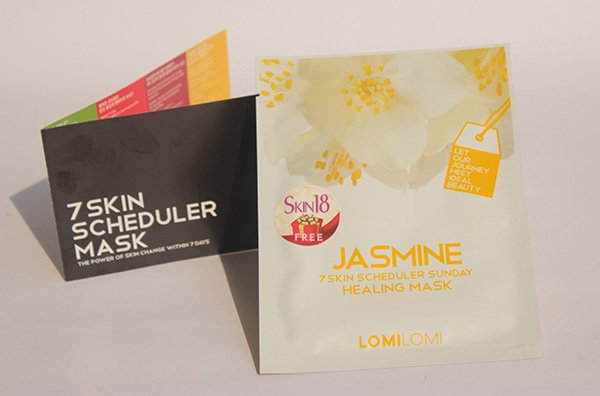 For usage, as per the instructions mentioned on the back side of packaging it has to be applied on clean face. But you can also tone or scrub the face before putting this on. Going by my experience, I feel the results are much better when I apply this mask after scrubbing or exfoliating. Scrubbing opens clogged pores and allows the nutrients to sink into the skin giving better outcome. Either ways, start placing this mask from forehead towards the chin; spread it gently so that it covers every part of the face and pat it well. The excellent skin adhesion property of this mask makes it stick to the skin even if you sit or walk while having this on the face.
It has to be left on the skin for 30 minutes, but you can extend the application to 40-45 minutes as well. Over this period the serum will be absorbed into the skin leaving slightly dry look. After 45 minutes, take off the mask and gently rub the left over serum so that it gets equally distributed. There is no use of continuously massaging the serum as it will not completely go into the skin, rather it takes it own time which is around 30 – 45 minutes to partially disappear. Owing to this trait, the ideal time to apply this mask is before going to bed. If you apply it during day time, the stickiness will look like a con, on the contrary during night time the excess serum quantity will feed the skin and make it look healthy and glowing when you wake up.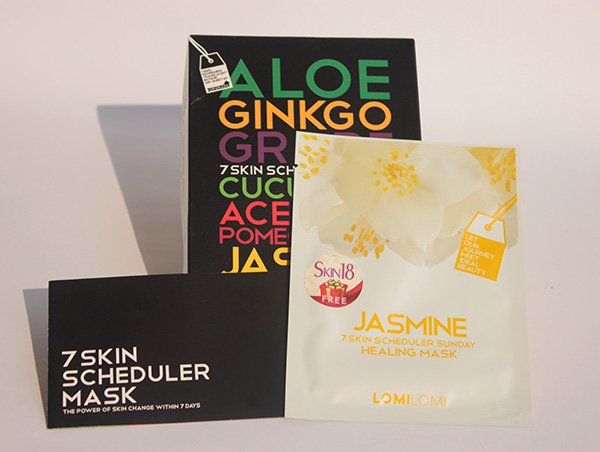 For the efficacy, as I said if this mask is applied at night time it will make the skin healthy, glowing and rejuvenated else the stickiness will overcome the goodness of this sheet mask. Nonetheless, it does not cause any skin breakouts yet hydrates the skin well.
What I like about 'Lomilomi 7 Skin Scheduler Mask-Jasmine Healing Mask'
– Pleasant Jasmine fragrance.
– Feels soft against the skin.
– Good adhesion.
– Can be used anytime, anywhere.
– No need to rinse of post application.
– Fills the skin with moisture.
– Provides healthy glow.
– Does not cause any skin breakouts.
What I do not like about 'Lomilomi 7 Skin Scheduler Mask-Jasmine Healing Mask'
– Feels sticky for quite some time.
– Should not be applied during day time as it makes the skin greasy and heavily moisturized.
– Not easily available.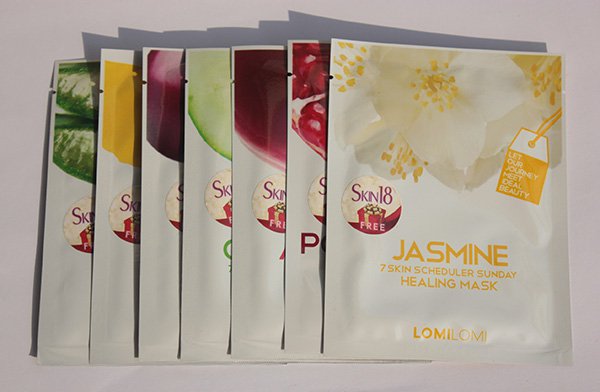 Price of 'Lomilomi 7 Skin Scheduler Mask-Jasmine Healing Mask': USD 24 for 7 masks. You can also purchase the individual pack by paying USD 3.50
BABE rating: 3.5/5 for this individual sheet mask.
Final Word: Jasmine healing mask is a non-messy way to restore skin hydration and moisture levels. It makes the skin healthy and glowing without investing a lot of efforts. You just have to put it on for 40-45 minutes before going to bed, and it will give you rejuvenated skin the next morning. Stickiness might be a problem for oily skin people but the good part is it does not lead to any skin breakouts and if applied during night time it will feed the skin with beneficial nutrients.
Soon, I will announce an international giveaway and lucky beauties will get to use all the 7 masks from the LomiLomi 7 Skin Scheduler Mask Box. So stay tuned and keeping watching this space.
You might also like reading these related topics
Lomilomi 7 Skin Scheduler Mask-Monday Aloe Juicy Review
Lomilomi 7 Skin Scheduler Mask-Ginkgo Anti-Wrinkle Mask Review
Lomilomi 7 Skin Scheduler Mask- Grape-Whitening Mask Review
Lomilomi 7 Skin Scheduler Mask- Cucumber-Bouncing Mask Review
Lomilomi 7 Skin Scheduler Mask- Acerola-Recovery Mask Review
LomiLomi 7 Skin Scheduler Mask- Pomegranate-Vital Mask Review
Four Season Collagen Lifting Wrinkle Care Intensive Sheet Mask Review
Medicos-V Gold Black Bright Moisture Essential Mask Review
Innisfree Its Real Green Tea Mask Sheet Review