Yay, its Friday – time to prepare for the weekend fun. Why not prepare the skin as well? Day 5 is to replenish the skin with the goodness of Acerola. This is a recovery sheet mask and I really like its timing. After a long tiring week just like we need weekend to recover our mind and body, this Acerola sheet mask will mend the skin from all the exhaustion, pollution and stress it had gone through. But before we jump on to the review of Acerola recovery mask, here is a quick recap of previous four days.
Day 1- Aloe Juicy Mask, reviewed here
Day 2- Ginkgo Anti-Wrinkle Mask, reviewed here
Day 3- Grape Skin Whitening Mask, reviewed here
Da4 4- Cucumber Bouncing Mask, reviewed here
What the product says:
Happy Friday! Enjoy happily as much as possible, stress out! This is highly enriched product of Acerola fruit extract and skin activators, and nutritional contents on the sheet with excellent skin adhesion and absorption. It cares oil and moisture, blocks toxic substances to skin and makes moisturizing and elastic skin.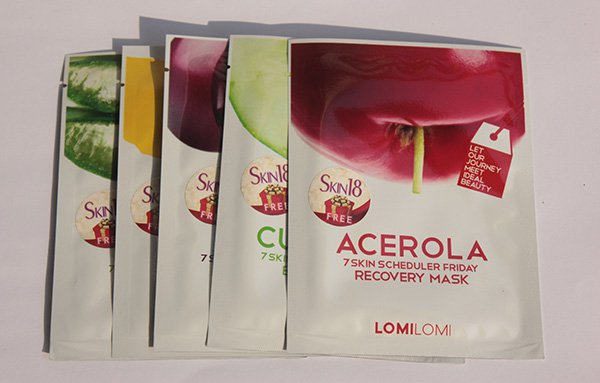 My Skin Type: Combination to oily
My Take on 'Lomilomi 7 Skin Scheduler Mask- Acerola-Recovery Mask'
The sheet masked is housed in a thin plastic cover, which is glossy and has all the details mentioned on it. It is a flexible packaging so you would easily be able to fit it in any corner or stash but make sure you do not fold it too much or put a lot of pressure as both these things can damage the mask. Overall, it is an easy-to-carry pack. You can even just put it in the handbag while travelling without feeling an extra ounce of weight.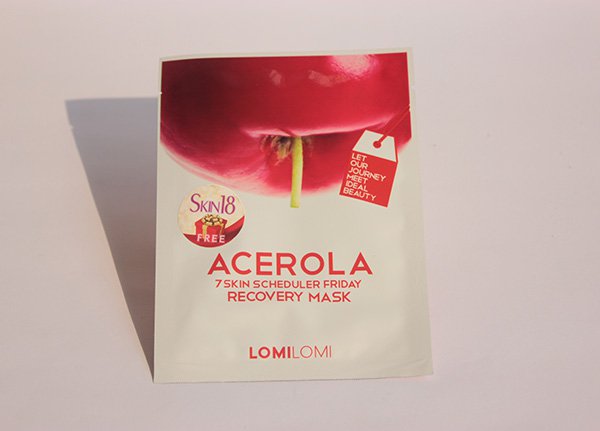 While opening the cover, check the position of the sheet mask before cutting the plastic along the cuts marked on both top sides. Carefully pull out the mask and unfold it. Spread it evenly on your face, starting from forehead, covering the eyes, nose and chin. Once placed on face, adjust it from the sides so as it covers every portion of your face and pat it well to make it stick to the skin properly. If you want you can use eyelid covers, but as I do not lie down while this mask is on so those are not much beneficial for me. But ideally, one should use them.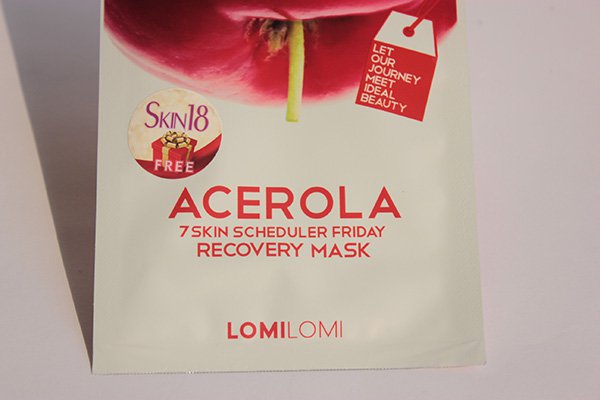 It is a soft white sheet mask, enriched with plentiful serum. The serum quantity is so high that it almost gives it a transparent look. Even when it is out of the cover a lot of serum still remains inside the plastic and that can be used on other body parts or you can ask your family members to use it on face. The mask has got excellent skin adhesion that ensures it does not slip off even when you walk or sit during its application. That being said you can also apply this sheet mask while travelling, and as it does not require any rinsing post application so your skin will be all healthy and fresh when you will reach the destination.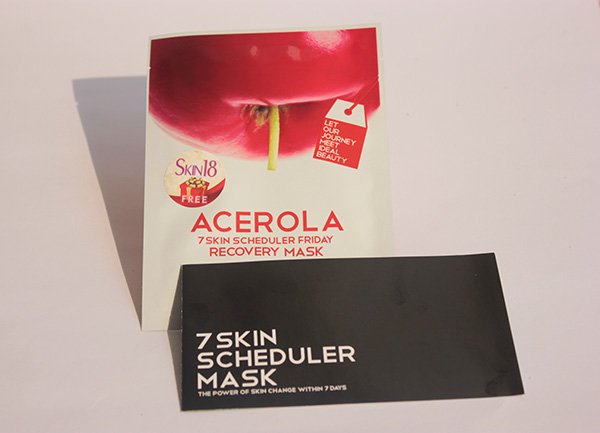 It has to be applied on clean and toned face. If you want you can also use it after scrubbing, in place of a face pack. In my opinion, doing so will give better results as there is high probability that more serum will get absorbed into the skin. In either case, leave it on for 15-30 minutes, if you want you can extend the duration to 40-45 minutes as well. And then take off the sheet and gently pat whatever is on the skin to spread it evenly. You won't be able to make it entirely penetrate into the skin so do not invest a lot of time in patting. It will go on its own, taking anywhere between 30-45 minutes.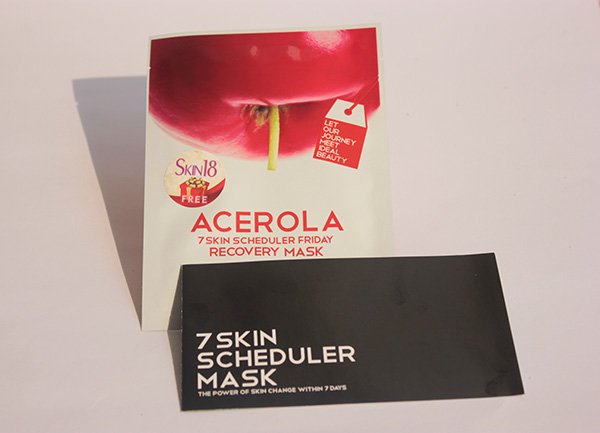 It leaves a greasy and sticky layer on my oily skin but if you have dry or normal skin the extent of stickiness might be less. Hence, I think the ideal time to apply this sheet mask is either before bed time or while travelling when you know you have plenty of time to let every bit of serum go inside the skin leaving a normal surface. Post application, you do not need to follow this mask with moisturizer or night cream. This will do much better job for you. It hydrates the skin well, gives it a prominent glow and makes it look even and healthy.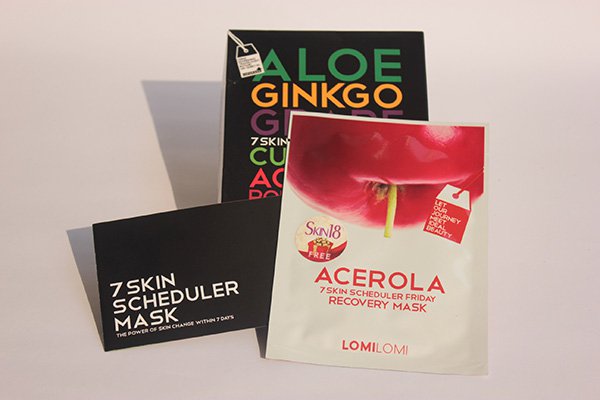 What I like about 'Lomilomi 7 Skin Scheduler Mask- Acerola-Recovery Mask'
– Sweet and mild fragrance.
– Feels soft and comfortable.
– Contains a lot of serum.
– Sticks to the skin like cement (just kidding), but it does not slip.
– Makes kin soft, supple and healthy.
– Gives a healthy glow.
– Skin look even and clear next day.
What I do not like about 'Lomilomi 7 Skin Scheduler Mask- Acerola-Recovery Mask'
– Availability is a concern but you can get it from skin18.com
– Cause stickiness on oily skin.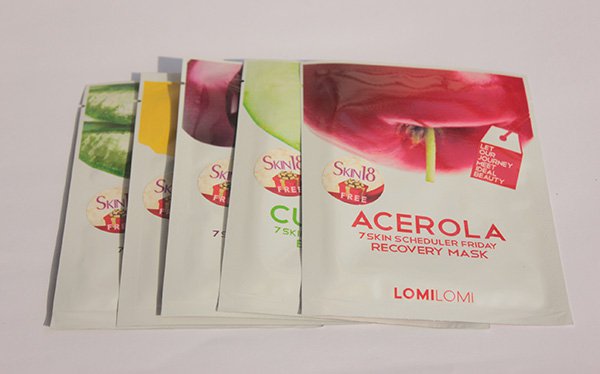 Price of 'Lomilomi 7 Skin Scheduler Mask- Acerola-Recovery Mask': USD 3.50
BABE rating: 4.25/5
Final Word: Lomilomi 7 Skin Scheduler Mask- Acerola-Recovery Mask takes off all the tiredness and rejuvenates the skin. For oily skin, if you apply this mask before bed time you won't have to feel the stickiness, and your skin will look healthy and fresh the next morning you wake up. Normal or dry skin people can apply it anytime but in case you too feel greasiness try giving it a shot before sleeping. Overall, it is a good sheet mask to recover the skin from exhaustion and prepare it for yet another week.
You might also like reading these related topics:
Lomilomi 7 Skin Scheduler Mask-Monday Aloe Juicy Review
Lomilomi 7 Skin Scheduler Mask-Ginkgo Anti-Wrinkle Mask Review
Lomilomi 7 Skin Scheduler Mask- Grape-Whitening Mask Review
Lomilomi 7 Skin Scheduler Mask- Cucumber-Bouncing Mask Review
Four Season Collagen Lifting Wrinkle Care Intensive Sheet Mask Review
Medicos-V Gold Black Bright Moisture Essential Mask Review
Innisfree Its Real Green Tea Mask Sheet Review