It's been 5 days that I am using the 7 skin scheduler mask box. So far I love the way my skin has turned out for the consistent usage of these sheet masks. Day 6 is to pamper the skin from the benefits of pomegranate fruit. Before we jump on to the detailed review of Pomegranate vital mask, here is recap of last 5 days.
Day 1- Aloe Juicy Mask, reviewed here
Day 2- Ginkgo Anti-Wrinkle Mask, reviewed here
Day 3- Grape Skin Whitening Mask, reviewed here
Da4 4- Cucumber Bouncing Mask, reviewed here
Day 5- Acerola Recovery Mask, reviewed here
What the product says:
Saturday is time to recover skin vitality and provide antioxidants and energy deep inside skin. This is highly enriched product of pomegranate and skin activators, and nutritional contents on the sheet with excellent skin adhesion. It cares oil and moisture, block toxic substances to skin and makes moisturizing and elastic skin.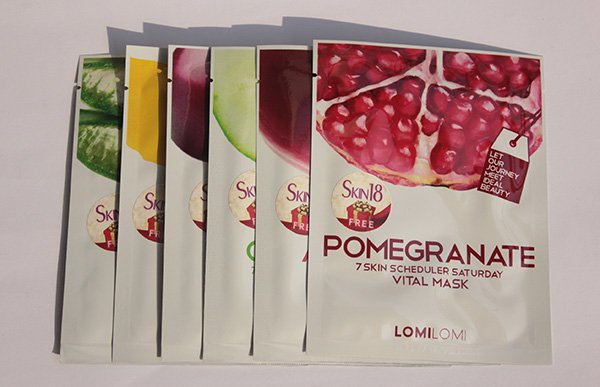 My Skin Type: Combination to oily
My Take on 'LomiLomi 7 Skin Scheduler Mask- Pomegranate-Vital Mask'
It comes packed in a sleek plastic sheet, which is a combination of red and white colors. Usage instructions are mentioned on the backside, along with what you should expect from the mask. It is a lightweight pack so can easily find a space anywhere. You can also carry a couple of such masks in the handbag while you are on move. The only thing you need to take care of is not to exert a lot of pressure on this mask as it might damage the sheet. Rest it is spill proof and completely safe and easy to carry.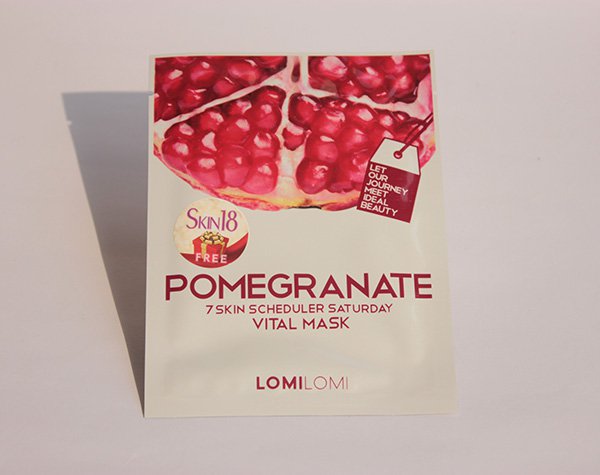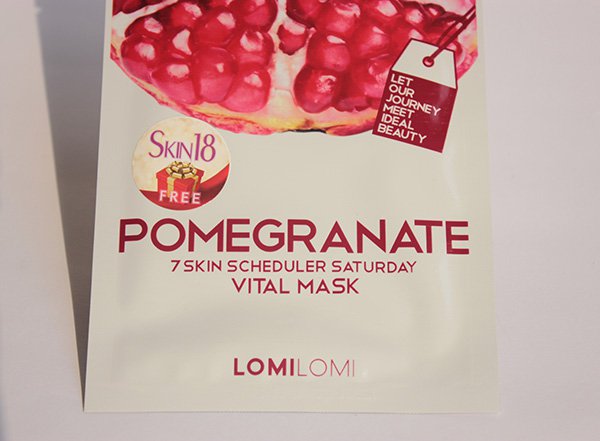 Post you cut the plastic along the marks given on both top sides, carefully pull out the sheet. It is copiously laced with serum so gently unfold it. Now, when the sheet is all flat start placing it on face from forehead towards chin. Adjust it so that it covers entire face and pat to make it stick to the skin. As this is a serum mask so you can also place it on under eye area and also on the eye lids. But make sure you keep the eyes closed while this is on, as not doing so can cause it to sting.
For usage, ideally this should be applied on cleaned and toned face but you can also scrub and then put this mask on. Today, I did use Clinique exfoliator before putting this mask. I think as exfoliation helps in unclogging the pores and making skin breathe; it will cause more goodness from the mask to penetrate into the skin.
It is a white sheet mask with soft texture. It has got skin adhesion which means it stick to the face without slipping or falling down. You down have to necessarily lie down to use this sheet mask, in fact it can be worn while doing regular chores, watching TV or even travelling. Once on, it has to be left for 15- 30 minutes but as the mask is abundantly rich with serum so I usually leave it on my face for around 40 minutes. Even after that long it does not feel it is completely absorbed into the skin. I pat it a little so that it evenly spreads on my face, and after that it takes 30-45 minutes to skin into the skin. For this lengthy absorption, I think the ideal time to apply this sheet mask is before going to bed. The good thing is it does not require any rinsing, just take off the mask and let it do its work.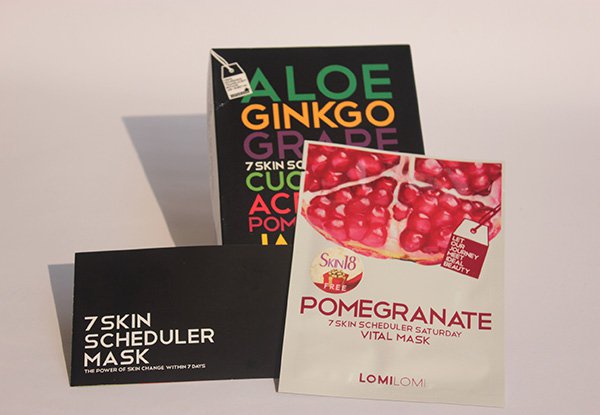 For efficacy, this sheet mask makes the skin soft and supple. My skin looks hydrated and well moisturized after putting it on. It feels slightly sticky though, but does not cause any pimple or breakouts. On normal to dry skin, stickiness won't be much of a problem. In either case I think it should be applied at night time to reap better results.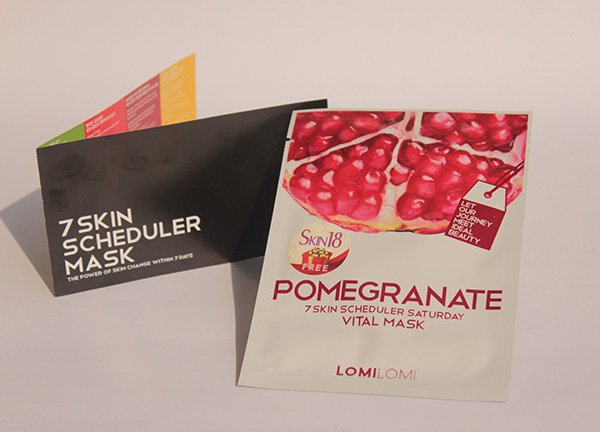 What I like about 'LomiLomi 7 Skin Scheduler Mask- Pomegranate-Vital Mask'
– Pleasant fragrance.
– Soft texture that feels feather-like on skin.
– Can be applied anytime.
– Does not require rinsing.
– Makes skin soft and supple.
– Does not cause skin breakouts.
– Skin feels fresh next morning.
What I do not like about 'LomiLomi 7 Skin Scheduler Mask- Pomegranate-Vital Mask'
– Feels slightly sticky.
– No easily available.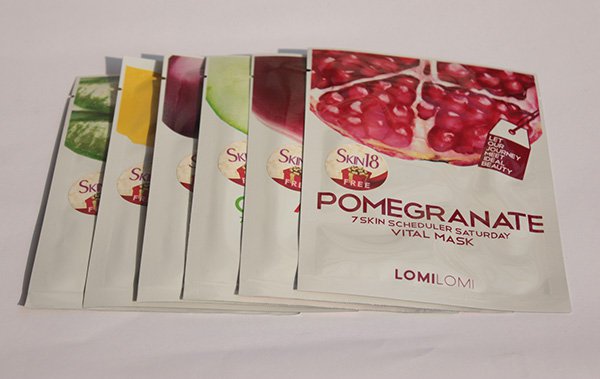 Price of 'LomiLomi 7 Skin Scheduler Mask- Pomegranate-Vital Mask': USD 3.50
BABE rating: 4/5
Final Word: LomiLomi 7 Skin Scheduler Mask- Pomegranate-Vital Mask is easy to apply anytime anywhere. It makes skin soft and supple, giving it a healthy glow. Though it causes slightly stickiness yet it does not lead to skin breakouts. Overall, it is a quick and easy way to replenish the skin with moisture and vitality.
You might also like reading these related topics
Lomilomi 7 Skin Scheduler Mask-Monday Aloe Juicy Review
Lomilomi 7 Skin Scheduler Mask-Ginkgo Anti-Wrinkle Mask Review
Lomilomi 7 Skin Scheduler Mask- Grape-Whitening Mask Review
Lomilomi 7 Skin Scheduler Mask- Cucumber-Bouncing Mask Review
Lomilomi 7 Skin Scheduler Mask- Acerola-Recovery Mask Review
Four Season Collagen Lifting Wrinkle Care Intensive Sheet Mask Review
Medicos-V Gold Black Bright Moisture Essential Mask Review
Innisfree Its Real Green Tea Mask Sheet Review