Sheet masks are my favorite when it comes skin pampering. Firstly, because they are a non-messy way to improve skin healthy and secondly you can apply them anywhere anytime. Mostly, I apply sheet masks before going to bed accompanied by a good book in my hands. Then after 20-30 minutes of application, I just remove the mask and put it aside on my side table slipping into the quilt. Believe me, this is a great stress buster, self-pampering method to relax and rejuvenate. Recently, I am introduced to BioMiracle White Diamond HydroGel Mask and I would like to share my experience with you all. Not only that, for the very first time i also tried BioMiracle Eye Patches and I eagerly want to share how I feel about them. Without much ado, let's get started.
What the product says
The BioMiracle Hydro-Gel Face Mask hydrates, nourishes and brightens the skin. Effectively minimizes the appearance of fine lines and wrinkles. Deep penetrating skin repair and revitalization.
BioMiracle Anti-wrinkle gel patches are specially formulated cosmetics for reducing the appearance of fine lines and wrinkles around your eyes without irritation by using effective and continuous skin penetration of cosmetic ingredients. Anti-wrinkle gel patches work with your skin to continuously firm, increase elasticity, and fight the appearance of fine lines and wrinkles. Anti-wrinkle gel patches work quickly & gently to visibly reduce the look of fine lines and wrinkles.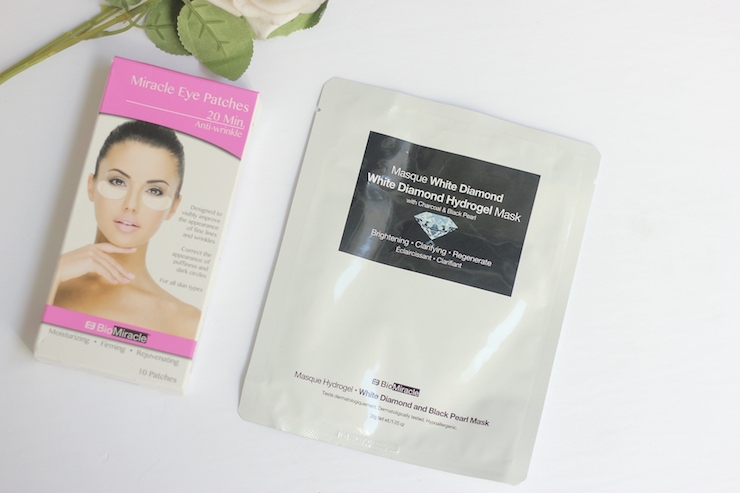 My take on 'Bio Miracle White Diamond Hydrogel Mask & Miracle Eye Patches'
The white diamond hydrogel mask is infused with Charcoal, Black Pearl and White diamond that in brightening and clearing the skin tone. It is enriched with Hyaluronic acid that acts as moisture-binding agent, thus keeps the skin hydrated for a long time. For those who have dry skin this is going to be a saviour in winter season. Even on my oily skin type, it helps in maintaining the moisture levels without causing any acne breakouts. I wonder how effective it would be on normal skin types. Its consistent usage helps in reducing the appearance of fines lines and wrinkles as well.
As far as the usage os concerned, I apply it on clean and dry skin. Carefully unfold the mask and place it on the skin positioning the cutout to face. Smooth the mask on the skin so that there are no wrinkles or bubbles and leave it on face for 20 minutes. After 20 minutes, do not wash the face; just remove the mask and massage in the remaining serum. Also, make sure to avoid using on blemishes, pimples, irritated, or sunburned skin. Plus, stop using the mask if anytime during the application the skin becomes red, swollen or itchy.
After 20 minutes my skin feels properly nourished with the right does of moisture. The hydration effect stays on for good 5-6 hours giving the skin a healthy look. I believe the continuous usage of this sheet mask might help in combating dryness and sagging as well.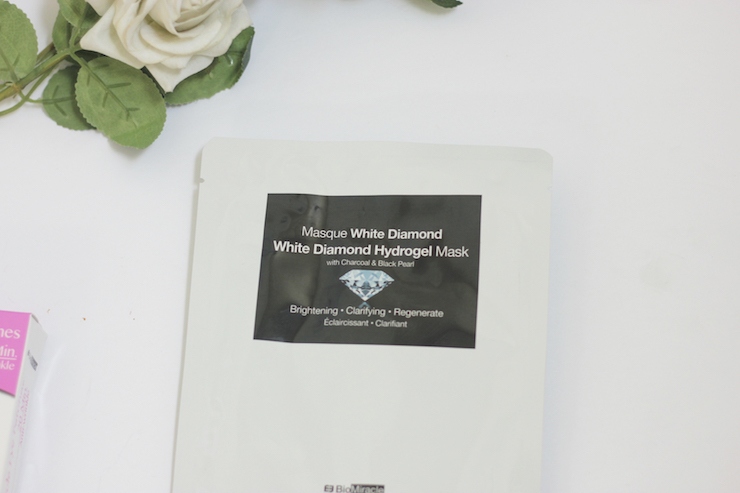 The BioMiracle Miracle Eye Patches comes in a hard paper box. The box contains five pouches and each pouch has two patches. These eye patches are specially formulated for reducing the appearance of fine lines and wrinkles around the eyes without irritation. Just like the sheet masks, these patches are an easy & non-messy way to enhance the penetration of skin-beneficial ingredients.
The patches are suitable for all skin types and help in reducing fine lines and wrinkles. The continuous usage also helps in the reduction of puffiness and dark circle. Also, along with using a-topical measures like these eye patches, I believe, diet and sufficient sleep of 7-8 hours play a significant role in clearing out dark circles. So if you eat healthy food you might see good results in short time span.
For the application, thoroughly clean and dry your face. Remove the patch from plastic liner. Apply the patch to appropriate area with shiny side facing your skin. Wear the patches for 20 minutes. Remove the patch slowly from the edges and rinse any residue with water.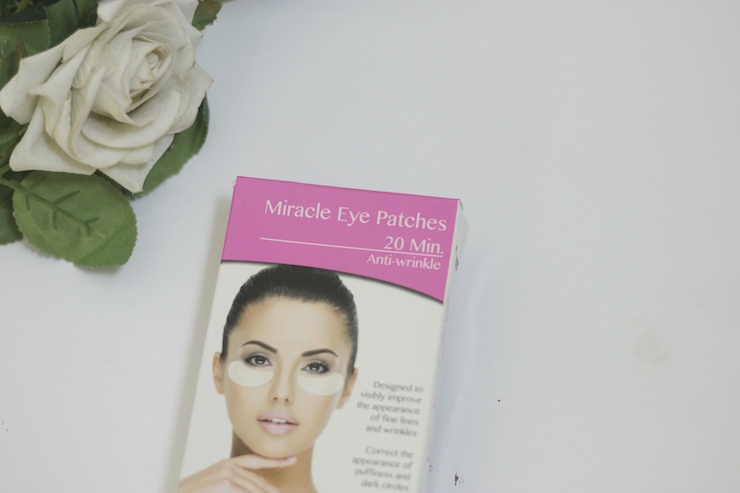 Things I like about 'Bio Miracle White Diamond Hydrogel Mask & Miracle Eye Patches'
– Easy and non-messy way to pamper skin.
– Makes the skin healthy and properly hydrated.
– Continuous usage makes the skin plump and glowing.
– Helps in reducing fines lines and wrinkles.
– Appropriate for all skin types.
– Easily available on amazon and flipkart.
Things I do not like about 'Bio Miracle White Diamond Hydrogel Mask & Miracle Eye Patches'
– Absolutely nothing.
Price of 'Bio Miracle White Diamond Hydrogel Mask & Miracle Eye Patches' Rs 900 and Rs 920 respectively
Final Word: These masks are a good source of hydration. Formulated with skin-friendly ingredients they help in improving skin health and deferring ageing. Also, since they are suitable for skin types all family members and friends can take the benefits of these wonderful products.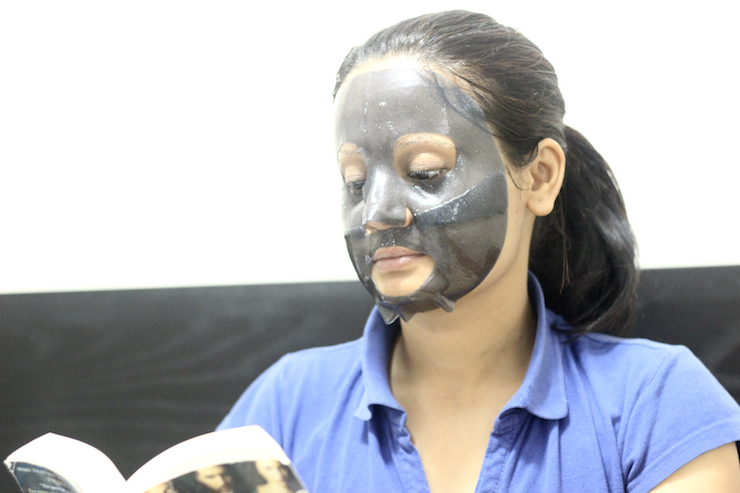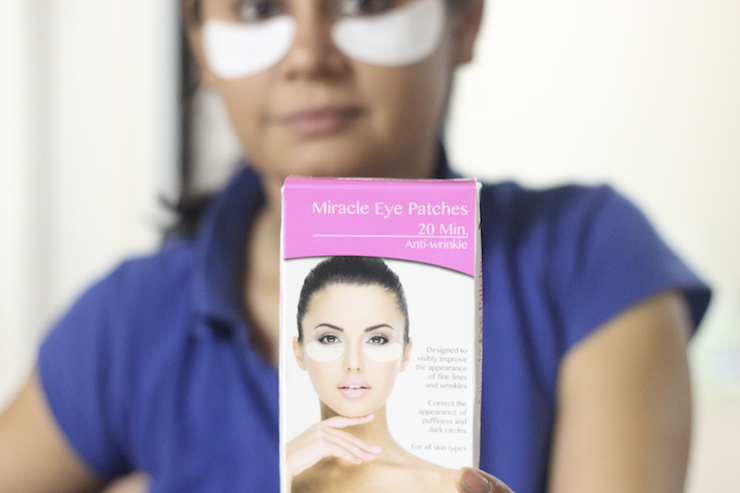 You might also like reading these related topics
Lomilomi 7 Skin Scheduler Mask-Monday Aloe Juicy Review
Lomilomi 7 Skin Scheduler Mask-Ginkgo Anti-Wrinkle Mask Review
Lomilomi 7 Skin Scheduler Mask- Grape-Whitening Mask Review
Lomilomi 7 Skin Scheduler Mask- Cucumber-Bouncing Mask Review
Lomilomi 7 Skin Scheduler Mask- Acerola-Recovery Mask Review
LomiLomi 7 Skin Scheduler Mask- Pomegranate-Vital Mask Review
LomiLomi 7 Skin Scheduler Mask-Jasmine Healing Mask Review
Four Season Collagen Lifting Wrinkle Care Intensive Sheet Mask Review
Medicos-V Gold Black Bright Moisture Essential Mask Review
Innisfree Its Real Green Tea Mask Sheet Review