It's the end of 2017. On one side where we all are preparing to make 2018 another better year, on the other 2017 is imprinting long-lasting memories on our hearts. Personally, I love the month of December as it brings chilling cold and parts excuses. Though I prefer to celebrate new year eve at home with my loved ones I love socializing at Xmas parties. That being said, today I am reviewing the much-awaited post of the month i.e. the December 2017 Fab Bag. This month it is more special since we have already hit the end of 2017.
December 2017 Fab Bag comprises of five products, and a shiny cool toned red pouch. The pouch has got circled pattern and shiny fabric. It is totally a party pouch and considering people will be attending a lot of parties this month it is going to come to great use. Unlike the zipped pouches, this month has a button at the front. It can easily hold makeup essentials, a few bucks, and a cellphone. Personally, I find it a useful item for parties and traveling. Now, coming to the products- three out of five products are full size, which is amazing. The rest two are the deluxe size and will easily last for a couple of weeks. Let's have a brief look at the items:
Sugar Blend The Rules Eyeshadow Quad- Last month, Sugar Cosmetics launched eyeshadow quads. There are available in 18 stunning combinations, and I have already reviewed three of the Sugar Cosmetics Eyeshadow Quads. You can check the detailed review link since I am very much in love with the formula and stain power of these eyeshadows. They are easy to blend, highly pigmented and thoughtfully curated. The packaging is not that impressive though but who gives it a thought as long as the actual product quality is amazing. The Bootylicious quad that I have received this month is a beautiful combination of mattes and shimmery shades. This is the self-chosen product, and I am glad that I added it to my collection. It retails for Rs 599.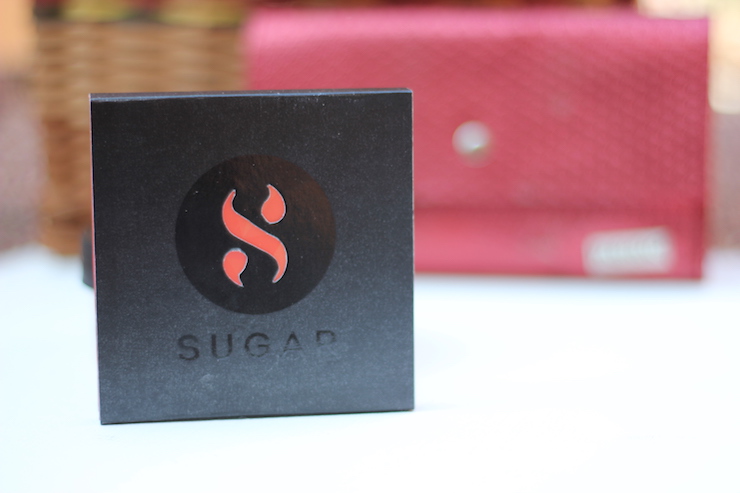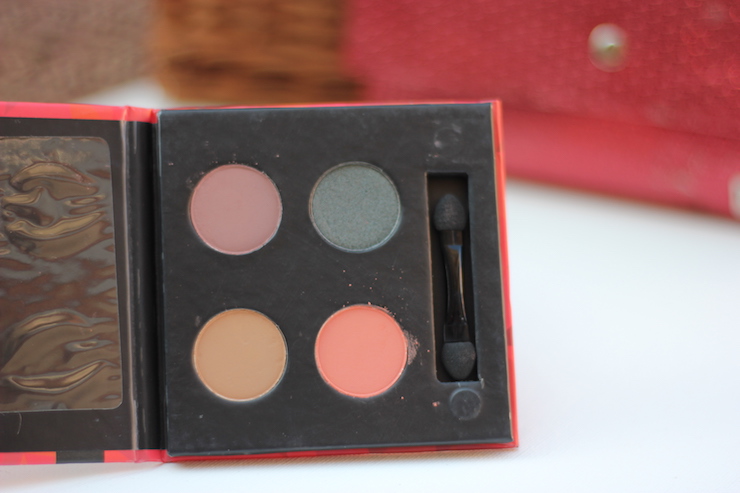 Alanna Desiccated Coconut And Saffron Skin Brightening Scrub- I have been thinking of purchasing a body scrub and here it comes. Post pregnancy, the belly skin loosens up and requires a strict exfoliation regime for tightening. Now, I will test this body scrub, which I think will last for 10-12 days, and if I like it I will order the full size. Being an expensive product (Rs 340 for 20g), it has set high expectations. Let's hope it works comes out as promising as it seems.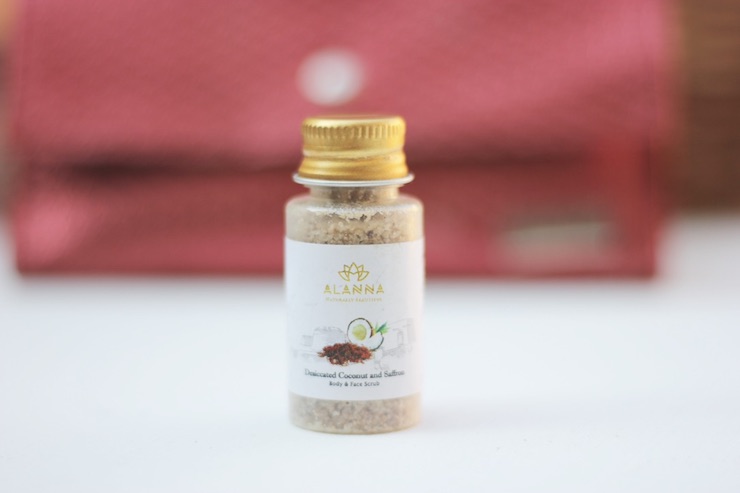 Bella Voste Premium Nail Enamel- I have Bella Voste lipsticks and I like them for creamy formula. This is the first time I am using the Bella Voste nail polish. It is a premium nail polish that gives salon like finish in terms of shine and neatness. The shade butter bash is a natural brown shade; I love such neutral shades since they go well with every dress. This nail polish retails for Rs 249. I cannot wait to apply it on my nails.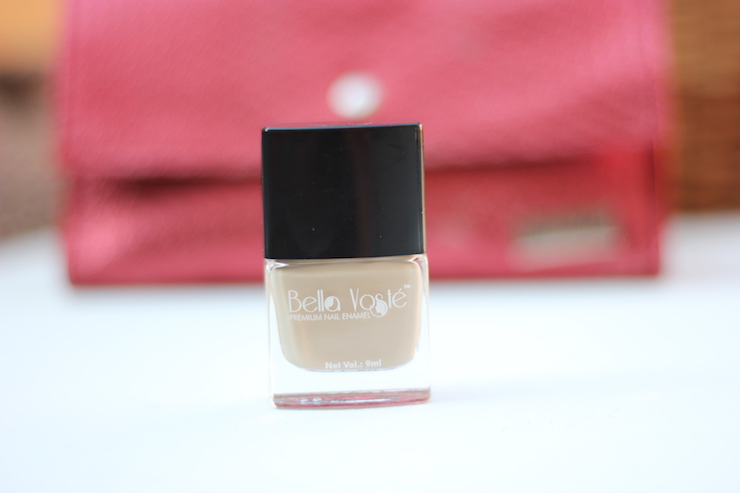 Blossom Kochhar Aroma Magic Cocoa Butter & Vanilla Body Cream- For the best few weeks, I have been looking for cocoa body butter but could not get my hands on it. Fortunately, the fab Bag crew heard my inner voice and sent this deluxe sample. I will be using it on my stretched skin, and if I like how it performs on my skin I will go for the full-size version. This 10g sample retails for Rs 26, so I hope the full size will be easily affordable.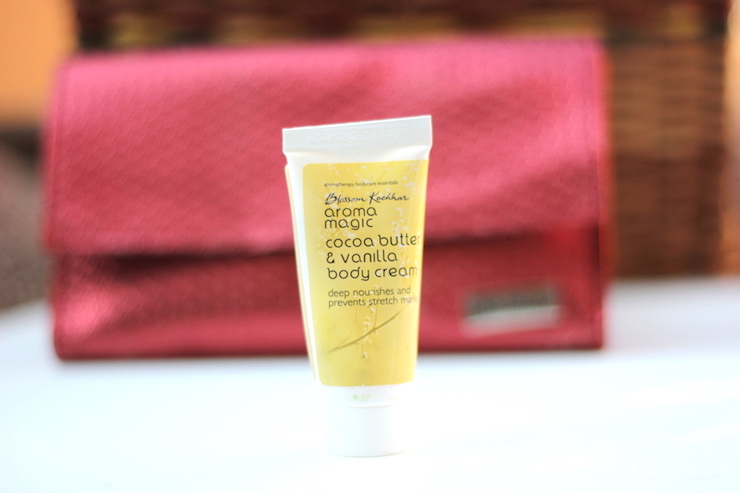 Bliscent Peppermint Foot Soak- This foot soak contains baking soda, Epsom salts, peppermint and essential oils. Going by the ingredient list, I find I quite effective. If you are planning to party in high heels or something of the sort that will show the feet then this is going to be a useful product. You can use it as a relaxing medium after a tiring day at shopping or work. This product has a retail price of Rs 200.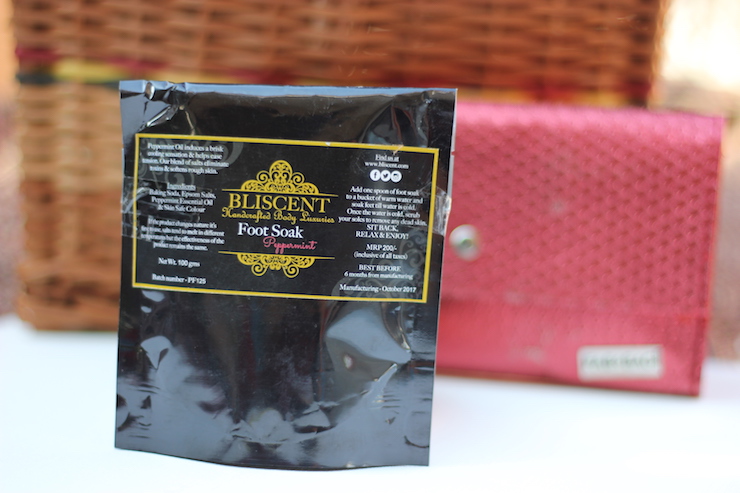 Overall, December 2017 Fab Bag is worth Rs 1400, which is almost three time the cost of one-month subscription (you need to pay Rs 599 for one month). And, if you go for three months or more this will become cheaper. I am totally in love with this month's bag and if you also like it you can click on this link to place the order.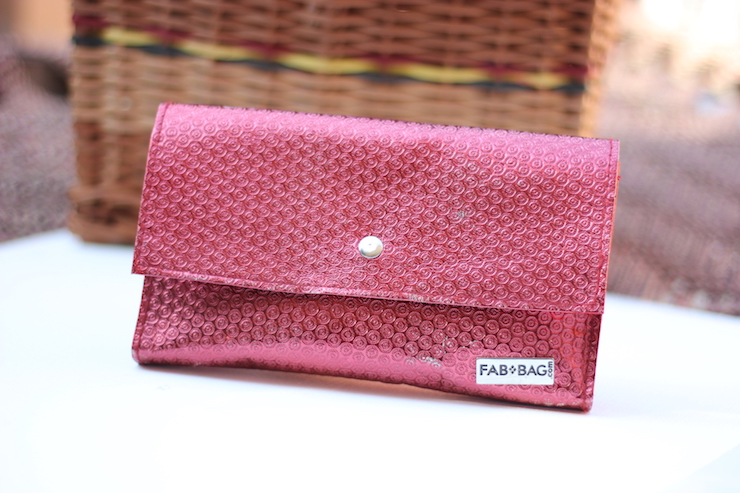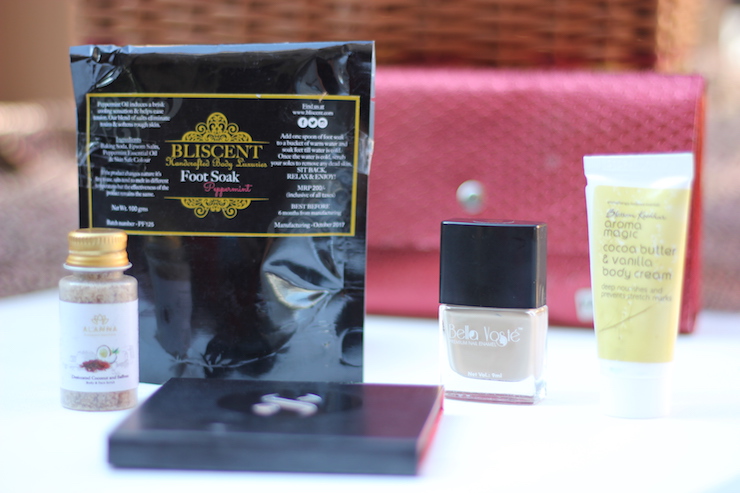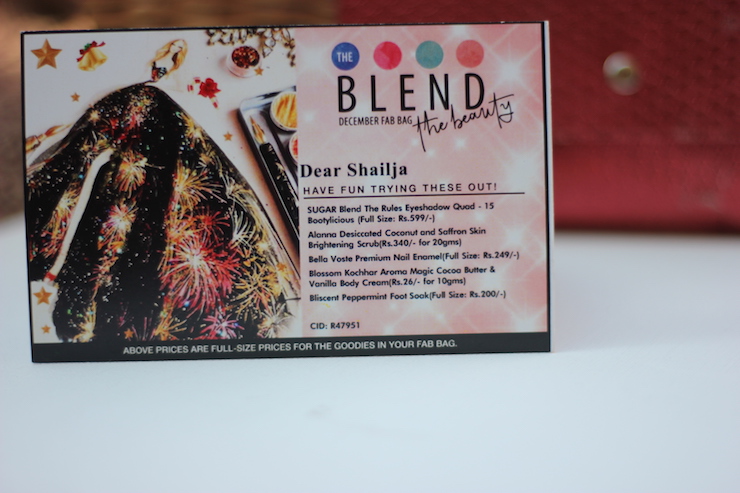 You might also like reading these related topics
The Hit List-November 2017 Fab Bag Review
Steal The Limelight-October 2017 Fab Bag Review
The Object Of Desire-September 2017 Fab Bag Review
The Flawless & Fierce-August 2017 Fab Bag Review
The Colour Drama – July 2017 Fab Bag Review
The Boho Chic-June 2017 Fab Bag Review
The Beauty Trippin-May 2017 Fab Bag Review
Go Get It Girl-March 2017 Fab Bag Review
The Pucker Up-February 2017 Fab Bag Review