Post the Diwali bash, things have been going little slow. The excitement for festivals is over but surprises like Fab Bag are still pouring in. The November 2017 Fab Bag came in early but since I was occupied in other errands so I got late to write its review. Anyways, as I have time and fab bag both in my hands right now, so let's get started with the contents of November fab bag.
This month's bag is based on the "The Hit List" theme. It contains five products, 1 more than the usual 4 products of fab bag. Of these five products, one is a makeup product and rest four are skin + hair care products. Quantity-wise, the makeup product is full size and the others are deluxe sample sized products. Now, let's have a brief look at the products: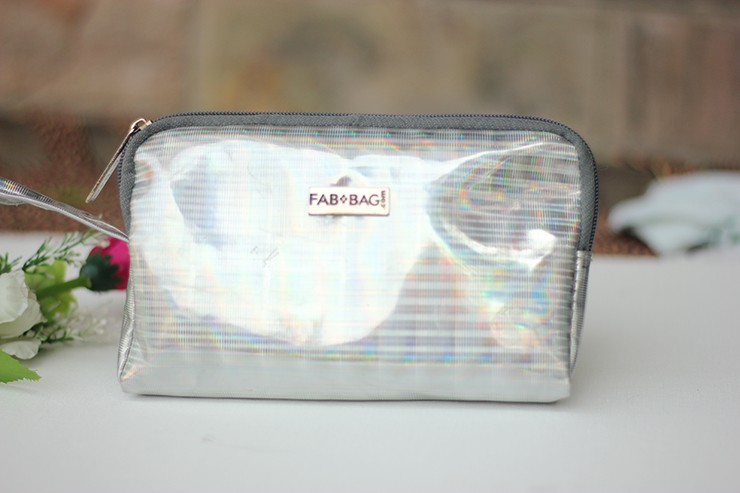 Bella Voste Ulti-Matte Chubby Stick- This is the self-chosen product. Last month, I got an email from fab bag crew to choose a shade of Bella Voste Ulti-Matte Chubby Stick lipsticks range. I chose the Rose crush shade. It is a beautiful dusty rose shade that will look good on all Indian skin tones. The lipstick has a retractable packaging and pointed tip. It defines the lips precisely. The application is convenient as it does not require any sharpener to make the tip pointed. The retail price of this lipstick is Rs 499.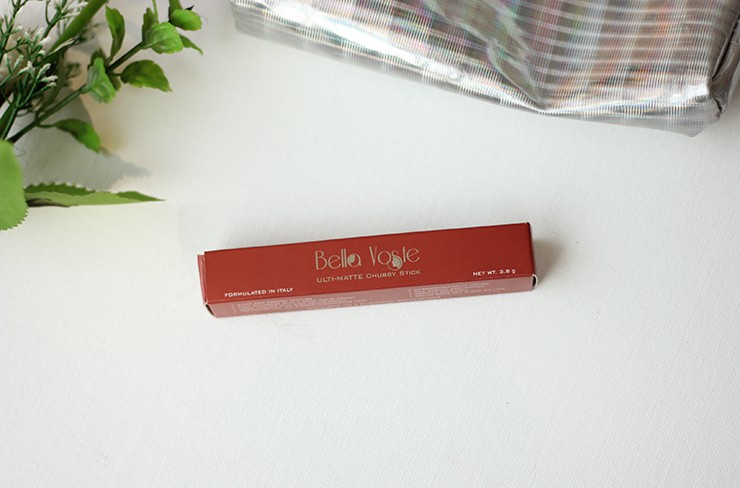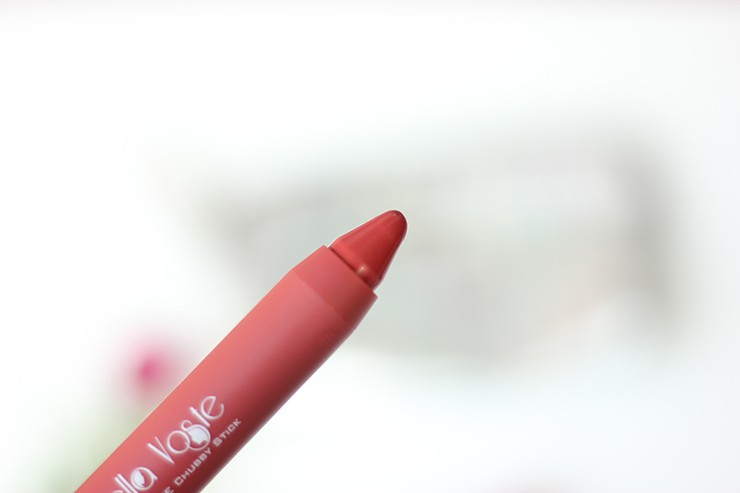 The Nature's Co Atmosphere Jasmine Sugar Body Scrub- Since winter season has arrived our skin will be in frequent need of exfoliation. This will save the skin from flakiness and will maintain the moisture level. This Jasmine sugar body scrub will be the savior for a couple of days (because of the quantity) as it contains moisturizing ingredients such as Jasmine Oil, Sunflower oil, Vitamin – E, Almond Oil, Vegetable Glycerin. This 50g product retails for Rs 425.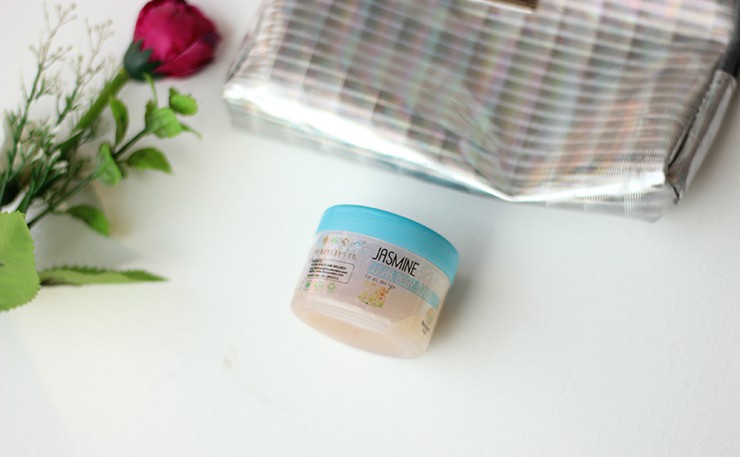 Aroma Treasures Aloe Vera Gel- This is again a winter savior. I love using Aloe Vera in winters since it makes the skin hydrated and smooth. The Aroma treasure Aloe Vera gel is infused with the oils of Lavender and Chamomile. It can be used on hair and skin, which makes it even more promising product for the cold season. The best thing about it is the affordable price tag. The 30ml product included in November Fab bag retails only for Rs 23. If you like this sample you can order the full size of 500g by paying just Rs 321.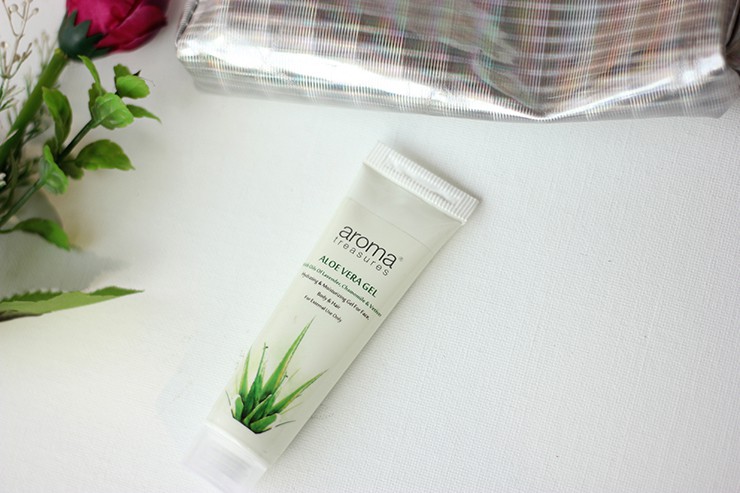 Kronokare Bash The Gloss Moisturizing Face Cream- It is my next favorite product in this month's bag. I have got acne-prone skin that breakouts easily but since I have used Kronokare skin care products earlier I can trust this cream as well. It is for oily skin type and does not contain any harsh chemicals such as sulfate, etc. I am excited to use this cream, and simultaneously have high expectations from it. It retails for Rs 295 for 15g.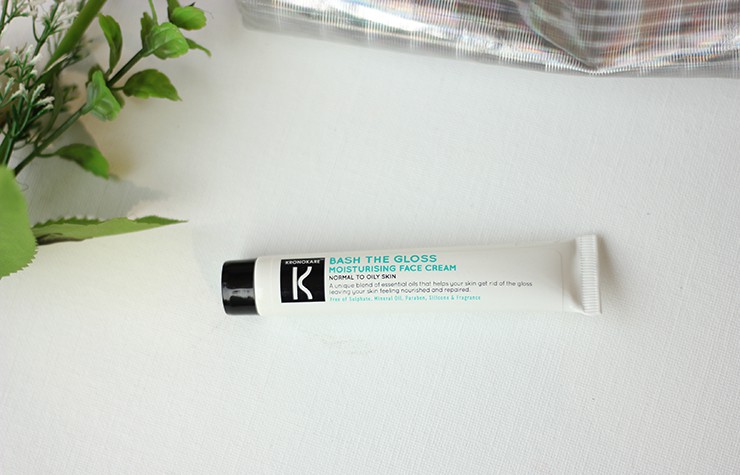 Fadlor Naturalich Exotic Herbal Infusions Shampoo- It is this first time I have come across this brand. The highlights of this product are- 100% vegetarian and not tested on animals. It has got the mild fragrance and transparent smooth texture. I am not yet sure about its performance but I will check that on my next travel. It retails for Rs 100 for 30ml.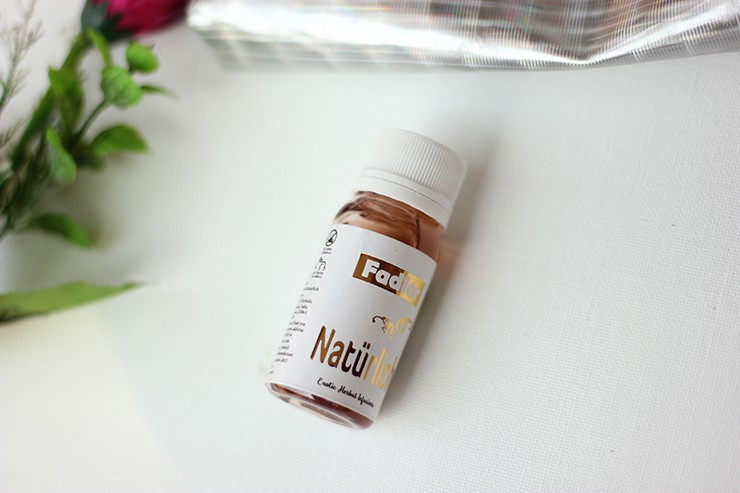 So, November 2017 Fab Bag contains products worth Rs 1300, plus a holographic pouch. My three favorite products of this month's bag are Bella Voste Ulti-Matte Chubby Stick, Aroma Treasures Aloe Vera Gel and Kronokare Bash The Gloss Moisturizing Face Cream. If you too like these products or any of the products you can order the bag by clicking this link. The price of one-month subscription is Rs 599.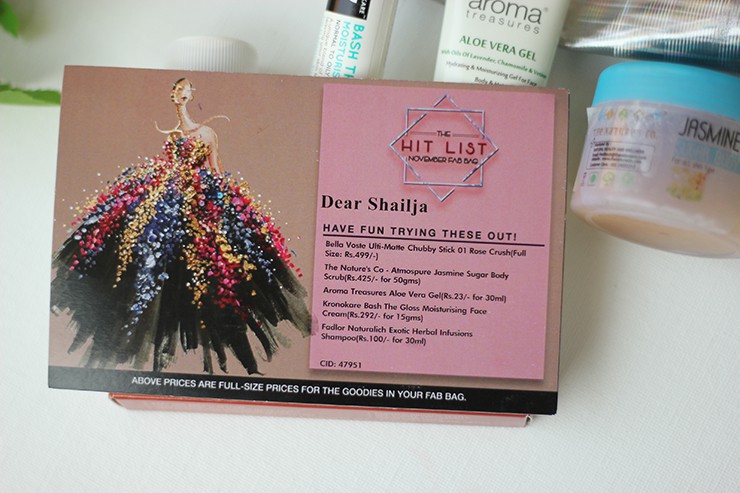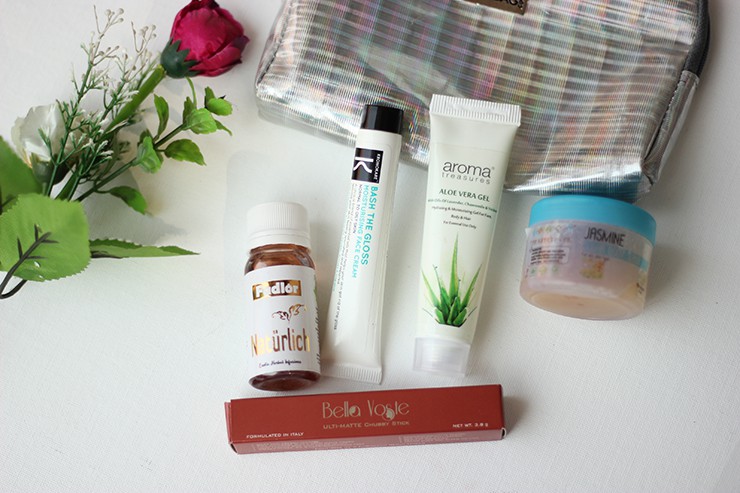 You might also like reading these related topics
Steal The Limelight-October 2017 Fab Bag Review
The Object Of Desire-September 2017 Fab Bag Review
The Flawless & Fierce-August 2017 Fab Bag Review
The Colour Drama – July 2017 Fab Bag Review
The Boho Chic-June 2017 Fab Bag Review
The Beauty Trippin-May 2017 Fab Bag Review
Go Get It Girl-March 2017 Fab Bag Review
The Pucker Up-February 2017 Fab Bag Review