Lancome had been on my wish list for a long time. My love with Lancome started when I first saw its advertisement in an Indian newspaper, and since then I wanted to buy its products but never had that much budget. Gratefully, Influenster Canada became my Santa last year and made this wish come true. I was literally head over heels when I got to know I was chosen to review Lancôme products. The wait ended when I finally had a Lancôme box containing lipstick, foundation, blur stick and setting spray in my hands. Now, in order to get the ball rolling, I am presenting my first Lancôme review, which is Lancome L'absolu Rouge Drama Matte Lipstick in shade 505 Adoration.
What the product says
Matter, bolder, stronger than any lipstick we have ever created. Our new light powder technology makes this lipstick both super comfortable and highly pigmented. Want more? Have more: Intense matte, comfortable sensation, daring colours and smooth application.
Dramatically matte. Dramatically intense. Dramatically you.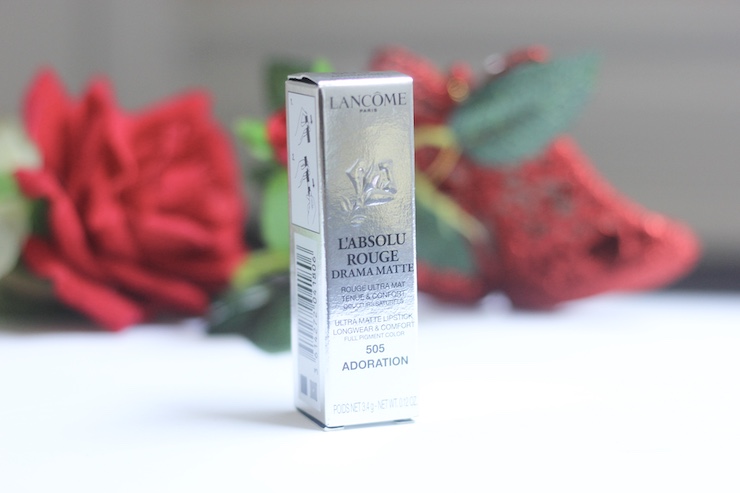 My take on 'Lancome L'absolu Rouge Drama Matte Lipstick'
The first thing I want to talk about this lipstick is its packaging. It's not because that's the format of my review but also because the packaging deserves special mention. The beautiful matte black case bears the brand name in golden inscription. The top of the cap has a glossy rose engraving which surprisingly serves as a push button to open the cap. Unlike typical lipsticks you cannot just pull out the cap, you need to press the button instead. The lipstick holder is also golden in color, and the bottom too is gold & bears shade number + name. All in all it's a beauty. Black & golden combination is my favorite, and looks classy any day. Contrasting enough, the outside paper box is purely in silver and that too makes it stand apart from typical lipstick packaging. Needless to say, I am in love with the packaging from head to toe.
505 Adoration shade is from reds and corals family. The orange undertones make it bright just like the morning sun. The moment I put on this lipstick, my face becomes radiant and cheerful. I love how it makes my lips the center of attraction giving an impression of flawless skin. I think this is the kind of shade that would make you confident to start the day in an optimistic mood, and I am sure it is going to flatter all skin tones.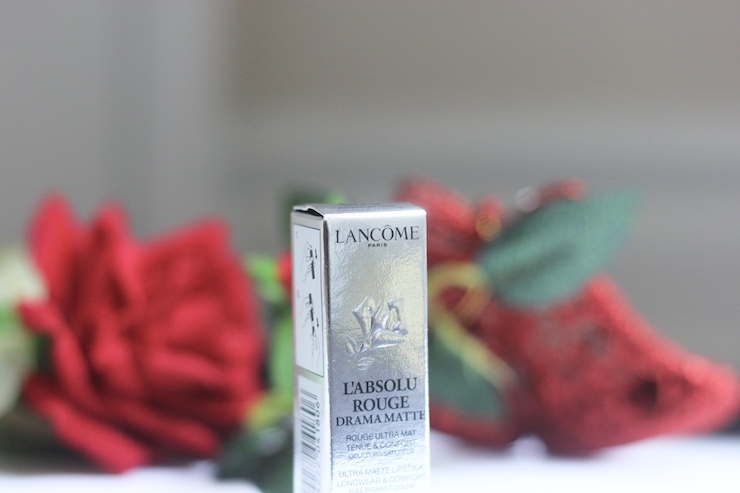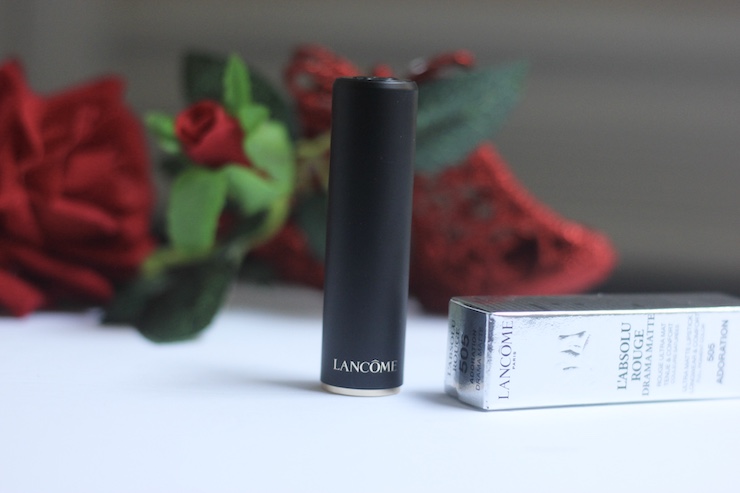 Talking about the lipstick, it has soft cream feel to it and I assume that is because of the spherical powders and jojoba oil. Owing to this formulation, the matte finish is quite comfortable without any dry feeling. I can wear this lipstick all day long without needing to wear a lip balm underneath. It feels ultra-light and comfortable, and gives a beautiful matte finish. As per Lancome, ¼ of the formula is made of a light diffusing gel which has the property to diffuse light while providing a mat effect on lips without any dry look.
The pigmentation is amazing. In just one swipe it provides 90% opaque coverage, which is what anybody would need to support a dramatic makeup look or cover pigmented lips. The shape of the bullet is curved enough to replace any lip liner. I love the way it shapes my cupid's bow and defines the lips without crossing any boundaries. The fact that it does not settle into fine lines or bleeds makes it an ideal choice when you have to wear makeup for a really long time.
Longevity wise, it is a longwear lipstick, and I can wear all day, all night without any discomfort. But ideally, because it transfers it stays on for 6-7 hours with intermittent meals. This is long enough time for me to wear it to office without the need of a touch up and if I have to wear it for longer I will apply a lip liner underneath. For a more intense result, apply two coats of the lipstick directly on the lips.
Just like the packaging, finish, pigmentation and formula, the removal is impressive too. Just with a few massaging strokes it completely goes off without causing any discoloration. My Dermalogica precleanse oil is sufficient to get rid of the every last residual of makeup leaving soft and well-hydrated lips.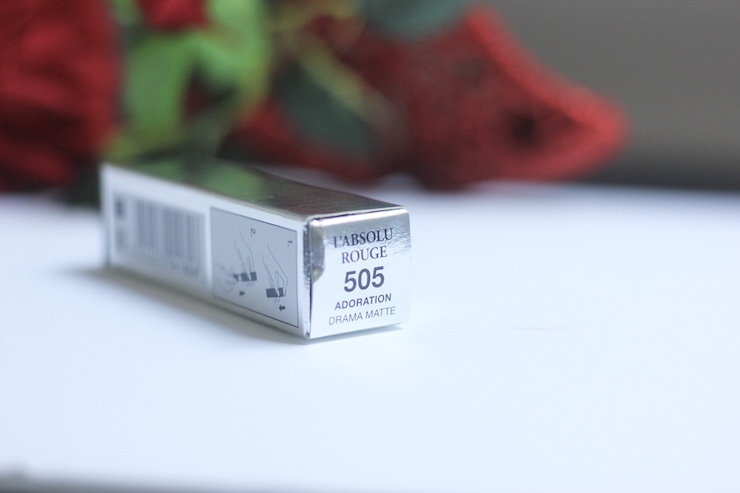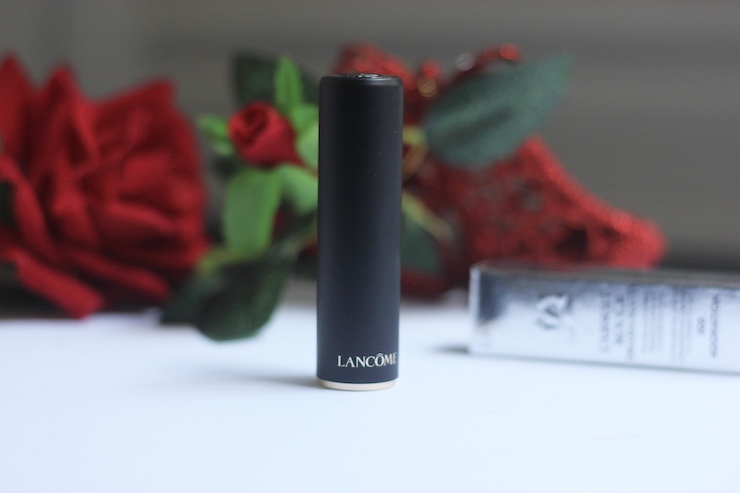 Things I like about 'Lancome L'absolu Rouge Drama Matte Lipstick'
– 24 shades to choose from.
– Excellent pigmentation.
– Pro matte finish.
– No dry feeling.
– Feels ultra-light and comfortable.
– Classy packaging.
– Longwear.
– Beautiful red shade with orange undertone.
– Easy to remove.
– Does not settle in fine lines.
– Fragrance-free.
Things I do not like about 'Lancome L'absolu Rouge Drama Matte Lipstick'
– Absolutely nothing.
Price of 'Lancome L'absolu Rouge Drama Matte Lipstick'- CA 40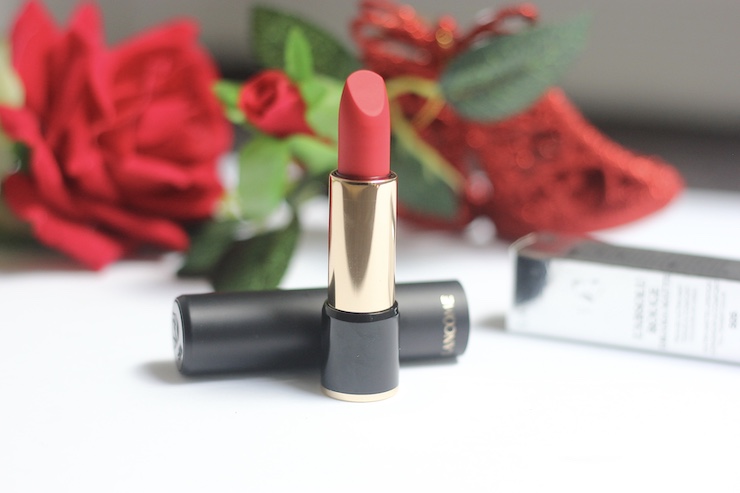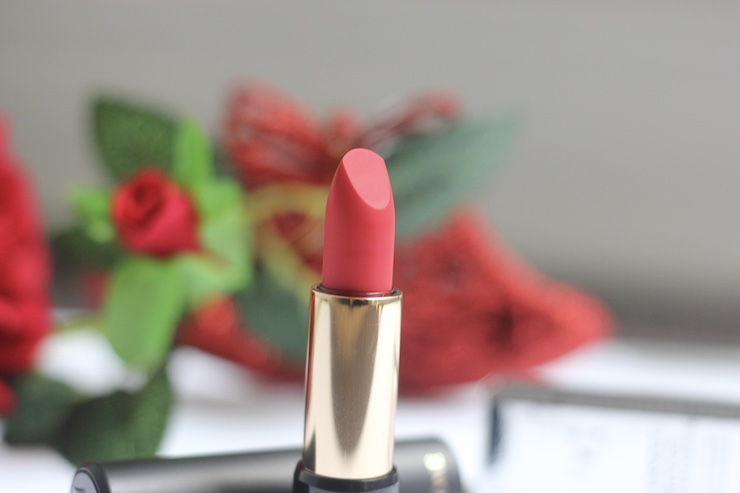 BABE Rating: 5/5
Final Word: Undoubtedly, I am totally in love with Lancome L'absolu Rouge Drama Matte Lipstick. Everything about this bomb of color is just amazing. It is indeed a treasure to keep, of course if your budget permits. Honestly, by far it is the best matte lipstick I have worn so far in terms of finish and comfort. Go for it!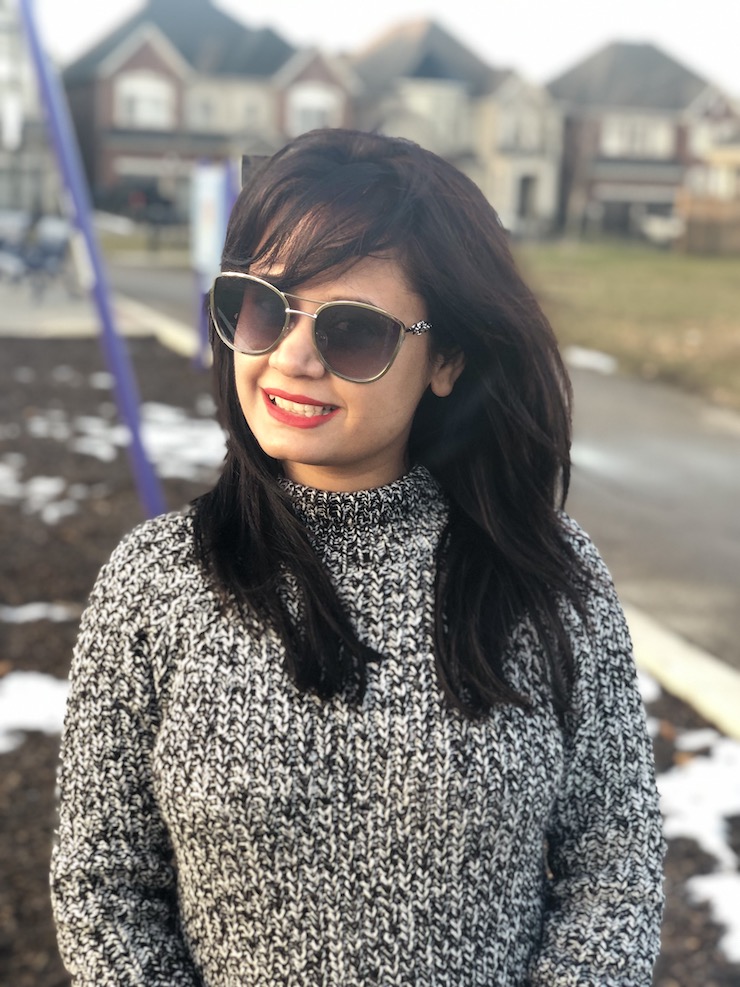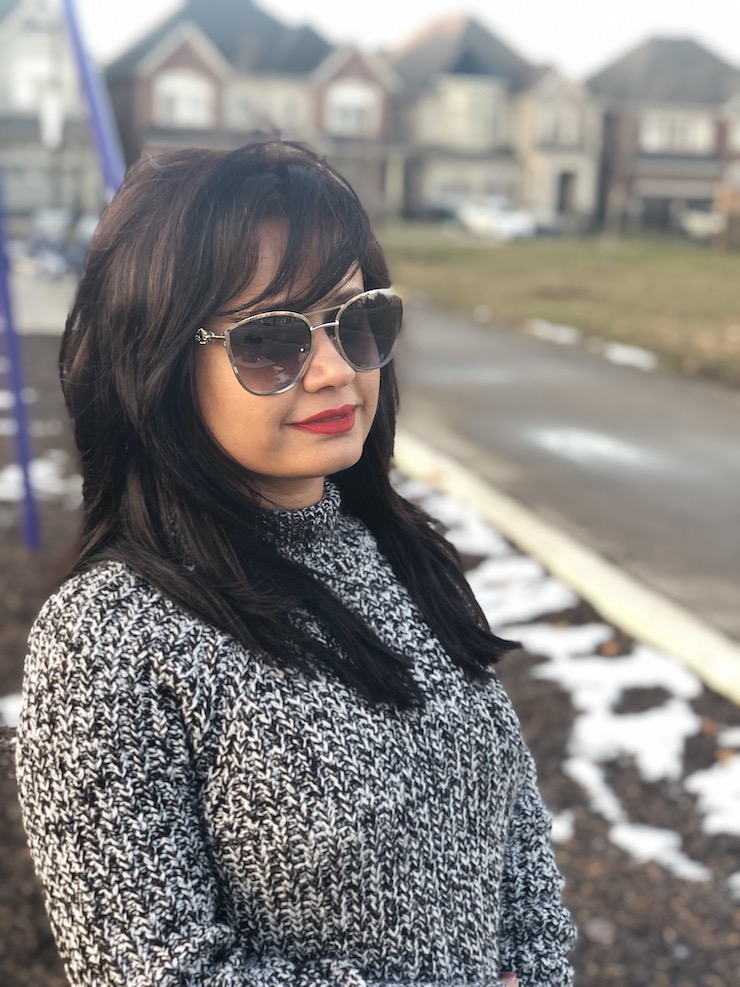 You might also like reading these related topics
MAC Matte Lipstick Please Me Review Swatches Price
Sugar Cosmetics Smudge Me Not Liquid Lipstick Sauve Mauve Review Swatches Photos
BeYu Hydro Star Volume Lipstick Review Swatches
Lotus Herbals Ecostay Long Lasting Lipstick Magenta Mania Review Swatches
Elizabeth Arden Ceramide Ultra Lipstick Rose Review Swatches
Maybelline Color Show Lipstick Pop Of Pink Review Swatches