On one side where we get plenty of outfit option in summers, on the other side summer season takes its toll on the skin. Since the sun is at its peak in summers, it causes skin tanning and also damages the skin from its intense UVA/UVB rays. In order to protect the skin from damage, we need to have sun protection factor (SPF) in our creams and to repair the damaged skin we need to restore the melanin levels. It's difficult but not impossible to find a day cream that does both these jobs. Today, I am talking about 'VLCC Snigdha Skin Whitening Day Cream With SPF 25' that claims to save the skin from sun damage and also whiten it. Let's see to what extent these claims stand true.
What the product says
Liquorice, the root extract is infused with antioxidants and anti-inflammatory properties which help in maintaining a flawless skin. It contains an active compound glabridin that prevents skin darkening caused by sun damage. Moreover, it fades away pigmentation and sun damage and leaves you a skin that is brighter, clearer and hydrated. Mulberry, the super food regulates the process of melanin synthesis, which helps in formation of a protective pigment found in inner layers of epidermis, further absorbing the UV rays and inhibiting their penetration. It reduces the dark spots and scars, and helps achieve a clear and radiant glow.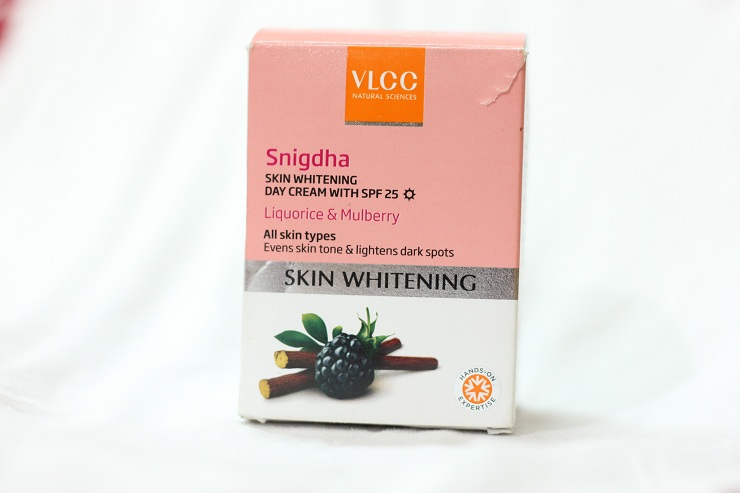 My skin type- Combination to oily
My take on 'VLCC Snigdha Skin Whitening Day Cream With SPF 25'
Talking about the packaging first, VLCC Snigdha cream comes in a tall plastic tub. It has a dome-shaped screw open cap that keeps the contents safe. Usage instructions, ingredient list, etc are also mentioned on the tub. So if you have any aversions for any of the ingredients mentioned in the list you can take the buying decision accordingly. The tub is light in weight and damage-proof. Also, as the packaging is only of 50g so it is travel-friendly as well.
The cream is white in color. I like the consistency as it is neither very thick nor thin. This makes it easy to blend on my oily skin. On normal to dry skin, it might require little more effort for full absorption. It has a pleasant fragrance that fades away after some time. The cream absorbs into the skin well leaving a light feel behind. A couple of minutes after the application my skin starts to sweat and I can see the light greasiness on my T-zone. This can be subsided if I apply a dash of compact powder on the T-zone area. On normal to dry skin tones the amount if greasiness might not be there.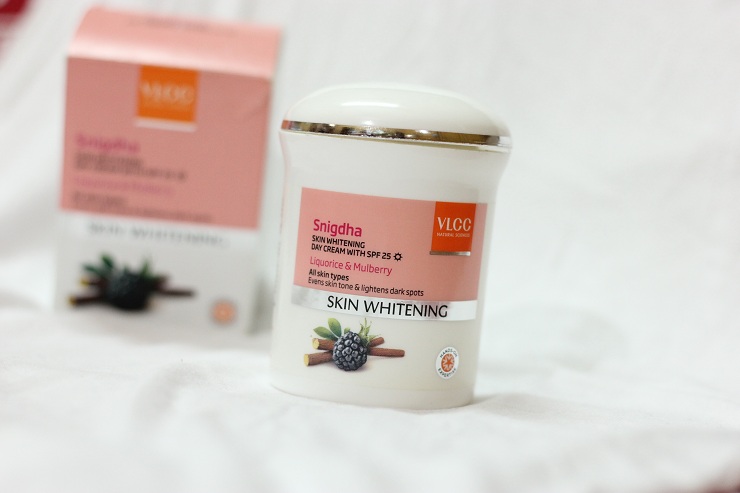 It contains SPF 25, which is quite good considering the hot Indian weather. Unlike other day creams that are infused with SPF, VLCC Snigdha does not leave any white cast. This is quite a good thing as it does not let any whiteness to settle into the fine lines. The SPF 25 also saves the skin from sun damage and tanning. But as I have oily skin so I cannot afford to reapply it after every few hours but if your skin is not oily you would easily be able to slather it at regular intervals and protect your skin from the sun round the clock.
It contains licorice which is good for skin lightening. Plus, the mulberry content in it makes the skin bright and clear. It helps in making the skin even and clear of dark spots. My skin feels nourished and healthy post the application, but being blessed with oily skin I continuously need to wipe off the extra oil it causes in the T-Zone area. Normal-dry skin beauties might not face this issue and find this as an ideal day cream not only for summers but for every season.
Things I like about 'VLCC Snigdha Skin Whitening Day Cream With SPF 25'
– Contains SPF that is important in any day cream.
– Easy to blend.
– Appropriate for normal-dry skin.
– It does not leave any white cast.
– Evens out skin tone.
Things I do not like about 'VLCC Snigdha Skin Whitening Day Cream With SPF 25'
– Contains parabens.
– Makes the skin greasy.
– Not ideal for oily skin.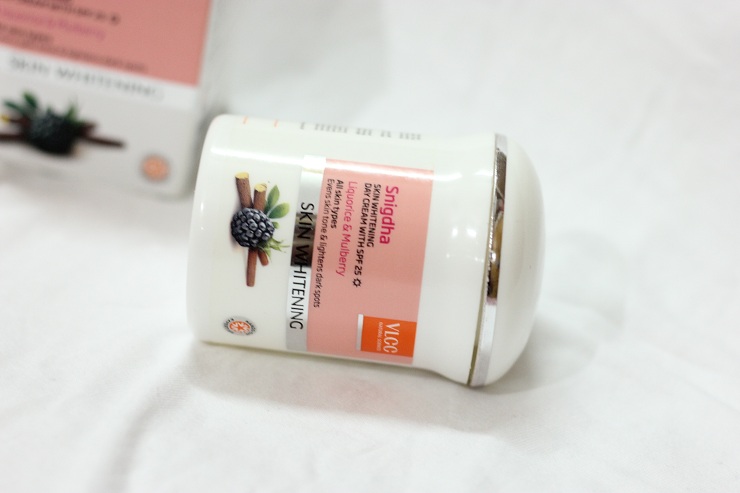 Price of 'VLCC Snigdha Skin Whitening Day Cream With SPF 25'- Rs 405 for 50g
Ingredient list of 'VLCC Snigdha Skin Whitening Day Cream With SPF 25'
Aqua, Cetostearyl alcohol, Glycerine, Steareth-21, Carbomer, Avobenzone, Isopropyl myristate, Dimethicone, Octocrylene, Steareth-2, Titanium dioxide, Isohexa decane, Dimethicone Copolyol, Niacinamide (Vitamin B3), Lepidium sativum (Garden Cress) extract, Morus bombycis (Mulberry) extract, Glycyrrhiza glabra (Liquorice) extract, Butyl hydroxytoluene, Phenoxyethanol, Methylparaben, Propylparaben, Methylisothiazolinone, Disodium EDTA, Perfume.
BABE Rating- 3.75/5
Final Word- Formulated with Licorice & Mulberry, VLCC Snigdha Skin Whitening Day Creams evens out skin tone and helps suppress the appearance of dark spots. It gets absorbed into the skin in no time leaving behind the nourished and healthy skin. On my oily skin, it leads to greasiness in the T-zone area but this might happen with normal and dry skin. So overall, I like this cream and I feel that it would be an ideal day cream for people with normal to dry skin.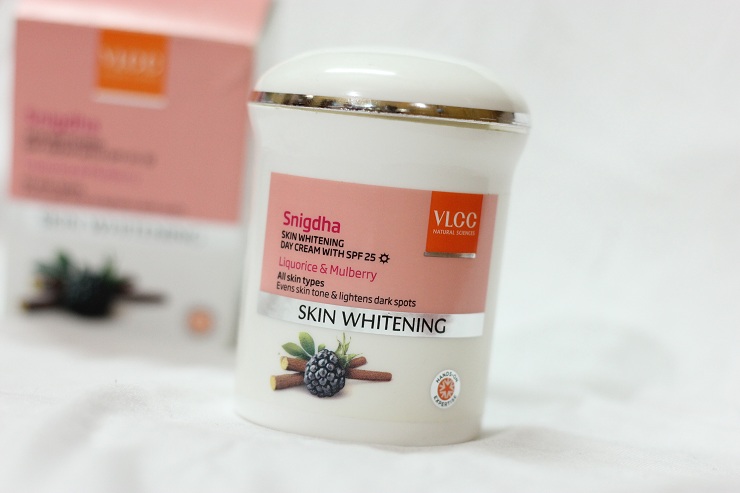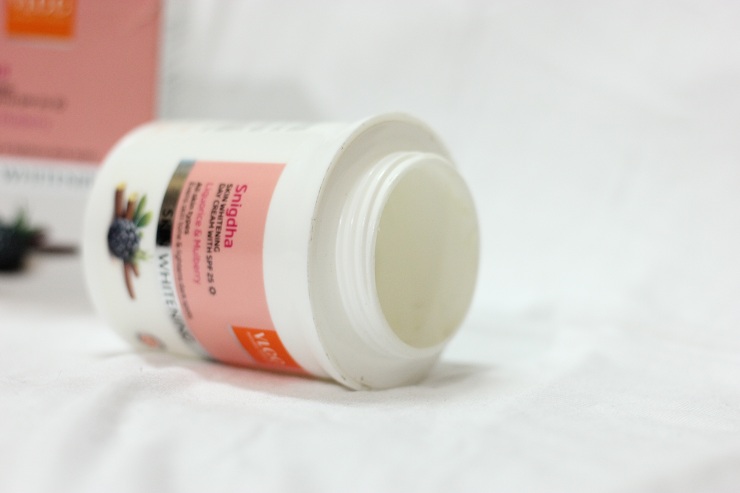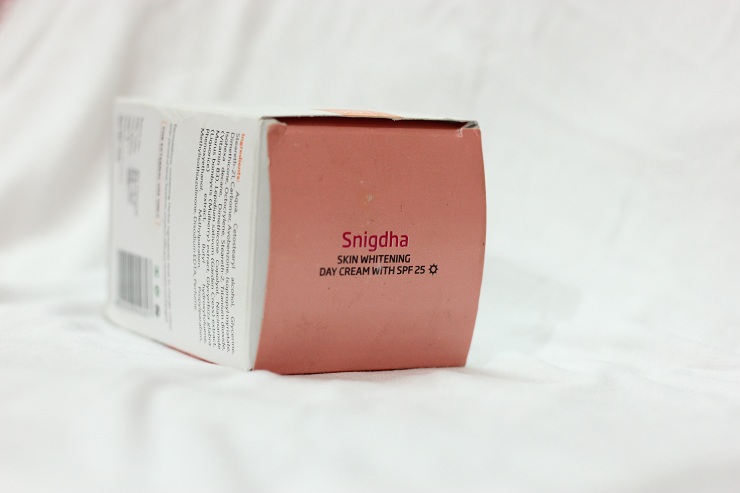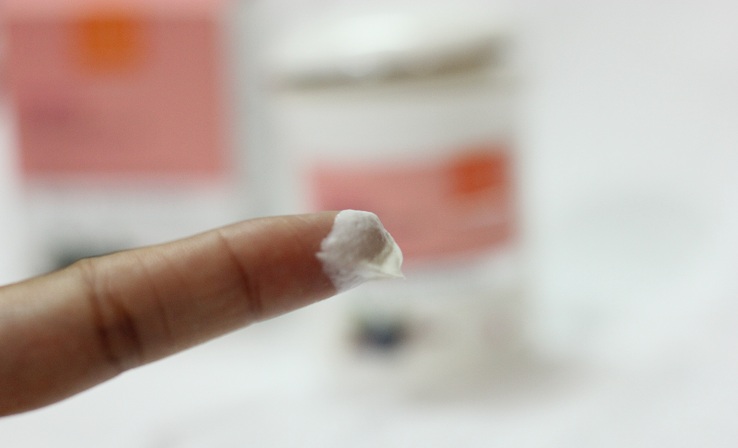 You might also like reading these related topics
Elizabeth Arden Visible Difference Skin Balancing Lotion SPF 15 Review
Innisfree Orchid Enriched Cream Review
Organic Harvest Activ Blush Shine And Glow Cream Review
Himalaya Herbals Oil-Free Radiance Gel Cream Review
The Body Shop Vitamin C Daily Moisturizer SPF 30 Review
The Body Shop Seaweed Mattifying Day Cream Review, Swatch
The Body Shop Tea Tree Skin Clearing Lotion
Olay Total Effects 7 in one Anti-Ageing Day Cream Review
L'Oreal Paris Skin Perfect Anti-Aging Whitening Cream Age 40 Plus Review
L'Oreal Paris Skin Perfect Anti Fine Lines and Whitening Cream for age 30 plus Review
L'Oreal Paris Skin Perfect Anti Imperfection Whitening Cream For Age 20 plus Review
L'Oreal Paris Youth Code Youth Boosting Cream Day For Early Signs Of Ageing
The Nature's Co Marshmallow Day Cream Review