Winter and dry skin go hand in hand that's why I like to hoard body lotions and butter. Honestly, in cold season I like to keep moisturizers near my bed, in the kitchen, in the living area, in the dressing area and of course in my handbag. I have to stock up moisturizers, and this is the reason why I get to try so many of them. Today, I am sharing my experience with the latest body lotion that I bought just a few weeks ago i.e. St Ives Soft & Silky Coconut & Orchid Body Lotion.
What the product says
Get tropical with this exotic smelling hand and body lotion infused with coconut milk extract and sun-soaked orchid extract. Leaves skin soft & silky with 100% natural moisturizers (soybean oil and plant-based glycerin).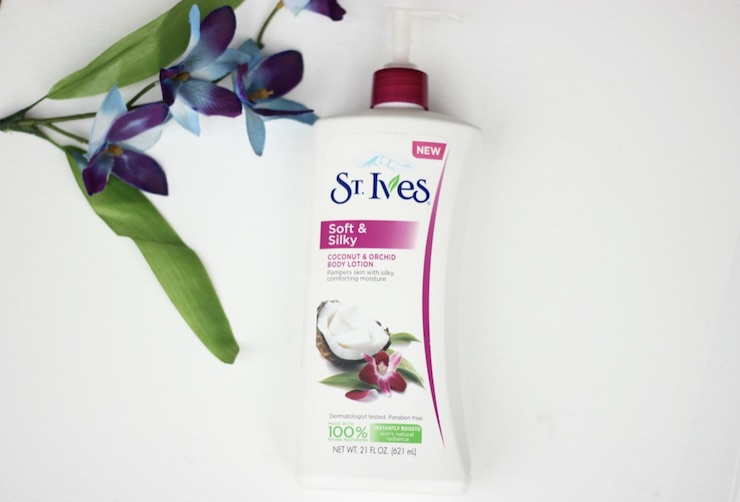 My take on 'St Ives Soft & Silky Coconut & Orchid Body Lotion'
If you are a regular follower of my blog you would know that I like to go for big sizes of body lotions that's because I need them in every corner of my house and they last longer. This one also came in 621ml pump-dispensing bottle. The packaging is simple and I like the bold colors used on the bottle. The pump bottles are convenient and hygienic, and a saviour in situations of the time crunch. I also like to reuse them to store liquids such as hair oils etc.
This body lotion is pearly white with perfume-like fragrance. I really like this pleasant fragrance as it lasts all day long, even at bedtime I can smell this wonderful scent on my skin. It is a mild bearable fragrance so a good option for those who suffer from body odor.
It is a water based lotion that has a semi-runny consistency. This makes it easy to spread. Unlike some thick lotions, it does not require any dragging on the skin which I really like. The water base also makes it quickly penetrate into the skin. All that is left on the upper layer is non-sticky fragrant skin. I have just applied this lotion on my hands and they are not leaving any oily stains on the keyboard. If it had been some other lotion my keyboard would be shining by now.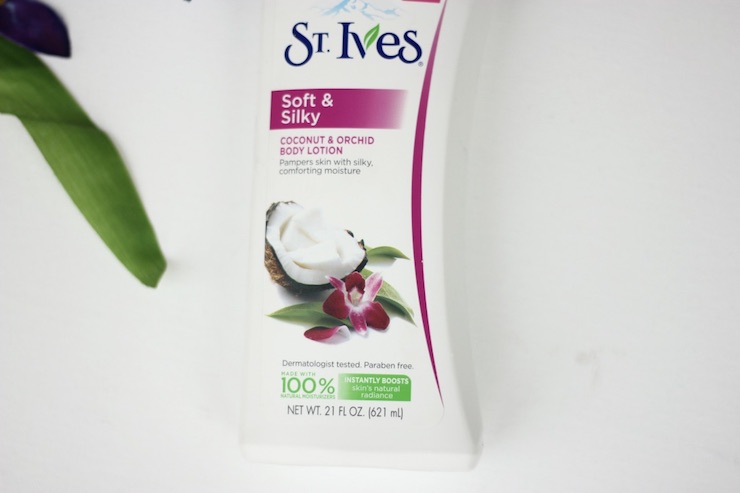 Being formulated with ingredients like glycerin, soybean, and coconut, it is very moisturizing in nature. Its moisturizing effect stays all day long. I apply it immediately after the bath in the morning, and by the time I hit the bed my skin remains moisturized. I am happy to see such moisturizing effect even in cold season.
As it contains water so it feels quite light on the skin, unlike those sticky heavy lotions type. It does not make the skin way softer but yes as it gets hydrated it feels soft, which is a realistic expectation. The softness stays as long as the moisturizer keeps hugging the skin. Once I wash the skin, I have to reapply the lotion. So basically, what I want to say is that the softening effect is not permanent. It is there as long as the lotion is there.
Things I like about 'St Ives Soft & Silky Coconut & Orchid Body Lotion'
– Semi-runny consistency is easy to spread.
– Long-lasting exotic fragrance.
– Keeps the skin moisturized all day long.
– Does not feel heavy or sticky.
– Penetrates into the skin in no time.
– Makes the skin soft and hydrated.
Things I do not like about 'St Ives Soft & Silky Coconut & Orchid Body Lotion'
– Absolutely nothing.
Price of 'St Ives Soft & Silky Coconut & Orchid Body Lotion'- Rs 649 for 621ml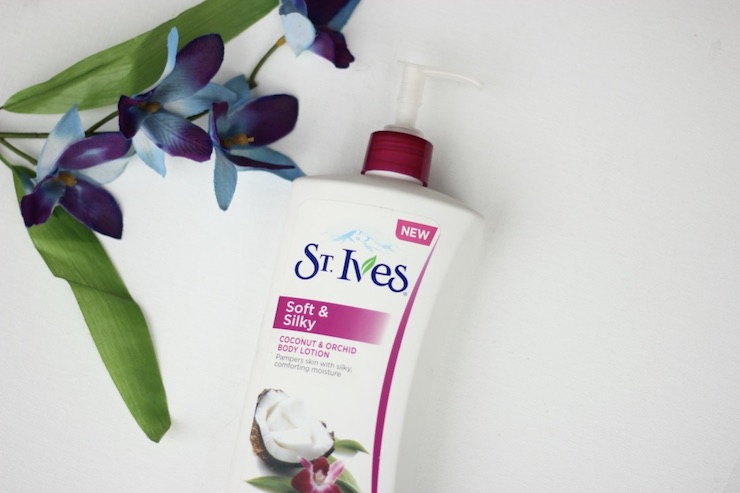 Ingredients of 'St Ives Soft & Silky Coconut & Orchid Body Lotion'
Water (Aqua), Glycerin, Stearic Acid, Glycine Soja (Soybean) Oil, Glycol Stearate, Dimethicone, Glyceryl Stearate, Triethanolamine, Fragrance (Parfum), Caprylyl Glycol, Phenoxyethanol, Cetyl Alcohol, Carbomer, Hydroxyethylcellulose, Disodium EDTA, BHT, Stearamide AMP, Cocos Nucifera (Coconut) Fruit Extract, Orchis Mascula Flower Extract.
BABE Rating: 5/5
Final Word: The fact that it keeps the skin moisturized all day long is a huge plus, especially in winter season. Since I have started this lotion my skin does not look scaly or feel stretchy anymore. I really like the uber light fee and pleasant fragrance of this lotion. Also, as it goes into the skin quickly leaving it non-sticky and ultra light it is going to be an ideal option for every season.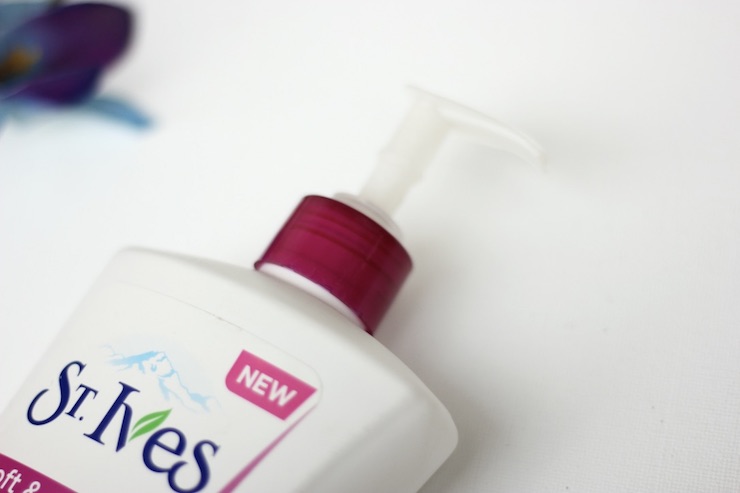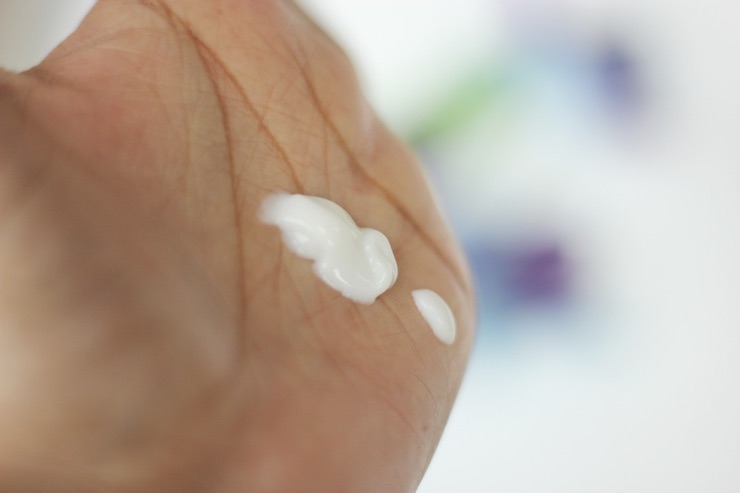 You might also like reading these related topics
APSU Varanasi Golden Goddess Body Lotion Review
TBC By Nature Natural Vitamin E Ultra Healing Body Lotion Review
Jergens Ultra Healing Extra Dry Skin Moisturizer Review
Jergens Original Scent Cherry Almond Moisturizer Review
Jergens Age Defying Multi Vitamin Moisturizer Review
Jergens Ultra Healing Extra Dry Skin Moisturizer Review
Palmer's Cocoa Butter Formula With Vitamin E Lotion Review
Malavara Lime Vetiver Body Lotion Review
Nivea Nourishing Lotion Body Milk Almond Oil Review
Nivea Express Hydration Body Lotion Review
Aaranyaa skin soothing hand and body lotion shea butter review
Dove essential nourishment body lotion deep care complex review
Dove Indulgent Nourishment Body Lotion With Shea Butter Review
Vaseline Total Moisture Cocoa Glow Body Lotion Review
Vaseline Total Moisture Aloe Fresh 24hr Nourishing Body Lotion Review
Vaseline Healthy White SPF 24 Triple Lightening Lotion Review
Himalaya Herbals Intensive Moisturizing Body Lotion Review
Parachute advanced deep nourish extra dry skin body lotion review
Davidoff cool water sea rose moisturizing body lotion review
Jolen Sun Screen Lotion SPF 15 Review, Swatch
VLCC Almond Nourishing Body Lotion Review
Bodycology Sweet Petals Body Cream Review
Marks and Spencer Pampering Cocoa Butter Moisturizing Hand and Body Lotion Review