A few days ago, I introduced APSU brand on my blog. As I have said earlier, APSU is a luxurious bathing brand that offers high quality products. Since the day I got APSU products, I was indulged in testing them. Today, I am putting forth my opinion on one of the products – APSU Varanasi Golden Goddess Body Lotion. I love trying new body lotions and that is the reason this product came first on my testing table. Let's see how I find this luxurious lotion.
What the product says
A luxurious cream that would grace the golden skin of Goddess Annapurna herself, the Queen of Varanasi and giver of grain and nourishment. This complex mixture blends the finest butters of Murumuru and Shea with essential oils and clarifying hints of citrus, while perfecting your glow with the balancing and purifying power of gold leaf. For the APSU ancient ritual experience begin with Golden Goddess Bath Bomb and Golden Goddess Body Polish.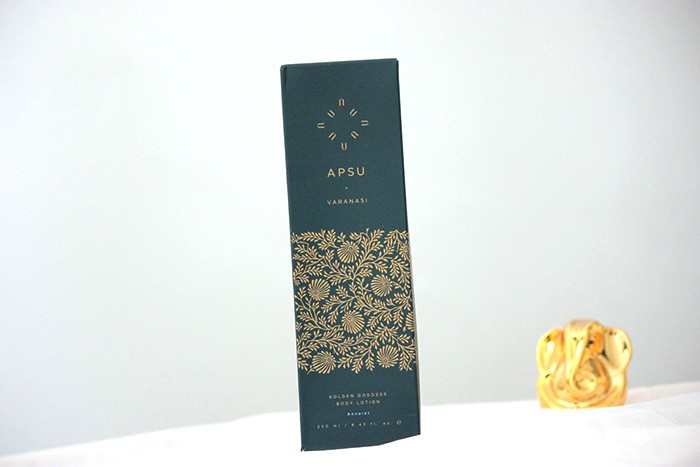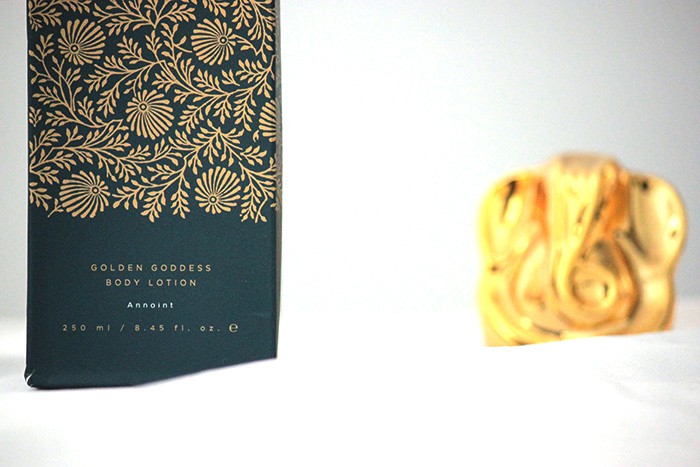 My take on 'APSU Varanasi Golden Goddess Body Lotion'
The lotion comes in a bottle-green colored cardboard box that has beautiful golden detailing on it. It also bears the ingredient list, usage instructions and a brief description of the product. Inside the box, there is this transparent plastic bottle with press-down dispenser. The packaging is quite easy to use ad hygienic. Since the bottle is sheer transparent, the quantity left inside the bottle can be easily watched over. Also, it is a reusable bottle, which can later be used to store other liquids/semi-liquids. Being made of plastic, it is a non-breakable and spill-proof bottle. Plus, the contents can be easily transferred to a small travel-friendly container.
The body lotion is off-white in color with semi-thick creamy consistency. The consistency of the lotion does not hinder the dispensing from the nozzle. In fact, it gives me control in extracting just the right amount of product. The texture of the lotion is quite smooth & creamy. It is easy to spread and does not require any effort or tagging along with the skin. The fragrance is slightly strong but as it has a herbal tinge to it I do not mind the intensity. But people with sensitive noses might have a problem with the pungent fragrance.
I apply this body lotion immediately after the shower, and it glides like butter on a hot toast. Even though viscosity is high it gets spread in no time. I really like the fact that I do not have to struggle in spreading it on my body otherwise lotions like this thick consistency sometimes require a lot of effort. The best thing I like about this lotion is that it gets absorbed into the skin without leaving any greasiness behind. The cherry on the cake is the long lasting moisture it provides to the skin. Since I have been using APSU golden goddess body lotion I never have to reapply it throughout the whole day. The one application that I do in the morning is sufficient for the entire day.
Now, my skin looks softer and healthier. There are no signs of dryness or flakiness. I am surprised to see such a remarkable moisturizing effect. Otherwise, in extreme cold season, it becomes difficult to maintain the moisture level even with body butters let alone the lotion. Not only that, the consistent usage of APSU golden goddess body lotion has brought tremendous improvement in my skin texture as well. Formulated with finest butters and essential oils, this lotion does much more than just maintaining the moisture levels. It has made my skin supple and shinier as compared to what it used to look before this lotion was not a part of my skin care routine.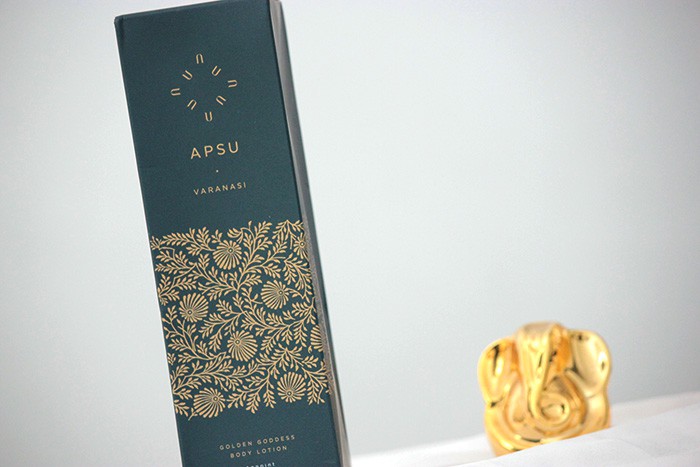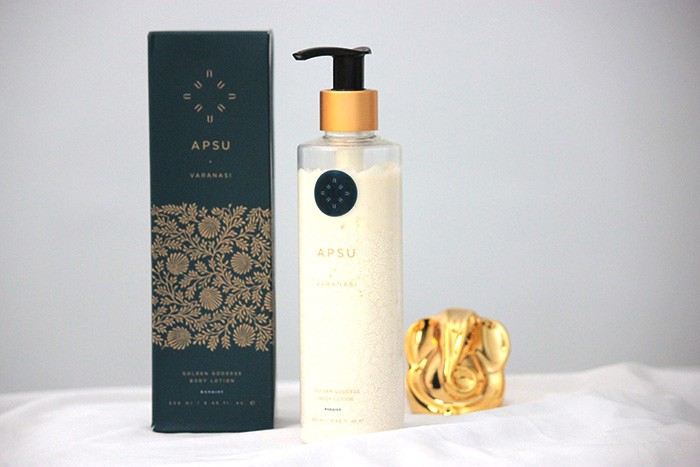 Things I like about 'APSU Varanasi Golden Goddess Body Lotion'
– Provides long lasting moisture.
– Makes skin soft, supple and shinier.
– It does not leave any stickiness behind.
– Easy to work with.
– Penetrates into the skin.
– Comes in a hygienic packaging.
Things I do not like about 'APSU Varanasi Golden Goddess Body Lotion'
– Pungent fragrance might be a concern for people with sensitive noses.
Price of 'APSU Varanasi Golden Goddess Body Lotion': AUD 61 for 250 ml
Ingredients of 'APSU Varanasi Golden Goddess Body Lotion':
Aqua, Cetearyl Wheat Straw Glycosides, Cetearyl Alcohol, Glyceryl Stearate, Camellia Sinensis Seed Oil, Butyrospermum Parkii (Shea) Butter, Astrocaryum Murumuru (Murumuru) Seed Butter, Argania Spinosa (Argan) Kernel Oil, Argania Spinosa (Argan) Fruit Extract, Tocopherol, Sericin, Juniperus Virginiana (Cedarwood) Oil, Styrax Benzoin (Benzoin) Resin, Jasminum Grandiflorum (Jasmine) Oil, Citrus Aurantium (Petitgrain) Leaf Oil, Citrus Nobilis (Mandarin) Peel Oil, Vetiveria Zizanioides (Vetiver) Oil, Rosa Damascena (Rose Damascene) Oil, Piper Nigrum (Black Pepper) Oil, Colloidal Gold, Benzyl Alcohol, Dehydro Acetic Acid, Sorbic Acid, Benzoic Acid, Gold Leaf
BABE Rating: 5/5 I would give it a 5-star rating as strong fragrance can be overruled considering other significant benefits it provides to the skin.
Final Word: Overall, I find this lotion as an effective solution in restoring the lost moisture and maintaining the required levels. Formulated with finest butters and essential oils, it makes the skin soft and glowing. Its ability to keep the skin moisturized throughout the entire day is a huge positive that I have been searching for in many high-end brands. Finally, I am glad that I found this lotion and I would highly recommend it in case you are also looking for moisture enriching body lotion.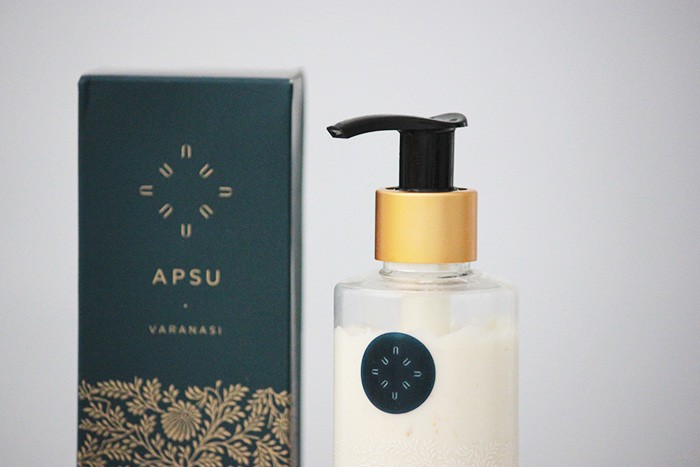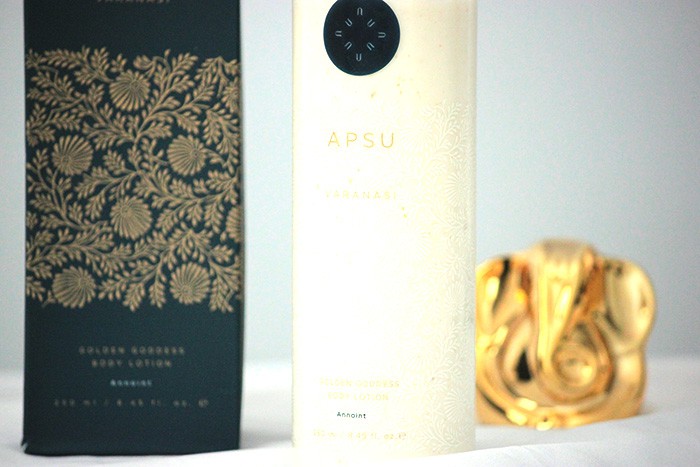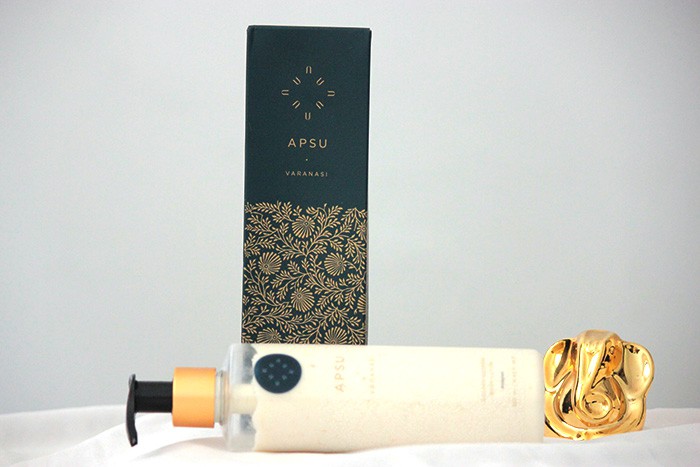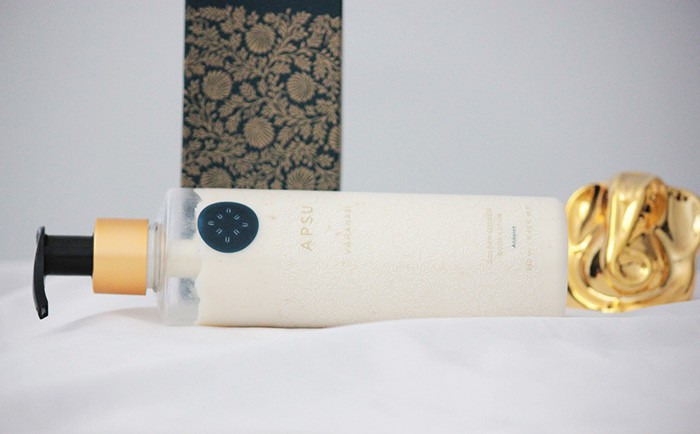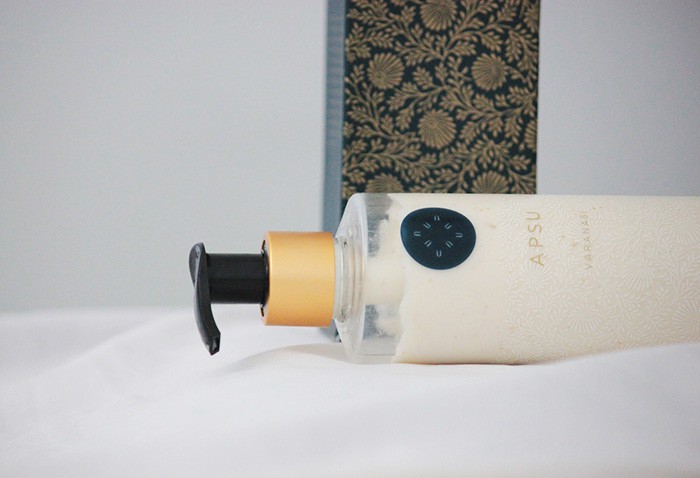 You might also like reading these related topics:
TBC By Nature Natural Vitamin E Ultra Healing Body Lotion Review
Jergens Ultra Healing Extra Dry Skin Moisturizer Review
Jergens Original Scent Cherry Almond Moisturizer Review
Jergens Age Defying Multi Vitamin Moisturizer Review
Jergens Ultra Healing Extra Dry Skin Moisturizer Review
Palmer's Cocoa Butter Formula With Vitamin E Lotion Review
Malavara Lime Vetiver Body Lotion Review
Nivea Nourishing Lotion Body Milk Almond Oil Review
Nivea Express Hydration Body Lotion Review
Aaranyaa skin soothing hand and body lotion shea butter review
Dove essential nourishment body lotion deep care complex review
Dove Indulgent Nourishment Body Lotion With Shea Butter Review
Vaseline Total Moisture Cocoa Glow Body Lotion Review
Vaseline Total Moisture Aloe Fresh 24hr Nourishing Body Lotion Review
Vaseline Healthy White SPF 24 Triple Lightening Lotion Review
Himalaya Herbals Intensive Moisturizing Body Lotion Review
Parachute advanced deep nourish extra dry skin body lotion review
Davidoff cool water sea rose moisturizing body lotion review
Jolen Sun Screen Lotion SPF 15 Review, Swatch
VLCC Almond Nourishing Body Lotion Review
Bodycology Sweet Petals Body Cream Review
Marks and Spencer Pampering Cocoa Butter Moisturizing Hand and Body Lotion Review