Today, I am going to review TBC By Nature Natural Vitamin E Ultra Healing Body Lotion. TBC by nature offers a wide range of products in skin care, hair care, baby care ranges. Their products are available on e-commerce websites, and this is the first time I am using a product from TBC by nature. Thanks to the brand for approaching me for the review. This is my honest review of the product so you will see my genuine experience. Let's go through my testing results of TBC By Nature Natural Vitamin E Ultra Healing Body Lotion.
What the product says:
Natural Vitamin-e ultra healing body lotion is botanically rich, non-greasy daily lotion that delivers deep, long-lasting hydration. Wheat germ oil, high in Vitamin E combines with Vitamins A, B5 & C to help replenish lost moisture and minimize the appearance of fine lines and wrinkles. Avocado oil, high in essential fatty acids, helps restore elasticity and resilience. With use, skin becomes softer, smoother and more youthful looking.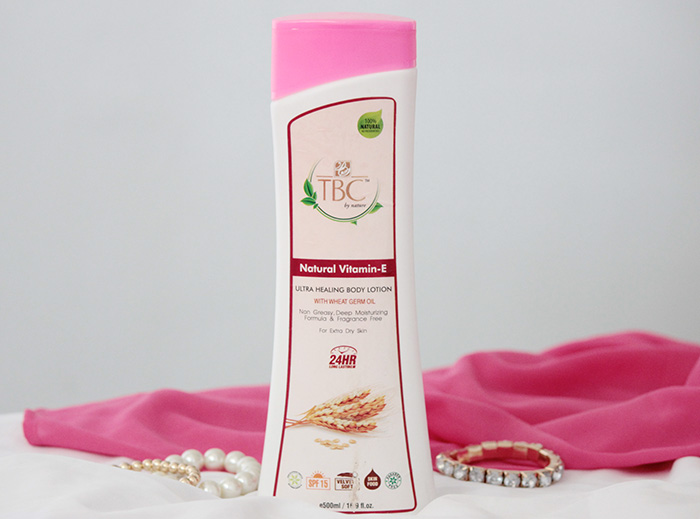 My take on 'TBC By Nature Natural Vitamin E Ultra Healing Body Lotion'
TBC by nature body lotion comes in a tall plastic bottle that has a fluorescent pink colored flip-open cap mounted on a plain while rectangular base. The bottle speaks about the description of the product, usage instructions and ingredient list, along with price and shelf life. This is quite a huge bottle so you cannot just put it in the luggage bag for the fear of exceeding the maximum allowable weight. Since the consistency of the lotion is in favor of transferring the contents to a travel-friendly container, the lotion can be easily channelized to smaller bottles. Overall, the bottle is sturdy, spill-proof and the contents are easy to transfer. And, because I love big bottles of body lotions so I am good with the quantity it contains -500ml.
The lotion is white in color and has runny consistency. When it comes to lotions, consistency is very important – lotions with thick consistency leave a white cast for some time when immediately applied after shower. They are also difficult to spread and take more time in penetrating into the skin. But as this body lotion has runny consistency so it does not require much time in covering each and every part of skin. Also, it quickly gets absorbed into the skin without leaving any white-cast and greasiness behind. It says that it is a fragrance-free lotion but I find very mild fragrance induced into it. The good thing is it is not at all bothersome and also vanishes after a couple of minutes of application.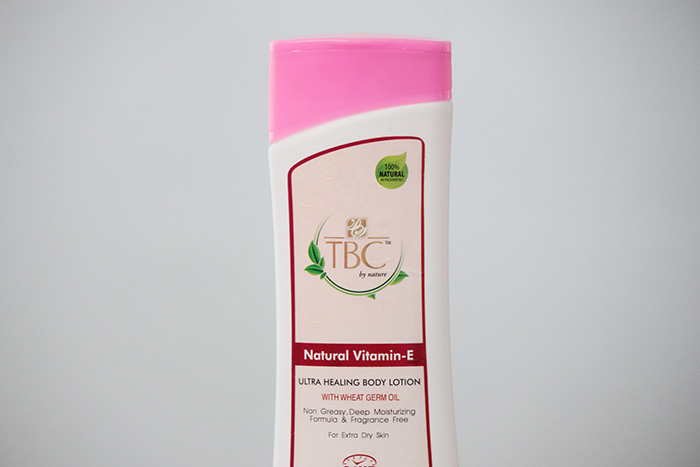 The 24 hour long lasting moisture claim is not true as I need to reapply it after regular intervals. I apply this body lotion immediately after bath. It makes the skin look healthy and hydrated for couple of hours, but after that I need to reapply it to combat the dryness re-appearing on the skin. I have normal skin type that shows signs of flakiness if I do not reapply it. Considering that, I think on dry skin the reapplying frequency has to be even higher. It might be a nice option for summers when skin does not have to go through flakiness.
The one thing that makes it different from many other body lotions is the presence of SPF 15. In winters, we usually skip applying SPF but winters or no winters our skin should wear a protective shield of SPF. I am glad that this lotion has sun protection factor that will save the skin.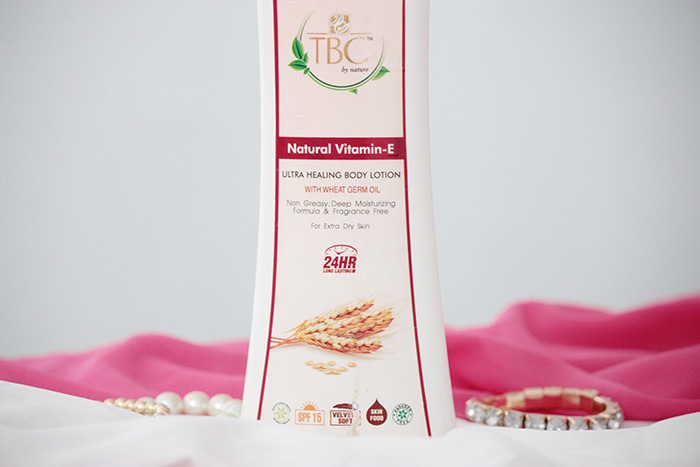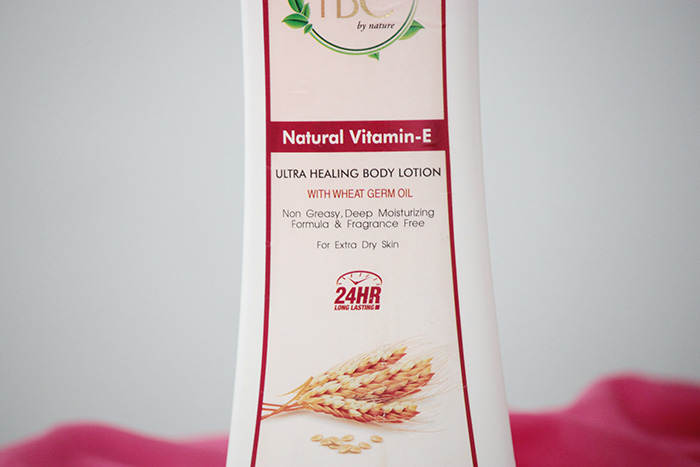 It has got quite an impressive ingredient list. It contains the goodness of all the skin friendly elements such as glycerin, cocoa butter, wheat germ oil, Vitamin C, etc. I am hoping that in the long run all these combined together will work in diminishing fine lines and wrinkles. The only thing I am not that satisfied with is the presence of parabens. The body lotion claims to be paraben free but the ingredient list speaks of methyl paraben and propyl paraben, which are not considered skin-friendly.
What I like about 'TBC By Nature Natural Vitamin E Ultra Healing Body Lotion'
– Runny consistency that makes it spread to on the skin.
– Quickly penetrates into the skin.
– Leave the skin non-greasy but hydrated.
– Mild fragrance that dissipates into the air after some time.
– Easily transferrable to travel size containers.
– Long shelf life.
– Contain SPF 15 that shields the skin from harmful sun rays.
What I do not like about 'TBC By Nature Natural Vitamin E Ultra Healing Body Lotion'
– In winters it needs to be re-applied after regular intervals to restore the lost moisture.
– Contains parabens.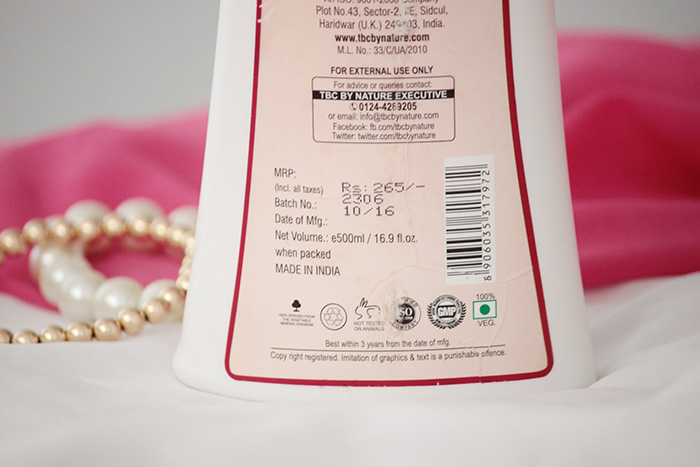 Price of 'TBC By Nature Natural Vitamin E Ultra Healing Body Lotion': Rs 265 for 500 ml
Shelf life of 'TBC By Nature Natural Vitamin E Ultra Healing Body Lotion': 3 years
Ingredients of 'TBC By Nature Natural Vitamin E Ultra Healing Body Lotion':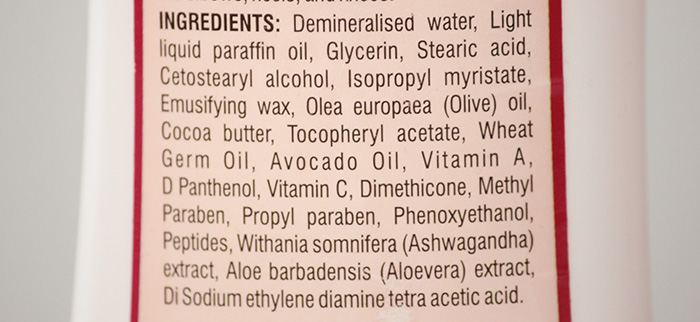 Final Word: Overall, TBC by nature natural Vitamin E ultra healing body lotion provides basic hydration to the skin. It is infused with the goodness of many skin beneficial ingredients so it makes the skin look healthier. The 24 hour moisture claim is slightly misleading as the lotion has to be reapplied after regular intervals to keep the moisture level restored. Other than that, it is a very mildly fragrant body lotion – which is a good thing for people who do not prefer fragrant skin care products. The pricing is also quite economical – 500 ml in just Rs 265. Hence, if you are looking for a basic hydrating lotion for summers or non-winter seasons you should give this a try.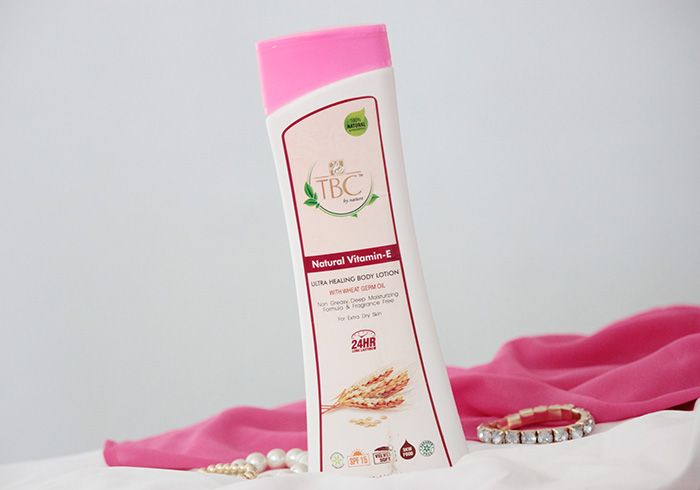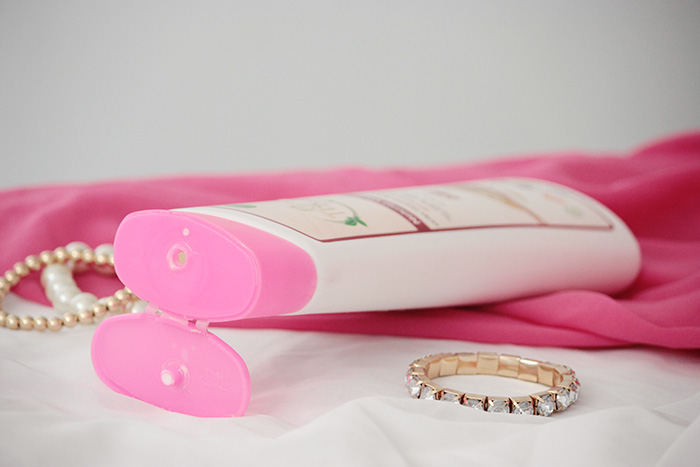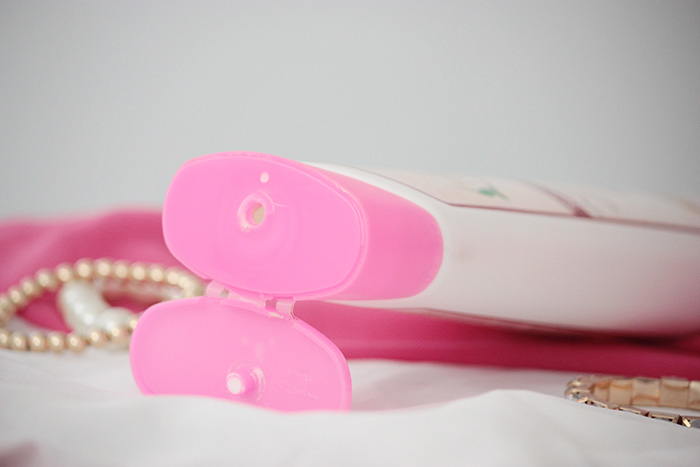 You might also like reading these related topics:
Jergens Ultra Healing Extra Dry Skin Moisturizer Review
Jergens Original Scent Cherry Almond Moisturizer Review
Jergens Age Defying Multi Vitamin Moisturizer Review
Jergens Ultra Healing Extra Dry Skin Moisturizer Review
Palmer's Cocoa Butter Formula With Vitamin E Lotion Review
Malavara Lime Vetiver Body Lotion Review
Nivea Nourishing Lotion Body Milk Almond Oil Review
Nivea Express Hydration Body Lotion Review
Aaranyaa skin soothing hand and body lotion shea butter review
Dove essential nourishment body lotion deep care complex review
Dove Indulgent Nourishment Body Lotion With Shea Butter Review
Vaseline Total Moisture Cocoa Glow Body Lotion Review
Vaseline Total Moisture Aloe Fresh 24hr Nourishing Body Lotion Review
Vaseline Healthy White SPF 24 Triple Lightening Lotion Review
Himalaya Herbals Intensive Moisturizing Body Lotion Review
Parachute advanced deep nourish extra dry skin body lotion review
Davidoff cool water sea rose moisturizing body lotion review
Jolen Sun Screen Lotion SPF 15 Review, Swatch
VLCC Almond Nourishing Body Lotion Review
Bodycology Sweet Petals Body Cream Review
Marks and Spencer Pampering Cocoa Butter Moisturizing Hand and Body Lotion Review