Rains are romantic, rains are fun and rains bring great reprieve from scorching sun. We all love drenching in the rain, letting rain drops fall on our skin & hair. Since childhood playing in rain water has been my favorite sport but what I did not know at that time was that rain water is acidic and it damages hair & skin. And, as the pollution level in the atmosphere has increased (especially in metropolitan cities) so when it rains it the rain water mixes with water soluble pollutants. This rain water becomes even more harmful and when it comes in contact with our skin and hair it causes harm. Also, humidity is at an all-time high in monsoon season, and that also takes a toll on tresses. Here is what we can do to care for our hair in these wet months.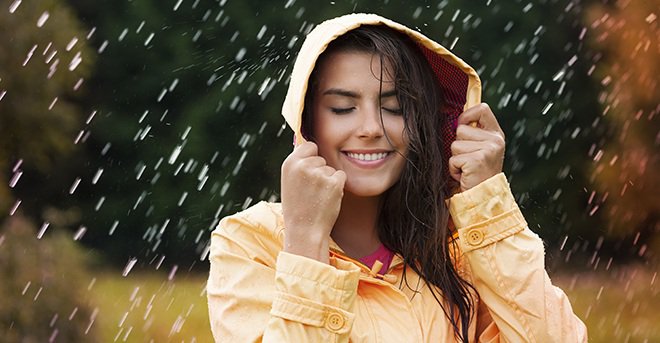 Protect hair from rain water- Staying in a polluted environment is not very beneficial for your hair especially in the rainy season. In this atmosphere dust, toxins, pollutants and many more chemical substances come down with rain. If they settle in hair they turn the scalp dry, flaky and itchy. The further negative of bad scalp is hair-fall and frizzy & unhealthy hair. In order to protect your tresses carry an umbrella or rain coat, for the happy rain dance make sure to wear a shower cap.
Avoid hair styling- Amidst the high humidity levels of monsoon season, hair feels heavy and oily. Even next day of shampooing bears dead, lifeless hair as if it has not been washed for weeks. If we apply more chemicals to the hair they will make them more weighed down and aggravate hair health. So, give a break to styling chemicals in this season- after all it is just a matter of 2-3 months.
Oil your hair- Massage hair with good hair oil. Since childhood, I am using mustard and coconut hair oils for a good scalp massage. These oils help in strengthening the hair roots and curbing hair fall. In monsoon season because of humidity hair roots & strands get weak leading to hair-fall. However, massaging scalp with warm hair oil strengthens the roots and put a stop on breakage and hair fall.
Don't tie wet hair- While is summers we do not think of blow drying our hair, in monsoon we should actually be making sure that hair is dry. Towel drying hair is not enough in this season as the humidity level is at an all-time high so take out the hair dryer to dry hair. Because of high moisture wet hair can become home to hair infections so it is essentially important to completely dry the hair before they are styled or tied in a ponytail.
Hair Mask- Hair needs additional nutrients in this season to upkeep the healthy and shine. Rather than going for chemically laced hair masks apply homemade hair masks. You can check these methe hair packs and curd hair packs. These packs cure damaged hair and impart shine and liveliness.
Keep the scalp clean – Regularly wash the hair to get rid of the moisture and other external impurities. These impurities if settled aid the growth of bacteria and cause infections, so keep the scalp clean by washing it with a mild shampoo. Ideally, we should wash the hair every other day but the frequency can decreased/increased depending upon scalp condition and hair health.
Eat Healthy & Stay hydrated- Add lots of fluid to the diet. Drink 10-12 glasses of water, lemon juice and fresh fruit juices. Also, add salads, paneer and fresh vegetables to the meals.
By incorporating these tips in hair care regimen you can enjoy the monsoon season and simultaneously maintain the bouncy lively hair!
Image source: google
You might also like reading these related topics:
How To Prevent Split Ends Naturally-Home Remedies For Hair Care
Hair Care Tips- How To Manage Oily Hair In Summers
Hair Care Tip-How To Control Hair Fall And Improve Hair Texture
Beauty Benefits Of Honey for Skin and Hair
10 Home remedies to treat rough hair and control hair fall naturally !
Healthy and Strong Hair – How To Take Care of Your Hair