Hair does not only require shampooing and conditioning, you need to go slightly above and beyond the regular hair care routine to get healthy hair. Specially as the weather changes, the feed your hair require changes as well. If you do not provide the required feed it will become dull and lifeless. Good nourishment is attained with both what goes inside the body and what is applied on the hair externally. Additionally, hydration plays an important factor in good hair health. Even when you do not feel thirsty make sure you keep yourself hydrated by drinking at least 2-3 liters of water a day. I will not stress upon food habits in this post as it is dedicated to external hair care. Today, I will be sharing few fenugreek hair packs which are beneficial for hair. Fenugreek is often referred to as 'methi' or 'methe' in Hindi and it is commonly used in Indian kitchens for cooking. Hence, the availability will not be much of an issue. Otherwise as well, you can easily get these seeds from organic stores. Now, let's start with the hair packs remedies.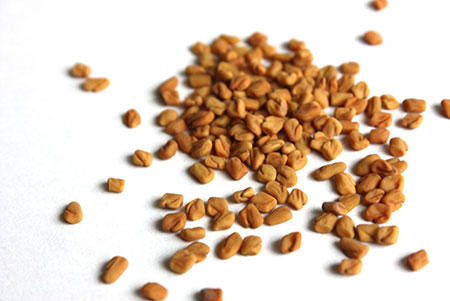 Only Fenugreek Seeds Hair Pack
Take 3-4 spoons of fenugreek seeds- the quantity depends on the length and volume of hair so you can increase or decrease the quantity as per need. Let these seeds soak in tap water overnight. Grind them next morning to make a thick paste. Apply it on scalp and on entire hair length, covering the hair with a cap. Leave it on for 30-45 minutes before rinsing off with cold water.
This pack makes hair soft and smooth, giving it extra shine and life.
Fenugreek and Amla Hair Pack
Take 3-4 spoons of fenugreek seeds, again the quantity depends on your hair density. Grind them to make fine powder. Once done, mix the fenugreek powder with equal quantity of amla powder. Give it a good mix, and add some curd to make the consistency semi-thick. Apply this hair pack on scalp, and from roots till tips. Cover the hair with hair-cap, and let it be like this for 30 minutes. Afterwards, rinse off the normal water.
This pack will make your hair oily so either you can shampoo right away or let the fenugreek benefits seep into the scalp for a day before shampooing. It will make the hair healthy, shiny and strong. Its consistent use can also reduce hair fall.
Fenugreek and Lemon Juice Hair Pack
Take sufficient quantity of fenugreek seeds. Soak them in normal water overnight, before making a paste next morning. Add few drops of lemon juice to this fine paste, and give a good mix. Apply the mixture on scalp and hair for around 30 minutes. Rinse off with normal water. For best results, it is better to shampoo the hair next day.
This hair pack controls dandruff and also improves overall health of hair.
You can also make a hair pack of fenugreek seeds and egg yolk. The soaking and rinsing procedure of this hair pack is same as mentioned above for other hair packs. You just need to mix the paste with egg yolk. This hair pack is effective to treat scalp dryness, and therefore dandruff. Being a vegetarian, I have never used this pack but if you do not mind using eggs you can take its benefit.
Fenugreek seeds generate heat so they are often used in winter season. But the pack that has curd can be used in every season. If you wish to use it in winters, ensure you do not use cold curd.
Have you tried any of these fenugreek hair packs ?
You might also like reading these related topics
Homemade Curd Hair Packs For Dry Damaged Hair
10 Home remedies to treat rough hair and control hair fall naturally !
Healthy and Strong Hair – How To Take Care of Your Hair
How to color hair naturally with Henna or Mehandi and its other benefits !
How to straighten hair naturally using Banana Hair Mask