Beauty Benefits Of Honey for Skin and Hair
Hi Everyone,
It has been quite long since I have done such post. Yesterday, when I was applying honey I suddenly realized I have not shared its beauty benefits with you, so this post. You can apply it on skin & hair, or add it to your diet to reap the several benefits it offers to human body. The first time I used honey for beauty was when I started having it with a glass of lukewarm water first thing in the morning. The irony was it was recommended by an old uncle to tone up the muscles and shed off extra pounds. Does not it sound surprising… coming from elders and that too an uncle. I must say he is very fit even in his 70s, and can give competition to any 40s guy. Well, since that first time I have replaced numerous honey jars, expanding its usage to skin care and hair care as well. Honey can do wonders for skin. It is an excellent anti-aging agent that does not only defers ageing but also acts as a healthy moisturizer. It is a boon for all skin types at every age. Today, I will be sharing with you my homemade remedies that involve honey, and work excellent on my skin.
1) Whenever my skin feels flaky or dull, I add a spoon of honey to my homemade face pack. It invigorates the skin giving it its lost glow and suppleness. Here is the recipe of my favorite summer honey pack:
1 Spoon fuller's earth
1 Spoon curd
1 Spoon honey
1 tea spoon lemon juice
Let the concoction set for some time before applying the pack on face. Slather a thick layer, keep it on for 20 minutes and rinse off with plain water. I apply this pack twice a week, and it takes care of sun tan, dehydration and ageing.
2) Honey can also be used to cure under eye area and dark circles. All I do is mix a tiny drop of honey with a tiny drop of almond oil, and softly massage the under eye area. It restores the lost moisture and takes care of dark circles. Consistently follow this routine before going to bed for at least 3 weeks, before expecting any results. Most of the homemade/readymade remedies do not work when it comes to under eye area, and those that work require consistency and patience.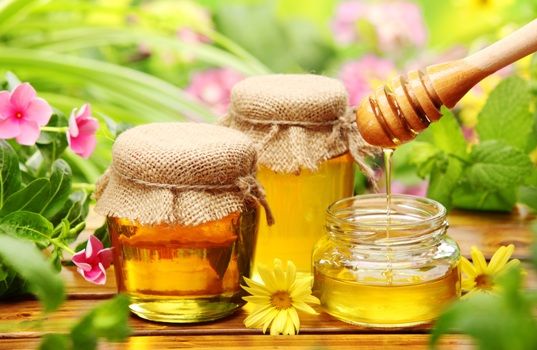 3) Honey works great as an exfoliator. All you need to do is crush some almonds and convert them to a gritty powder form. Mix a spoon of honey, some lemon juice and almond powder to make thick paste. Rub it on your face in soft circular motions; leave it on for 5-10 minutes before rinsing.
4) Like me, if you also suffer from acne then here is a quick tip to reduce the inflammation and redness of those painful zits. Make a paste of honey and cinnamon powder. Dab this paste on zits and let it stay on overnight. Wash off with lukewarm water in the morning. Doing so hinders further acne growth and reduces pain.
5) Honey can be also be used on hair to restore the lost moisture and improve hair health. I know it may sound sticky but when you mix honey with olive oil and curd, the sticky feel is all gone. Just ensure that you do not go out with this mask on your hair. Keep this hair mask on for 30-45 minutes, and wash off.
6) If you are looking for shiny hair, then massage your hair with mixture of one spoon honey and olive oil (or any other hair oil) at least one hour before shampooing.
7) Besides, you can also apply a thin layer of raw honey on your face to calm down any irritation or redness. In case the problem is severe, you should always visit a dermatologist.
This is how I use honey for skin and hair care. If you know any other home remedies that involve this wonder ingredient do share them.
You may also like reading these related topics
Health and Beauty Benefits of Coconut Water
5 Natural beauty benefits of lemon juice
Health And Beauty Benefits Of Eating Soaked Almonds
Health and beauty benefits of green tea!
Health Benefits of Chamomile Tea
Health Benefits of Drinking Warm Water in Morning
Health benefits of sprouts
Health And Beauty Benefits of Eating Flaxseeds