L'Oreal Paris Infallible mega gloss range encompasses lip glosses with five types of finishes- matte, neon, dazzle, extreme and cream. I have reviewed the cream finish lip gloss few weeks back and today I will be sharing my opinion on dazzle finish gloss. There are five lip glosses in this finish namely Disco Ball, Flash Dance, Gloss me I'm Gorgeous, For the Ladies and Studio 54. I am reviewing disco ball gloss, precisely – 'L'Oreal Paris Infallible Lip Gloss Disco Ball'. Let's see how I find this lip gloss.
What the product says:
The formula is enriched with hyaluronic acid and shine colour pigments, leaving lips hydrated with a high level of shine. Enjoy a glossy look, without stickiness. The lip shaper applicator contours and hugs lips for a perfect glossy pout, all day.
1. Fill the applicator with the Mega Gloss Infallible Texture.
2. Apply the lip gloss firstly onto the lower lip, from the centre to the corners. Repeat this on your upper lip, paying extra attention to your cupids bow. This way you will achieve a perfectly shaded effect, leaving the middle of your lips looking more intense and shinier in colour.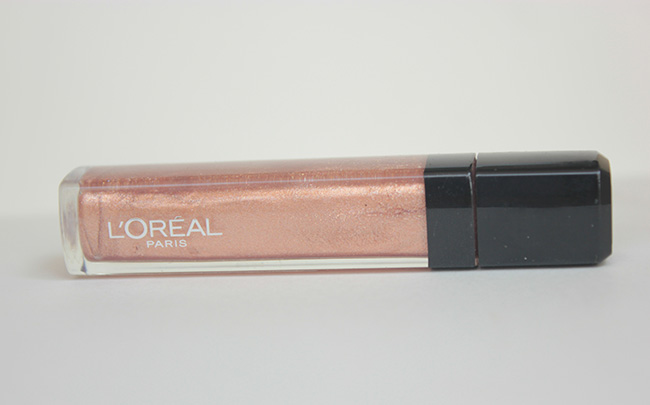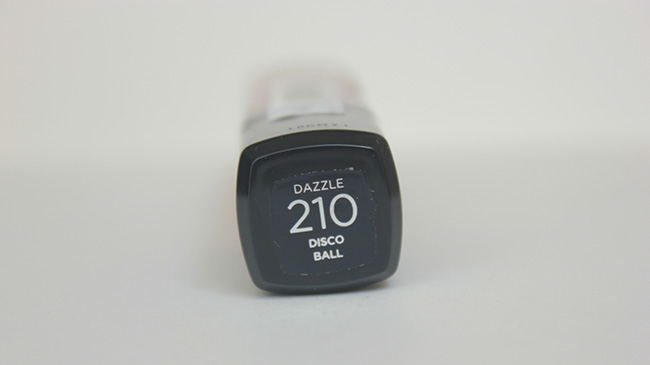 My take on 'L'Oreal Paris Infallible Lip Gloss Disco Ball'
The packaging of infallible lip gloss is quite classy. It comes in transparent plastic tube that looks sturdy and comfortable to carry. It is a tall rectangular tube with black cap, which is based on screw open mechanism. The top of the cap bears the shade name and number. Overall the packaging is simple yet beautiful. The black cap contains the lip-shaper applicator. This applicator is specifically designed to provide maximum coverage while making the gloss stay within lip boundaries. It perfectly fits into cupids bow giving precise application, and the same goes for corners as well. With this type of applicator I would seldom need a lip pencil for the purpose of contouring. It is very convenient to use, feels soft against lips and deposits an even layer of gloss.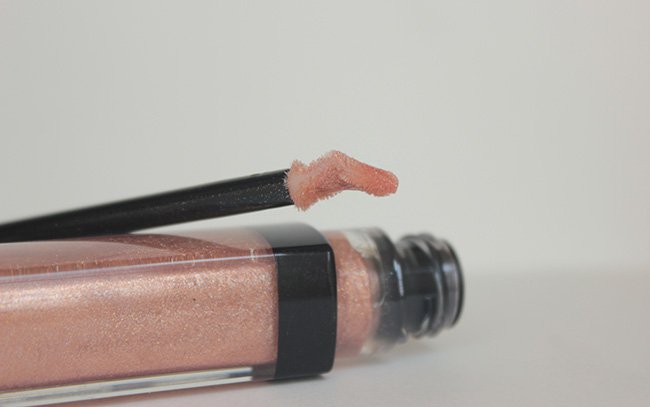 Usually, I am very quick in trying new makeup products but it took me some time in trying this disco ball lip gloss. It is not that I do not like this shade but it has some pre-requisites for it to suit the complexion. It is a dazzle finish lip gloss, which means it has a lot of golden shimmer particles, and these particles are quite prominent too. Beneath the shimmer particles there is this neutral color with brown undertones. I love neutral shades, and I do not have a problem with shimmer either it is just that the combination of neutral brown and shimmer does not suit my wheat-ish complexion very well. It is not the kind of gloss that can be paired with every outfit unless you have very fair – fair complexion. So I whenever I wear this lip gloss I have to be mindful in choosing my eye makeup and outfit. It teams up best with dark color such as black and navy blue; if worn with light colors it darkens the complexion giving a dull look.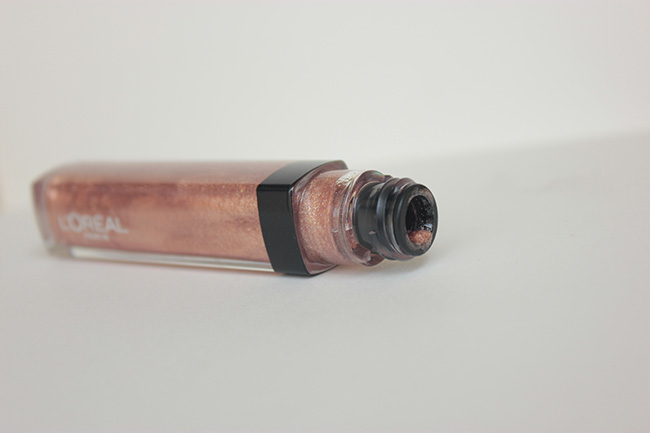 The texture is soft and creamy. On one side it makes the gloss go smoothly on lips and on other side it keeps the lips moisturized. I do not feel the need of applying a lip balm underneath this gloss. It is moisturizing and does not make the lips uncomfortable. If I compare it with Mafia gloss, I find disco ball slightly sticky. I think that might be because of the shimmery finish. For first few minutes, it feels heavy and sticky but that feeling subsides after 15-20 minutes of application. Plus, it does not have strong fragrance or any itchy feeling to it. Quality-wise it is a high end product with suits my lips and feels comfortable.
Being a neutral shade, it does not have high pigmentation. It provides 70% coverage in single swipe and the shimmer in it conceals irregularities and lip pigmentation to an extent. For longevity, the base color stays on my lips for 3-3.5 hours and the golden shimmer particles stay way longer – about 5-6 hours. Even at the end of the day I can spot some scattered shimmer on my lips. I think, this staying power is quite good for a lip gloss.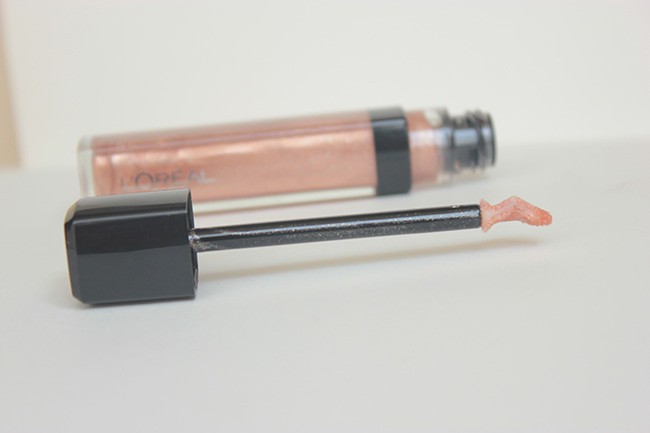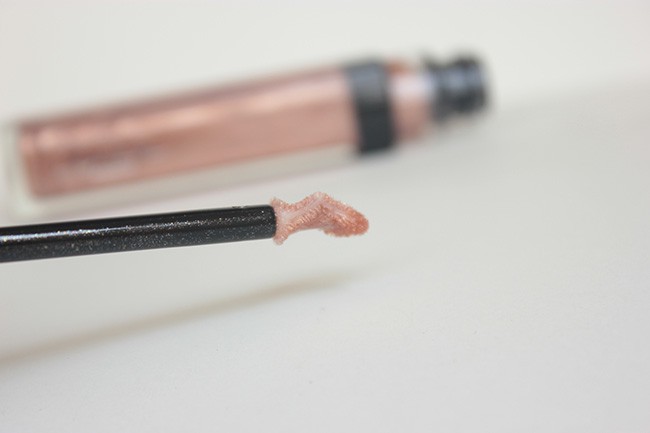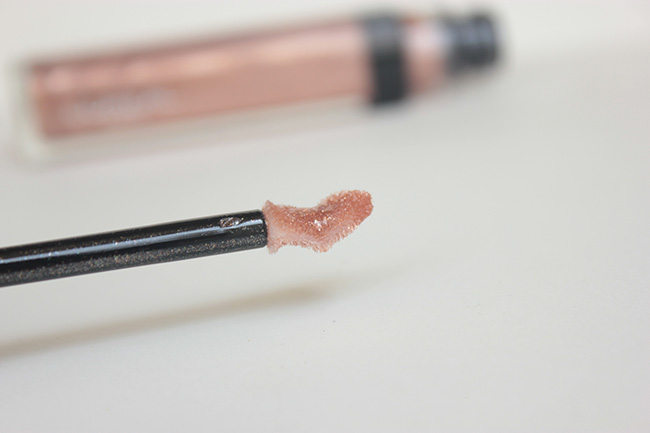 What I like about 'L'Oreal Paris Infallible Lip Gloss Disco Ball'
– Nice neutral shade with golden shimmer particles.
– Lip-shaper applicator precisely contours lips and deposits even layer of gloss.
– Feels light and non-sticky minutes after application.
– Sturdy, spill-proof packaging.
– Shimmer particles help in camouflage pigmentation.
– Good staying power.
What I do not like about 'L'Oreal Paris Infallible Lip Gloss Disco Ball'
– It will not suit every Indian skin tone.
– Best suited on fair complexions.
– If paired with wrong colors it can darken the complexion.
Price of 'L'Oreal Paris Infallible Lip Gloss Disco Ball': Rs 850 for 8ml
BABE Rating: 3.75/5
Final Word: Overall I like the quality and texture of this lip gloss. The lip-shaper applicator is the best I have used so far, and I love its soft touch and precise application. The only thing that needs to be kept in mind while using this gloss is to pair it up with right colors. On the contrary, if you have very fair to fair complexion you do not need to worry about anything as this shade will add to your beauty.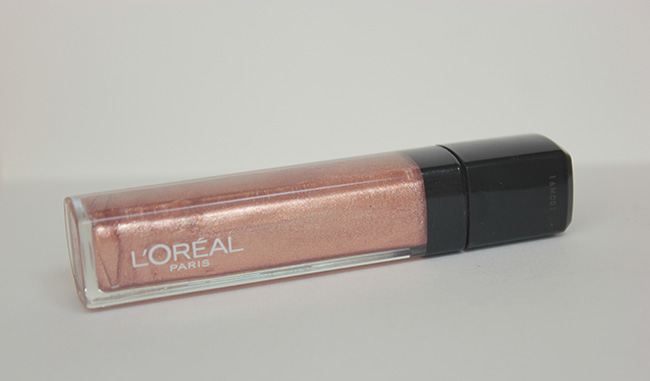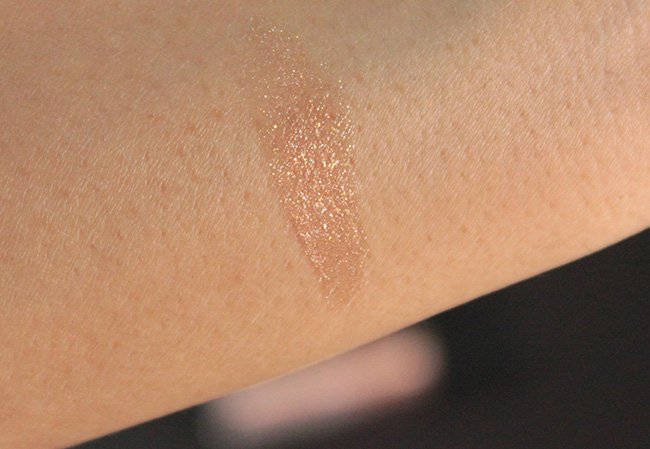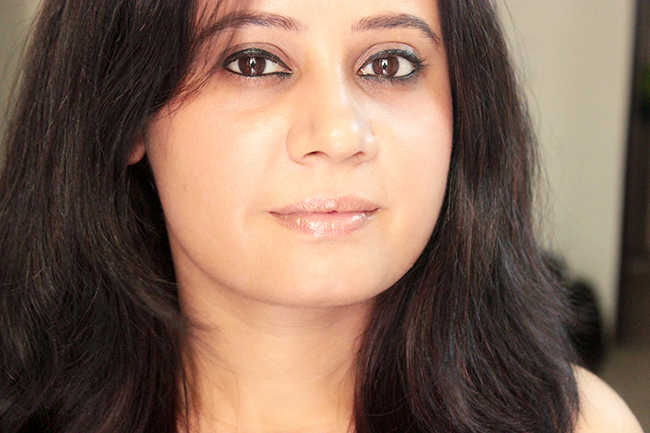 You might also like reading these related topics:
L'Oreal Paris Infallible Mega Gloss-104 Mafia Gloss Review Swatches
L'Oreal Paris Infallible Le Rouge Lipstick Rambling Rose Review Swatches
Wet n Wild Megaslicks Lip Gloss Bronze Berry Review
L'Oreal Color Riche Extraordinaire Lip color Coral Encore Review Swatches
Lakme Absolute Gloss Stylist – Rust Crush Lip Gloss Review
Maybelline Colorsensational High Shine Lip Gloss Mirrored Mauve Review And Swatches
Street wear color rich lip gloss (Pink Kiss -05) review