I was a neutral lover but since I have started using bright bold colors I cannot just stop experimenting. I wear these lipsticks to office as well, and I am highlighting this because I work in IT. If you have been in the IT industry, and that too in technical vertical you would know people prefer work over executive presence- forget about makeup. And in such an environment, bold lips can become quite an attraction 😛 . Nevertheless, today I am going to review L'Oreal Paris Infallible Lipstick Rambling Rose. Good luck reading my experience with it.
What the product says
Infallible Lip Colour is a luxurious, comfortable and long lasting lip colour. The new range has with a broad spectrum of 15 gorgeous shades, from subdued neutrals to lively, vibrant shades. It offers 24 hours of vivid, high definition colour.
Colour bond technology and combination of silicon micro spheres, captures colour on the lips for upto 10 hours for the ultimate beauty experience. Vitamin E: keeps your lips moist, relaxed and hydrated. The creamy, conditioning base: Allows even application without flaking or fading.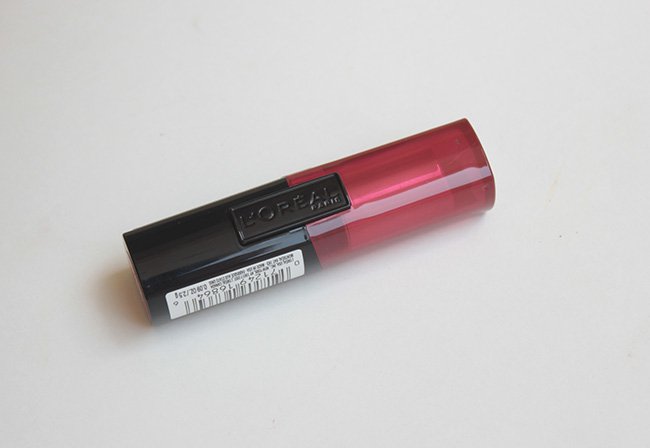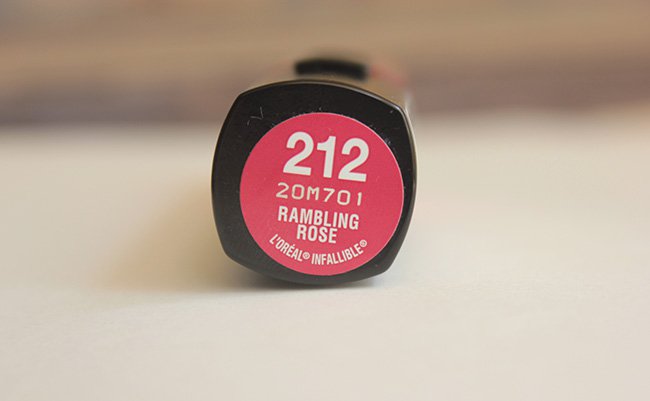 My take on 'L'Oreal Paris Infallible Le Rouge Lipstick Rambling Rose'
L'Oreal Paris Infallible lipsticks have decent packaging. The black colored bullet holder is mounted with a translucent cap that depicts the shade but is not a very close match. The cap cannot be used as a color indicator but the label at the bottom of the lipstick can be. The bottom label is color coded and bears the shade name and number. It is a close match to lipstick shade so in worst case scenario if the seller is out of testers you can get the lipstick on the basis of label's color. Making this decision for rambling rose shade will not be a problem as it is appropriate for Indian skin tones but for other shades I recommend trying out the tester before purchasing the lipstick. Anyways, the cap fits in comfortably and closes with a sound ensuring the bullet is safe guarded. It is important to close the cap properly because the soft texture makes the bullet vulnerable. Once the cap is fixed right, the sturdy plastic packaging can be easily carried in handbag without the fear of opening.
Rambling rose is a pretty pink shade without any blue or yellow undertone. It is a warm shade for Indian skin tones that enhances the feminity and cuteness. It can be easily worn by people of all age groups. It is an ideal shade for summer season as it brightens up the complexion taking away exhaustion. Spending just an hour in the scorching sun can deprive the skin of its charm but when this lipstick is on you need not to worry about the fresh look. It takes care of the outlook, but to stay healthy in this weather keep drinking lots of water and eating fruits that have good water content.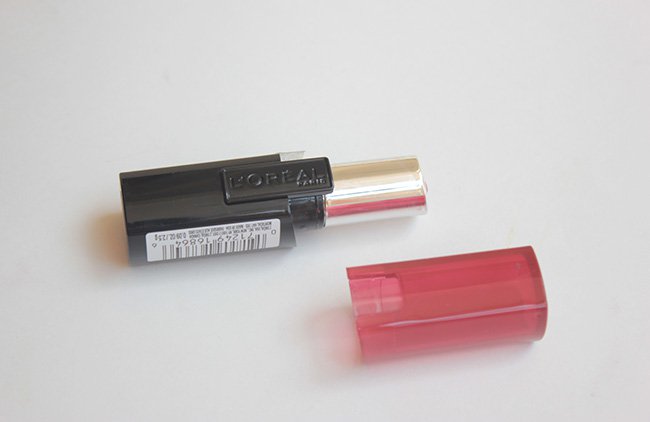 It has very smooth and creamy texture that makes the lipstick glide smoothly. The bullet is pointed in a way to help shape the lips. The trick is to start applying the lipstick from cupids bow and go all the way to corners. It precisely outlines the lips as if a lip liner is used. The color intensity is excellent –single swipe provides 80% opacity. I seldom go for the second coat except for parties. The high color intensity will be beneficial for pigmented lips as it can easily conceal the irregularities. The creamy texture makes it comfortable to wear, and the presence of Vitamin E keeps the lips moisturized and at ease. It has creamy finish without any shimmer or prominent glossiness. I prefer this type of finish as it is comfortable to carry all day long.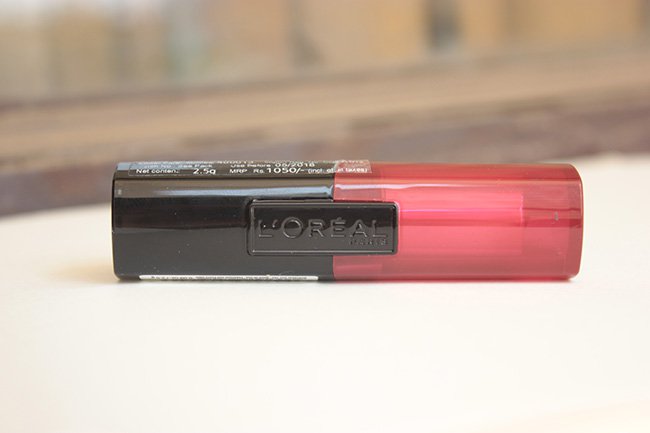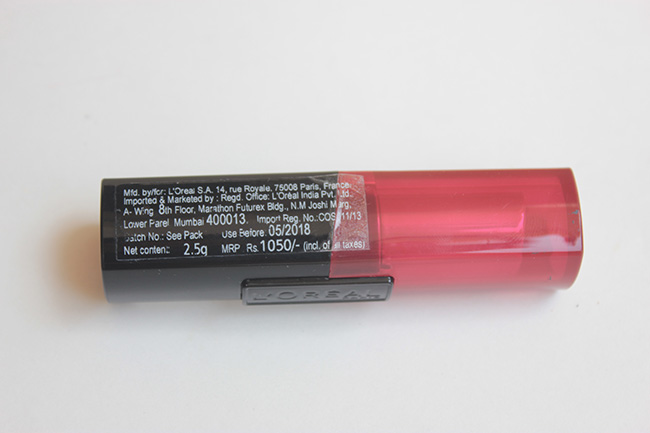 For staying power, I have observed it staying for 7 hours and that too after heavy meal and evening snacks. Even after the 7th hour the color is quite visible, though it does not look like a freshly applied lipstick but it is visible enough to be noticed from a distance. Another good thing is it fades evenly so I do not need to go for touchups. It is nice choice for those days when I know I will not get time for touchups- I just apply this in the morning and stay carefree all day.
It is a highly pigmented lipstick but that does mean it satins the lips or is difficult to remove. It can be easily removed using makeup remover without leaving any stains or causing flakiness. Even a normal face cleanser can help removing it finely.
What I like about 'L'Oreal Paris Infallible Le Rouge Lipstick Rambling Rose'
– Excellent staying power up to 7-8 hours including meals.
– No need for touch ups.
– Feels comfortable and hydration.
– It does not bleed and settle in fine lines.
– Super pigmented, and thus, good for pigmented lips.
– Suitable for all skin tones.
– Instantly brightens complexion.
– Versatile shade range from neutrals to bolds.
– Easy to apply as it glides smoothly.
– No need for a lip liner underneath.
What I do not like about 'L'Oreal Paris Infallible Le Rouge Lipstick Rambling Rose'
– Price is on the expensive side.
– Some girls might find it loud for daily office wear, but it is all a matter of preference.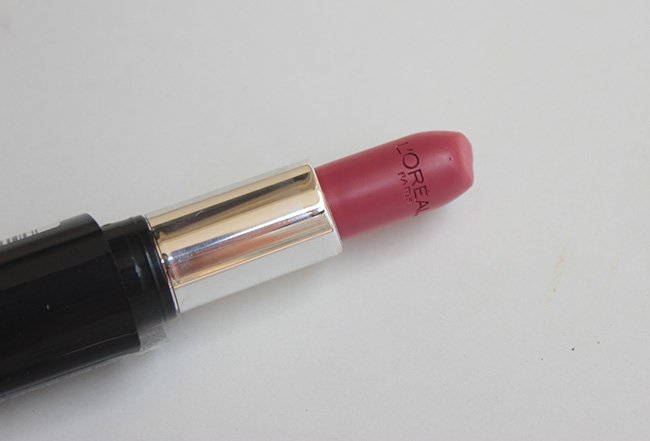 Price of 'L'Oreal Paris Infallible Le Rouge Lipstick Rambling Rose': Rs 1050 for 2.5g
Shelf life of 'L'Oreal Paris Infallible Le Rouge Lipstick Rambling Rose'
BABE Rating: 4.5/5
Final Word: Formulated with Vitamin E, 'L'Oreal Paris Infallible Le Rouge Lipstick Rambling Rose' keeps the lips hydrated. It is a high quality lipstick that with an equally impressive parameter list. I recommend this lipstick to all makeup lovers and especially working women who seldom get time to fix their lipsticks  This amazing lipstick is a must have in your lipstick collection, and for those who prefer matte finish just dab some loose powder on top of this lipstick and you are ready !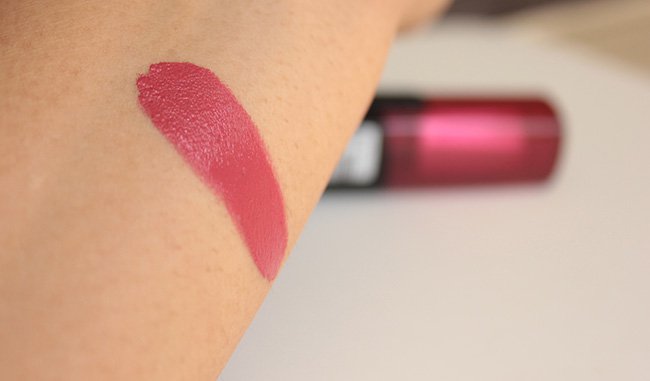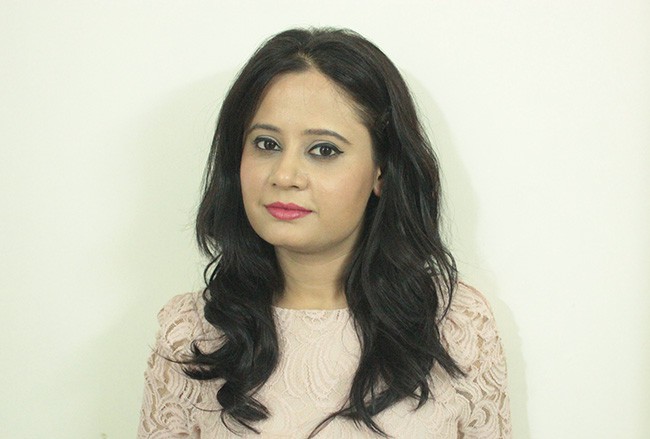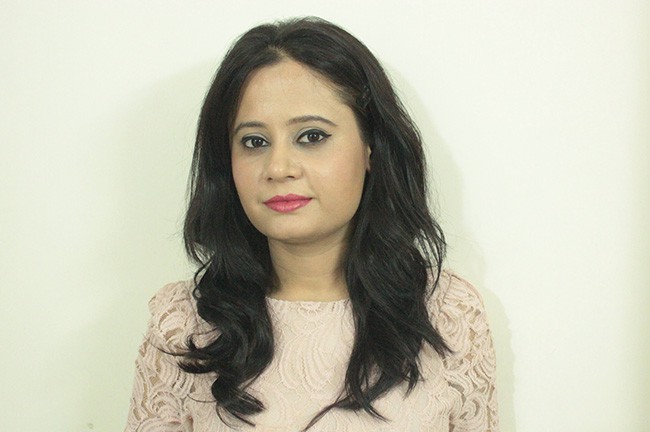 You might also like reading these related topics:
My 6 Favorite Pink Lipsticks For Summers
Flormar Deluxe Shine Gloss Stylo Lipstick D31 Review Swatch
Maybelline Color Sensational Lip Gradation Coral 1 Review Swatches FOTD
Maybelline Color Sensational Lipstick Hooked On Pink Review Swatches
Revlon Colorburst Lipstick – 030 Fuchsia Review
Oriflame The ONE Color Unlimited Lipstick Absolute Blush Review Swatch
Oriflame The ONE Matte Lipstick Pink Raspberry Review Swatch
Sugar Cosmetics It's A Pout Time! Vivid Lipstick Breaking Bare Review Swatch FOTD
Revlon Colorburst Matte Balm Sultry Shade 225 Review Swatch