Today, I am reviewing another product from Elcuent anti ageing skin care range. It's the Elucent anti ageing night moisturizer. This is my third review of anti ageing line. I have already reviewed Elucent anti ageing gentle cleanser and Elucent anti ageing day moisturizer. Still, a couple of products are left to be reviewed. I will try to review them at the earliest so that you get wholistic view of the entire anti ageing range.
What the product says:
Pamper your skin at night with a luxurious regenerating night cream. The skin refining activity of 8% AHAs combined with the goodness of vitamins B3, C and E help reduce the visible signs of ageing and improve skin tone and firmness. Use Elucent Anti-Ageing Night Moisturiser to replenish moisture while you sleep.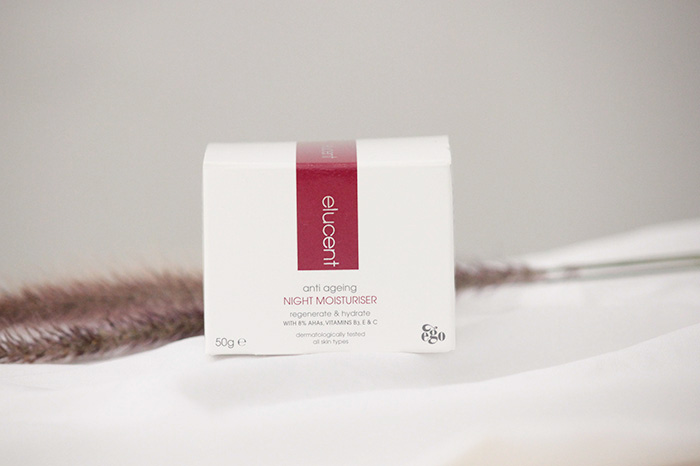 My skin type: Combination/Oily
My take on 'Elucent Anti Ageing Night Moisturizer'
The moisturizer comes in a sturdy plastic tub that has a silver screw open cap and transparent base. The tub is further housed in a white colored cardboard box that contains all the details about the moisturizer. It talks about ingredient list, directions, expectations, manufacturing details etc. Since the plastic of the tub is quite sturdy so it slightly heavy, which might make it difficult to carry in a handbag. On the other side, the quality of the packaging makes the tub unbreakable and spill-proof. Overall, it is a simple yet elegantly packed moisturizer, and its display on the vanity shelf will certainly increase the value of your other skin care products as well.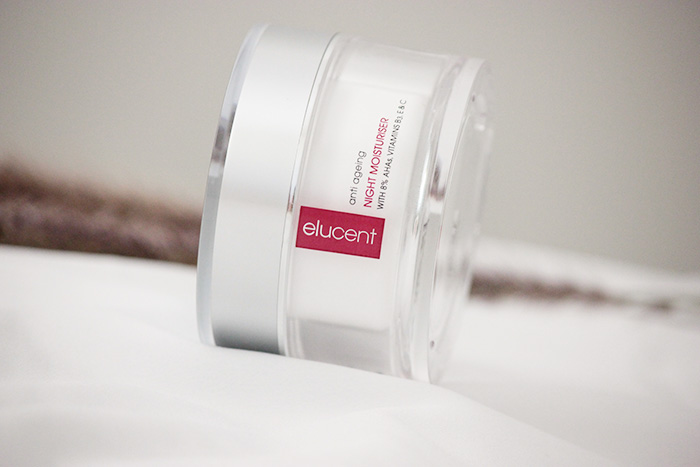 The contents of the tub further are sealed with a thin white disc that prevents the moisturizer from spilling around. Unlike the previous Elcuent skin care products I have reviewed, this one has a pleasant fragrance. The fragrance is quite mild and pleasing to the nose. The good thing is it vanishes after a couple of minutes of application so even if you do not like fragrant skin care products you would be good to go with this one.
The moisturizer is white in color with fluffy consistency as that of whipped cream. The fluffy consistency makes it easy to apply and spread all over. I dot this moisturizer on clean face and neck and then using my fingertips spread it well. In no time it gets absorbed into the skin leaving slight glow behind. The glow that I am talking about is not the greasiness or the sticky feel but kind of a glow that we get from a highlighter. I am happy that it does not make the skin greasy because otherwise, I would not have been able to continue its usage.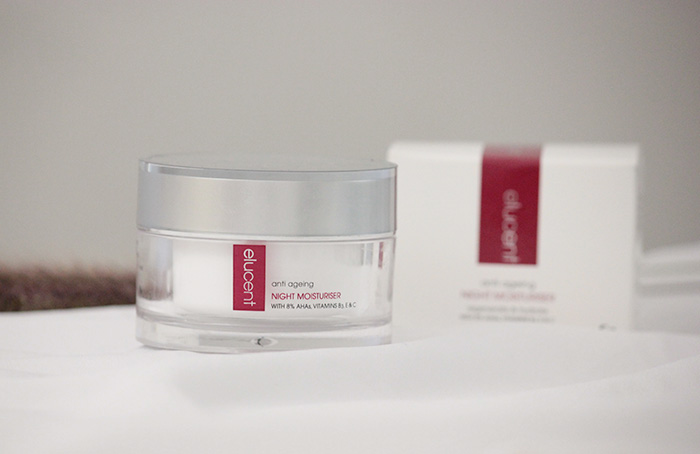 I am using this moisturizer for over last few weeks and my skin just loves it. It feels light on the skin, except that glow it does not leave any signs of its presence. I have combination to oily skin, which is prone to acne so I have to be careful while selecting my skin care products. Thankfully, this moisturizer has not caused any adverse effects on my skin such as acne, inflammation, etc. I am satisfied with the performance so far.
As I said, I apply this moisturizer every night before going to bed. The next morning my skin looks plump and healthy. This night moisturizer helps in restoring skin's moisture and thus improving the skin tone. Consistent usage can also help in diminishing fine lines and wrinkles. I do not have any of those so far so I am unable to put forth my observation on those areas but as it contains 8% AHAs it seems like a nice product to work in anti ageing direction.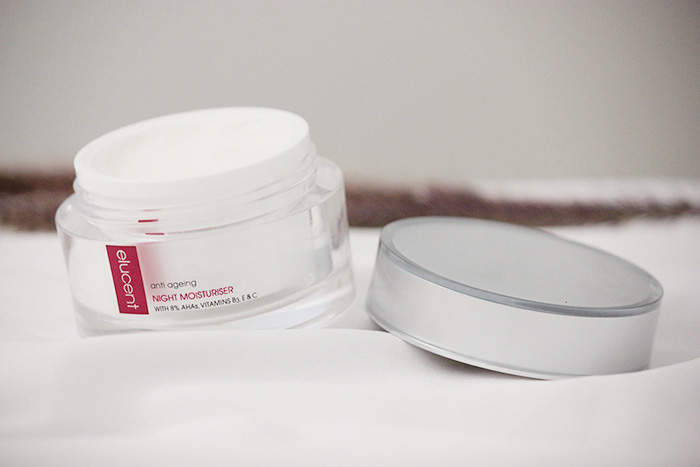 Things I like about 'Elucent Anti Ageing Night Moisturizer'
– Skin feels rejuvenated and fresh in the morning.
– Does not make the skin greasy.
– Does not cause skin breakouts.
– Economical usage as very small quantity is required for entire face and neck.
– Repletes the skin with moisture and gives it a healthy glow.
– Mildly fragrant.
Things I do not like about 'Elucent Anti Ageing Night Moisturizer'
– Slightly heavy to carry in a handbag.
Ingredients of 'Elucent Anti Ageing Night Moisturizer':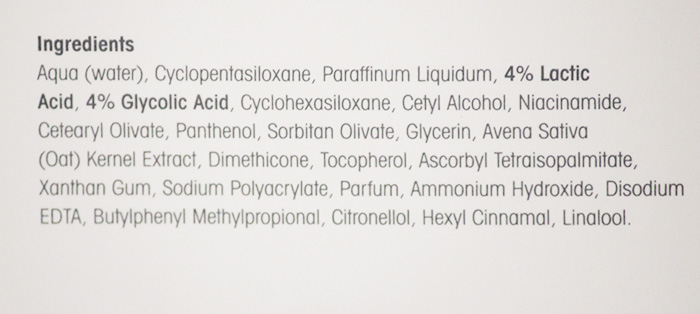 Price of 'Elucent Anti Ageing Night Moisturizer': AUD 49.99 for 50g of product.
BABE Rating: 4.5/5
Final Word: Formulated with 8% AHAs, Vitamins B3, E & C, Elucent anti ageing night moisturizer rejuvenates the skin by restoring the required moisture level. Every morning I wake up to a younger looking plump skin, which is a great feeling. Personally, I believe that the way my skin looks has an impact on my confidence so if I know that my skin is looking fab half of my battle is already won. In my opinion, it is an appropriate moisturizer for all skin types especially if your skin is dry you should be definitely giving this product a try.
Disclaimer:Disclaimer: This is an editorial review. The product is sent by the brand for consideration. However, my review is genuine and I am not being paid for publishing my experience with this product.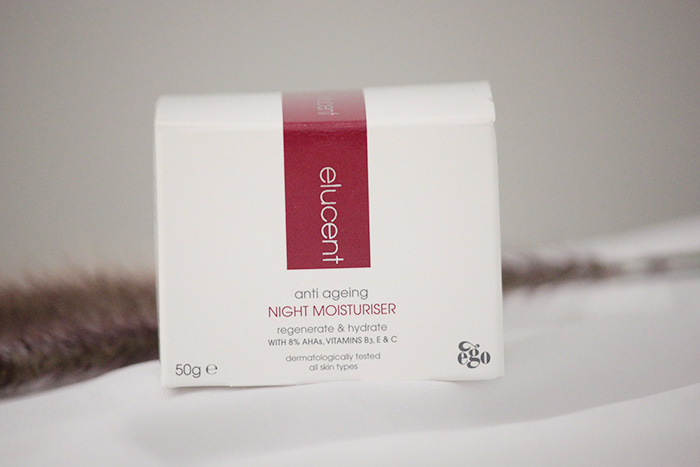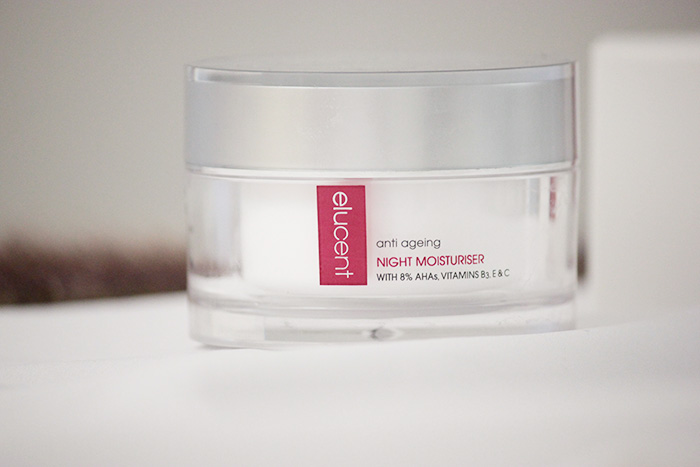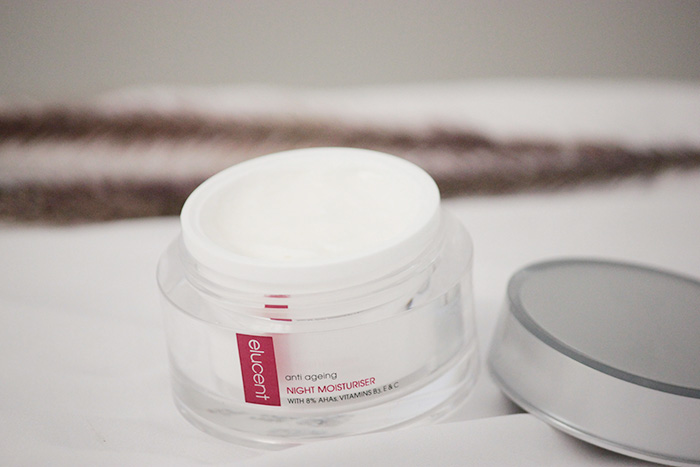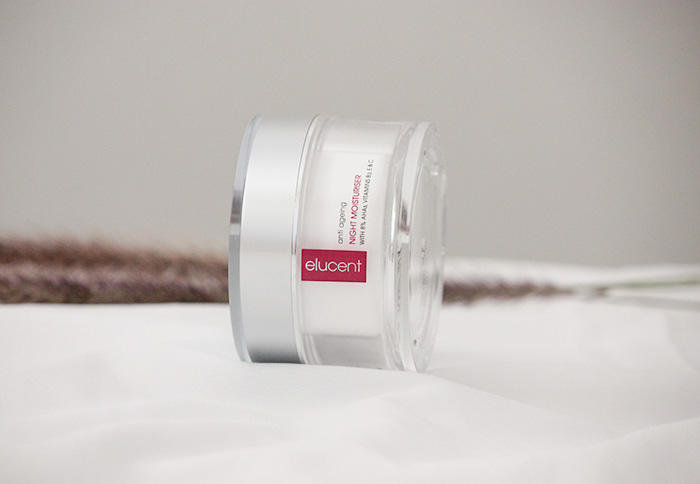 You might also like reading these related topics:
Elizabeth Arden Visible Difference Skin Balancing Night Cream Review
Forest Essentials Night Treatment Cream Jasmine and Patchouli Review
JAFRA Beauty Dynamics Balancing Night Cream Review Swatch
L'Oreal Paris Youth Code Youth Boosting Cream Night Review
Olay Natural White Rich All In One Fairness Night Cream Review
The Body Shop Seaweed Clarifying Night Treatment Review
The Body Shop Nutriganics Smoothing Night Cream Review
The Nature's Co White Tea Night Cream Review
Himalaya Herbals Revitalizing Night Cream Review
Spawake Moisturising Fairness Cream For Night Review