Skin care routine is incomplete without a good night cream. I like using same brand products while following a particular skin care regime so when I replaced my daily skin care products with Elizabeth Arden I also replaced the night cream with 'Elizabeth Arden Visible Difference Skin Balancing Night Cream'. I have been using it for more than 1.5 months, which is enough time to judge the efficacy of any product. Thus, here is the review of yet another product from Elizabeth Arden.
What the product says:
A weightless skin-balancing night cream for combination skin Contains Red Clover Extract to promote skin's own natural collagen production Formulated with Narcissus Tazetta Bulb Extract to stimulate skin's natural metabolism rate Reduces the appearance of pores while combating signs of premature aging Blended with Retinyl Linoleate to gently yet effectively re-texturize skin Loaded with Trehalose, Sodium Hyaluronate, Sodium PCA & Glycerin for long-lasting hydration Unveils a firmer, clearer, sleeker, more elastic & radiant complexion.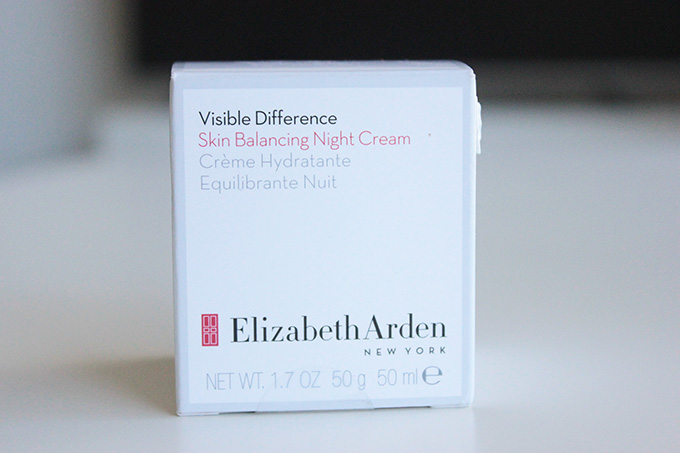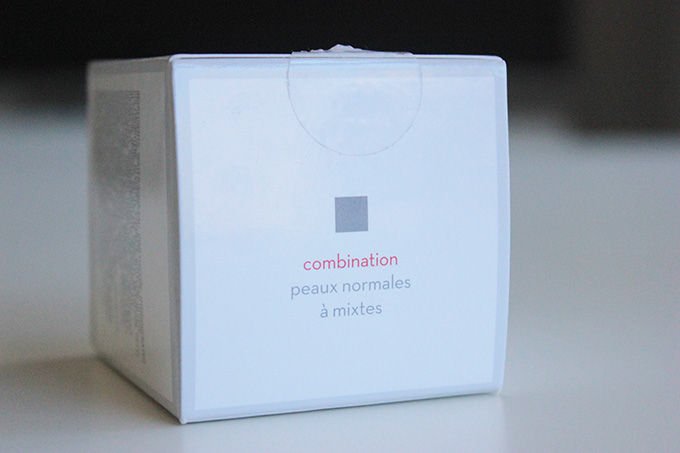 My Skin Type: Combination to Oily
My take on 'Elizabeth Arden Visible Difference Skin Balancing Night Cream'
The night cream comes in a luxurious grey colored plastic tub that has silver cap on top. I like the packaging as it is quite classy and lightweight. The base of the tub contains a sticker that has usage instruction in couple of different languages. The screw cap on top saves the contents from spilling and the small size makes it easily fit in any corner of the handbag. Above all, it makes my dresser very attractive and very much like the sight of it.
The cream is white in color with semi-thick consistency and smooth texture. The fragrance is light almost as if it is not there at all. This would be a huge plus for those who do not prefer fragrant skin care products. Since the consistency is semi-thick, the cream can be easily applied and spread on to the skin. I apply it on clean face after using the Elizabeth Arden Visible Difference Skin Balancing Toner. First, I dot it all over the face and neck, and then spread it using gentle upward strokes. It has water base, which is ideal for combination skin, so it does not take long in penetrating into the skin. In just couple of minutes it completely seeps in the skin leaving a hydrated surface behind. I have combination to oily skin, and that's why most of the night creams have a tendency of leaving an oily residue behind but this particular night cream do nothing of that sort. All I see is visible glow and balanced moisture.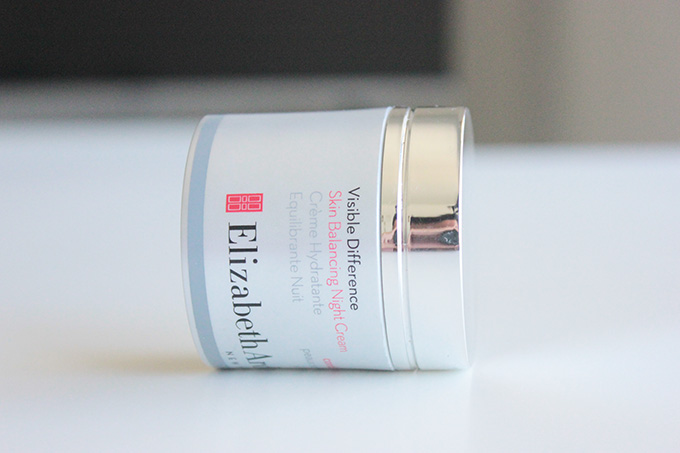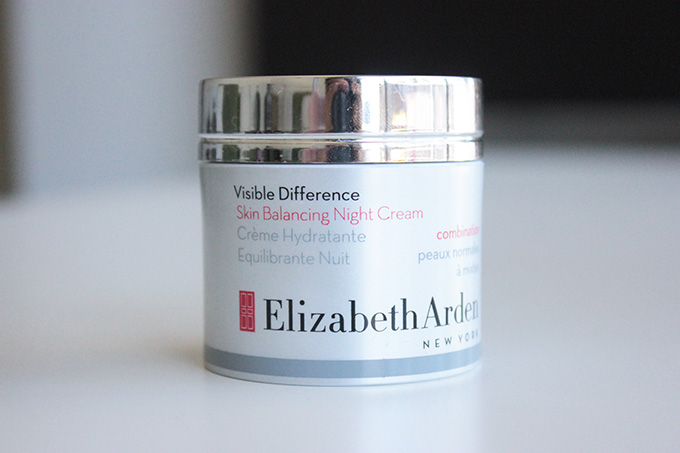 As far as the efficacy is concerned, it does not boast of reducing wrinkles or causing a miraculous effect on the skin. All it promises is well moisturized skin, and I think this is the fodder our skin needs to stay young and healthy. Balancing the moisture level becomes essential for oily skin as not doing so can cause skin breakouts and can also make the complexion look darker. Since I have been using this night cream for over 1.5 months my skin looks quite radiant and soft. I can say that my skin tone has improved because it looks more even and clear now. Going by my experience, I can that combination skin people I can rely on this night cream if all they want is well-hydrated and radiant skin.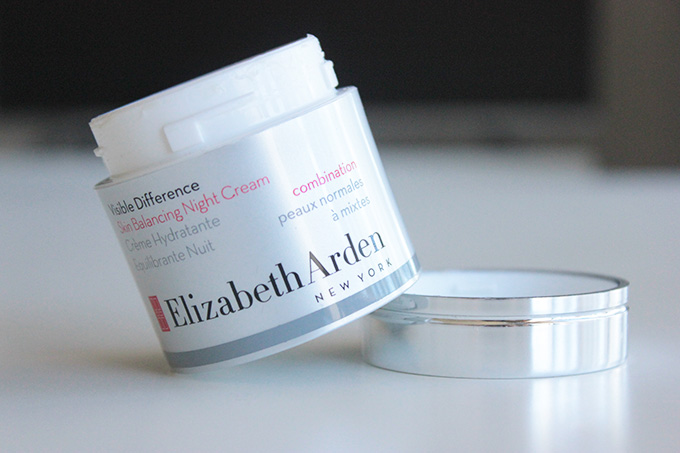 What I like about 'Elizabeth Arden Visible Difference Skin Balancing Night Cream'
– Dermatologist tested.
– Water based nigh cream.
– Very small amount is required to cover face and neck.
– Quickly absorbs into the skin.
– Does not cause any irritation.
– Does not cause skin breakouts.
– Mild fragrance.
– Hydrates skin well.
– Skin looks well moisturized and luminous next morning.
– Makes skin even and radiant.
What I do not like about 'Elizabeth Arden Visible Difference Skin Balancing Night Cream'
– Contains parabens.
Ingredients of 'Elizabeth Arden Visible Difference Skin Balancing Night Cream'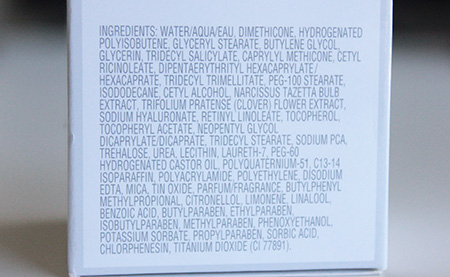 Price of 'Elizabeth Arden Visible Difference Skin Balancing Night Cream': Approx AUD 57
BABE Rating: 4.5/5
Final Word: Elizabeth Arden Visible Difference Skin Balancing Night Cream takes care of skin's basic needs such as hydration and moisture thereby resolving bigger skin problems such as blemishes, dehydration and pre-mature ageing. It is a water based cream so maintains a balance of moisture without making the skin over oily. While you sleep, this night cream takes charge of the skin so that it looks radiant and bright the next morning you wake up. I would recommend this cream if you have oily skin that requires a balanced dose of moisture.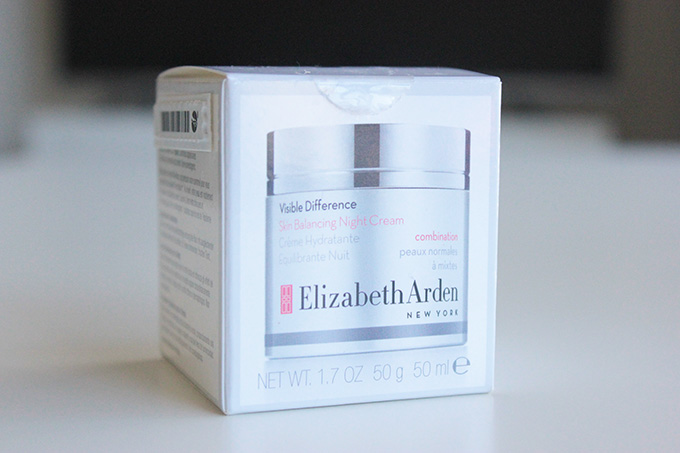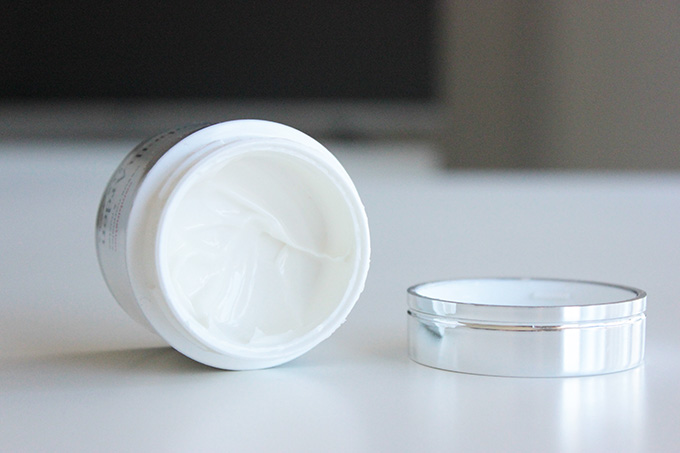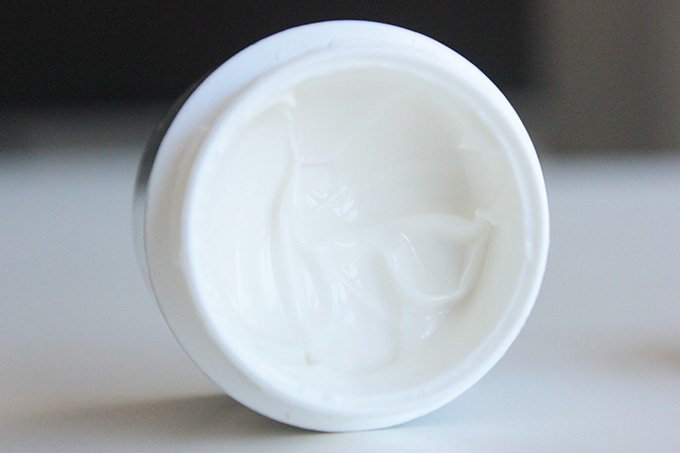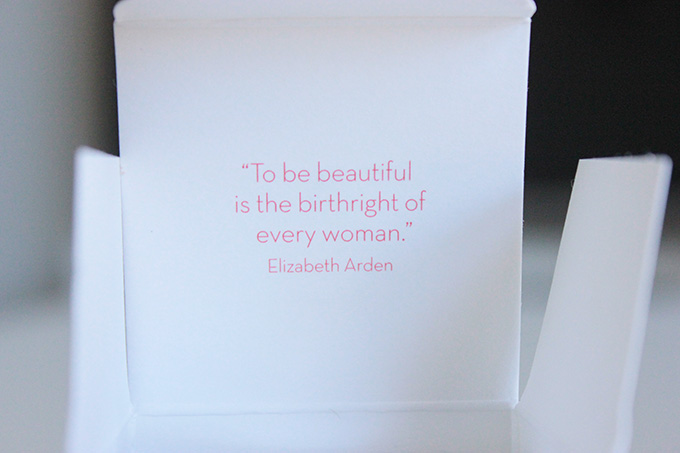 You might also like reading these related topics:
Forest Essentials Night Treatment Cream Jasmine and Patchouli Review
JAFRA Beauty Dynamics Balancing Night Cream Review Swatch
L'Oreal Paris Youth Code Youth Boosting Cream Night Review
Olay Natural White Rich All In One Fairness Night Cream Review
The Body Shop Seaweed Clarifying Night Treatment Review
The Body Shop Nutriganics Smoothing Night Cream Review
The Nature's Co White Tea Night Cream Review
Himalaya Herbals Revitalizing Night Cream Review
Spawake Moisturising Fairness Cream For Night Review