Since I moved to Australia, I have revised my skin care routine with Elizabeth Arden products. This is my first experience with the famous New York brand, and I chose the products specific to my combination to oily skin type. Of all the products I bought, I have reviewed the Elizabeth Arden Visible Difference Skin Balancing Exfoliating Cleanser, which I feel is quite impressive. Today, I sharing my opinion on Elizabeth Arden Visible Difference Skin Balancing Toner.
What the product says:
If you have combination skin, your first requirement for a toner should be that it's alcohol-free. Alcohol on your skin can leave it dry and will prevent the balancing effect your skin needs. We've formulated our toner to remove any last trace of impurity from skin and pores while leaving your skin with just the right amount of moisture to be its most balanced and healthy. Works over time to intercept oily skin problems for visibly clearer skin. The result is clean skin that feels soft, soothed and refreshed and is ready to enjoy the maximum benefits of your serum and moisturiser.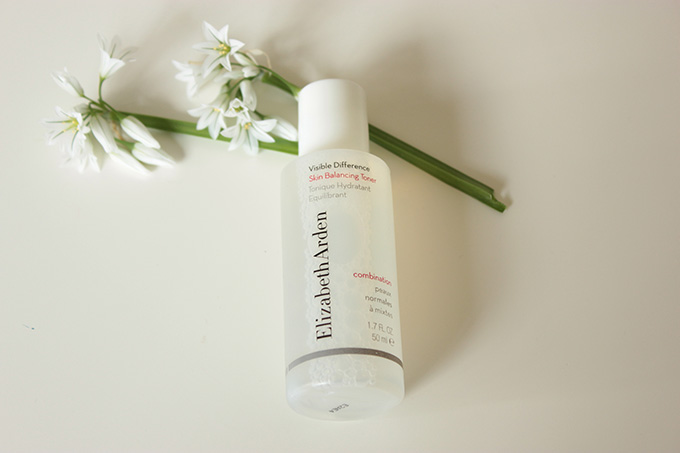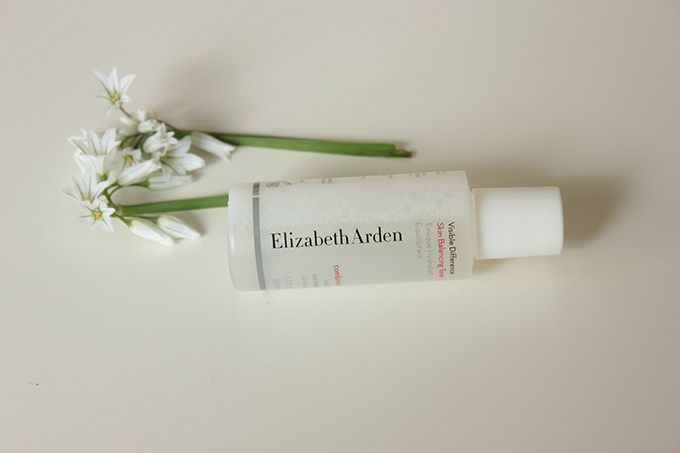 My take on 'Elizabeth Arden Visible Difference Skin Balancing Toner'
The visible difference skin balancing toner comes in a transparent bottle with a screw cap on top. It has a wide whole without a stopper that needs to be dealt with care as it can pour out more content than actually required. The usage instructions and what-to-expect from the toner are mentioned at the back. The ingredient list is not mentioned on the bottle but can you visit the website to have a look at the key ingredients. As per the website, this toner contains chamomile extract (helps calm and soothe the skin), witch hazel (provides astringent properties to tone the skin and refine pores) and sodium hyaluronate (lubricates and attracts vital moisture to skin).
It is a colorless toner with water like consistency. The fragrance is fruity with a stingy hint to it but as it claims to be an alcohol-free toner so I assume the fragrance is because of some other chemical that is put into the formulation to preserve the ingredients and clean the skin thoroughly. The best thing is it does not sting the skin even when there are pimples, and neither does it break it out.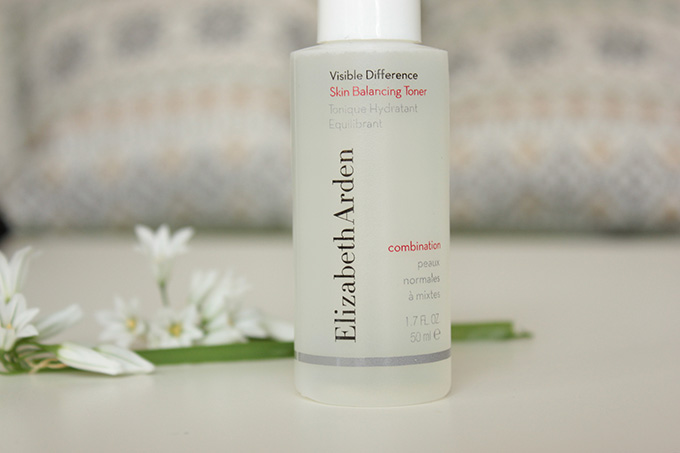 For the usage, I apply it on clean face every morning and night. After cleaning my face with a cleanser, I pour it on a cotton swab and clean the face and neck area, focusing on open pores. It is not a makeup remover so there should not be any expectation like that but yes it removes impurities from deep within the pores that I visible see on the cotton swab. It is also helpful in removing the last traces of mascara and kajal. It leaves the skin clean, clear and aptly moisturized. It neither mattifies the skin nor causes an oily layer to surface on the skin rather I would say it provides the exact hydration that is required for a healthy skin.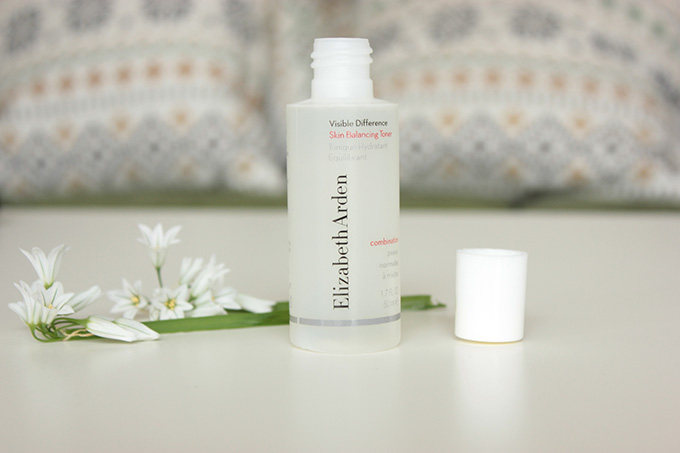 I have been using this toner for last one month, and I see visible improvement in my skin tone. My skin looks more polished now with shrunk pores. It balances oil making my skin look normal rather than a shiny tube light. I can wear makeup for long hours without worrying about another flashy layer on the face. I would definitely recommend this product for oily skin people who regularly have to find alternatives in combating an additional oily layer on skin.
What I like about 'Elizabeth Arden Visible Difference Skin Balancing Toner'
– Does not sting.
– Does not cause skin breakouts.
– Removes impurities from skin.
– Balances oil control.
– Minimizes pores.
– Keeps skin hydrated.
– Packed in an unbreakable bottle.
What I do not like about 'Elizabeth Arden Visible Difference Skin Balancing Toner'
– Does not have a stopper at the outlet.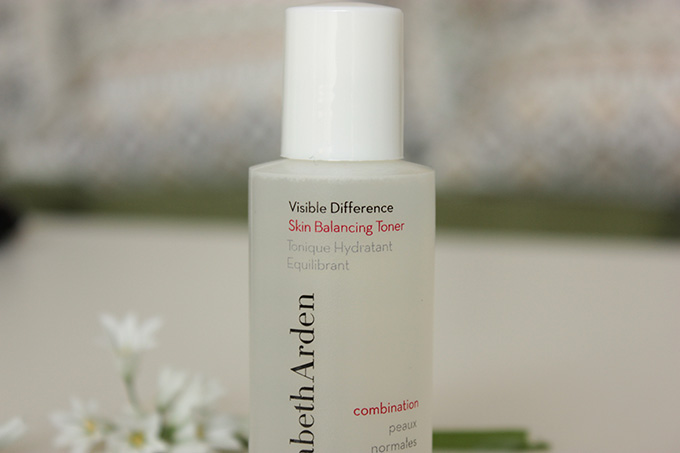 Price of 'Elizabeth Arden Visible Difference Skin Balancing Toner': Around 40 AUD for 200 ml
BABE Rating: 4.5/5
Final Word: Overall, I quite like the effects of Elizabeth Arden Visible Difference Skin Balancing Toner on my skin. Just as the name says, its consistent usage causes visible difference in improving the skin tone and minimizing pore size. We all use face cleansers to remove external impurities but this toner goes a step ahead to remove dirt and impurities that are hidden deep inside the pores. It cleans the skin giving it an ideal balance of hydration and moisture. If you are looking for an alcohol-free toner for you combination to oily skin I would definitely recommend this.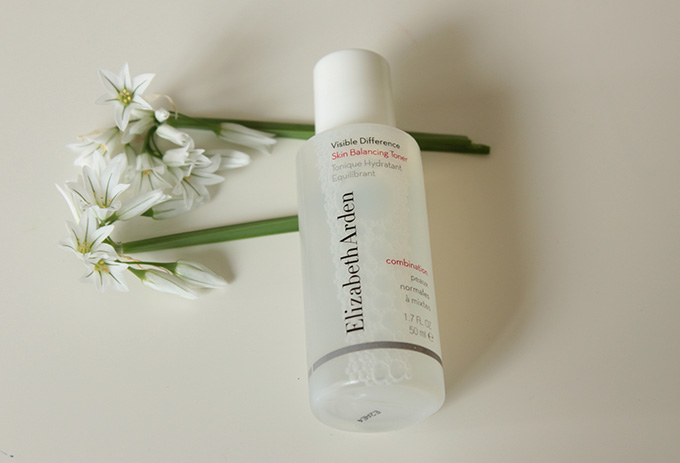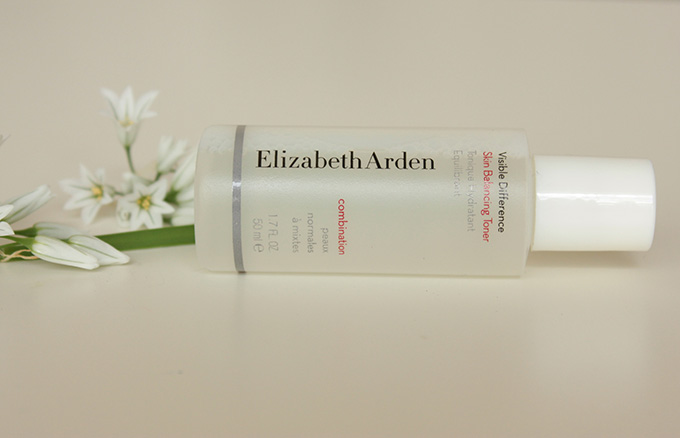 You might also like reading these related topics:
Innisfree Jeju Volcanic Pore Toner Review
Clinique Clarifying Lotion 3 Review-Combination Oily Skin
H2O Plus Aqualibrium Marine Toner Review
Biotique Bio Cucumber Pore Tightening Freshener Review
Votre Pore Shrink Toner Review
JAFRA Brightening Toner Review