Few days ago, I shared my summer 2016 routine with you all. If you have not gone through the post yet you can click on this link My Summer Skin Care Routine-Oily Combination Skin. I started using all these products at different times so you won't see their reviews in sequence. Of all these products the first one that is started using was 'Innisfree Jeju Volcanic Pore Toner' and as I have put it on test for enough long I think it is time to share the review so here it is.
What the product says
Daily toner for oily skin
1. Sebum control technology™: Controls excessive sebum to keep your skin looking fresh and soft.
2. A wipe-off type toner that removes residue left on the skin after washing the face
3. Shake well before use: The mineral powder inside helps treat pores and absorbs excessive sebum.
What else you need to know
Free from: parabens, synthetic fragrance, colorants, mineral oil, and imidazolidinyl urea
What is Jeju volcanic clay?
Jeju volcanic clay is made from minerals released by volcanic explosions in Jeju. It's categorized as a preserved alkaline resource and is effective in removing sebum and other impurities.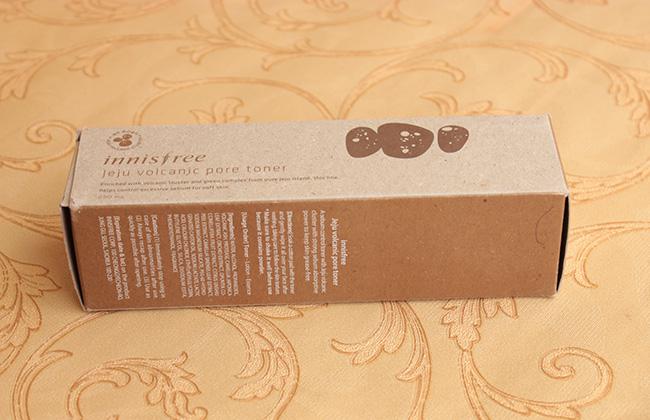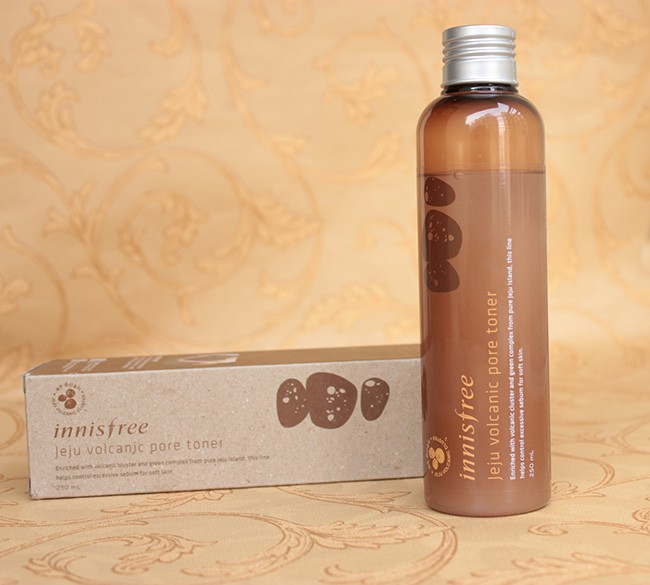 My Skin Type: Combination to oily
My take on 'Innisfree Jeju Volcanic Pore Toner'
Innisfree jeju volcanic pore toner comes packed in a brown colored carton. The toner is housed in tall bottle that looks like a glass bottle but actually is made of plastic. It is a translucent brown colored bottle with metallic screw cap on top. Once you open the cap you will notice that it is not a wide-open-mouth bottle rather there is a hole on the outlet that is further protected with another small lid that fits in the hole like a jig-saw puzzle's solution. The bottle looks giant sized but is not that heavy so it can be easily put in a travel pouch, of course the size would be a constraint. The good thing is it is absolutely spill-proof and sturdy so the contents won't leak out.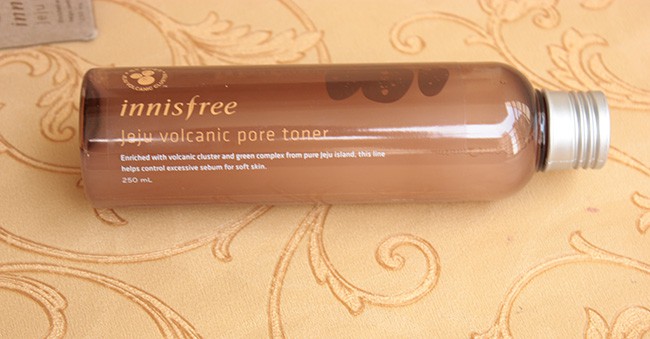 Before I started using this toner I assumed it to be of pale brown color but it came out as a colorless liquid. It is a blend of mineral powder and liquids, when the bottle is in upright position the powder settles down in the lower half. To get the benefit of mineral powder on skin, I shake the bottle well and when the powder is mixed with the liquid I pour few drops on a cotton pad and wipe it on clean face. It has the mildest fragrance I have ever seen in a toner. It does not sting or cause any irritation/sensations. It gives a similar as one can get by wiping the face with water laced cotton pad. Anyways, after keeping the toner bottle in place the mineral powder again settles down in few minutes. If you are going to try this toner make sure you shake it well before every use.
After application, it does not give a very special feel. The skin feels and looks normal, it quickly seeps into the skin and starts doing the job. It keeps the skin matte for around 2 hours, after which oil starts oozing out but still the quantity is far less as compared to the times when I was not using this toner. I have been using this toner for about 1.5 months now, and I really feel that it has brought considerable difference in improving my skin health. The pores look smaller now and skin shines but only to a level that looks like a healthy glow. Actually, it is a pore toner so it works to unclog them and thus makes them breathe. As it clears away pore-blockages so it puts a control on sebum, and makes it produce only the quantity that leads to healthy shine and not unwanted greasiness.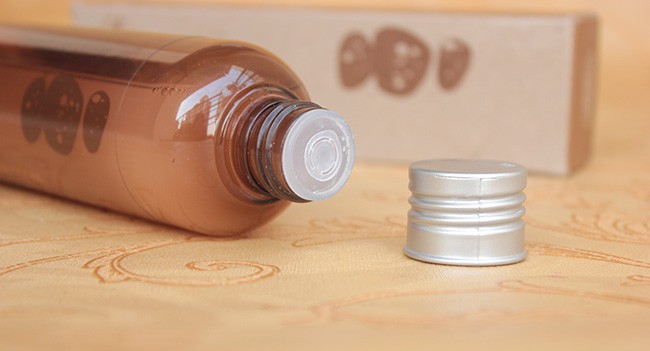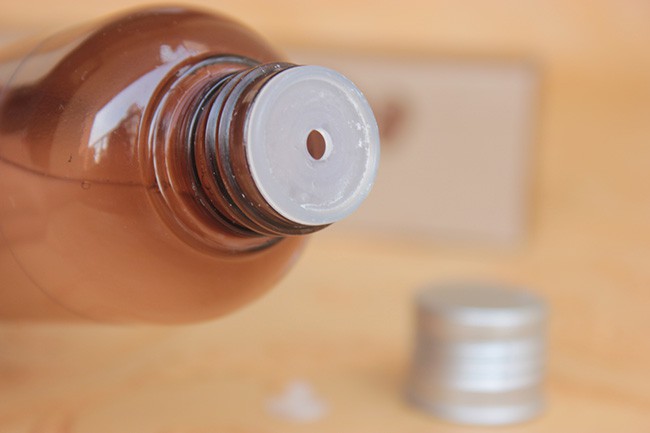 Though the ingredient list mentions alcohol but I do not sense it neither in smell nor in feel. The one thing that I want to clarify here is that it is not a makeup remover so you need to clean your face thoroughly before wiping it with this toner. It can remove residuals of makeup or dirt but should you not just rely on this for that job. It's formulated to clear pores, make skin breathe and control excessive oil production, and I find it doing very well on those criterions.
What I like about 'Innisfree Jeju Volcanic Pore Toner'
– Feels feather light on skin.
– Unclogs pores and helps in reducing their size.
– Controls unnecessary sheen, giving the skin a healthy glow.
– Mild fragrance that dissipates into air within few seconds.
– Does not cause any skin breakouts.
– Can be easily transferred to a travel friendly container.
What I do not like about 'Innisfree Jeju Volcanic Pore Toner'
– Exorbitant price.
Price of 'Innisfree Jeju Volcanic Pore Toner': Rs 1600 for 250 ml
Shelf life of 'Innisfree Jeju Volcanic Pore Toner': Around 3 years
Ingredients of 'Innisfree Jeju Volcanic Pore Toner':
BABE Rating: 4.75/5
Final Word: Formulated with jeju volcanic clay, Innisfree jeju volcanic pore toner is a HG product for oily to combination skin. It does everything that you can expect form a pore-focused toner such as reduction in pore size, unclogging pores and mattifying. I am more than satisfied with its results and that's why I brought the cleansing foam and scrub from Innisfree Jeju Volcanic Pore range. I will share the other reviews soon. The only con with this toner is the high price which is HUGE even when you compare it with high-end brands' toners. If price is not a concern for you and you have combination to oily skin you should try this toner.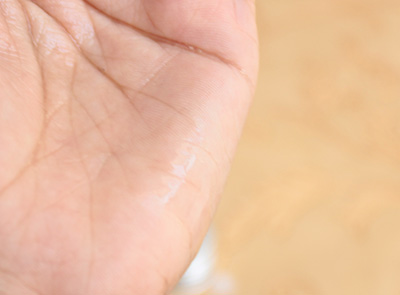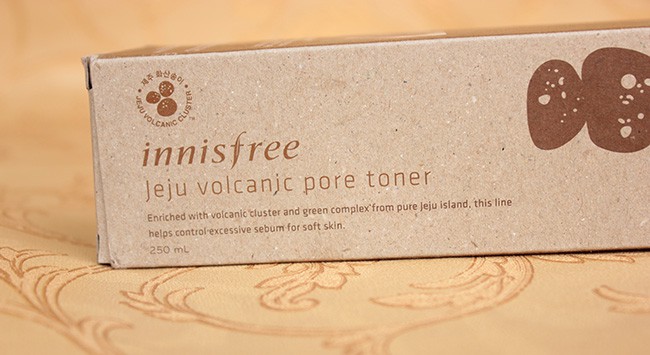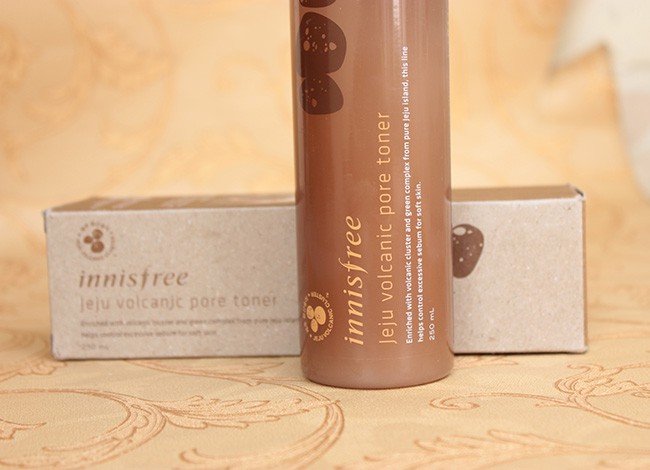 You might also like reading these related topics:
Clinique Clarifying Lotion 3 Review-Combination Oily Skin
H2O Plus Aqualibrium Marine Toner Review
Biotique Bio Cucumber Pore Tightening Freshener Review
Votre Pore Shrink Toner Review
JAFRA Brightening Toner Review