Face scrubs are an essential part of my weekly skincare routine and I love experimenting with new ones. I spotted St Ives Blackhead Clearing Green Tea Scrub in shoppersdrugmart and it immediately caught my attention. Green tea is good for health so I wanted to see how effective its products will be on the skin. For that matter I have been using this scrub for last couple of weeks which gave me enough time to judge the efficacy and share the results with you.
What the product says
Contains 1% Salicylic acid which helps to clear blackheads. Unclogs dirt and oil from pores, helping clear blackheads. Instantly reveals skin's natural radiance. Made with a 100% naturally sourced exfoliant. Moderate exfoliation scrub factor level. Hypoallergenic & Paraben free. Dermatologist tested & non-comedogenic (meaning it doesn't block your pores).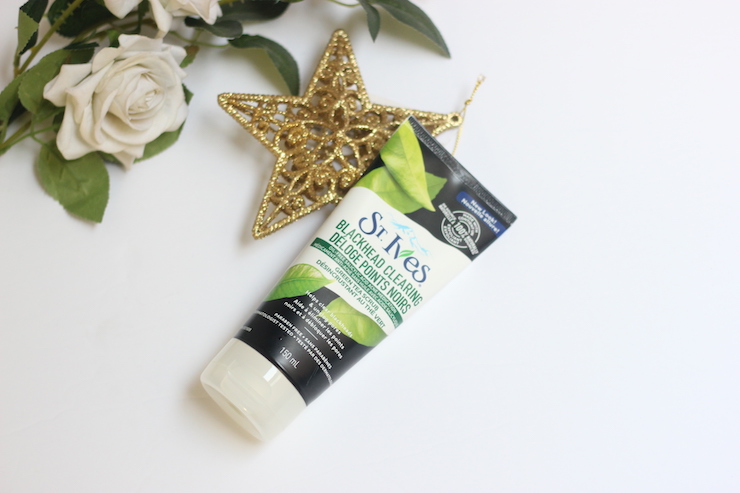 Skin Type: Combination to oily
My take on 'St Ives Blackhead Clearing Green Tea Scrub'
It comes in an easily squeezable tube that has a flip open cap. Using the tube is fairly easy as you just need to press at the bottom to take out the required quantity. The cap closes properly keeping the contents sealed and uncontaminated. I like such packaging as it maintains the hygiene as well as control the quantity to be used.
This scrub is light green in color and has a granular texture. The scrub particles are quite fine but you can still feel them doing the job. It has a very pleasant fragrance that adds to the refreshing experience. Personally, I feel because of the gentleness of scrub particles it will be a nice option for all skin types.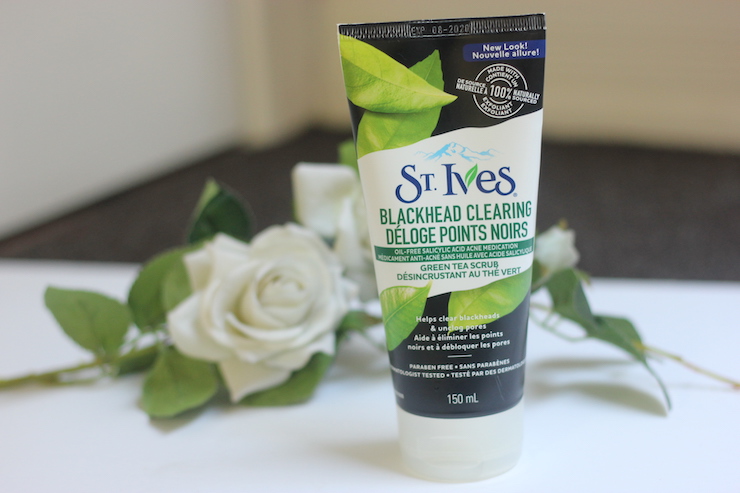 To start with, I used this product to remove the blackheads from the nose and the moved to the whole face. I take a small quantity on my finger tips and spread the scrub on my nose and face gently moving the fingers in circular motion focusing on the areas where I have more blackheads. This massaging goes on for 2-3 minutes and then I just rinse of with regular tepid water and pat it dry.
Right from the first day I used this scrub I was amazed to see the results. It literally makes the skin clean and glowing. You could clearly spot the before and after difference. The blackheads were majorly gone unclogging the pores and letting the skin breathe. The brand recommends using the scrub twice or thrice a day only if it suits the skin type in order to uproot the blackheads completely. Luckily in my case the blackheads were not that stubborn and were almost gone in one go, so I use it twice or thrice in a week followed by a skin plumping face mask.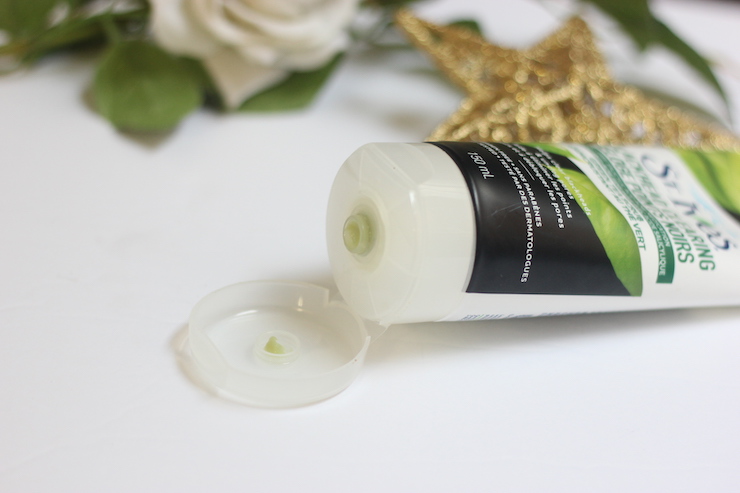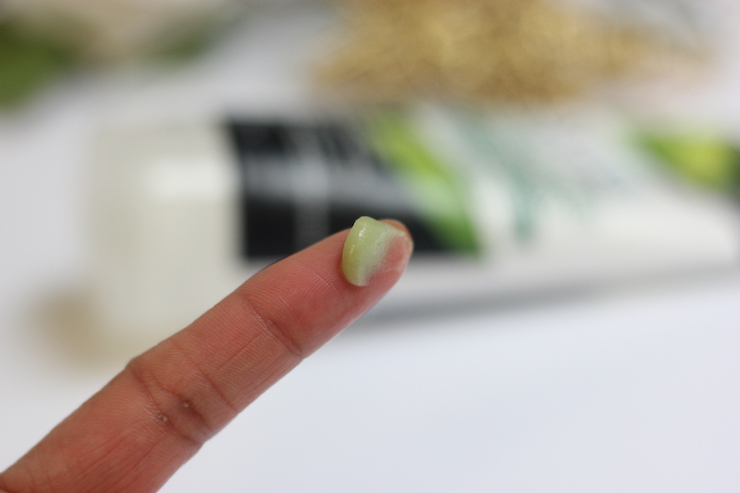 If you need to know more about the usage instruction here the recommendations from the brand:
Apply product to a small area once a day for three days to test if you are sensitive to this product. If no discomfort occurs, dispense scrub onto fingertips and massage onto damp skin. Spread in small circular motions, then rinse and glow! Start with one application daily, and then gradually increase to two or three times daily, if needed. If dryness or peeling occurs, reduce application to once a day or every other day. Do not use if inner seal/foil is missing or broken.
Things I like about 'St Ives Blackhead Clearing Green Tea Scrub'
– Effectively removes blackhead.
– Unclogs pores.
– Cleans the skin.
– Adds glow.
– Makes the skin look healthy.
– Pleasant fragrance.
– Gentle yet effective scrub particles.
– Does not cause skin breakouts.
Things I do not like about 'St Ives Blackhead Clearing Green Tea Scrub'
– Nothing I can think of.
Price of 'St Ives Blackhead Clearing Green Tea Scrub'– CA 9.30
BABE Rating: 5/5
Final Word: This scrub has really won my heart. Its pleasing fragrance and gentle scrub particles make the exfoliation a fun activity. It efficiently removes the blackheads and makes the skin clear. I am happy to see a glow on my face every day now.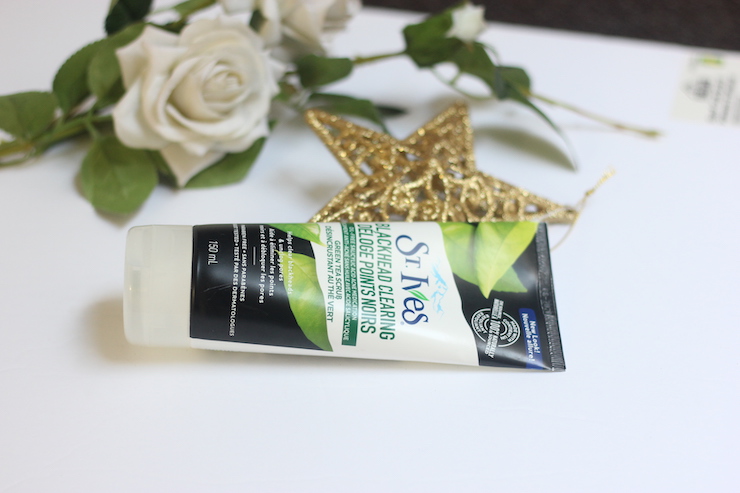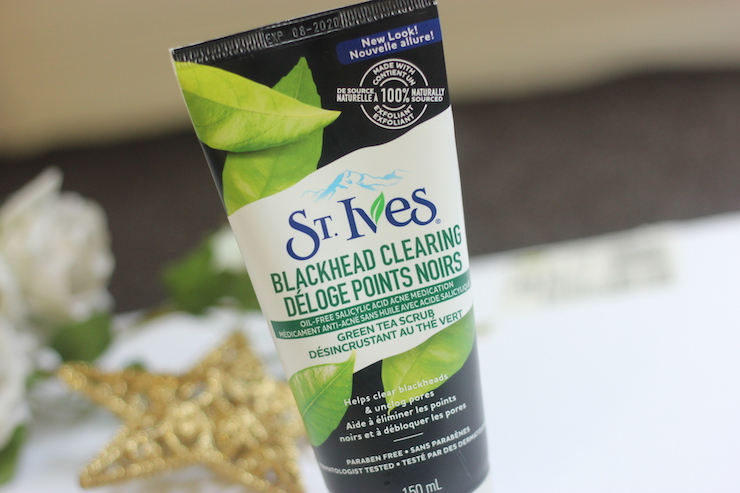 You might also like reading these related topics
L'Oreal Paris Pure Sugar Nourish And Soften Cocoa Scrub Review Price
Clinique 7 Day Scrub Cream Rinse Off Formula Review
Clinique Exfoliating Scrub Review
L'Oreal Paris Pure Clay Red Algae Exfoliating Scrub Review
Innisfree Jeju Volcanic Pore Scrub Foam Review
Himalaya Herbals Gentle Exfoliating Walnut Scrub Review
Neutrogena Deep Clean gentle face scrub
Neutrogena deep clean blackhead eliminating daily scrub review
Lotus herbals white glow oatmeal yogurt skin whitening scrub review