Since the winters have arrived here in Sydney, my skin has been going all rough and flaky. To make things worse my all time favorite Clinique exfoliating scrub got over and I could not get a chance to replace the empty tube. My skin was becoming extremely dry, so in order to compensate some of the damage done I bought the newly launched L'Oreal Paris Pure Clay Red Algae Exfoliating Scrub. I have been using this scrub for over two weeks now and ready to share my review. Let's see how I find this new launch from L'Oreal Paris skincare.
What the product says
A unique combination of 3 pure clays + red algae: Kaolin absorbs impurities and excess oil, Montmorillonite purifies and re-balances the skin, reducing imperfections and
Ghassoul absorbs impurities and oil without causing irritation, leaving skin smooth, fresh and radiant.
Instant and visible results: your skin is deeply cleansed & its texture is refined. Pores are tightened and irregularities are reduced. Your skin becomes smoother. It is visibly transformed, more uniform and beautiful.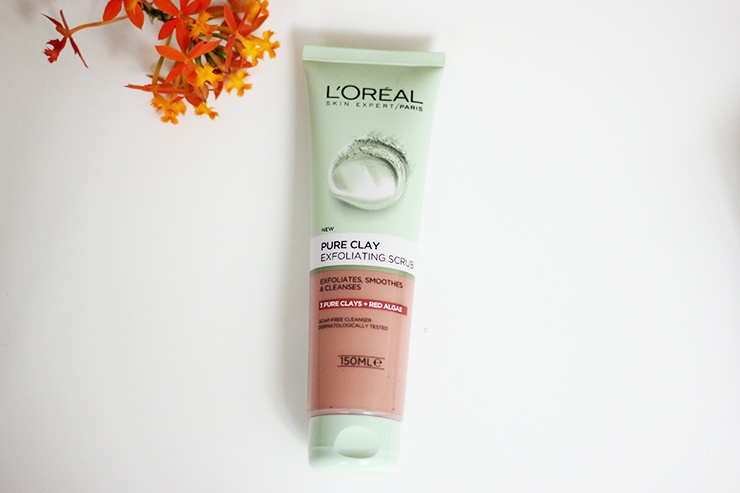 My Skin Type- Combination to oily
My take on 'L'Oreal Paris Pure Clay Red Algae Exfoliating Scrub'
The packaging is simple but the color combination of the tube and ingredient list are what inspired me to add this scrub to my skincare regime. It is mint colored flip open tube. The tube is transparent near the cap. It gives a vague idea about the quantity left in the tube, and obviously the color of the scrub. The back of the tube contains the ingredient list, usage instructions, and benefits. The tube is easy to squeeze, even in this cold season I do not have to put much effort to ooze out the scrub. It is a 150 ml tube so you a whole lot of product that will last for a really long time.
The scrub is brick red in color. Some people might mind the color of scrub but I actually like it, and it is one of the reasons that led me to purchase the scrub. The fragrance is very pleasant. It is a mix of heavenly scents and gives a nice relaxing cleanse. The scrub contains tiny particles that are quite minute and do not feel harsh against the skin. I am used to little rough scrubs as those give me the satisfaction of clean and clear skin. I am sure if you like gentle exfoliating scrubs you would like the composition of this one.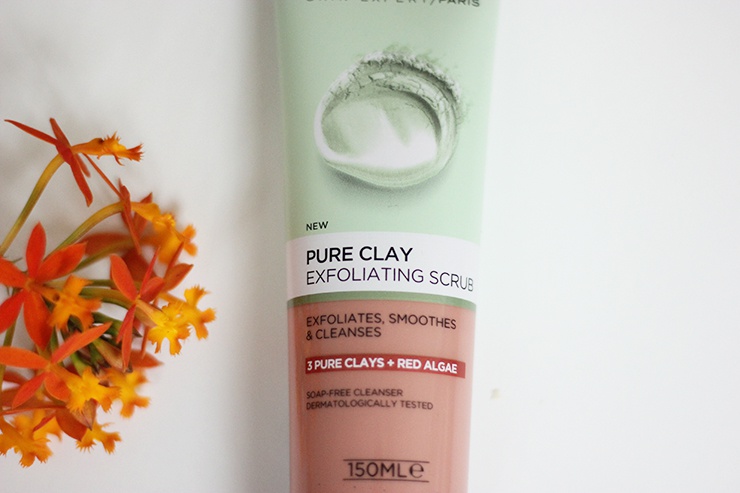 The frequency of usage is not mentioned anywhere on the tube but because it is a light scrub so I use it every other day. A tiny bit is sufficient for a single use. It produces abundant foam and gives a clean feel. Though I do not get the same feel as I get post using the Clinique scrub still this one seems ok for regular usage. I apply it on clean damp skin massaging the product in circular motion. After a couple of minutes of massage, I rinse it off and apply either the face mask or directly the moisturizer. For a day, it gives a clean feel- without any blackheads or Whiteheads. But very soon I start to feel the rough protruded skin on the chin and nose, and that is why I have to use it every other day. The good thing is it does not cause any skin breakouts and neither any other irritation on the skin.
The formulation is impressive. It contains Kaolin, red algae, Montmorillonite and Ghassoul. All these ingredients believe to work best on oily skin. They remove the imperfections, excess oil without leaving the skin dry. Since I have started using this scrub my skin has stopped shining like a tube-light. It oozes a balanced glow that neither makes the skin greasy nor flaky. However, I do not notice any difference in the pore size but they definitely seem clear.
Things I like about 'L'Oreal Paris Pure Clay Red Algae Exfoliating Scrub'
– Gentle everyday scrub.
– It does not cause any skin breakouts.
– Pleasant fragrance.
– Controls oil secretion.
– Makes the skin clear.
– Less is more.
– Generates abundant lather.
– Convenient to use.
– Easy to rinse off.
– It does not leave any oily residue on the skin.
Things I do not like about 'L'Oreal Paris Pure Clay Red Algae Exfoliating Scrub'
– It does not give long lasting results.
– I prefer little bigger scrub particles as they give better satisfaction.
– The frequency of use is not mentioned anywhere.
Price of 'L'Oreal Paris Pure Clay Red Algae Exfoliating Scrub'- Around AUD 12
Ingredient list of 'L'Oreal Paris Pure Clay Red Algae Exfoliating Scrub'
Aqua / Water, Kaolin, Glycerin, Butylene Glycol, Zea Mays Starch / Corn Starch, Decyl Glucoside, Sodium Laureth Sulfate, Peg-7 Glyceryl Cocoate, Eucalyptus Globulus Leaf Extract, Zinc Gluconate, Moroccan Lava Clay, Carrageenan, Tetrasodium Edta, Xanthan Gum, Montmorillonite, Salicylic Acid, Phenoxyethanol, Ci 61570 / Green 5, Ci 77492 / Iron Oxides, Linalool, Geraniol, Coumarin, Citronellol, Parfum / Fragrance. (F.I.L. B198524/1).
Final Word- I like the ingredient list of this scrub as it is beneficial for my skin type. The foam generation, fragrance and quantity required for single use are also satisfactory. My only concern is that it does not give long lasting results. Only after one day of exfoliating the skin it again seems to go dry and rough on the nose & chin areas. Overall, this is a good everyday scrub but if you are looking for long term results this might give the desired outcome.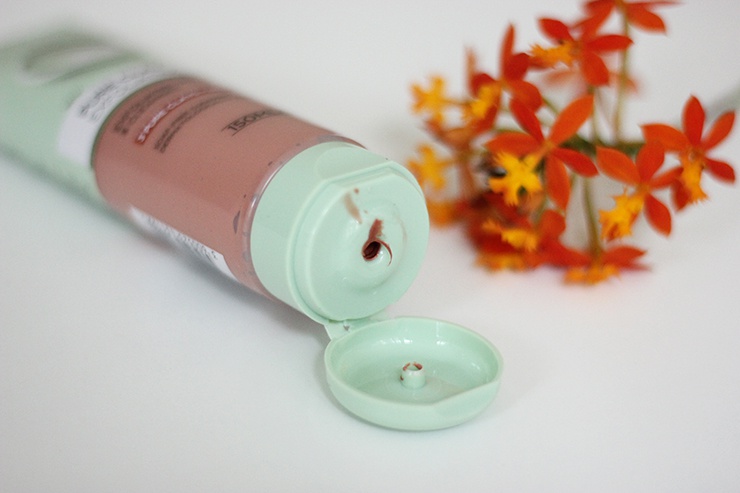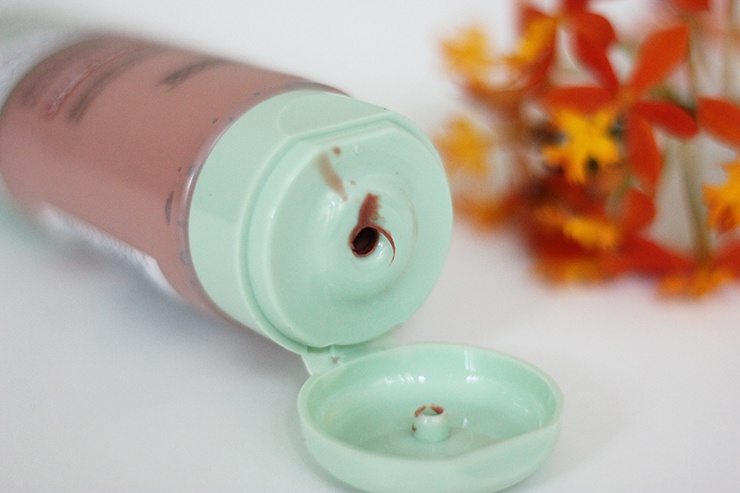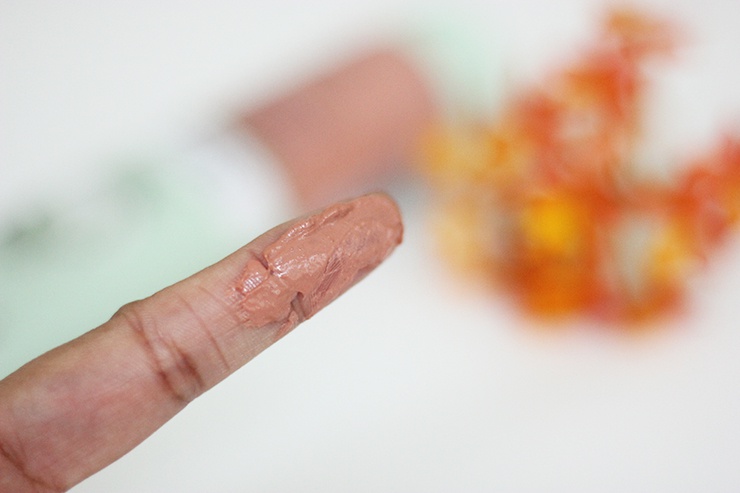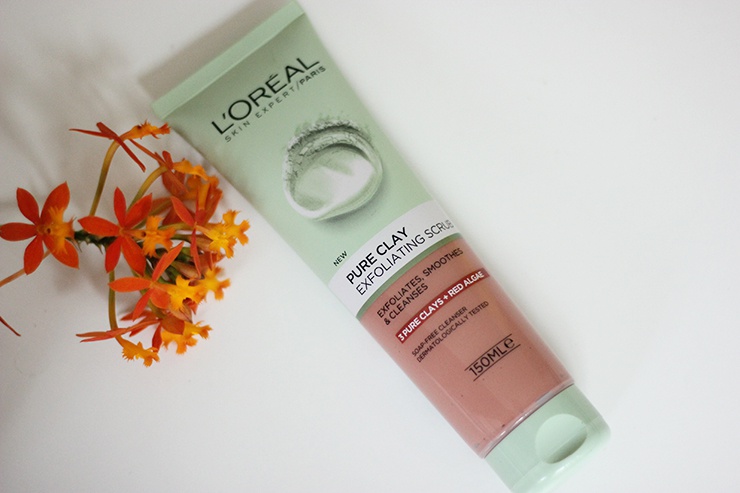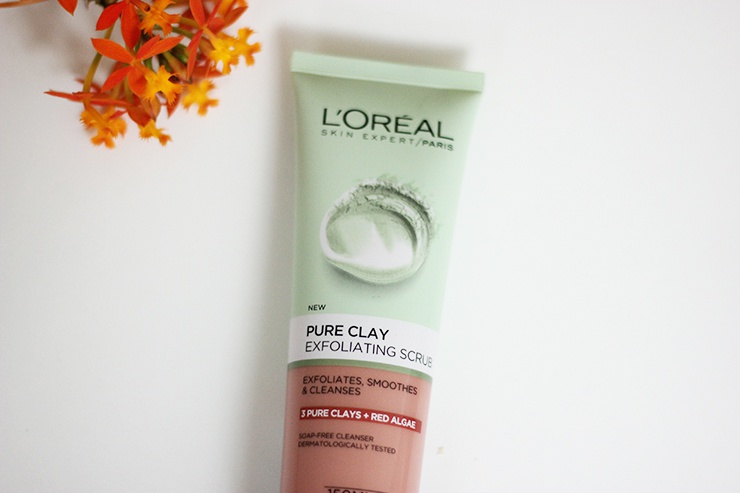 You might also like reading these related topics
Innisfree Jeju Volcanic Pore Scrub Foam Review
Clinique Exfoliating Scrub Review
Himalaya Herbals Gentle Exfoliating Walnut Scrub Review
Neutrogena Deep Clean gentle face scrub
Neutrogena deep clean blackhead eliminating daily scrub review
Lotus herbals white glow oatmeal yogurt skin whitening scrub review