Exfoliation and masking are essentials tasks of my weekly skincare routine. For a long time, I have been using the Clinique exfoliating scrub. I love this scrub as it has the exact coarseness that does not help smoothen out the skin but also gives a satisfactory feel. Still, I felt bored with it and wanted to use a different scrub for some time. That led me to buy L'Oreal Paris Pure-Sugar Nourish And Soften Cocoa Scrub. I have been using it for over three weeks now, and which gave me sufficient time to test it & share the reviews with you all. Let's get started then!
What the product says
Naturally derived blend of 3 Pure Sugars are paired with finely crushed Cocoa, luxurious coconut oil and rich cocoa butter. This buttery-soft sugar scrub is truly kind to your skin. This scrub with brown, blonde and white sugars, rich in minerals, melts into skin for gentle, yet effective exfoliation. Experience more supple, nourished skin on both face and lips with this exfoliating sugar scrub. See effective results immediately. Skin looks more refined, feels softer and smoother. Dirt, oil and impurities are effectively removed. Dull skin is gently polished away. Skin feels smooth and comforted. In 1 week: Skin feels nourished, softer, more supple. Dry skin is smoothed. Skin looks heathier, smoother, glowing.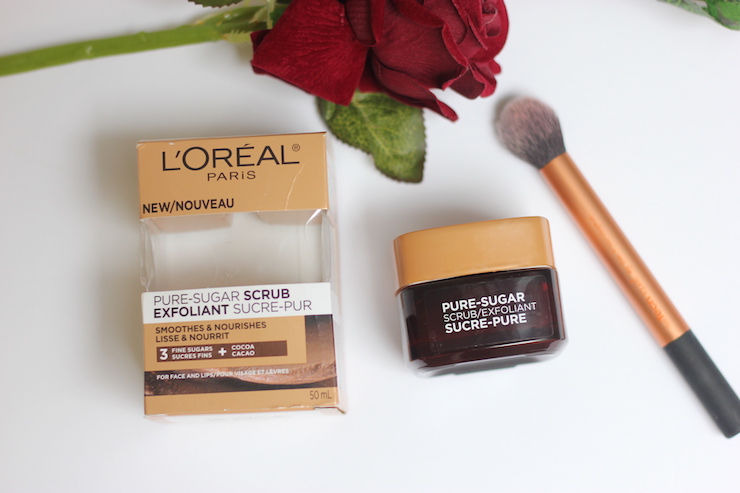 My take on 'L'Oreal Paris Pure-Sugar Nourish And Soften Cocoa Scrub'
The scrub comes in a square shaped glass tub, which is translucent with a screw-open cap. It is spill proof but heavy. For travelling purpose, I might not prefer carrying it in my handbag but since it is small in size it makes a good fit in the luggage bag. It comes in a very attractive cardboard packaging, which actually tempted me to buy it.
L'Oreal Paris has launched these sugar scrubs in three variants in Canada:
1) Nourish & soften cocoa scrub – for dry skin
2) Smooth & glow grapeseed scrub – for dull skin
3) Purify & unclog Kiwi scrub – for oily skin
All the scrubs are suitable for all skin types so I chose to go with cocoa variant. I love its yummy fragrance. It's so yum that I have to restrain myself from putting it in my mouth instead of face. Jokes apart this scrub is formulated with two wonderful ingredients- cocoa and coconut oil. The finely crushed cocoa smoothens out the skin gently, uprooting the blackheads and unclogging the pores. The cocoa butter and coconut oil help fight dryness giving the skin thoroughly nourished healthy look. In these three weeks, I have seen noticeable improvement in my skin health. It looks more smooth, bright and glowing now. Since the winters are already here and even my oily skin cannot bear these winter blows, I am hoping I will be able to beat the flakiness this time.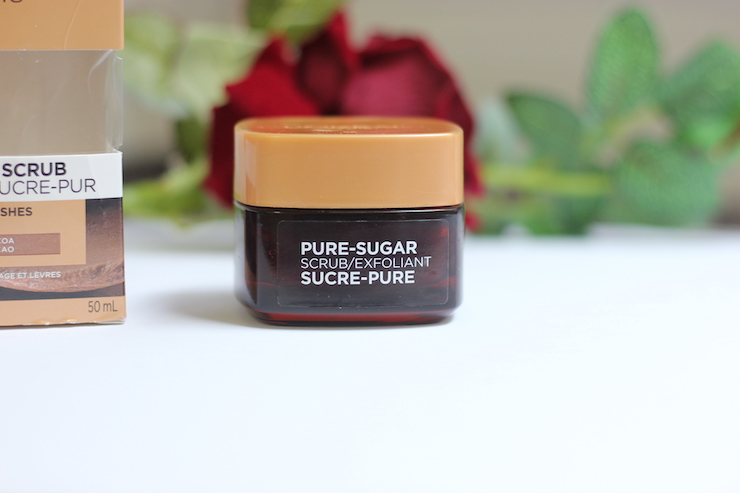 The only thing that took me some time to get used to this scrub is its coarseness. It is a very gentle scrub and if like me, you are also accustomed to coarse scrub particles, you might not immediately like this. And I think since it is gentle the brand has recommended to use it thrice a week for effective results.
As far as the usage is concerned, smooth a small amount with dry fingers onto clean, dry skin avoiding the eye area. Massage over face with wet fingers. Rinse with warm water. Use 3X a week. You can also use this scrub to smooth and refine lips, improving the overall look of lips. However, you should not use on chapped lips as that can aggravate the condition.
Things I like about 'L'Oreal Paris Pure-Sugar Nourish And Soften Cocoa Scrub'
– Gentle on the skin.
– Lovely fragrance.
– Smoothens out skin.
– Provides hydration.
– Uproots blackheads.
– Thoroughly cleans and unclogs pores.
Things I do not like 'L'Oreal Paris Pure-Sugar Nourish And Soften Cocoa Scrub'
– Very mild scrub particles.
Price of 'L'Oreal Paris Pure-Sugar Nourish And Soften Cocoa Scrub'- Around CA 14.99
BABE Rating: 4/5
Final Word: If you like gentle scrubs or have sensitive skin you should give this scrub a try. It gives a fresh feeling, smooth skin free of bumps and blackheads. The cherry on the cake is coconut oil, which hydrates the skin and combats dryness.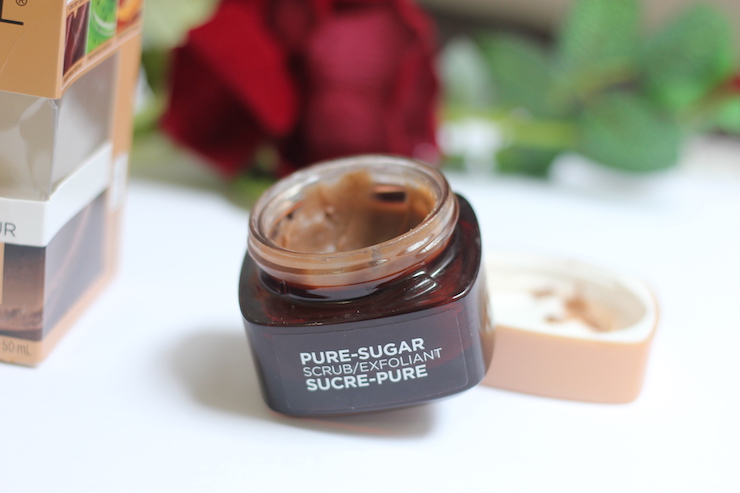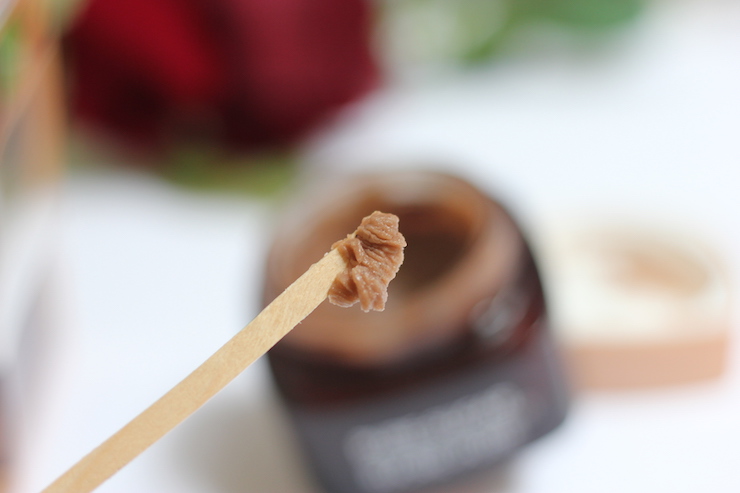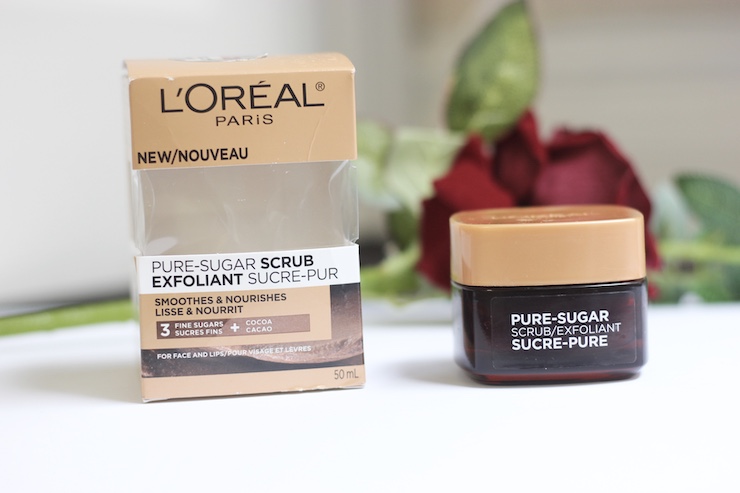 You might also like reading these related topics
Clinique 7 Day Scrub Cream Rinse Off Formula Review
Clinique Exfoliating Scrub Review
L'Oreal Paris Pure Clay Red Algae Exfoliating Scrub Review
Innisfree Jeju Volcanic Pore Scrub Foam Review
Himalaya Herbals Gentle Exfoliating Walnut Scrub Review
Neutrogena Deep Clean gentle face scrub
Neutrogena deep clean blackhead eliminating daily scrub review
Lotus herbals white glow oatmeal yogurt skin whitening scrub review