I have oily acne prone skin, and that's why I have to be very cautious while selecting my skincare products. Being a beauty blogger, I try different products, different brands that cater to oily skin's needs. Clinique is one my favorite skincare brands and I keep going back to it. Most of the Clinique products suit my skin type. My all-time favorite scrub is also from Clinique. If you have oily/acne prone skin you should check my review of this amazing exfoliator- Clinique Exfoliating Scrub. Since I am so much in love with this scrub, I thought of trying another famous scrub from Clinique 'Clinique 7 Day Scrub Cream Rinse Off Formula'. I have been using this scrub for last three weeks. This is good enough time to test the efficacy and share my thoughts with you all. Without another word let's quickly move on to the review.
What the product says
Dermatologist-developed exfoliating cream deflakes, refines. Helps minimize the appearance of fine lines. Clears the way for moisture.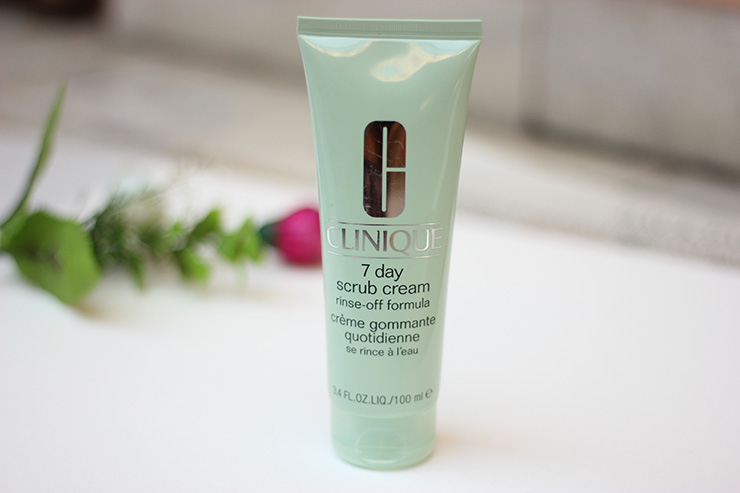 My take on 'Clinique 7 Day Scrub Cream Rinse Off Formula'
The scrub comes in a mint colored squeezable tube that has a flip open cap on the outlet. The cap is made of sturdy plastic and closes with sound. I prefer such caps as they kind of give assurance that the contents are sealed properly and there will be no leakage. I have even carried this tube in an overflowed bag which means the tube was stuffed with lots of other goodies. But luckily it survived with no leakage at all. The point is you can carry this scrub in a handbag or luggage bag without worrying that it will spoil the other stuff. So overall, the packaging is sturdy, convenient, hygienic, and travel-friendly.
As I have said earlier, my love for Clinique exfoliating scrub led me to purchase this Clinique 7 Day Scrub cream. Though from the same brand, these two scrubs totally differ in efficacy. I will come to the efficacy part later; let's first discuss the looks. Both the tubes look exactly the same in color, size, and font. The only thing that differs is the text. So when you purchasing the desired scrub make sure you pay attention to the name of the scrub before buying it else there are high chances that you might end up buying the wrong one.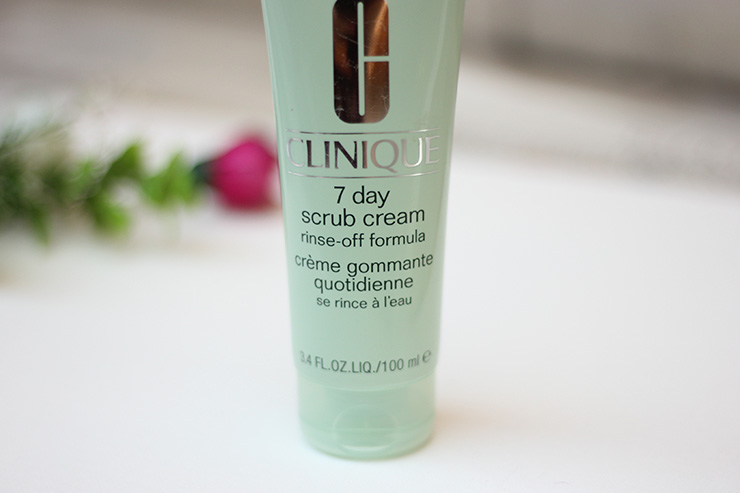 The Clinique 7 Day Scrub Cream Rinse Off Formula is a white colored scrub with a gritty texture. The look is similar to that of a powdery chalk but when I rub it between the tips of my fingers I can feel the grittiness. If I compare it with Clinique Exfoliating Scrub, the grittiness is way less. I would grittiness wise this 7 day cream is a milder version of the exfoliating scrub. Now, coming to fragrance, the 7 day cream does not have any fragrance at all. This is a good thing since I prefer my skin care products to be fragrance-free. No fragrance means fewer chemicals.
For the usage, initially, I was ambivalent to purchase this scrub because it is a daily scrub and I was worried that using it on my acne prone skin might lead to breakouts, which it did cause. So, when I started using this scrub it caused my skin to breakout but once the skin got used to it the breakouts stopped. In order to optimally use this scrub, I started using it every other week i.e. once a day for 7 days then a gap of 7 days and repeat. Though the brand recommends daily usage, I think it works for me better when I use it every other week.
Unlike other scrubs, it has to be used on makeup-free skin. This means you need to remove the makeup first and then use this scrub. The gritty particles feel gentle against the skin but somehow it does not give me satisfactory feel. At the end of a tiring day, I like using foamy cleansers as they make me feel clean and fresh. But this scrub does not generate any foam rather when I rinse it off with tepid water (after massaging for a couple of minutes) it gives a moisturizing feel as if I have applied a cream on my skin. It balances skin's moisture levels without causing any greasiness. I feel this will make it an appropriate daily scrub for all skin types. But if I say, as a scrub it works well in removing blackheads and whiteheads then that won't be true. I still have to use the Clinique exfoliating scrub twice a week to get that clean and utterly smooth skin. Also, the 7 day scrub lacks the after scrubbing mint feeling and that is another reason why I do not get a satisfactory sense from it.
Also, the brand says that there is no need to rinse off the scrub using water as it can be removed using tissue paper as well. However, I have tried doing that and could not find it pleasing since the sticky feel that stays behind can be only removed using water.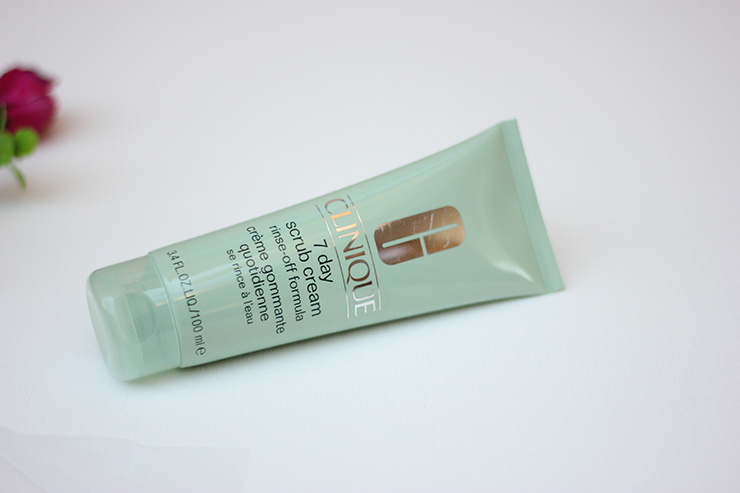 Things I like about 'Clinique 7 Day Scrub Cream Rinse Off Formula'
– Mild daily scrub.
– Makes skin smoother.
– Suitable for all skin types.
– Hydrates the skin.
– Hygienic, travel-friendly packaging.
Things I do not like about 'Clinique 7 Day Scrub Cream Rinse Off Formula'
– Does not completely remove blackheads/whiteheads.
– Has to be used on makeup-free skin.
– Even after using this scrub daily I still need to use my regular scrub for an absolutely clean-skin feeling.
Price of 'Clinique 7 Day Scrub Cream Rinse Off Formula'- Rs 2650 for 100ml
Final Word: Overall, considering all the positives and negatives of Clinique 7 Day Scrub Cream Rinse Off Formula, I think it can be given a skip. I would better invest in Clinique exfoliating scrub and a foaming face wash as by using these products together I will not only get clean skin but also save my pocket from getting a big hole.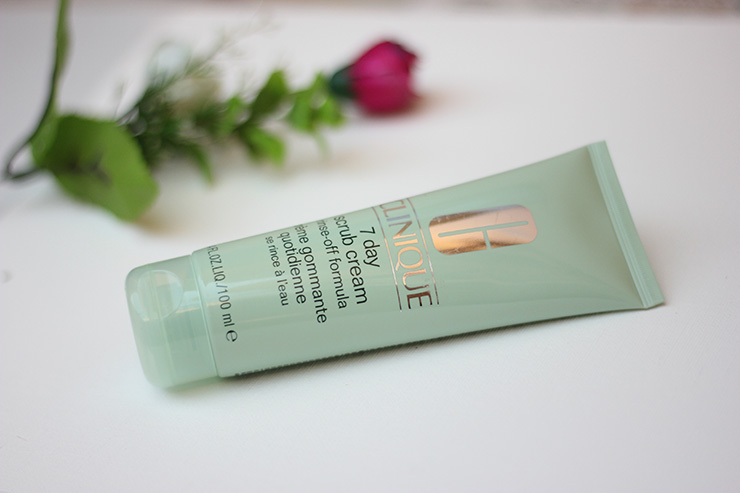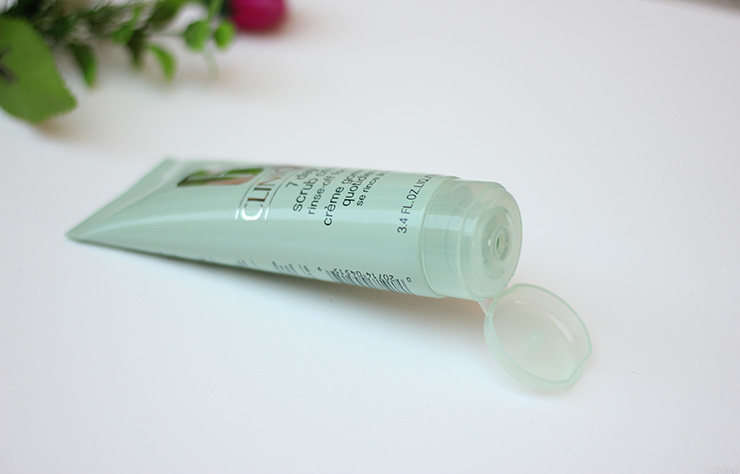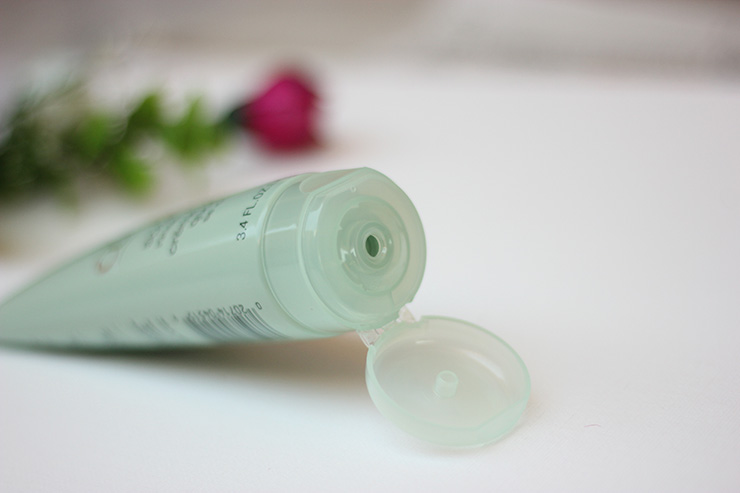 You might also like reading these related topics
Clinique Exfoliating Scrub Review
L'Oreal Paris Pure Clay Red Algae Exfoliating Scrub Review
Innisfree Jeju Volcanic Pore Scrub Foam Review
Himalaya Herbals Gentle Exfoliating Walnut Scrub Review
Neutrogena Deep Clean gentle face scrub
Neutrogena deep clean blackhead eliminating daily scrub review
Lotus herbals white glow oatmeal yogurt skin whitening scrub review