'The more the merrier' is an apt phrase for my nail polish collection. My fetish for these cute little polishes have been growing and growing. Different colors, different textures, different finishes… everything seems to be a reason to get a new one. The polish I am reviewing today has a captivating finish that had been on my wish list for quite long. I am happy to have added it to my collection eventually. Read further to know why I like this nail polish so much.
My Take on 'Sally Hansen Satin Glam Nail Color In Shade Teal Tulle'
Satin glam nail polishes come in a pyramid shaped glass bottle. It is a see-through bottle so you can easily see the color of nail polish before trying the testers. But I would strongly recommend trying these polishes before actually purchasing them. Reason being they show up different on nails. It's not the color but the finish that makes them stand out. Nonetheless, they can be made to fit anybody's liking. How? Read through and you will come to know.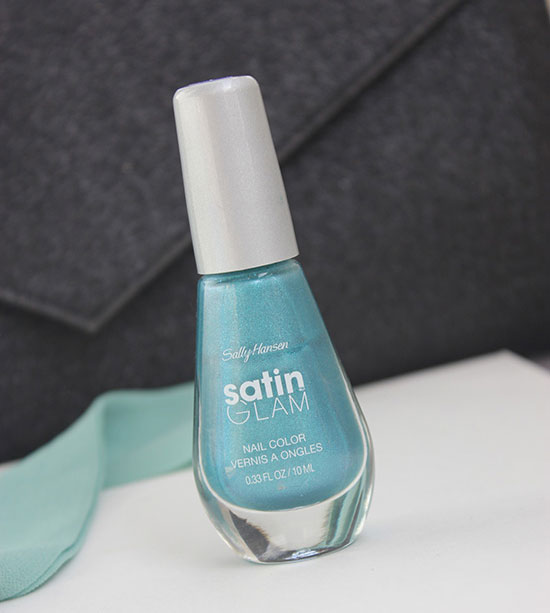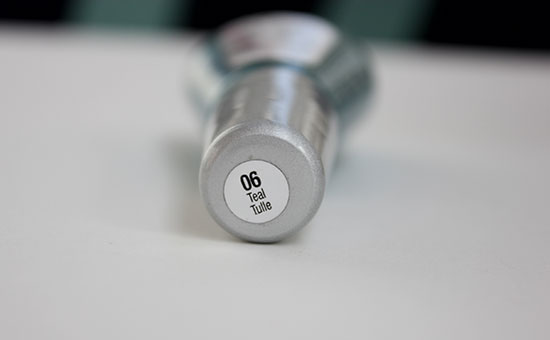 It has long brush holder that I really like. It makes the application even easier. The brush is not extraordinarily thick but thick enough to cover nail beds in just two strokes without crossing the boundaries.
As the name says, the texture is satiny smooth with lots of shimmer. It is a non-streaky nail polish that gives an opaque look in just two strokes. The bottle looks quite bright, and while you are applying it you see the same color being transferred to the nails. Wait; do not get dazed with your new nail hue. A moment of sudden surprise awaits you when the polish dries, which as a matter of fact do not take long. It dries instantly (literally). I mean it dries in fraction of seconds; the moment you finish covering one nail and ready to jump on another you will find the later one completely dry and ready for second coat. Guess what, the dried coat does not look the same as the wet one.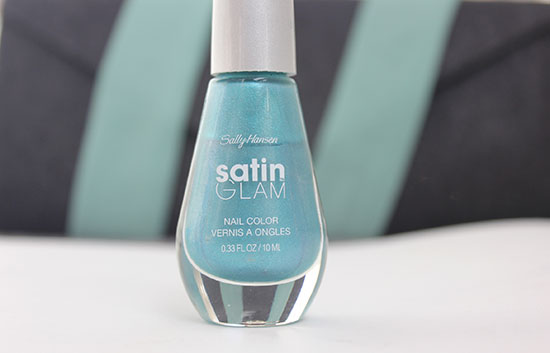 Once this polish dries, it gives the true matte look. So true that even my husband is able to spot I am wearing a matte nail polish. Now you can imagine how matte it becomes! I love matte nail polishes, and had been looking for one for really long. I did not know this would give a matte finish until I applied it. And that was the moment of surprise for me. It looks so beautiful, so decent with all the shimmer and matte effect. There's loads of shimmer to Teal Tulle, and in sunlight it bursts out through the satin finish. On the contrary, if you do not like matte effect you can wear a top coat that would make it glossy. It brings a prominent difference to this satin shimmery look.
As far as longevity is concerned, in matte look it stays put for 3-4 days after which the polish start chipping from tips. However, if you are wearing a top coat it can last for couple of more days. Either ways there is no fading of shimmer.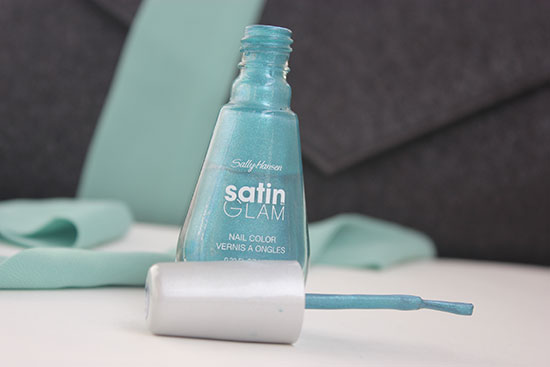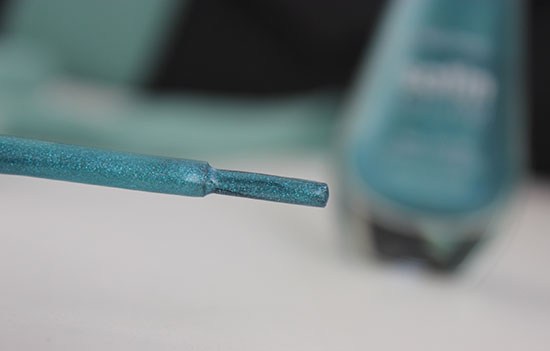 What I like about 'Sally Hansen Satin Glam Nail Color In Shade Teal Tulle'
– It dries instantly.
– It has perfect matte finish.
– Bright teal shade with beautiful satin shimmer.
– It can be worn either matte or glossy.
– It has long brush handle that makes the application easy.
– Two coats are enough for that opaque look.
What I do not like about 'Sally Hansen Satin Glam Nail Color In Shade Teal Tulle'
– It would suit medium to very fair skin tones.
– Requires a base coat, otherwise stains nails.
Swatches without top coat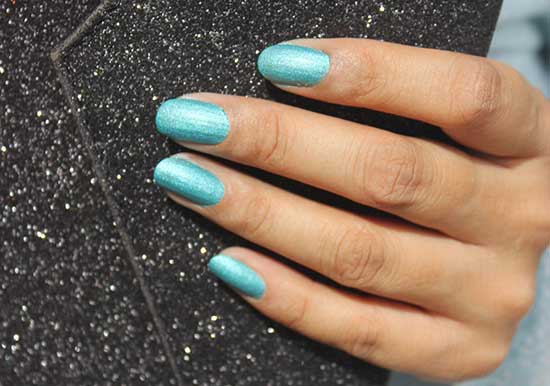 Swatches with top coat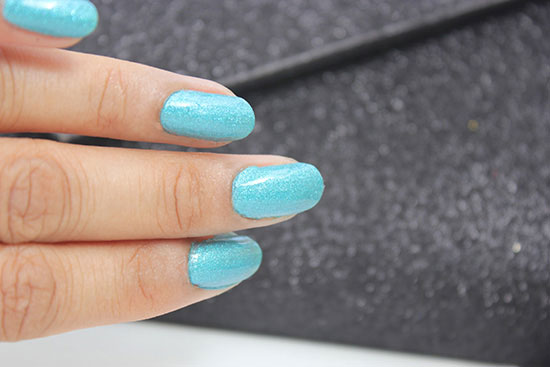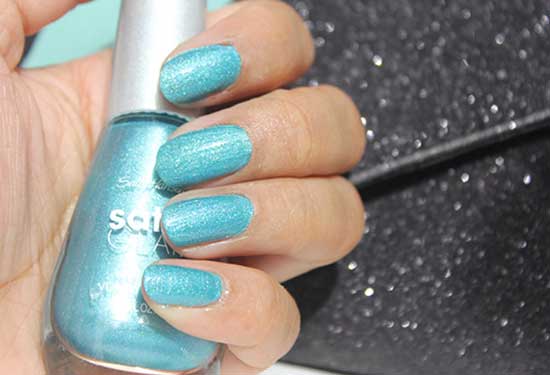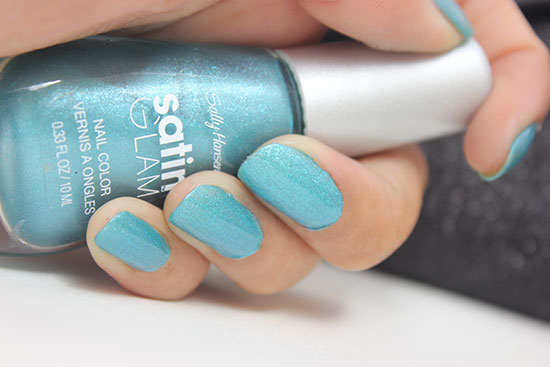 Camera lens cannot capture the tiny shimmer particles. You have to wear to actually see the shimmer, and believe it looks like sky full of twinkling stars.
Price of 'Sally Hansen Satin Glam Nail Color In Shade Teal Tulle': USD 3.67
BABE Rating: 4/5
Final Word: Teal tulle is a beautiful satin textured nail polish that is gorgeous either way. Depending upon your mood, you can convert it from matte to glossy and vice versa. The gorgeous shimmer particles are quite dense and enhance the beauty of your nails even more. It is the exact teal shade and matte finish I would ever look for. I just love it.
You may also like reading these related topics
Maybelline Color Show Glitter Mania Nail Paint-Dazzling Diva (602) Review,Swatches
Maybelline Color Show Glitter Mania Nail Paint – All That Glitters (601) Review
Maybelline Color Show Glitter Mania Nail Paint – Pink Champagne (607) Review
Maybelline Color Show Nail Polish Ladies Night Review Swatches
Maybelline Color Show Mint Mojito Nail Polish Review Swatches
Maybelline Color Show Nail paint Nude Skin (015) Review
Maybelline New York Color Show Nail Paints
Maybelline Color Show Nail Polish Keep Up The Flame 215 Shade Swatch Review
Maybelline Color Show Nail Polish Crazy Berry Review Swatch
Revlon Nail Enamel Polish in Shade Cherry Berry 421 Review Swatch
Maybelline Color Show Nail Polish Moon Beam 103 Review Swatch
Lakme Free Spirit D416 Nail Polish Review Swatch
Lakme True Wear N236 FreeSpirit Nail Polish Review Swatch
Wet n Wild Megalast Salon Nail Color- 213C On A Trip Review
Wet n Wild Megalast Salon Nail Color – 201C Wet Cement Review, Swatch
MAC Nail Lacquer Morange Review and Swatch