Hi Everyone,
Here is another review on Maybelline Color Show nail polishes but this time it is a different range – Glitter Mania. These nail polishes are formulated to give sand-texture and 3D shimmer effect. Maybelline has launched 8 stunning glitter mania shades for every mood; Dazzling Diva is one of them. Keep reading to know how it fared on my nails, and my liking for this nail polish.
My Take on 'Maybelline Color Show Glitter Mania Nail Paint-Dazzling Diva'
Maybelline glitter mania nail polishes come in a similar packaging as regular color show nail polishes except the see through glitters and the sparkling glitter mania written on the black cap that works on the principles of twist and screw. The bottle is not sturdy enough to survive an accidental fall on the floor so be cautious while you handle these cute nail polishes.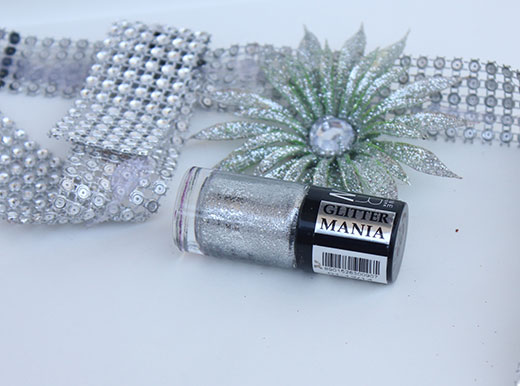 Unlike regular color show polishes, glitter mania has sand texture that is gritty and prominent. If you want to pain your nails differently, this is the range for you. It gives a 3D shimmer effect to your fingertips and that too effortlessly. Moreover, with 8 glittering nail color shades to choose from, you're sure to find the perfect shade per your liking.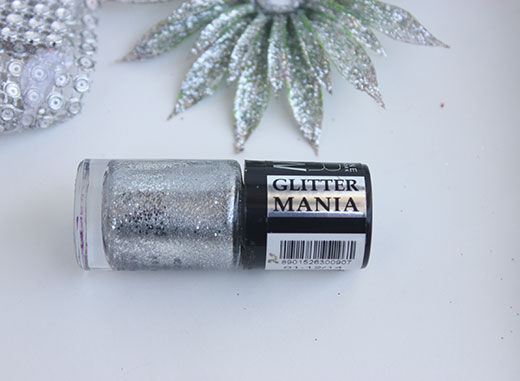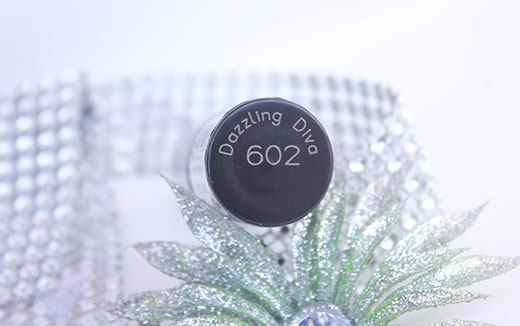 Dazzling diva is a beautiful silver nail polish with unique sand-textured effect. The base feels matte with the silver shimmer particles on top. Upon touching, I can feel the gritty texture on my fingertips but it does not come in the way of anything. On the contrary, it gives a different look from what is achieved with usual satin textured nail paints.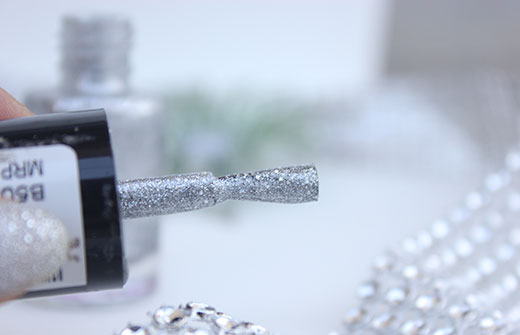 The shade goes perfectly on medium to fair skin tones, and with all kind of ethnic & contemporary outfits. If you are a nail art freak you would love to experiment with this nail shade because of the sand-texture and 3D shimmer technology.
As far as application is concerned, be carefree while you apply it on nails. No streaking, no transparency – just in 2 coats it gives flawless opaque nails. Your prowess in applying nail polishes takes a back seat as this is the easiest nail polish to apply without the fear of not-attaining-perfection.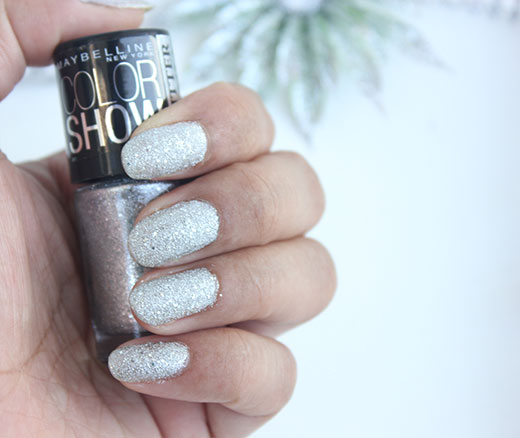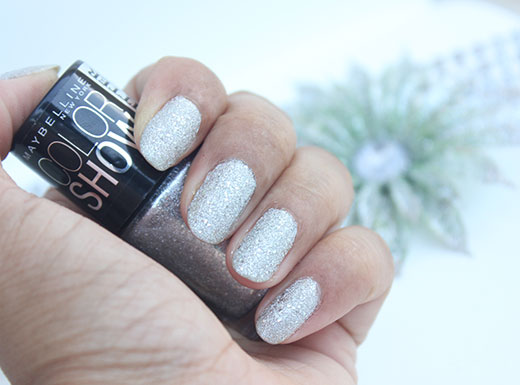 The gritty texture makes it stick to the nails for really long. I have worn it for 5 days at a stretch and it did not chip off at all. The shimmer does fade a little but nothing of the sort that would make you remove it. In fact, removing this polish is a task in itself. I would say application does not take so much time as removal does. But that formulation is what that makes the polish stay on nails for longer.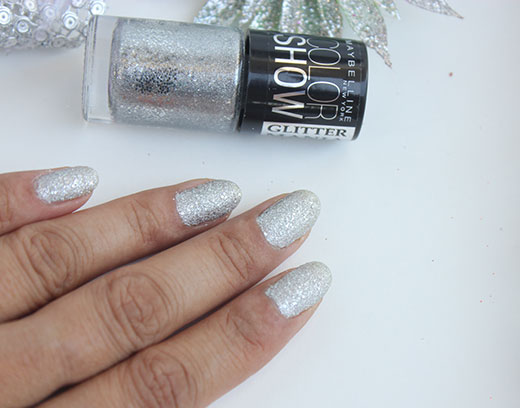 What I like about 'Maybelline Color Show Glitter Mania Nail Paint-Dazzling Diva'
– Dazzling diva shade goes perfectly with western and ethnic looks.
– Because of the sand texture it is easy to apply.
– It dries quickly even after two coats.
– It stays on perfectly for 4 days without any chipping.
– 8 glittering shades to choose from.
What I do not like about 'Maybelline Color Show Glitter Mania Nail Paint-Dazzling Diva'
– Difficult to remove, because of that trait it also stays on intact for long.
– The shade may suit only fair to medium skin tones.
Price of 'Maybelline Color Show Glitter Mania Nail Paint-Dazzling Diva': INR 125 for 6 ml
Online Availability: Maybelline Color Show Glitter Mania from Flipkart.com
BABE Rating: 4.5/5
Final Word: Dazzling diva is fashionable glittery nail paint that enhances the beauty of your nails without putting in a lot of efforts. Plus, the long staying power of this nail polish makes it a go-to shade of nail-paint freaks like me. Above all, the sand texture and 3D shimmer effect makes this nail polish every nail-art lover's dream.
You may also like reading these related topics
Maybelline Color Show Glitter Mania Nail Paint – All That Glitters (601) Review
Maybelline Color Show Glitter Mania Nail Paint – Pink Champagne (607) Review
Maybelline Color Show Nail Polish Ladies Night Review Swatches
Maybelline Color Show Mint Mojito Nail Polish Review Swatches
Maybelline Color Show Nail paint Nude Skin (015) Review
Maybelline New York Color Show Nail Paints
Maybelline Color Show Nail Polish Keep Up The Flame 215 Shade Swatch Review
Maybelline Color Show Nail Polish Crazy Berry Review Swatch
Revlon Nail Enamel Polish in Shade Cherry Berry 421 Review Swatch
Maybelline Color Show Nail Polish Moon Beam 103 Review Swatch