Hi Everyone,
I love nail paints, but I seldom muster the courage to wear deep hues. As exceptions are always there, some bright nail shades are close to my heart and I keep adorning them often. Lakme free spirit D 416 is one of them, and I have been using it for a long time. This must have been my 3rd or 4th bottle of this nail polish. I know it sounds awkward, I mean how can a girl keep wearing the same nail paint and not get fed up of it! Well, as you go down this page you will see the reason why I am so much sticking to this shade. I bet if you love red color you will surely not be able to restrict yourself from loving this nail polish as well.
My Take 'Lakme Free Spirit D416 Nail Polish'
This nail paint comes in a 9 ml glass bottle. The packaging is sturdy enough to survive a fall on cemented floor but from a certain height. If you through it from a ten feet distance I am sure nobody can stop it from getting shattered. Because of the transparent bottle you can see the color of the nail paint, but it would be slightly different when you apply it on nails. The brush holder is long enough to make the application easier. The bristles are of medium thickness and cover only one half of the nail bed at a time. Hence, you need at least apply two strokes to cover the entire nail.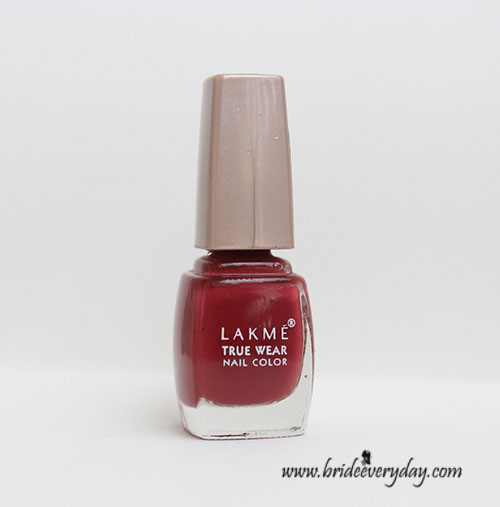 This red shade is neither too bright nor too dull. With black undertones, it looks lovely on all skin tones. Every time I have worn this nail polish, I have been specifically stopped and asked its shade number. This is the kind of shade that fits in every occasion. I wear it to office, to professional meets and to parties. It enhances the beauty of hands. If worn with western outfits it gives a glamorous and sophisticated look.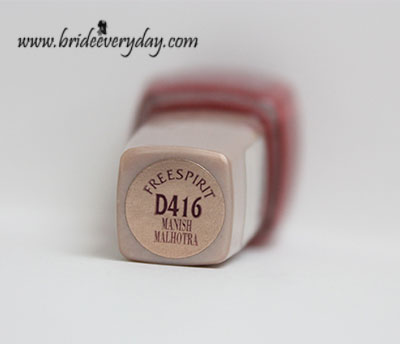 The finish is very much salon like – non-streaky and glossy. The first coat gets dried very soon, but to get an opaque look I usually go for 2 coats, and the second coats takes some time in drying. Some people say that to curtail the drying time we should dip the nails in ice-cold water but every time I have done so it took the sheen off the nail paint. So I would better be patient and wait until the paint is absolutely dry.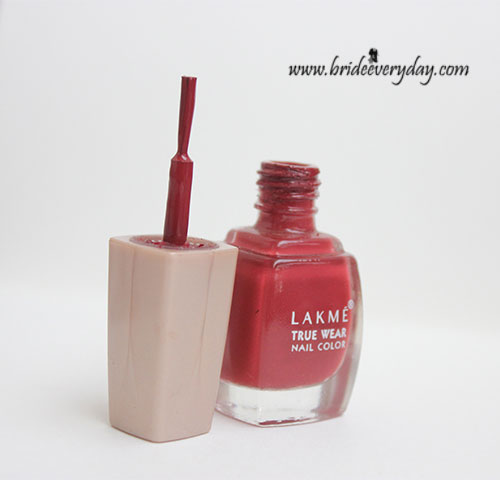 For the chipping part, it does stay on intact for long but the glossiness starts fading just after a couple of days. In case you do not like the semi-matte look you can apply a transparent coat on top to reinstate shine.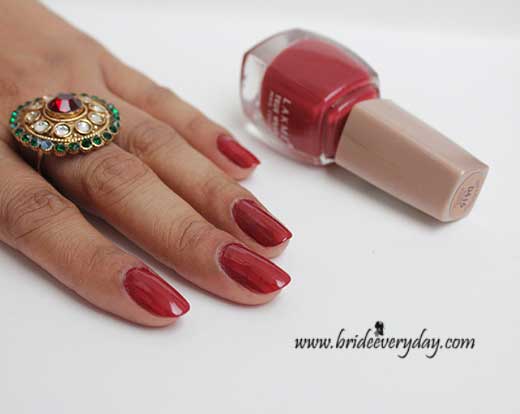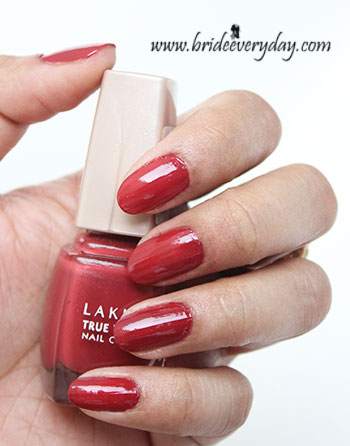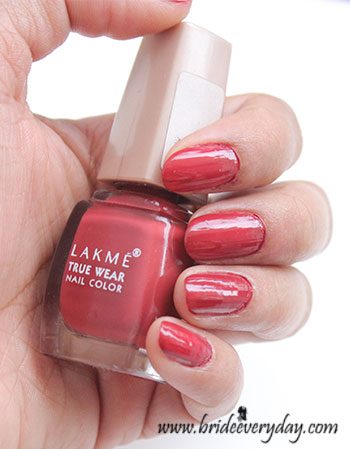 What I like about 'Lakme Free Spirit D416 Nail Polish'
– Elegant red shade that would suit all skin tones.
– Perfect non-streaky salon finish.
– It does not chip off easily.
– The brush bristles are wide enough to cover half nail bed at one time.
– Length of brush holder is sufficiently long for a convenient application.
What I do not like about 'Lakme Free Spirit D416 Nail Polish'
– It takes some time in drying.
– As with all Lakme Free spirit nail polishes the holder cap comes off easily.
Price of 'Lakme Free Spirit D416 Nail Polish': INR 100 for 9 ml
BABE Rating: 4.8/5
Final Word: D416 is a soothing variant of red nail polishes. The salon like appearance magnifies the beauty of hands. The shade is appropriate for each and every occasion. Irrespective of what attire it is worn with it intensifies the overlook and gives an aura of sophistication.
You may also like reviewing these related topics
Lakme True Wear N236 FreeSpirit Nail Polish Review Swatch
Maybelline Color Show Nail Polish Moon Beam 103 Review Swatch
Maybelline New York Color Show Nail Paints
Maybelline Color Show Nail Polish Keep Up The Flame 215 Shade Swatch Review
Maybelline Color Show Nail Polish Crazy Berry Review Swatch
Maybelline Color Show Nail paint Nude Skin (015) Review
Maybelline Color Show Glitter Mania Nail Paint – All That Glitters (601) Review
5 Different Nail Paint Shades In Brown And Golden
Carry Newspaper On Your Finger Nails Using Newspaper Nail Art
My Recent Favourite Nail Paint Swatches – Volume 2
How to do blended nail art using sponge at home
My recent favorite nail paint swatches – Volume 1
How to do nail art designs at home – Tutorial
MAC Nail Lacquer Morange Review and Swatch
Revlon Nail Enamel Polish in Shade Cherry Berry 421 Review Swatch
Wet n Wild Megalast Salon Nail Color- 213C On A Trip Review