Keep Me Coral is the second out of the four shades I picked from the Maybelline superstay 14HR megawatt lipstick range. For last few days, I have been testing these lipsticks. Though I still won't be able to tell my favorites till now but that will not hinder the detailed reviews of each of these shades. By the time, I will be posting the forth review I am hoping to know my favorite shades. For today, let's see my experience with Keep Me Coral lipstick.
What the product says
Our Superstay 14hr Lipstick is super charged with high voltage colour to make statement bold lips. No dullness, no dragging, just weightless colour that lasts the distance.
Why You'll Love It
• Electric pigments for supercharged colour
• 14hr longwear that lasts
• Lightweight formula with no dragging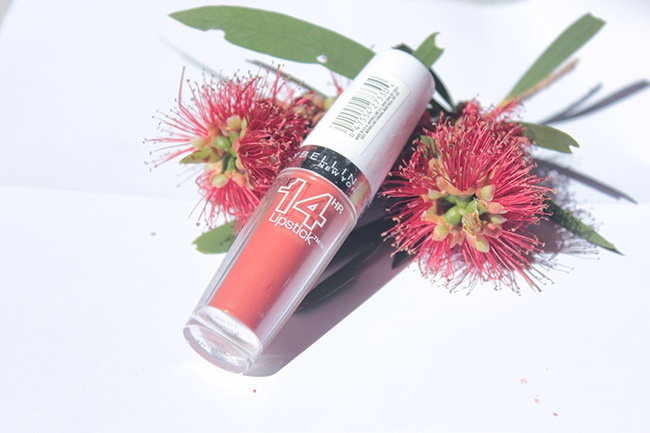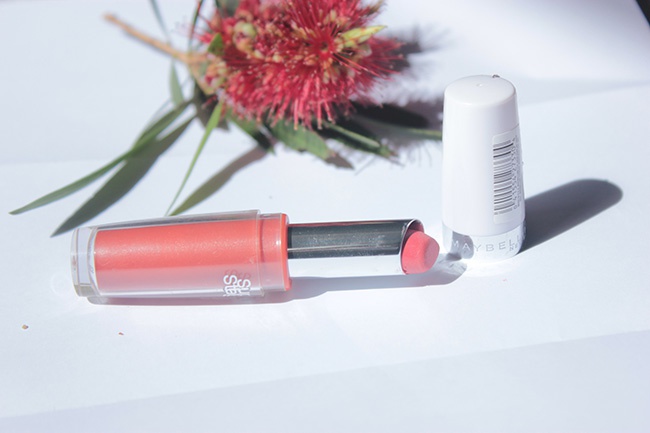 My take on 'Maybelline Superstay 14HR Megawatt Lipstick in Keep Me Coral'
Maybelline superstay lipsticks come in sleek plastic packaging that has transparent bullet holder and white cap. The shade name is mentioned at the base of the lipstick. Though the transparency of the tube lets you see the shade of the lipstick but it is not the true shade. I would recommend trying out the tester to see how the color turns up on your skin tone. However, it is an appropriate shade for all skin tones but as everybody has a different choice so you should swipe it on the back of your hand before making a purchase.
Keep me coral is a warm toned shade with tiny glitter particles in it. This is the kind of shade that would suit all skin tones. The texture is soft and smooth, and makes the lipsticks glide smoothly on lips without any dragging. It is easy to apply and gives 100% opacity is just two swipes. I find it very comfortable to wear as it does not lead to any stretchy or dry feeling.
It has mild vanilla fragrance to it that I love to the core. For those who do not like fragrant lipsticks, the good thing is that the fragrance vanishes after few minutes. It is a moisturizing lipstick so I do not need to apply lip balm underneath. It does not even require a lip liner to stay within the boundaries. I apply it without the liner and it stays intact for good 5-6 hours (with intermittent meals). However, with meals it starts fading and required touchup once in a while.
The good thing is though quite pigmented it does not stain the lips. When it fades away, it leaves light pop of color behind but not anything permanent. Unlike other lipsticks, this beautiful keep me coral shade does not get transferred to cups that elongates the staying power as well. Though I am a matte lover but I like the soft satiny finish of this lipstick. The glitter particles add to the drama and make it look even more beautiful.
Unlike the Neon Pink lipstick I reviews yesterday, Keep me coral does not get wiped off from the center of the lips. It fades evenly and does not necessarily require reapplication unless you want it to stay fully pigmented.
What I like about 'Maybelline Superstay 14HR Megawatt Lipstick In Keep Me Coral'
– Warm toned coral shade.
– Appropriate for all skin tones.
– Nicely pigmented.
– It does not easily get transferred.
– It does not bleed and settle into fine lines.
– Smoothly glides on the lips, and feels light.
– Tiny glitter particles add beauty to the shade.
– Mild yummy fragrance.
– Does not stain lips.
What I do not like about 'Maybelline Superstay 14HR Megawatt Lipstick in Keep Me Coral'
– Though it has decent staying power but it does no suffice to the 14Hr claim.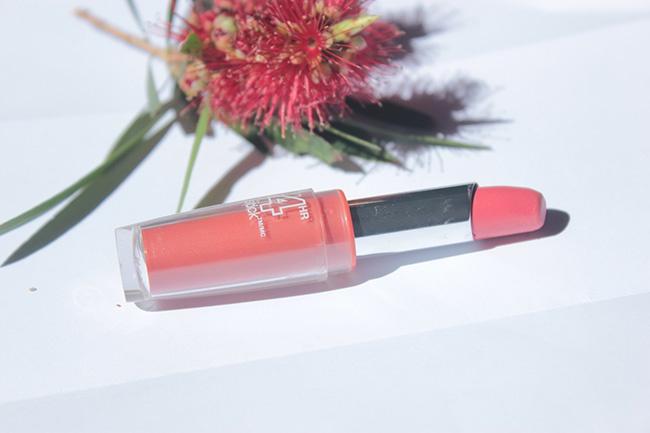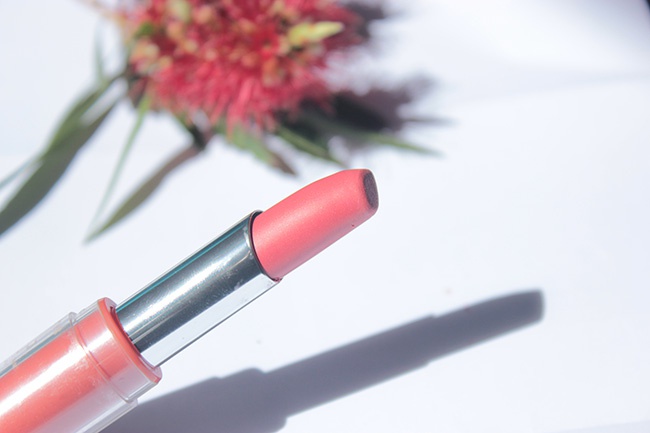 Price of 'Maybelline Superstay 14HR Megawatt Lipstick In Keep Me Coral': Rs 575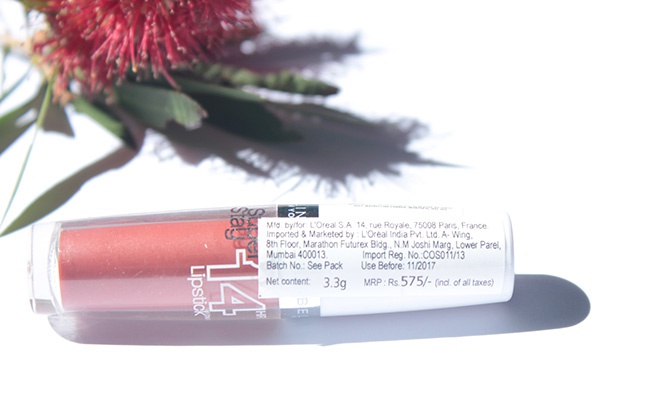 BABE Rating: 4.5/5
Final Word: Overall, I love Keep Me Coral shade. Its satiny finish is comfortable to wear and gives a soft feminine look. This shade is optimum for all skin types, keeps the lips moisturized and stays intact all day long. The staying power is not that of 14hr, as claimed, but still it is more than the average staying power of other lipsticks. If you are looking for a non-matte finish in coral shade you should give this a try.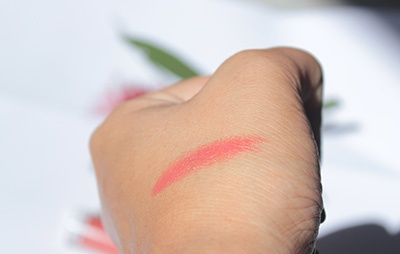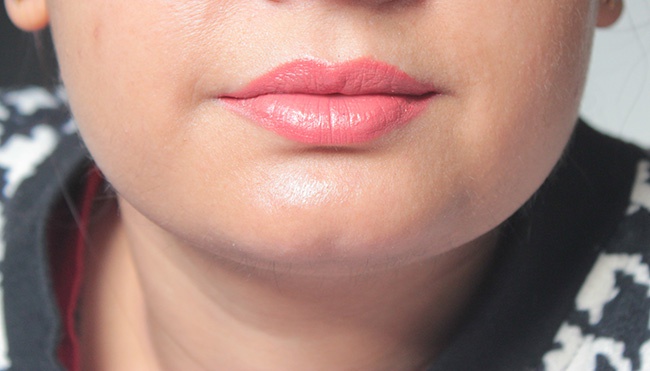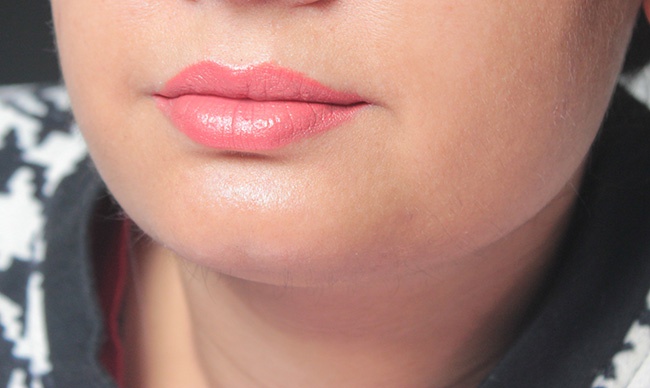 You might also like reading these related topics:
Maybelline Superstay 14HR Megawatt Lipstick In Neon Pink Review Swatches
My 6 Favorite Pink Lipsticks For Summers
Maybelline Color Show Lipstick Pop Of Pink Review Swatches
Sugar Cosmetics It's A Pout Time Vivid Lipstick Mad Magenta Review Swatches
Sugar Cosmetics It's A Pout Time! Vivid Lipstick Breaking Bare Review Swatch FOTD
Be A Bombshell The One Stick In Shade Sunset Review Swatch
L'Oreal Color Riche Extraordinaire Lip color Coral Encore Review Swatches