Hope you had a lovely weekend. I had a wonderful time exploring Melbourne in bone chilling winter. Yesterday was our wedding anniversary so we had even more fun. I will start sharing the pictures from tomorrow onwards so you can see this beautiful state from our lens. Coming back to today's post, I am sharing the last review of Maybelline Superstay 14Hr Megawatt Lipstick in flash of fuchsia shade. I have already reviewed Neon pink, Keep me coral and Red rays shade. You can go through those reviews by clicking on the hyperlinks. Let's talk about the Flash of fuchsia shade today.
What the product says:
Our Superstay 14hr Lipstick is super charged with high voltage colour to make statement bold lips. No dullness, no dragging, just weightless colour that lasts the distance.
Why You'll Love It
• Electric pigments for supercharged colour
• 14hr longwear that lasts
• Lightweight formula with no dragging
For Best Results
Apply your lipcolor by starting in the center of your upper lip. Work from the center to the outer edges of your lip, following the contours of your mouth. Then glide across the entire bottom lip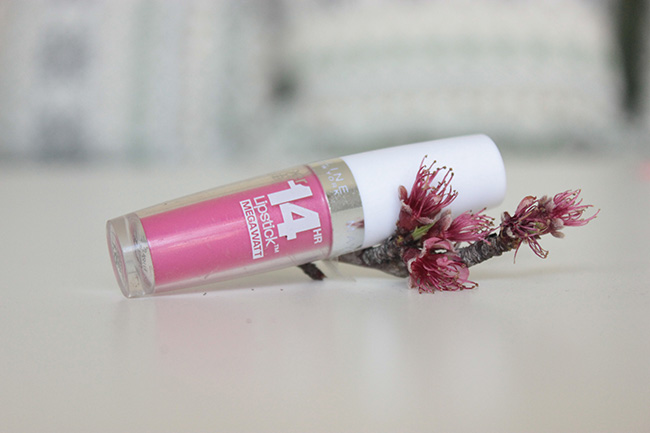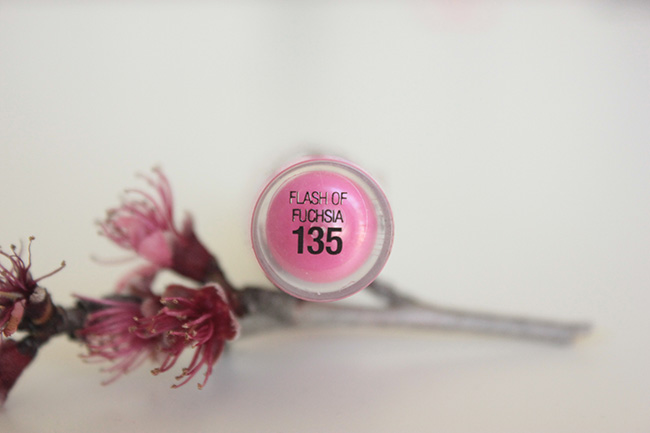 My take on 'Maybelline Superstay 14Hr Megawatt Lipstick In Flash Of Fuchsia'
The lipstick comes in a plastic packaging with color coded bullet case and an opaque white cap. The bottom of the lipstick bears the shade name and number. The overall look of the packaging is quite simple nothing sort of flashy or eye catching. The plastic used is sturdy but still I would recommend handling it with care to avoid breakage of the bullet. It has a click-lock system so ensure that you hear the sound before putting it in a bag full of goodies.
The lipstick shade is exactly how the name conveys- vibrant fuchsia shade with blue undertone. It is a hot pink shade that instantly adds brightness to the complexion and would suit all skin tones. It has got semi-matte finish (more towards the matte side), which gives a pro look. The bullet is smooth and has yummy fruity fragrance like other superstar lipsticks. The boldness of this shade adds attitude and confidence to one's personality. I prefer such shades especially when I feel low and need a confidence booster.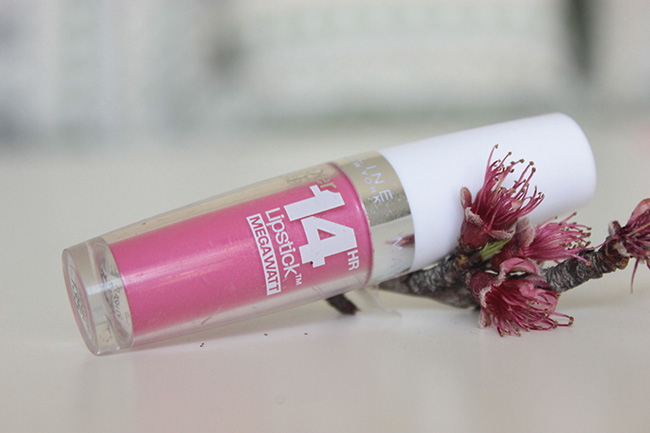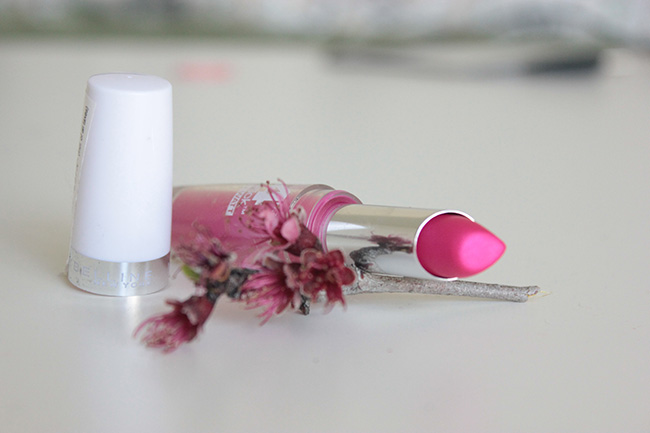 It has an excellent pigmentation. In just one swipe it provides 70-80% coverage and two swipes are enough for a bold opaque look. The smooth texture ensures that I do not need to drag the lipstick on my lips. It glides effortlessly providing full coverage, and that is quite essential if you have got pigmented lips.
The best part about this lipstick is that it does not get transferred easily and that adds to its good staying power. On my lips, it easily stays on for about 7-8 hours with staining. It fades evenly leaving a prominent pop of color behind. Overall, I like the shade, staying power and quality of the lipstick.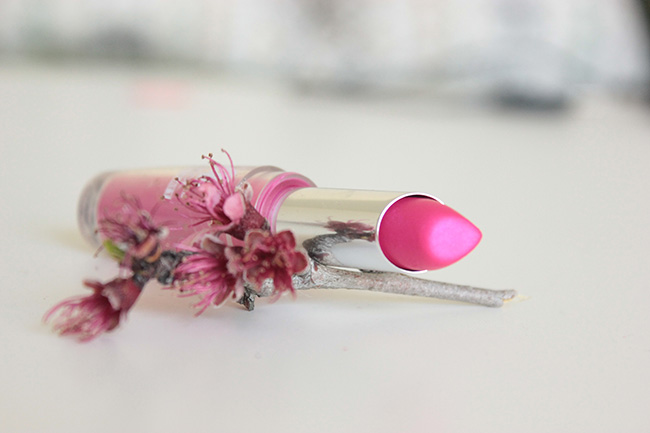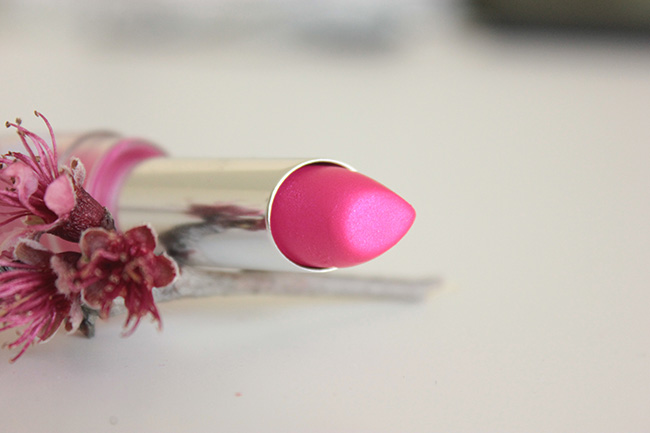 What I like about 'Maybelline Superstay 14Hr Megawatt Lipstick in Flash of Fuchsia'
– Vibrant fuchsia shade that adds brightness to complexion.
– Good staying power.
– Does not bleed or smudge.
– Does not stain lips.
– Does not settle into fine lines.
– Yummy fruity fragrance.
– Does not easily transfer.
– Feels light and comfortable.
What I do not like about 'Maybelline Superstay 14Hr Megawatt Lipstick In Flash Of Fuchsia'
– Feels sticky initially but then settles down comfortably.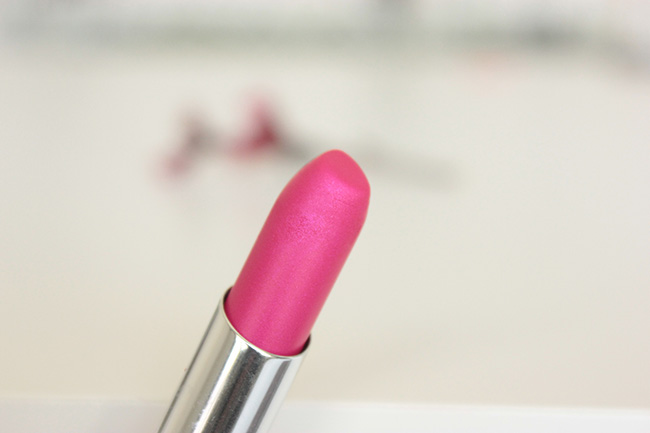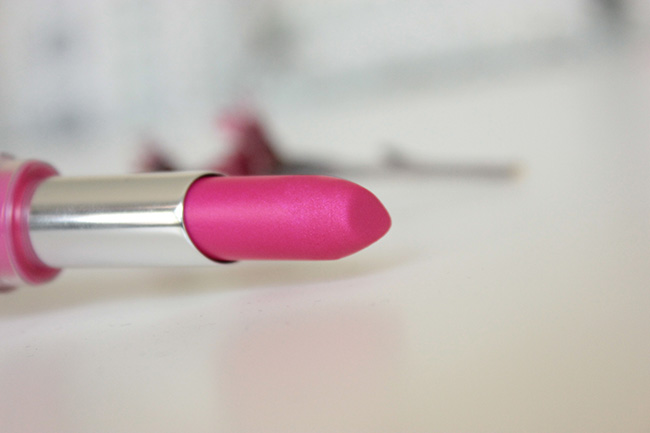 Price of 'Maybelline Superstay 14Hr Megawatt Lipstick In Flash Of Fuchsia': Rs 575
BABE Rating: 4.5/5
Final Word: Maybelline Superstay 14Hr Megawatt Lipstick In Flash Of Fuchsia is a bright pink shade that adds freshness to makeup and gives a bold look. It stays on for good 8 hours without bleeding or smudging. The best thing is it does not transfer to brims of cup so you do not need to get embarrassed from the unwanted lip impressions on coffee cups while attending a business meeting. I am quite loving this shade and would recommend it if you are bold lipstick lover.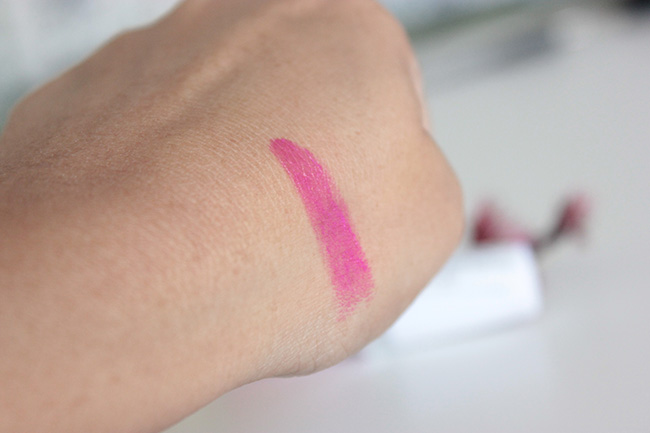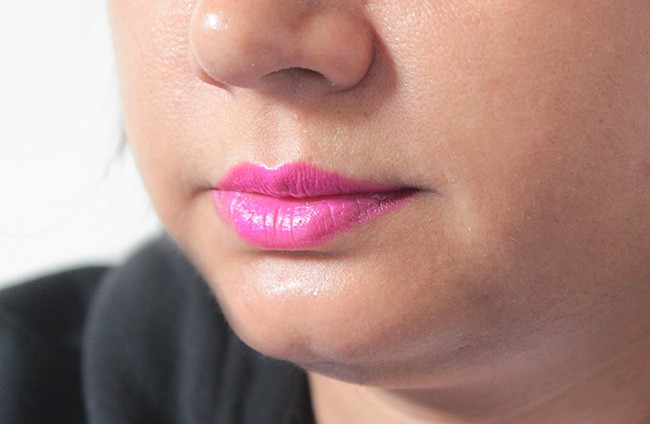 You might also like reading these related topics:
Maybelline Superstay 14HR Megawatt Lipstick In Neon Pink Review Swatches
My 6 Favorite Pink Lipsticks For Summers
Maybelline Color Show Lipstick Pop Of Pink Review Swatches
Sugar Cosmetics It's A Pout Time Vivid Lipstick Mad Magenta Review Swatches
Sugar Cosmetics It's A Pout Time! Vivid Lipstick Breaking Bare Review Swatch FOTD