This time I have purchased not one or two but 14 shades from Maybelline's color show collection. Though color show collection's price has been increased to Rs 110 still I could not resist myself from purchasing few of these beautiful shades. This range has a total of 40 shades, and I think I already own 25-30 of them but for nail freaks more is always less.  Now, let's focus on one of the new shades I bought in the recent shopping spree – it is the shade "Coral Craze".
What the product says:
Make a bold style statement with Maybelline New York's Color Show nail color range.
With trendy, super stylish shades, these nail colors add oodles of attitude to your overall look. Presenting 40 attractive shades, the Maybelline Color Show Range let's you mix, match and experiment with color!
Here's why you'll love it:
• Nail colors have a gel-based formula for increased staying power
• Is chip-resistant and comes with an easy-flow brush
• Available in 40 different shades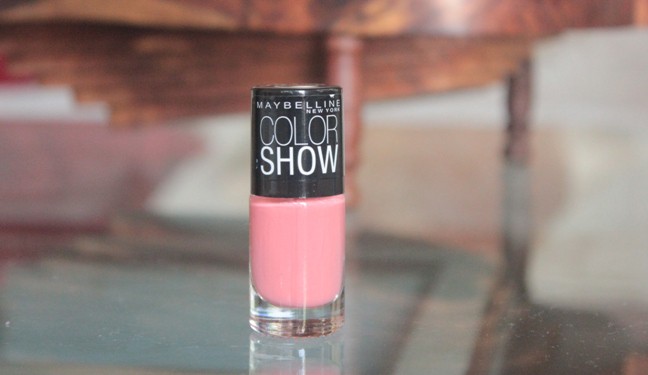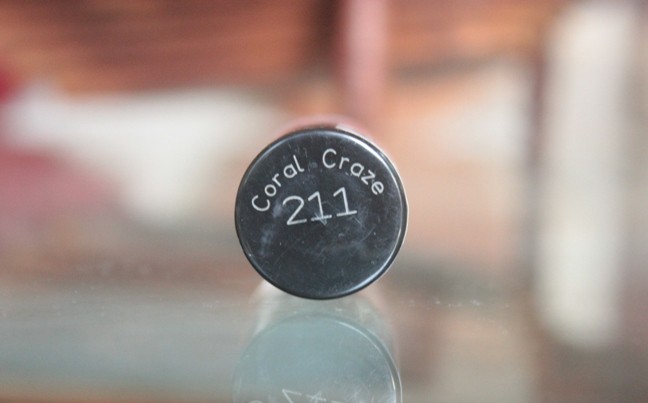 My take on 'Maybelline Color Show Nail Polish Coral Craze'
It comes in a round glass bottle that is transparent, and has a black cap on top. The top of the cap bears the shade name and number, and the base has the price tag. Going by my previous experiences, I would say this glass used in the manufacturing of these nail polishes is not very sturdy and can be easily broken even if it hits the floor from 2-3 feet. One should exercise caution while handling these cute bottles.
Coral craze, as the name says, is a true coral shade. It is neither very bright nor very dull. It brightens up the hands giving them a soft feminine look. This is an ideal summery shade and is appropriate for all skin tones. Its semi-glossy finish is another plus that adds elegance to this shade.
Like all other nail polishes, it has got good staying power. Even while doing household chores it does not go anywhere for 2-3 days at a stretch. For the time it was on my nails, I did not even notice any change in the glossiness. It is a non-streaky nail polish that provides good coverage in 2 strokes. To solidify the look, one can go for a third stroke as well but by doing so the longevity will be reduced.
Though I always apply base coat before going for any bright color but while I was applying 'Coral Craze' I did not have the time to go for the base coat still it did not give any adverse results. It does not stain the nails or cause them to become pale. Overall, I think this is an all season shade and appropriate for all skin tones. Though Maybelline has increased the price of these nail polishes but shades like this are worth making an investment.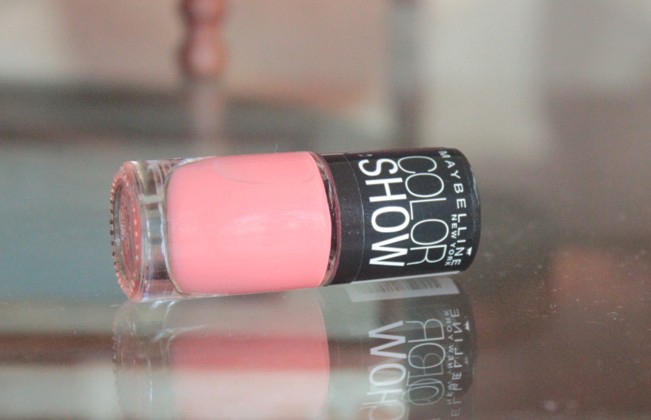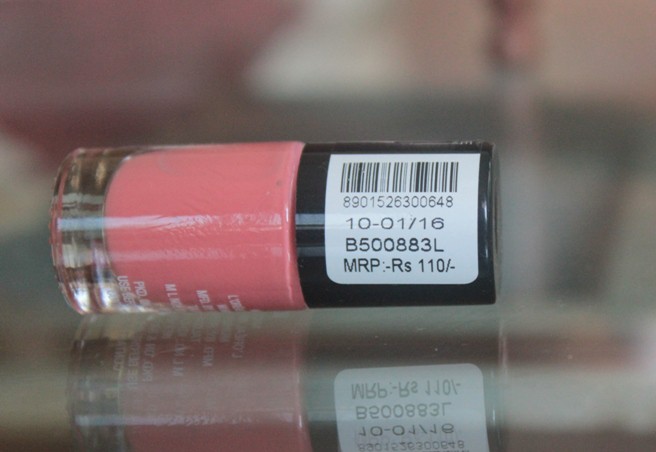 What I like about 'Maybelline Color Show Nail Polish Coral Craze'
– Nice coral shade suitable for every season and occasion.
– Two strokes provide good coverage.
– Non-streaky.
– It does not stain or make the nails pale.
– Good staying power.
What I do not like about 'Maybelline Color Show Nail Polish Coral Craze'
– Increased price.
– Glass quality could have been sturdier.
Price of 'Maybelline Color Show Nail Polish Coral Craze': Rs 110 for 6ml
BABE Rating: 4.5/5
Final Word: Coral craze is true coral shade from Maybelline color show collection. It is neither too pastel no very bright but an appropriate shade all time wear. Its glossy sheen adds more elegance to the nails, making it an apt wear. On the whole, it is a nice shade with good staying power and coverage.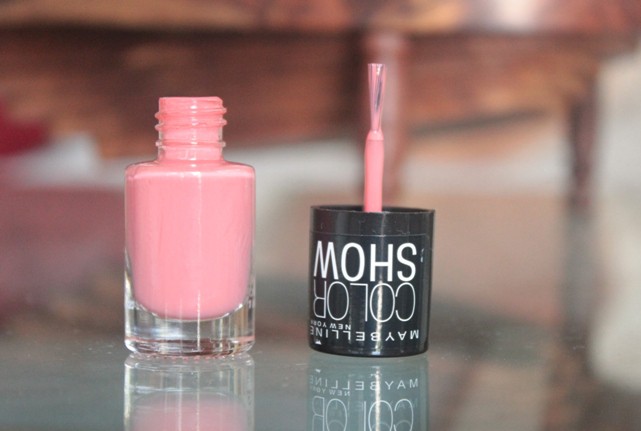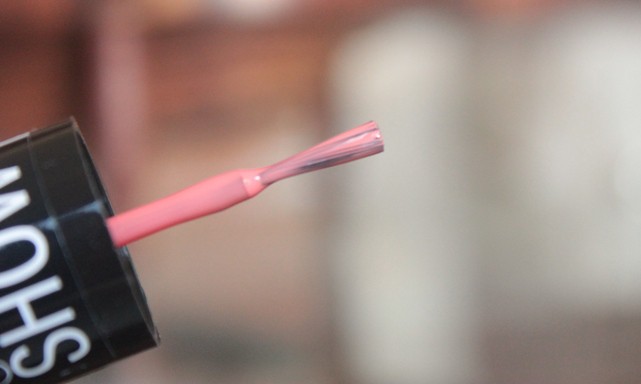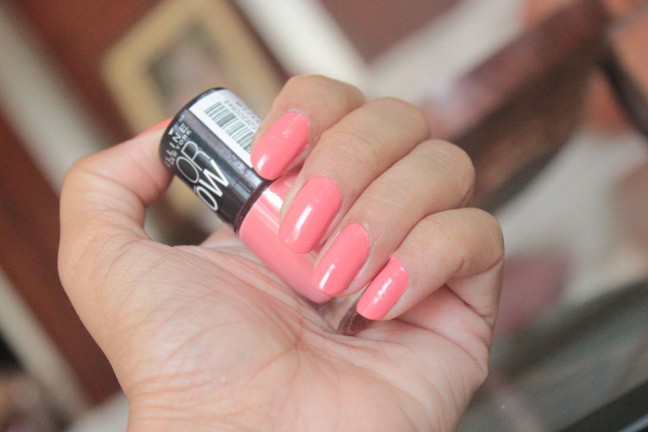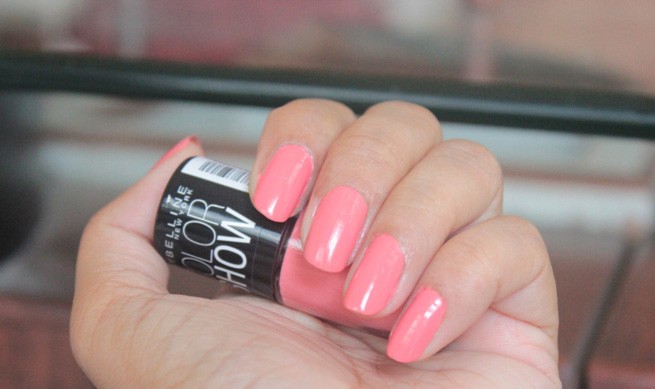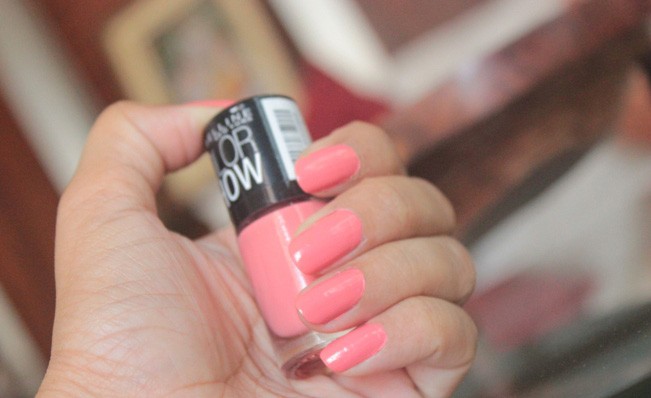 You might also like reading these related topics:
Maybelline Superstay 7 Day Gel Nail Polish Rosy Sand Review Swatches
Maybelline Color Show Nail Polish Fiesty Fuschia 213 Review Swatches
Maybelline Color Show Nail Polish Cinderella Pink Review Photos
Maybelline Color Show Glitter Mania Nail Paint-Dazzling Diva (602) Review,Swatches
Maybelline Color Show Glitter Mania Nail Paint – All That Glitters (601) Review
Maybelline Color Show Glitter Mania Nail Paint – Pink Champagne (607) Review
Maybelline Color Show Nail Polish Ladies Night Review Swatches
Maybelline Color Show Mint Mojito Nail Polish Review Swatches
Maybelline Color Show Nail paint Nude Skin (015) Review
Maybelline Express Finish Nail Polish Fuchsia Fun 222 Review Swatches